The drive from Christchurch to Queenstown on New Zealand's South Island can easily be completed in one day, just under six hours if you don't make any stops.
But where's the fun in that!
In this article I'm going to show you how you can turn this short drive into a multi-day spectacular Christchurch to Queenstown road trip. I'll give you tips on everything to see and do while driving from Christchurch and Queenstown to help you decide how long you should spend on this road trip.
New Zealand is one of the most spectacular countries in the world, so why wouldn't you want to spend a bit more time getting to know her, stopping for all of those dramatic photo opportunities, getting lost on mountainous winding roads or getting back to nature while hiking across mountain peaks.
This road trip itinerary can be done in reverse, Queenstown to Christchurch and will work out exactly the same. And I've included a handy map of this Christchurch to Queenstown drive to help you visualise.
How Long is the Drive from Christchurch to Queenstown?
As I mentioned at the beginning of this article, the driving time from Christchurch to Queenstown, if you did it straight without making any stops and stayed on the main highways would take roughly five hours 40 minutes at 480km in distance.
However, on this itinerary I'll be suggesting you take a few detours to get off the beaten track and see more in as many days as you can manage in your itinerary.
You can see on the map below, the route in blue is the most direct route to travel from Christchurch to Queenstown, with the route in grey slightly longer, but also not as exciting.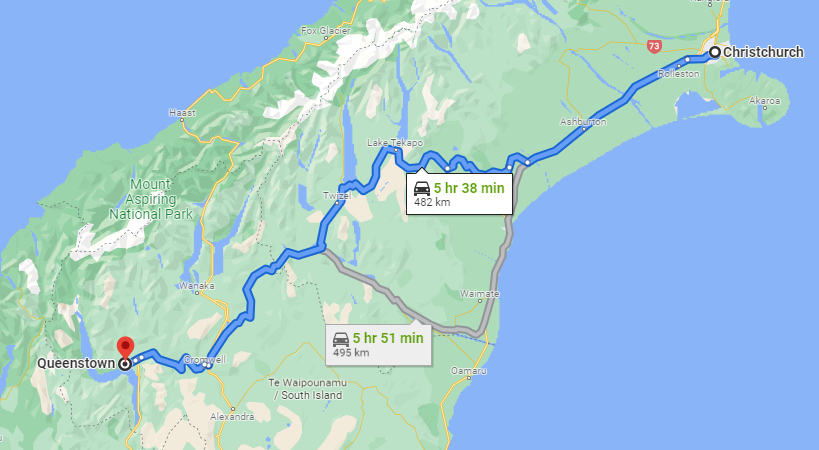 In this itinerary I'll be showing you the blue route with some detours to the Rakaia Gorge, Aoraki Mount Cook and Wanaka.
Driving in New Zealand
One of the most important things you need to know before arriving in New Zealand is that they drive on the left-hand side of the road.
For those with a valid English language drivers licence, you will be able to arrive and take off in the car without needing to get an international licence. If you have a non-English language licence you will need to apply for an international driving licence before you arrive. This will then convert into a New Zealand licence.
New Zealand has very few multi-lane freeways, and that is especially true on the South Island. Most roads are winding country or mountainous roads that require a lot of concentration, especially as cattle and sheep crossings can appear anywhere.
Driving to the conditions is also very important in New Zealand. The weather changes multiple times a day. It can be sunny and dry when you take off in the morning and change to wet and even snowy later in the day.
It is important to research what conditions you might face driving at different times of the year and in different locations. If you are driving from Christchurch to Queenstown in winter (from May to November) on this itinerary, you could definitely encounter snow, so ensuring you have snow chains on hand is a must!
This post contains affiliate links. Our full disclosure policy is here.
Car Rental from Christchurch to Queenstown
All road trips need a good comfy vehicle that meets the needs of your trip. As previously mentioned, the roads on this road trip are mountainous so hiring a car with a bit of guts will ensure you have a smoother ride.
A campervan is also a great option and gives you more flexibility on where to stay the night along the road trip from Chirstchurch to Queenstown.
For both car and campervan rentals, check out Hertz. I've found they offer the most comparable prices, let you search and compare multiple vehicle types and they have a great customer service team who can help if you come into any unexpected troubles.
Christchurch to Queenstown Road Trip Itinerary
The above map shows my suggested road trip itinerary. All up the distance from Christchurch to Queenstown on this itinerary is 635km.
My recommendation is to split the trip over at least three days, but I think five or more days will really give you plenty of time see and do most of what I'm about to show you and have some time to just relax and discover as you go.
By all means, you don't have to make every stop I mention below, this is just a guide to help with your travel planning for your road trip from Christchurch to Queenstown. Take the information on board and decide which stops and activities suit you best and you'll easily be able to create your perfect travel itinerary from there.
Stop 1 – Rakaia Gorge
Travelling from Christchurch to Queenstown I recommend you take State Hwy 77 through the Canterbury Plains towards your first stop, Rakaia Gorge.
At Rakaia Gorge first head to the Rakaia Gorge Lookout to take in the lovely views of the crystal clear blue river and grab some photos.
For those that like a hike, you have the option here of a 10km, 3-4 hour hike along the rim of the Rakaia Gorge Walkway.
Or if you want something a a bit more thrilling then you can jump on a jet boat along the Rakaia River.
Stop 2 – Geraldine
About 140km south of Christchurch is the town of Geraldine, the perfect stop to grab a coffee and bite to eat in this pretty country town.
Geraldine is known for its local arts and crafts with lots of boutique shops along the main street selling unique arts, crafts and giftwares.
Geraldine is also your last chance for a decent supermarket for a while. So if you plan to self-cater for some of the trip then the Fresh Choice Supermarket in town is a good choice.
Stop 3 – Lake Tekapo
From Geraldine, the landscape starts to change as you make your way over and around mountains to reach the Mackenzie Basin and its incredible lakes.
The first lake you will come to is the world famous Lake Tekapo, you'll know you're nearly there when you come up over a rise and see one of the most stunning blue lakes you've ever seen.
There is quite the bit to see and do around Lake Tekapo, here are some of the highlights and you can read more in my Things to Do in the Mackenzie Basin article here.
Church of the Good Shepherd – I'm sure you've seen it a million times on Instagram and despite it being a bit touristy, it is worth a stop to take in the stunning views.
Lupins – These purple blossoms flower along the lake from November to January, so if you time your visit right you'll get to marvel in their beauty at multiple vantage points around the lake.
Mt John Observatory – Lake Tekapo happens to be located in the only dark sky reserve in the Southern Hemisphere making it the perfect place for some stargazing. Tours of the sky can be taken at the observatory overlooking the town here.
Short Walks – There are a bunch of great short walks you can do that take in the lake and surrounding mountains ranging from 1-4 hours. Read more here.
Stop 4 – Lake Pukaki
From Lake Tekapo it's a short drive to what is an even more stunning lake, Lake Pukaki. Why, because it is powder blue and you'll see Aoraki Mount Cook rising above the end of the lake in the distance, it is simply breathtaking.
Other than what I think you be the most stunning lake in the world, there isn't a huge amount to see and do in Lake Pukaki, so take some time to stop, take your photos and then continue on to the stop number 5.
Stop 5 – Aoraki Mount Cook
It is a spectacular 45 minute drive to Aoraki Mount Cook village along the western edge of Lake Pukaki.
The drive is nothing short of ridiculously amazing. Around every bend is another jaw dropping view and unmissable photo opportunity. There are plenty of safe places to pull over along the way. Just watch for other cars if you try to get the iconic middle of the road Mount Cook in the background photo.
Aoraki Mount Cook is the highest peak in New Zealand and the quaint village of the same name is a great place to base yourself for all sorts of fun mountain adventures.
During your stay in Aoraki Mount Cook you should check out at least a few of these great things to see and do.
Hooker Valley Track – This three hour return walk is relatively easy for all fitness levels and takes you over swing bridges and past icebergs in the Hooker Lake.
Tasman Lake Viewpoint – From the Tasman Glacier carpark its an easy 15 minute walk for stunning views of the Tasman Glacier and floating icebergs.
Scenic Helicopter Flight & Landing – Spend 25 minutes aboard a helicopter as it fly's over Aoraki Mount Cook and the Tasman Glacier ending with a landing on the mountain. Book this tour here to avoid missing out on this must do experience.
Heli Hike – A little more adventurous, as well as the helicoper flight and landing you'll be guided on a two hour glacier hike. Don't miss this experience, book here in advance.
Sir Edmund Hillary Alpine Centre – Here you will find a 3D theater, museum and planetarium which documents the pioneering heart of the region.
Stop 6 – Omarama
The drive from Aoraki Mount Cook takes you back along Lake Pukaki, through the small town of Twizel and onto stop 6, Omarama.
The main reason to visit Omarama is for a soak in the hot tubs. Each private hot tub comes with some pretty incredible views and is the perfect place to stop to sooth aching muscles after lots of hiking. You can check out more information about the Omarama Hot Tubs here.
Stop 7 – Wanaka
From Omarama the road heads out of the Mackenzie Basin and over the Lindis Pass. Just after the tiny town of Tarras you'll take a right and head towards stop number 7, fabulous Wanaka.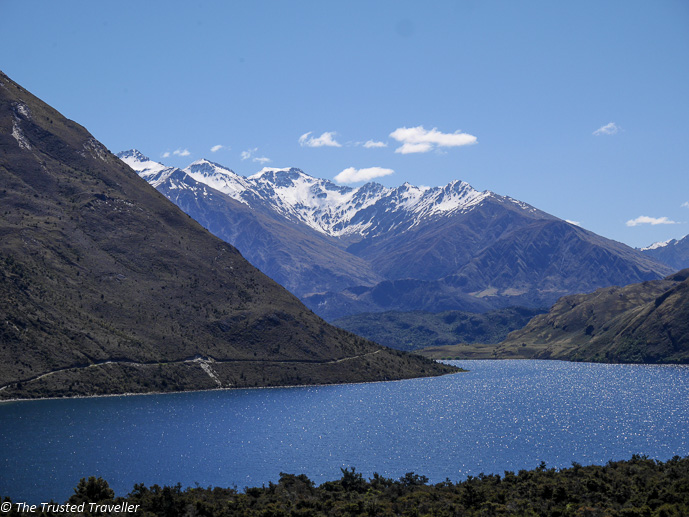 Wanaka, situated on the lake of the same name, is a thriving ski village which is just as buzzing in the summer months because of the fabulous hiking opportunities in the area.
There is so many things to see and do around Wanaka you could easily spend a few days here.
#ThatWanakaTree – Yes a tree has its own hashtag, but rightly so! No one goes to Wanaka without stopping off for a photo at the famous tree rising from the lake.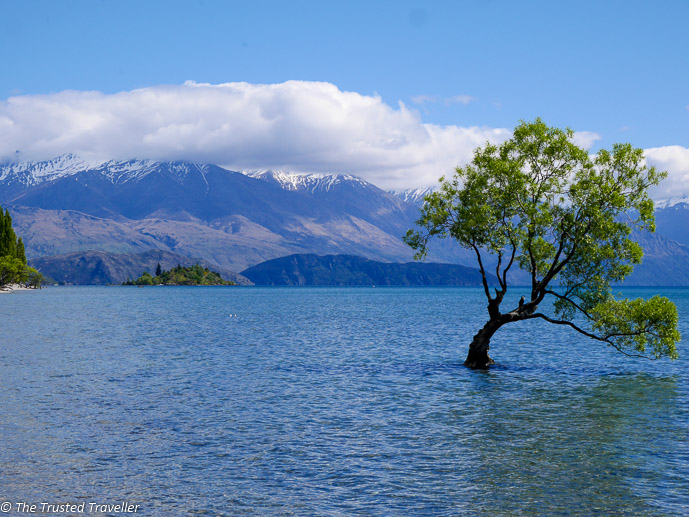 Hikes – There are so many to choose from with Roy's Peak probably being the most popular, especially at sunrise. If that is a bit challenging for you then the Diamond Lake Trail is much shorter. Check out all the hikes in the area here.
Get out on the Lake – There are lots of ways to get out on Lake Wanaka and enjoy the incredible views. Check out some of these tours, some including stops on the lake islands for further exploring.
Puzzling World – A bit of a different but iconic attraction in Wanaka, Puzzling World has been around for 50 years and includes such fun as the Great Maze and the Illusion Rooms. A great place to take the kids on a rainy day.
Read more about all the things to do in Wanaka here, the best tours in Wanaka here and where to stay in Wanaka here. Or check out my comprehensive Wanaka Itinerary here.
Continue to Queenstown
The final drive on this Christchurch to Queenstown itinerary is a short drive up over the Cardrona and Crown Ranges.
You can take a few quick detours before arriving in Queenstown.
Arrowtown – Picturesque historic gold-mining town on the Arrow River which dates back to 1862. Wander the charming main street checking out the quaint shops and stop from a drink or something to eat at one of the many great cafes and pubs. Don't miss the Chinese Settlement, a heritage listed restored village by the river as well.
Gibbston Valley – The boutique wines in the small sub-region of the Central Otago wine region are well known to produce some of the best Pinot Noir and Chardonnary in New Zealand. If you only have time for one cellar door visit, make it Chard Farm. I have personally done a wine tasting at each cellar door in the region and this is by far the stand out for me. Plus the view of the Kawarau Gorge is pretty amazing too. Read my article on the wineries of the Gibbston Valley here.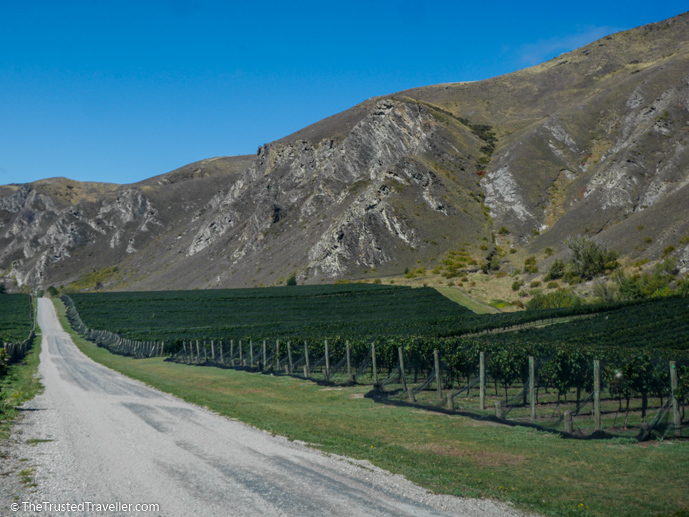 Where to Stay Between Christchurch and Queenstown
There are a few key towns where you might like to base yourself during your Christchurch to Queenstown road trip. Plus you'll likely need somewhere to stay in Christchurch at the begining of the trip and Queenstown at the end of the trip.
Here are three accommodation options to suit all budgets that I recommend you check out for each place. All are centrally located, highly rated and come with excellent facilities.
Accommodation in Christchurch
Being a big city you will find lots of accommodation options to suit all budgets in Christchurch. There are two areas I recommend you look at, City Centre and Addington, both have great night time food options and a cool vibe. The options I have included below are located in in these areas.
Budget – Jailhouse Accommodation
Mid-Range – Ramada Suites by Wyndham Christchurch City
Luxury – The George
Accommodation in Tekapo
There isn't a massive amount of options in Tekapo but of the little options, most are high quality. All of these options below you can easily walk to the lake from.
Budget – Lakefront Lodges Backpackers
Mid-Range – Three Rivers Lodge
Luxury – Peppers Bluewater Resort
Accommodation in Aoraki Mount Cook
There is only five places to stay in Aoraki Mount Cook so options are limited. These three options are the best in my opinion.
Budget – Aorako Mount Cook Alpine Lodge
Mid-Range – Mt Cook Lodge and Motel
Luxury – The Hermitage Hotel Mt Cook
Accommodation in Wanaka
Wanaka has a tonne of luxury apartments and chalets being a ski resort town. But there are also plenty of other options nearby to town and the lake that you can look at too. These three are all walking distance to town and the lake.
Budget – Wanaka Backpackers Bothy
Mid-Range – Wanaka View Motel
Luxury – Lakeside Apartments
Accommodation in Queenstown
Because of the spread of Queenstown city centre, most places to stay have easy walking access to town and Lake Wakatipu.
Budget – Adventure Queenstown Hostel
Mid-Range – Copthorne Hotel & Apartments Queenstown Lakeview
Luxury – Hilton Queenstown Resort & Spa
Or check out my other post with a full list of places to stay in Queenstown here.
Don't Want to Drive Yourself?
There are lots of tour companies that offer one-way Christchurch to Queenstown tours (or reverse). There are one or two day options to choose from with the two day options including accommodation for one night.
Check out some of the great tours on offer below.
What to See & Do in Christchurch and Queenstown
Before and after your road trip from Christchurch to Queenstown you may have some additional days to spend in each of these exciting cities. If that is the case then check out these other published articles for all my tips.
What to See & Do in Christchurch
Start off checking out my Christchurch 2 or 3 day itinerary, read about all the Things to Do in Christchurch and my list of The Best Christchurch Sightseeing Tours.
Next see what springtime in the the lovely Christchurch Botanic Gardens looks like.
If you have time for a day trip outside of Christchurch check out my article with 11 amazing Day Trips from Christchurch plus my detailed account of my Day Trip to Akaroa.
What to See & Do in Queenstown
There is so much to do in Queenstown, especially if you love adventure. This post will fill you in on all the Things to Do in Queenstown and this post show you how to spend 5 days in Queenstown.
If you are after day trips from Queenstown then check my best 9 Day Trips from Queenstown.
Or if you are after some adrenaline pumping action, I have you covered with this post on the Best Queenstown Adventure Activities.
And if time permits, you must, I mean absolutely MUST do a day trip to Milford Sound. You can see all my amazing photos from my day trip here.
Got More Time on New Zealand's South Island?
Check out some of my other itineraries for other destinations around New Zealand's South Island for more inspiration.
---
Over to you!
Which stop on this Christchurch to Queenstown road trip are you looking forward to the most?
Let me know using the comments section below or join me on social media to start a conversation.
Thanks for reading and I hope you enjoyed this post.
Join my email list and get a FREE copy of my TRAVEL PLANNING TEMPLATE
My Travel Planning Template will make your travel planning simple & stress-free!