This is part two in a series of posts about driving New Zealand's South Island. Don't forget to check out part one, driving from Christchurch to Marlborough.
And if you're looking for more of what to see and do in Marlborough itself, you can check out these posts:
Leaving Picton or Blenheim in the Marlborough Region of New Zealand's South Island, there are two routes you can take to reach the Wild West Coast. Both routes join about halfway to the coast, one offering a quicker more direct route, the other is a bit more scenic.
For me drive I chose the scenic route because really, that's what this trip was all about for me, spectacular scenic drives.
Here's a map of the route I took.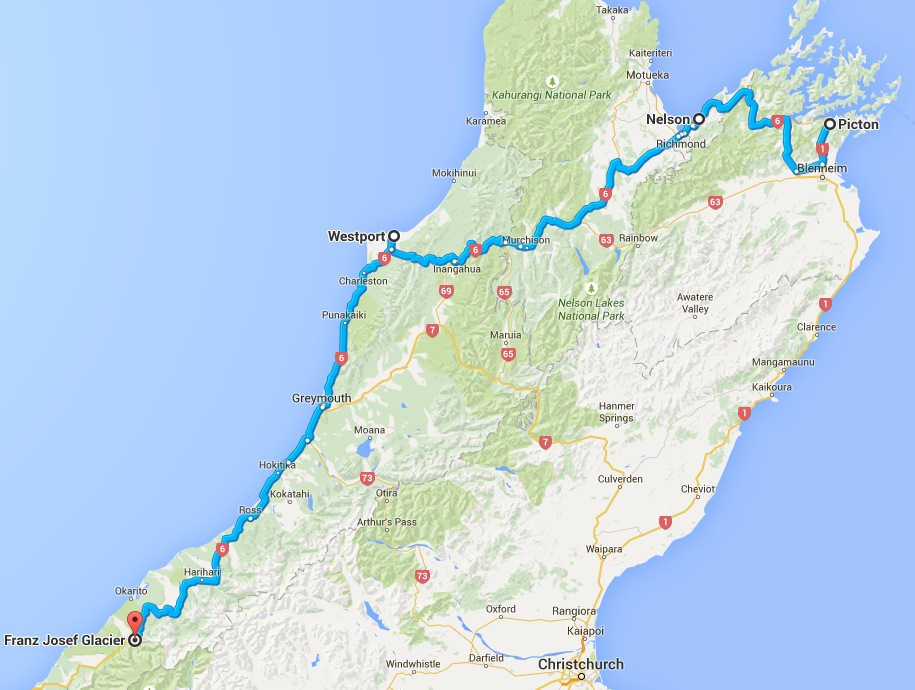 Starting in Picton, I had a morning tea stop in Nelson, stretched my legs and fuelled my tummy in Murchison, hit the coast at Westport and stayed a night in Punakaiki.
The next day I made my way further south along the coast to Franz Josef via the towns of Greymouth and Hokitika, stretched my legs at Lake Mahinapua and ate lunch on the roadside in Hari Hari before arriving in Franz Josef in the late afternoon.
This route is just over 600 km which could easily be driven in one day. However, if you want to see many of the sights and experience some of the beautiful nature along the way, I suggest tackling it over two days like I did. The obvious half way point being Punakaiki.
There is a lot of things to see and do when driving New Zealand's Wild West Coast from Marlborough. Dozens upon dozens of walking tracks, adventure sport opportunities, lookouts, waterfalls, beaches, interesting towns, detours, etc.
You could easily spend a few weeks exploring every nook and cranny of the area. But as most of us don't have that sort of time, I've selected the best, the things that you can fit into two days that will give you a good taste of the area.
Havelock
Still part of the Marlborough region, Havelock is just over a 40 minute drive from Picton (closer from Blenheim). From Picton there are two routes you can take, one along the edge of the sound and the other back towards Blenheim, cutting through the mountains.
The town of Havelock is small and its biggest draw card is that it is situated on the Sounds, similar to Picton. If you're ready to stretch your legs, park the car at the marina and take a short walk around the waterfront. If you're spending more time here you can take a mail boat cruise through the Pelorus Sound, similar to those that leave from Picton.
Nelson
It's just under an hour's drive from Havelock to Nelson with the picturesque road heading up, down and around mountains, over rivers and streams and through forests.
Nelson itself is set on the Tasman Bay which you'll see on your right as you approach the city centre, and you will continue to follow the bay all the way out of town as you head south.
If you decide to stop in town you'll find it to be a thriving city that has more artists per capita than any other city in New Zealand. There are plenty of stores and galleries in town where you can browse and buy artisan goods from the locals.
And if you are in need of a coffee stop, Lambretta's Cafe at 204 Hardy St is said to have the best coffee in town.It also has a cool Italian inspired interior and food menu.
Murchison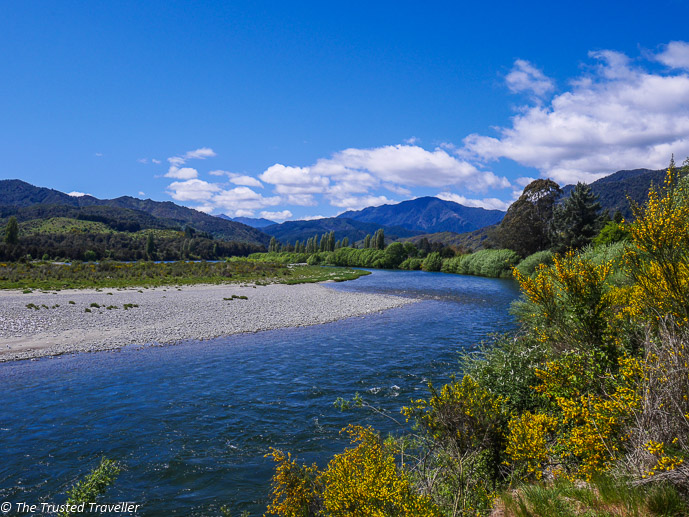 After leaving Nelson and the Tasman Bay behind, it's a further one hour drive to Murchison which is about the halfway point between the Marlborough region and the Wild West Coast.
The road starts out flat as you head through farmland and open plains. This leads to the scenic mountains again and takes you through the Buller Gorge along rivers and through gullies with mountains towering high above.
Murchison is a picturesque small town set on the mighty Buller River. If you've got the time and enjoy a bit of adrenaline pumping action, you'll find the whitewater rafting and jet boating activities on offer to be among the best opportunities in New Zealand.
Otherwise Murchison is a great chance to stretch your legs near the river or grab a bite to eat. The Rivers Cafe at 51 Fairfax Street is an excellent choice. Make sure you try a scone!
Hawks Crag & the Kilkenny Lookout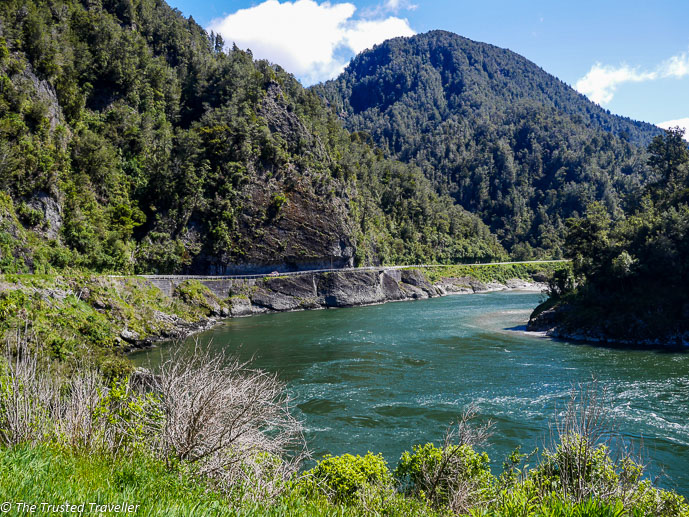 From Murchison continue towards the West Coast for another 50 minutes or so through the Buller Gorge along the river until you get to Hawks Crag.
This craggy one way road is cut into the cliff that drops into the Buller River below. Make a stop at the Kilkenny Lookout just before the bridge to get a good look at the road, fast moving river below and the beautiful surrounding scenery.
Westport & Cape Foulwind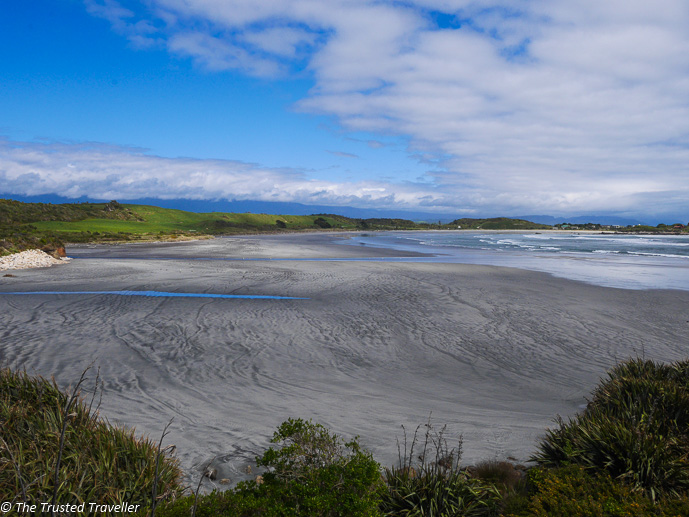 It's just a further 20 minutes to the coast and the town of Westport. The drive into Westport follows the Buller River which empties into the Buller Bay.
The town itself is quite frankly dull so make your way through it quickly and jump onto Cape Foulwind Road which leads to the Cape of the same name and its seal colony.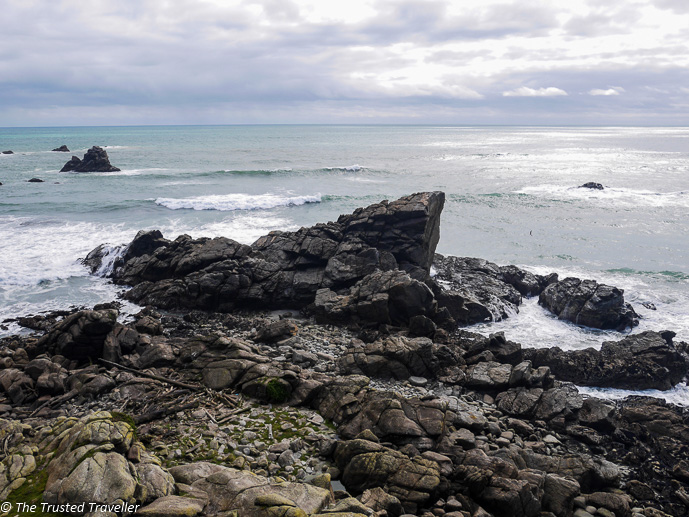 At the Cape there is a short walk you can do up to the point which offers great views of the wind swept beach and coast. It also leads to the seal colony which, if you're lucky, you'll see large numbers of seals chilling on the rocks below the track. There are information boards along the walk that tell you about the local flora and fauna including info on the seals and their habits.
Punakaiki
Now you've finally reached that Wild West Coast it is time to head south and make your way to Punakaiki and the Paparoa National Park where I suggest you stay the night to make the most of the area.
The road from Westport follows the coast all the way to Punakaiki and is dramatic with the ragging sea on the right and steep rainforest covered mountains on the left.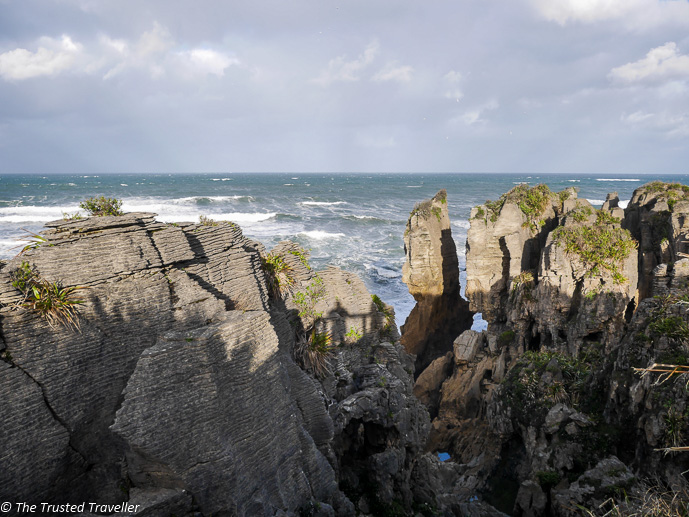 If you're planning to take a few walks in the area I suggestion heading straight to the iSITE just south of the town to pick up a map and some information.
While you're at the iSITE you might as well check out the most popular thing to see on the west coast, the Pancake Rocks and Blowholes. The staff in the iSITE will be able to tell you when the next high tide is so you can time your visit to these rocks when the blowholes are most active.
The Pancake Rocks are limestone formations which began forming 30 million years ago and are made up of lime-rich fragments of dead marine creatures which were deposited on the seabed, then overlaid by weaker layers of soft mud and clay.
The rocks that you see today have been shaped and formed by the crashing seas, rain and wind that this area is prone to.  During high tide each day the sea rushes under the rocks and up through holes in the rocks to create blowholes, spouting water metres into the air.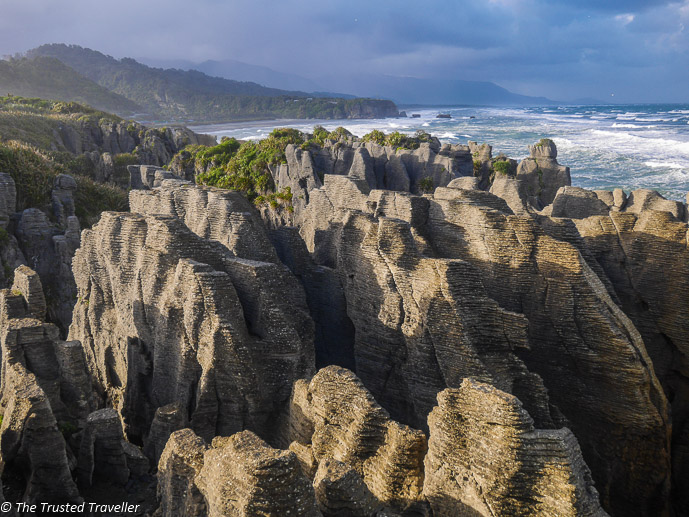 As for the walks in the area, there are about ten, four of which take under an hour to complete and are pretty easy for all fitness levels (although some lead you through narrow rainforest tracks and up and down steps).
If you only have time for one more walk after Pancake Rocks, I recommend the Truman Track. Located north of town, the path leads from the road through lush rainforest to the headland and beach with spectacular coastal views. Here you can descend the stairs and walk the beach, getting a closer look at the wind carved rock formations.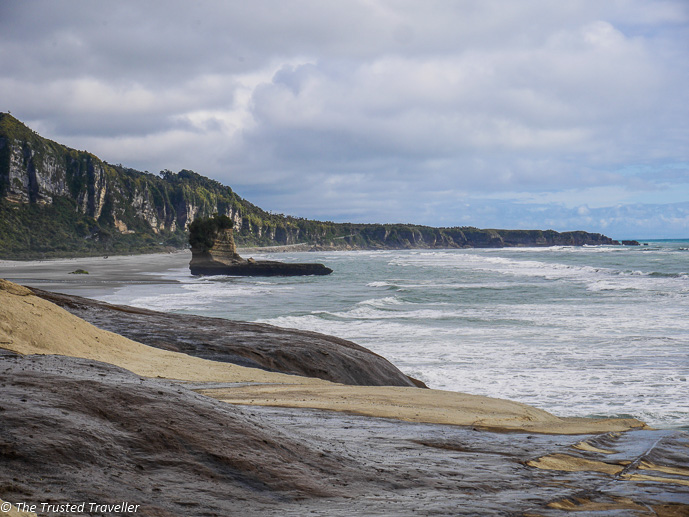 In the evening, things close early, so make sure you head on down to the Punakaiki Tavern for a dinner and a drink before it gets too late. Some nights the kitchen closes as early as 8pm.
Where to Stay in Punakaiki
There is limited accommodation in Punakaiki, however there is at least one place that suits each budget range. Here are my recommendations.
Budget
Te Nikau Retreat
Located just 6 minutes walk to the beach and a few minutes drive to Pancake Rocks, this retreat/hostel is surrounded by lush rainforest and connections to popular walking tracks. It offers dorm room and private cottage accommodation, some with shared amenities.
Check availability, prices and book this hotel
Mid Range
Punakaiki Beachfront Motels
Located right on the beach less than 5 minutes walk to the Pancake Rocks. Accommodation consists of self-contained cottages and studios with cooking facilities and sitting areas, some with a BBQ and/or laundry.
Check availability, prices and book this hotel
Luxury
Punakaiki Resort
This beachfront resort is located just 300m from Pancake Rocks. Rooms are warm and inviting with large feature windows showing off the ocean and rainforest. The onsite restaurant is open for breakfast and dinner.
Check availability, prices and book this hotel
Or why not book an Airbnb stay. Use this link to get up to $45AUD off.
Greymouth & Hokitika
Leaving Punakaiki refreshed after a good night sleep, the road continues to follow the rugged coastline with stunning views of the ocean and surrounding rainforest covered mountains.
It's about 40 minutes before you'll reach Greymouth, the largest town on the West Coast. There isn't a lot see in Greymouth, but if you feel like a coffee you'll find plenty of cafes in town.
Another 30 minutes south is Hokitika, a former thriving gold mining town which is now known for its production of greenstone and interesting festivals throughout the year, including the Wild Food Festival which is usually held around March each year.
If you're not lucky enough to catch a festival you can still wander the local stores and galleries for greenstone and other locally made goods.
Lake Mahinapua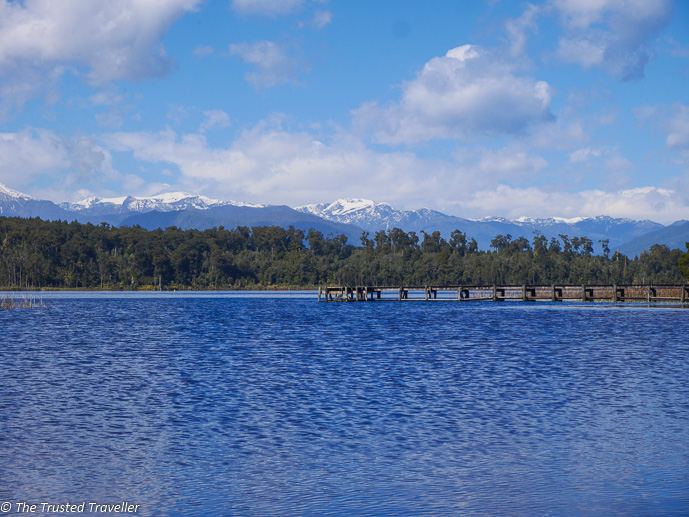 Just 10kms south of Hokitika is the Mahinapua Scenic Reserve and Lake Mahinapua. Here you can take a walk around the lake and through the reserve. Walks range in length from 10 minutes to two and a half hours long, all of which are flat and suitable for all fitness levels.
The conservation area is home to black swans and mallard ducks, so as you're taking a walk keep your eyes peeled for these graceful creatures.
Even if you don't have time for a walk, the lake is a nice place to stop for a short time and take in the stunning lake and views of the snow-capped Alps in the distance.
Hari Hari
The journey along the West Coast is just about over with the road leaving the coast not long after you leave Lake Mahinapua. The one and a half hour drive to Franz Josef is very scenic with flat farming land on your right and towering snow-capped mountains on the left. Glimpses of peaks higher than any mountains I've ever seen come into view the closer to Franz you get.
One last stop before arriving at the final destination on this leg of the trip and it's for lunch.
Hari Hari is one of those blink and you'll miss it kind of towns. It has a population of around 300 and the main street is just a few shops along the highway.
I stopped here only because the map showed a lack of other places to stop further down the road. And boy was I glad! Set up along the highway on the southern side of town is a food truck called West Coast Food Co.
Here I bought the most delicious pork sausage roll and pesto salad and sat in this totally deserted town surrounded by mountains and ate.
It is these unexpected discoveries that makes travelling so exciting for me.
Where to Stay in Franz Josef
Arriving in Franz Josef, there are many great places to stay in this resort style town. Here are my picks for budget, mid range and luxury stays.
Budget
YHA Franz Josef
Features a range of rooms from private rooms with private bathroom to dorms with shared bathrooms. Facilities include a fully equipped shared kitchen, a guest lounge, a pool table, BBQ area and a sauna.
Check availability, prices and book this hotel
Mid Range
The Terrace
The Terrace offers free WiFi and views of snow-capped mountains from the grounds, and some rooms. Choose from studio rooms and self-contained apartments. Enjoy the on-site restaurant.
Check availability, prices and book this hotel
Luxury
Te Waonui Forest Retreat
Surrounded by natural rainforest, this retreat is an easy walk to the main street of town. Guests enjoy free WiFi and luxuriously appointed rooms which include organic cotton bedding and large private bathrooms.
Check availability, prices and book this hotel
Or why not book an Airbnb stay. Use this link to get up to $45AUD off.
---
PIN THIS FOR LATER!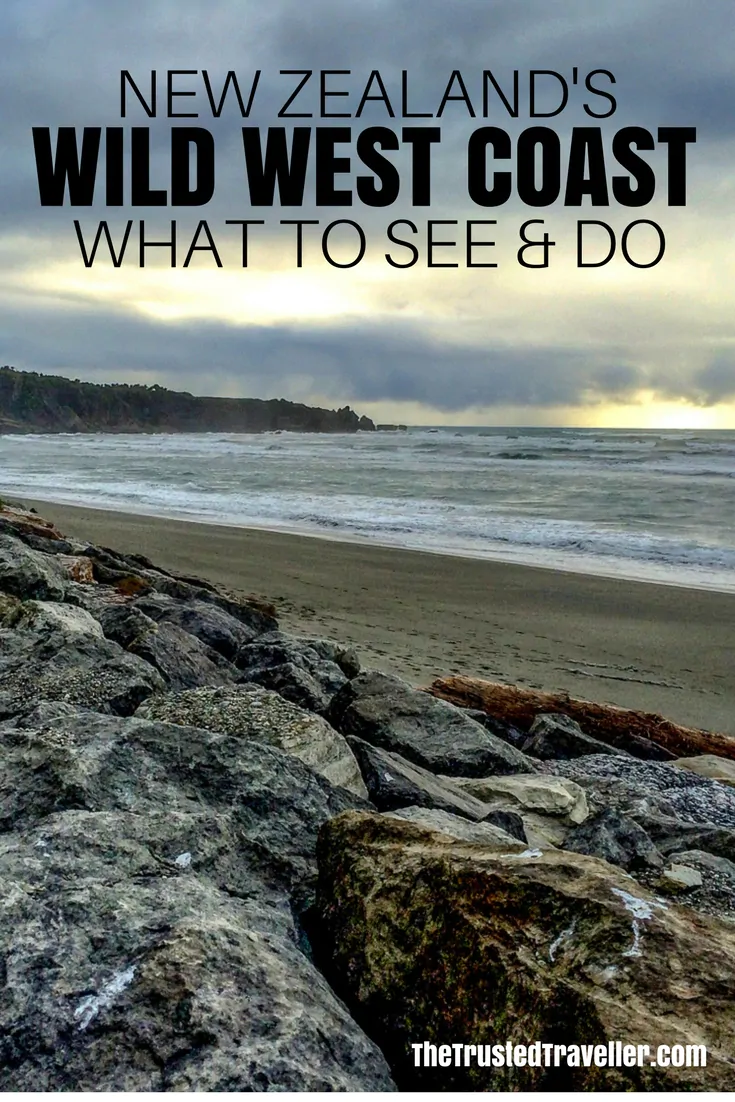 ---
Disclaimer: This page contains affiliate links. If you found this article helpful, please consider using them to book your trip. It costs you no extra and helps to keep The Trusted Traveller running.
---
Over to you!
What would you most like to see and do on the road driving New Zealand's Wild West Coast?
Let me know using the comments section below or join me on social media to start a conversation.
Thanks for reading and I hope you enjoyed this post.