France is a country that offers visitors incredible diversity. It is loved by so many and is one of the most visited countries in the world. But the majority of those people only visit Paris. This 10 day France itinerary aims to get you outside of Paris and exploring other equally incredible parts of the country.
My France 10 day itinerary covers just some of the highlights that France has to offer. It brings together the what to see in France in 10 days so you can get a taste for this beautiful country and make the most of your precious vacation time.
This post contains affiliate links. Our full disclosure policy is here.
---
Car Hire
If you follow this trip to a tee you'll be driving close to 2,000 km so you'll want a vehicle that is comfortable for both driver and passengers, plus on that has plenty of space for your luggage.
For all my car hire bookings I use and recommend Hertz. I've found they offer the most comparable prices, let you search and compare multiple vehicle types and they have a great customer service team who can help if you come into any unexpected troubles.
---
10 Day France Itinerary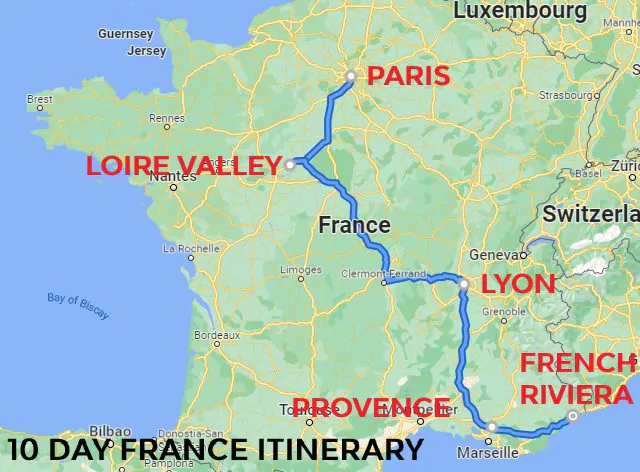 Days 1 to 3 – Paris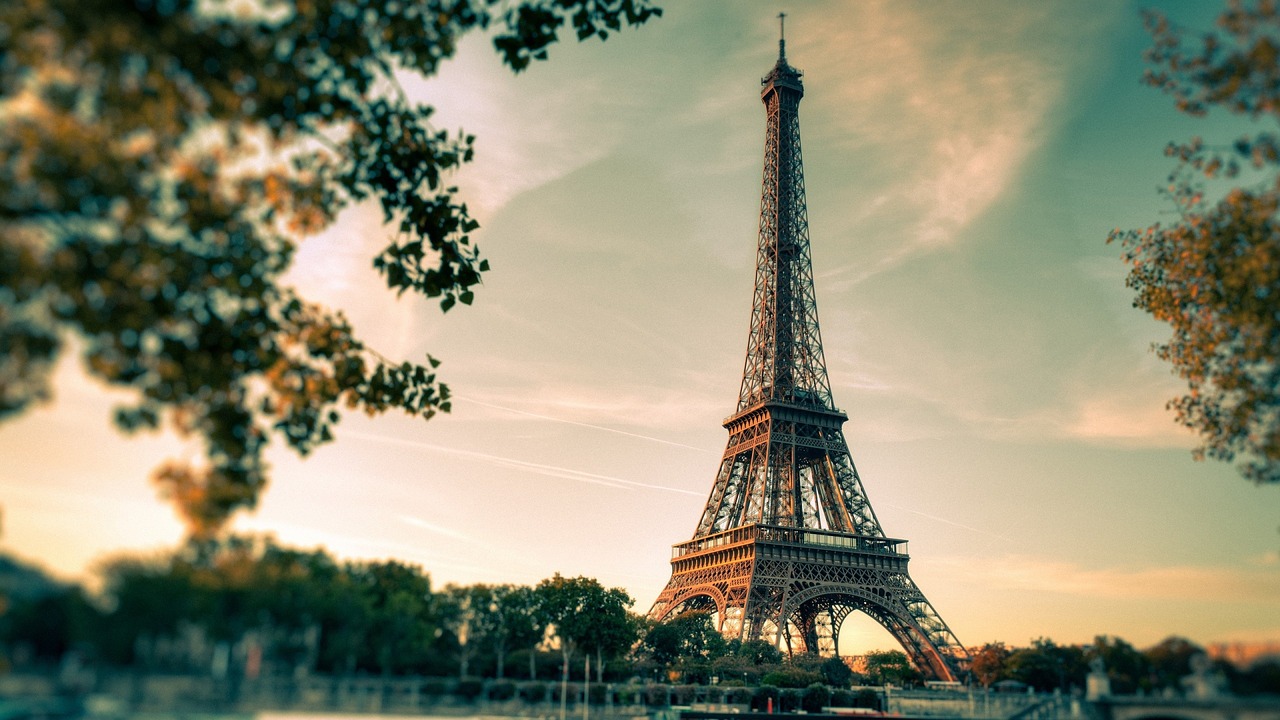 Day 1 – Begin your 10 days in France by arriving in Paris. This itinerary assumes that you arrive in the morning giving you three quarters of a day to start seeing the sights.
The City of Lights, Paris, is one of the most visited cities in the world and rightly so. It is dripping with amazing architecture, world class art and culture and mouth-watering food. Paris is a city for everyone and its highlights can easily be explored in just a few days.
What to See & Do in Paris
Eiffel Tower – The icon of Paris is the perfect place to start your visit. Admire the architecture of what was once the world's tallest tower before being whisked to the top in an elevator to enjoy the most spectacular uninterrupted views of the city. Skip the queues and pre-booked your visit to the top of the Eiffel Tower here.
Arc Du Triomphe – Take a walk up the famous Champ Elysees to enjoy the approaching view of this imposing arch. Built to honour those who fought and died for France, check out the inner and outer surfaces of the Arc for the names of French war victories and generals inscribed in the stone. You can climb the steps to the top for nice views over Paris and down the avenues that run off the centre of the Arc. Avoid long queues with this pre-booked ticket to the top.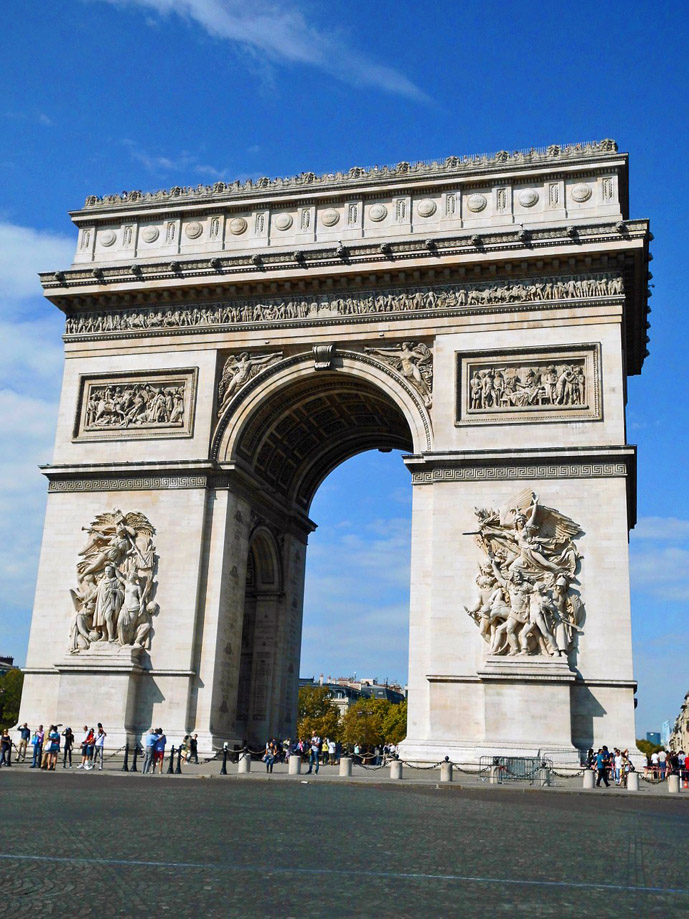 Notre Dame Cathedral – One of the finest examples of French Gothic architecture in the world, Notre Dame is famous for its incredible stained glass windows and for the gargoyles that guard the cathedral from above. Inside it is simply breathtaking and the view from the top allows you to get a closer look at those gargoyles, the cathedral's roof and spires and over the city.
The Louvre – Home of the famous Mona Lisa, the world's largest and most visited museum is spread across three wings with eight different departments and around 35,000 works of art and artifacts on display. One visit is most certainly not enough to take it all in so a little forward planning about what you want to see is a must. You might also want to nab yourself a timed entry ticket here to avoid the really long queues.
Montmartre & Sacre Coeur – For many hundreds of years the area of Montmartre has attracted artists from around the world. Today the area has a very bohemian vibe with tons of character and notorious nightlife. The most notable structure in the area is the lovely Sacre Coeur Basilica which holds services daily for locals and visitors. Make sure you enjoy the view from the area in front of the Basilica looking out over Paris. With so much interesting history in this area, a short tour with a local guide is a must!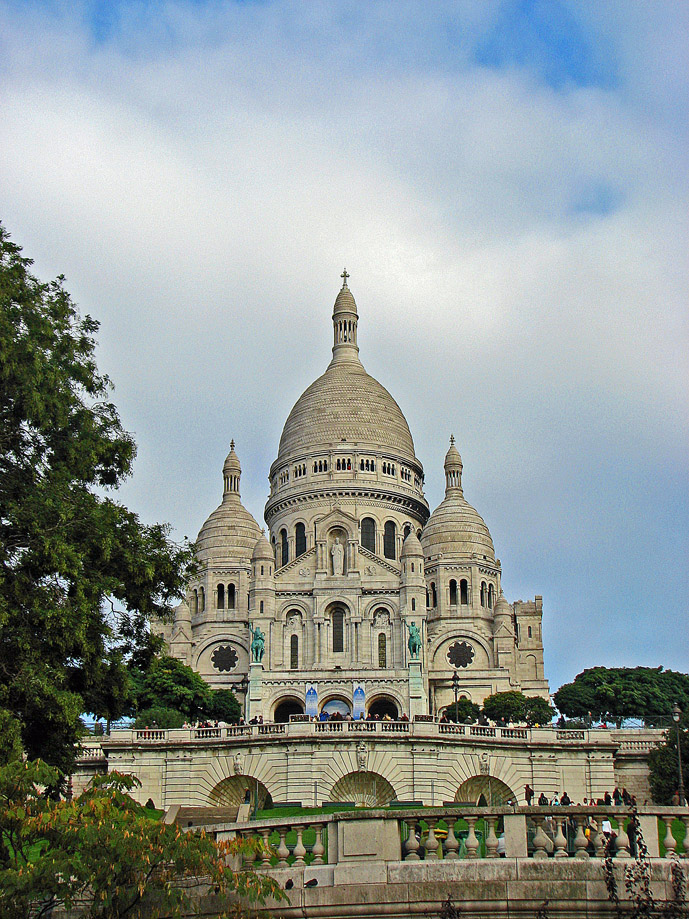 Cruise the Seine – Some of Paris's best architecture and landmarks line the Seine River making a sightseeing cruise a must do (especially this evening illuminations cruise where you will see Paris sparkle!). My top tip is to hop aboard the Bateaux Mouches for a one hour cruise at night on an open top boat that will take you under all of the city's famous bridges and past its famous sites.
Palace of Versailles – This grand chateau was once home to Louis XVI and Marie Antoinette and is simply spectacular inside and out. Grand rooms filled with priceless works of art, furniture and antiquities on the inside and sprawling perfectly manicured gardens on the outside make this a worthy half to full day trip from the centre of Paris. As with most popular Paris attractions, having a skip the line entry ticket is a must.
Enjoy the Gardens – Paris has some really stunning gardens that are a haven from the busy streets of the city. Stroll the length of the Jardin des Tuileries from the Louvre to the Place de la Concorde or enjoy the spectacular flower displays of the Jardin du Luxembourg, just to name two of the city's best green spaces.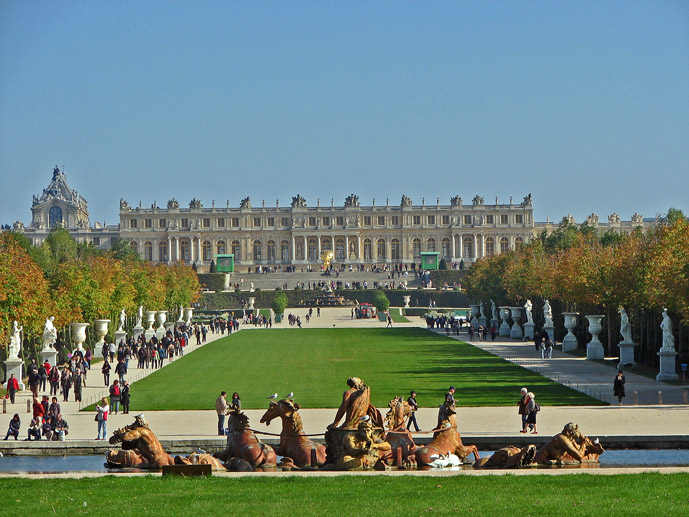 Where to Stay in Paris
Here are three accommodation options to suit all budgets that I recommend you check out. All are centrally located, highly rated and come with excellent facilities.
Budget – Hotel Marignan
Mid-Range – Hotel Le Relais des Halles
Luxury – Four Seasons Hotel George V Paris
Or why not book an Airbnb stay. Use this link to get up to $45AUD off.
---
Days 4 to 5 – Loire Valley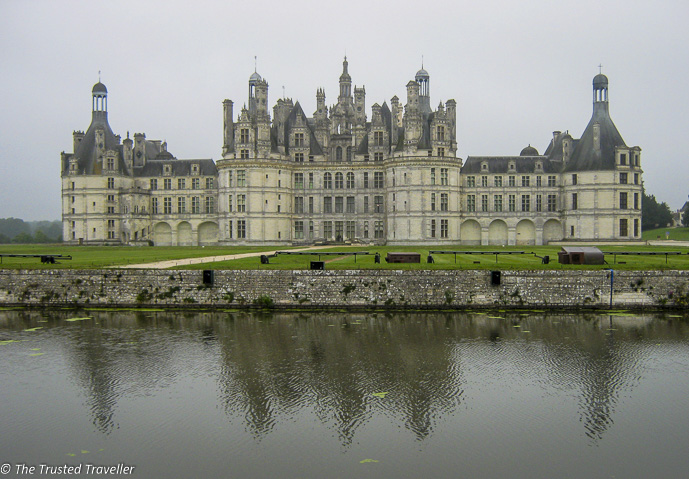 Drive: The next stop on your 10 day trip to France is the Loire Valley. From Paris to Tours it is approximately 2.5 hours drive. Leave Paris early to make the most of the day in The Loire Valley.
Famous for its abundance of chateau, The Loire Valley has to be one of the most beautiful regions of France. Explore the chateau, wander the sprawling gardens and orchids, taste the local produce and wine and just simply soak up the beauty of the landscape.
What to See & Do in the Loire Valley
Chateau Chambord – The biggest and most famous of the chateau in The Loire Valley, Chateau Chambord was built by King Francis I as a hunting lodge. Of course it has been upgraded and expanded considerably since then. It is one of the best examples of renaissance architecture in the world. A small number of the 440 odd rooms in the chateau are open to the public to explore. See this incredible building without the queues by booking here in advance.
Ainy-le-Vieil Chateau & Gardens – One of the many chateau in the region, what sets Ainy-le-Vieil apart from the rest is the incredible gardens which are split into a series of rooms each with a different theme. The chateau itself has been in the same family since 1467 and you can explore the interiors to check out some of the personal mementos left behind by past family members.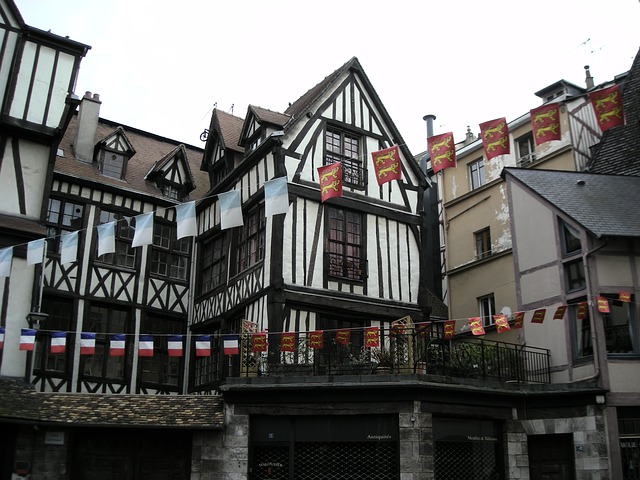 Cycle along the Loire River – The Loire Valley is relatively flat making it the perfect place to hire a bike or take a bike tour (like this one!). There are bike hire places in most villages along the river and the path is well sign posted. Whether its just a short ride or a full day, you'll see plenty of beautiful chateau and have the opportunity to stop by plenty of quaint little villages on your ride.
Bourges Cathedral – One of the most remarkable Gothic cathedrals in France, the Bourges is located in the town of the same name and dates back to the 12th century. Modelled on Notre-Dame in Paris, the cathedrals biggest draw card is its spectacular stained glass windows intricately depicting biblical stories.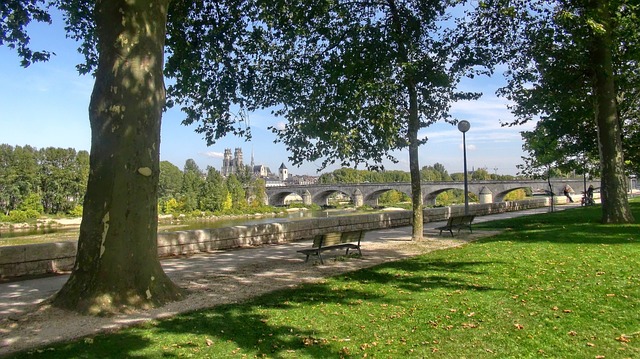 Explore the Vineyards – The Loire Valley has some of the best wine-making soil in France and some of France's most well-known wine is produced in the region. You can explore the vineyards on your own in the car, hire a bike or take a tour like this one. Maps are available from local tourist offices making it easy to navigate between the vineyards.
Where to Stay in the Loire Valley
Here are three accommodation options to suit all budgets that I recommend you check out. All are centrally located in the town of Tours, highly rated and come with excellent facilities.
Budget – Hotel Italia
Mid-Range – Best Western Plus l'Artist Hotel
Luxury – Chateau Belmont Tours
Or why not book an Airbnb stay. Use this link to get up to $45AUD off.
---
Days 6 to 7 – Lyon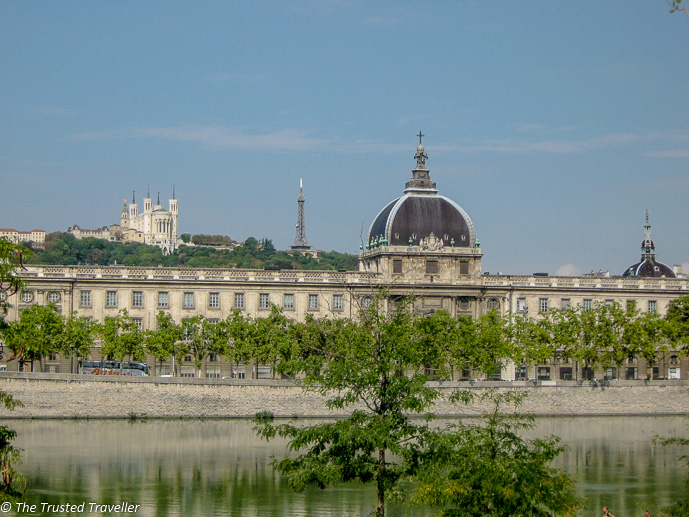 Drive: Your Frnace 10 day itinerary continues in Lyon which is approximately 4.5 hours drive from Tours. Leave Tours early to make the most of the day and allow time for plenty of scenic stops along the way.
If the main reasons you're visiting France are for the culture and the food then you can't miss visiting Lyon on your travel travel itinerary. France's third largest city is home to interesting museums, cultural events year round and food offerings for those with an adventurous palate.
What to See & Do in Lyon
Explore the Vieux – Lyon's Vieux (old town) is a great place to start your visit. Take a wander around the cobblestone streets through narrow passageways past delicatessens, artisan stores and sidewalk cafes. Keep your eye out for an old traboule which are passageways used in medieval times by the silk industry, some of which have been recently renovated. A guided tour, like this one, will help you find all those hidden spots.
Dine in a bouchon – These small restaurants serve the most traditional of Lyonnaise cuisine and are best suited to those looking to try something a little different. Dishes on the menu might include ingredients such as tripe, bone marrow or pork offal.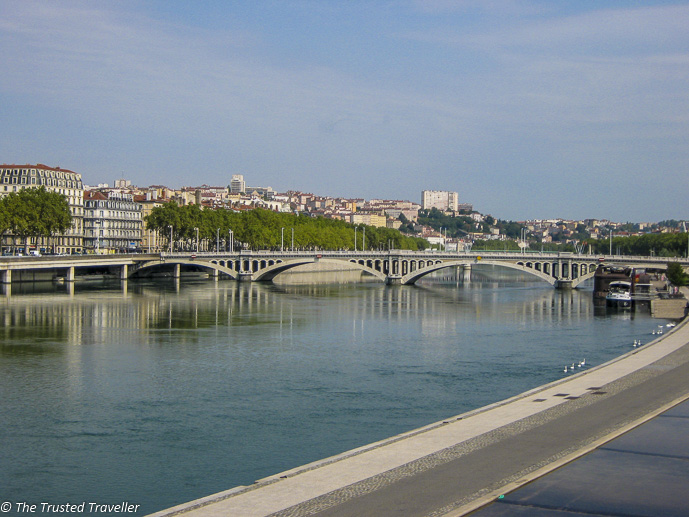 Basilique Notre-Dame de Fourviere – Perched high above the old town, this impressive white church dominates Lyon's skyline and offers great views over Lyon from the promenade out the front. You can walk up the steep steps to get there or take the funicular for a few euros to save your legs. Nicknamed "the upside down elephant" because of its outside shape, inside its interior is quite pretty with lots of ornate features.
Roman Amphitheatre – Right next to Notre Dame is one of the best preserved Roman amphitheatres outside of Rome. The theatre holds up to 10,000 people and is used by the city to host many festivals and events throughout the year. When there's nothing going on, visitors are free to wander around the theatre and picture themselves enjoying a concert in roman times.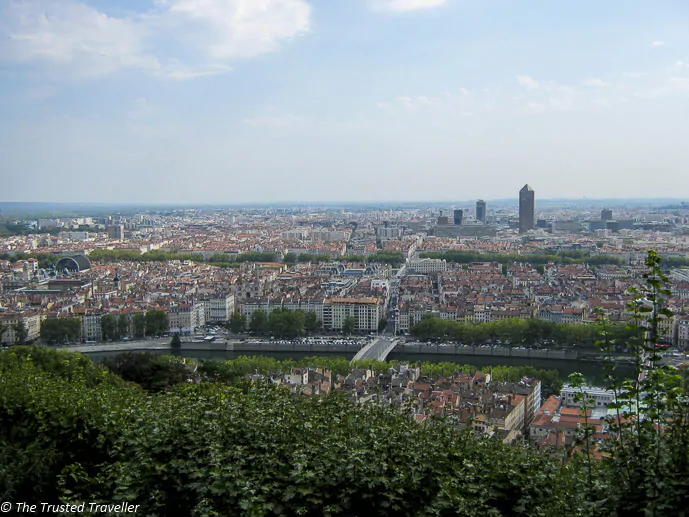 Museum of Fine Arts – This museum has one of the broadest collections of fine art pieces of any museum in the world with their collection ranging from ancient Egyptian antiquities to modern art pieces from the last few decades. The Museum of Fine Arts also holds pieces that are among the finest in all of Europe. For art lovers, this place is heaven and not to be missed.
Hire a bike – Lyon is laid out on relatively flat ground and running right through the city are two rivers. This makes Lyon a great place to hire a bike and explore. There are Velo bike stations all over the city where you can pick up a bike any time of day for a few hours or a full day and explore along the rivers or around the city. It's a great way to cover a lot of ground in less time.
Take a River Cruise – A great way to see most cities in Europe is on a river cruise and Lyon is no different. This one hour Saone River cruise will give you a new perspective of the most famous landmarks of Lyon and its interesting and unique architecture.
Where to Stay in Lyon
Here are three accommodation options to suit all budgets that I recommend you check out. All are centrally located, highly rated and come with excellent facilities.
Budget – Hotel Saint Vincent
Mid-Range – Hotel ParkSaone
Luxury – Villa Maia
Or why not book an Airbnb stay. Use this link to get up to $45AUD off.
---
Days 8 – Aix-en-Provence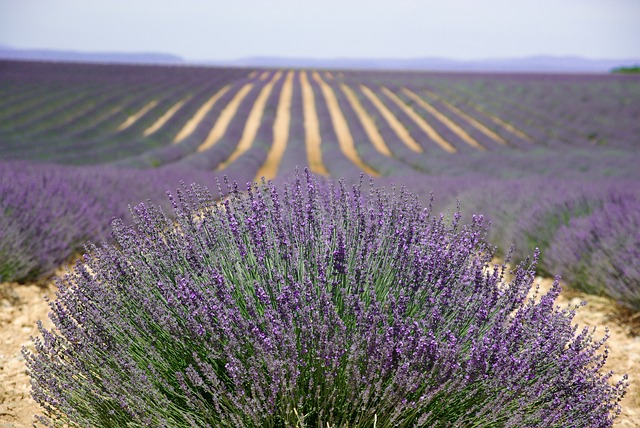 Drive: The next stop on your France vacation itinerary is Aix-en-Provence, located approximately 3.5 hours drive south of Lyon. Leave Lyon early to allow time for plenty of stops along the way.
Suggested Stops
Allow plenty of time to stop at two French gems. First make stop at the Pont du Gard for a stroll out to this ancient roman aqueduct. Then head into Avignon to check out the Palais des Papes, walk over the Pont Saint-Benezet, wander the cobblestone streets browsing the boutiques and relax in one of the many sidewalk cafes.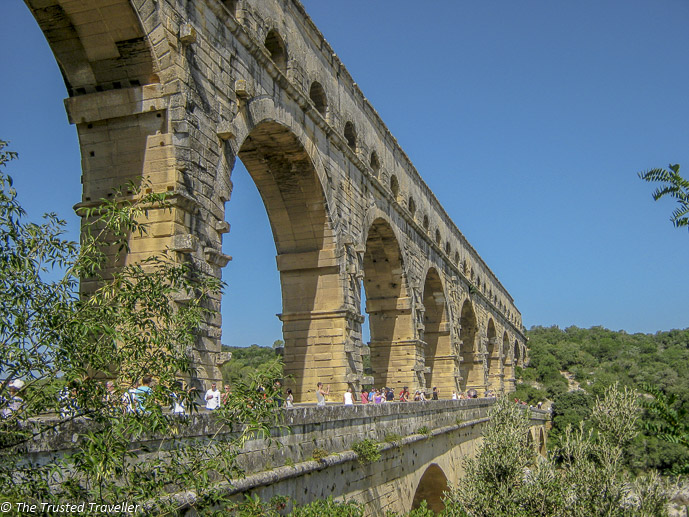 Food to the people of Provence is everything, so foodies will love exploring this region on this France Itinerary. From the markets to the cafes and rolling fields of produce, Provence is a region for the senses. Its naturally beautiful landscapes and pretty little towns have been attracting artists for hundreds of years who come for the light and create masterpieces that can now be found in some of the best galleries all over the world.
What to See & Do in Provence
Aix-en-Provence – Basing yourself in Aix-en-Provence will give you plenty of time to explore this picture perfect town. Dine in one of the many fantastic restaurants that use only the best local produce. Wander the cobblestone lanes to see exactly why artists like Cezanne were so inspired by this town. And browse through the chic boutiques scattered through the town.
Arles Amphitheater – During the summer months this ancient roman amphitheater comes alive with plays and concerts. For the rest of the year it is open to visitors. Take a walk around and picture yourself back in the roman days watching sporting events, wild-animal hunts, executions of prisoners, and gladiatorial contests.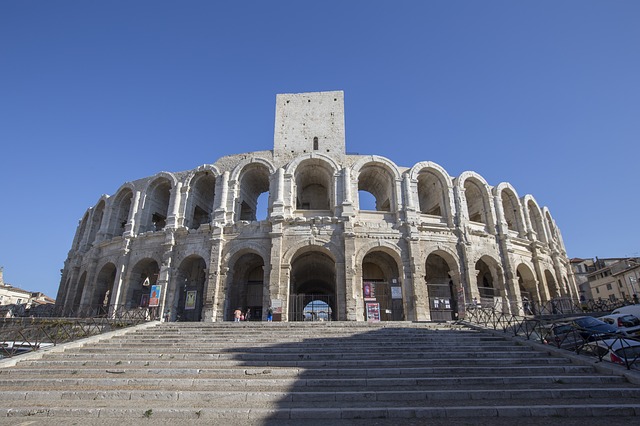 Marseille's Vieux Port – The Old Port of Marseille is the beating heart of the city and the Provence region. It is the place where locals and visitors go to relax, eat, drink, shop and just generally enjoy life. Wander through the shops and markets, have a drink or a bite to eat in one of the restaurants, bars and cafes or just stroll along the harbour people watching.
Saint-Remy-de-Provence – This quaint, traditional Provençal village is rather sleepy these days but back in Roman times it was a thriving Roman settlement, the ruins of which can still be seen today. However, this isn't the town's only claim to fame. It was also where Van Gogh was housed while being treated for his many psychiatric problems. It's a lovely town to explore on foot and enjoy a break at one of the many cafes.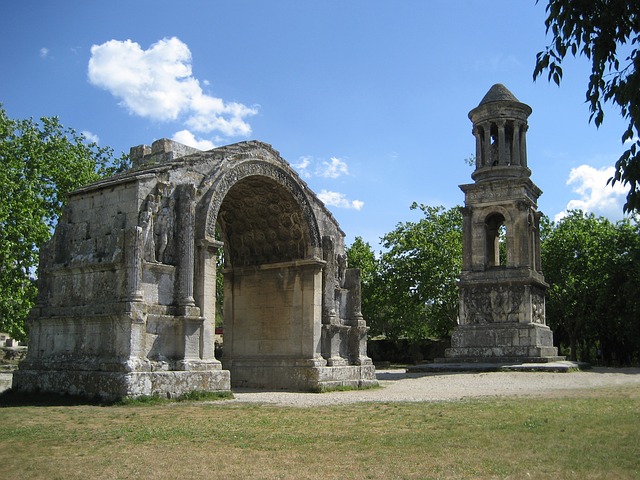 Moustiers Sainte-Marie – Hiding up the Gorges du Verdon is the town of Moustiers Sainte-Marie. The drive to this beautiful medieval town is on a long and winding road up the gorge with some spectacular scenery. The village itself is charming and well worth the effort to get there as it seems like time has stood still of hundreds of years.
Digne les Bains Lavender Fields – Take a drive through the rolling hills of Digne les Bains to see field after field of lavender mass planted. Stop by one of the road-side stalls or country shops to buy all sorts of lavender products from soaps and fragrance sprays to honey and other food products. The lavender blooms from June to August and the locals celebrate with a festival over a few days in August at harvest time.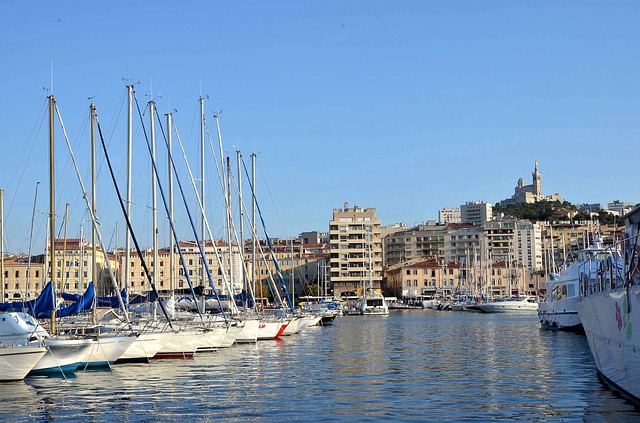 Where to Stay in Provence
Here are three accommodation options to suit all budgets that I recommend you check out. All are centrally located, highly rated and come with excellent facilities.
Budget – Hotel Le Mozart
Mid-Range – Hotel du Globe
Luxury – Villa Gallici Hotel & Spa
Or why not book an Airbnb stay. Use this link to get up to $45AUD off.
---
Days 9 to 10 – French Riviera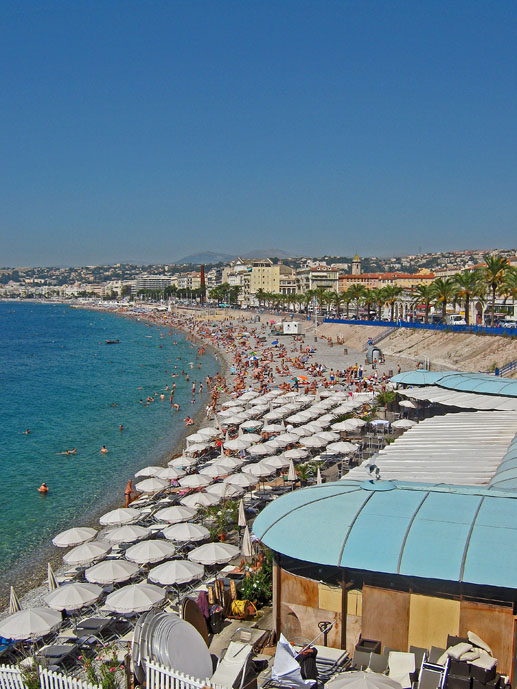 Drive: The last stop on this 10 day France Itinerary is the French Riviera, with Nice, the main city along this stretch of coast approximately 5 hours drive from Aux-en-Provence if you take the slower coast road the whole way or 3 hours if you take the inland faster route. Leave Nimes early to make the most of the day and allow time for plenty of scenic stops along the way.
Optional Detour
To get to Nice you can take the quick route shown in the map above. Or if you have a bit more time you can detour the French Riviera coast stopping in Saint Topez, Cannes and Antibes.
The heart of the French Riviera, Nice is everything you have heard it is and so much more. Nice is a mixture of grit and opulence drenched with lots of sunshine. While the beaches and corso are the places to be and be seen, it's the winding cobblestone lanes of the old town you'll want to get lost in and find your own little piece of Nice.
What to See & Do in the French Riviera
Soak up with sun on the beach – While the beaches of Nice aren't like the white sandy beaches most will be used to, the warm Mediterranean seas are more than enough to get most people over having to walk on pebbles. Whether you hire a sun lounger and umbrella for a day or brave it on the pebbles, a day by the water in Nice is an absolutely must!
Stroll the Promenade des Anglais – This palm fringed promenade runs for five miles along the beach at Nice and is the place to be and be seen when the sun is shining. You could easily spend a few hours strolling up and down the promenade watching the people enjoy life and this beautiful part of the world.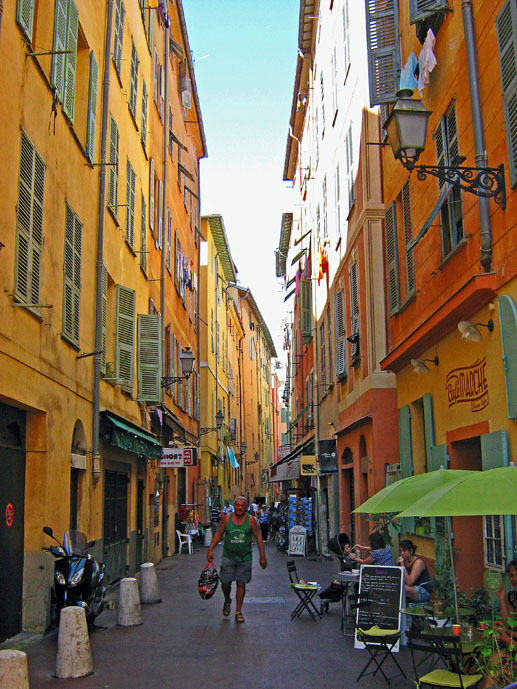 Nice Old Town – Once you've had your time in the sun, head to the old town to wander around the colourful winding cobblestone lanes. It's a labyrinth you could easily get lost in passing but tiny local cafes, green grocers and artisan stores. There's usually a market going on too which gives you a great glimpse into the lives of the locals.
Monaco – The nicest time of day to enjoy Monaco is just before the sun sets. You can take a bus or train from Nice (20-30 minutes) in the late afternoon to explore Le Palais des Princes de Monaco then watch the sun set over the billions of dollar's worth of yachts in the marina. Finishing off the night in the Monte Carlo Casino or just outside in one of the sidewalk cafes checking out some of the world's most expensive cars and the wealthy people who own them. This evening tour is also a great way to experience the very best of Monaco on short trip from Nice.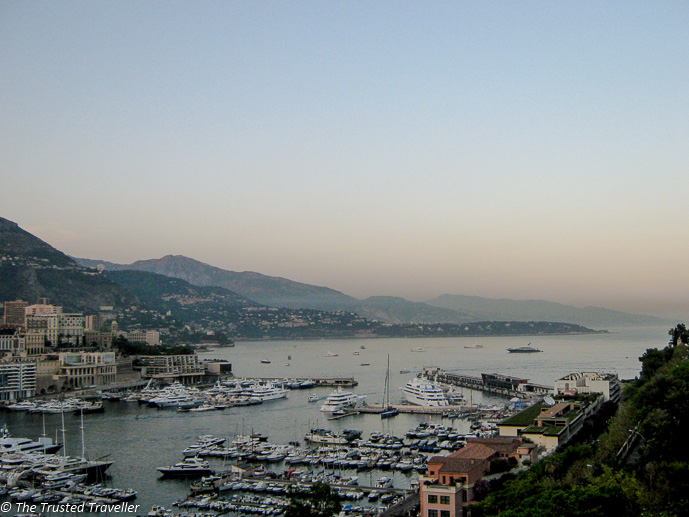 Museum of Modern and Contemporary Art – Get your final art fix of the trip at this museum famous for its Pop Art collection. The Museum of Modern and Contemporary Art has a large collection of permanent exhibitions which are free to visit as well as ever-changing temporary exhibitions for a small fee. The building itself is also a work of art and worth a look, as is the view from the roof.
Or why not book an Airbnb stay. Use this link to get up to $45AUD off.
---
Got More Time?
If you have more than 10 days in France you have a few options to extend you're time there.
Check out my Two Week France Itinerary which covers a little more time in some of the places mentioned above, plus a few nights in the historic Normandy region.
You can choose to add some additional days at the places mentioned above. This will give you more quality time to spend in each place and will allow you to see more and spend a bit more time relaxing.
Alternatively you can add another destination or two to your journey. Just a few of these options include the Bordeaux wine region, the French Alps (I love the mountain town of Annecy), Dijon for the cuisine or Strasbourg on the German border to see how the cultures mix together to form a truly unique city.
Your can read more about some of these additional places to visit in France here.
---
PIN THIS FOR LATER!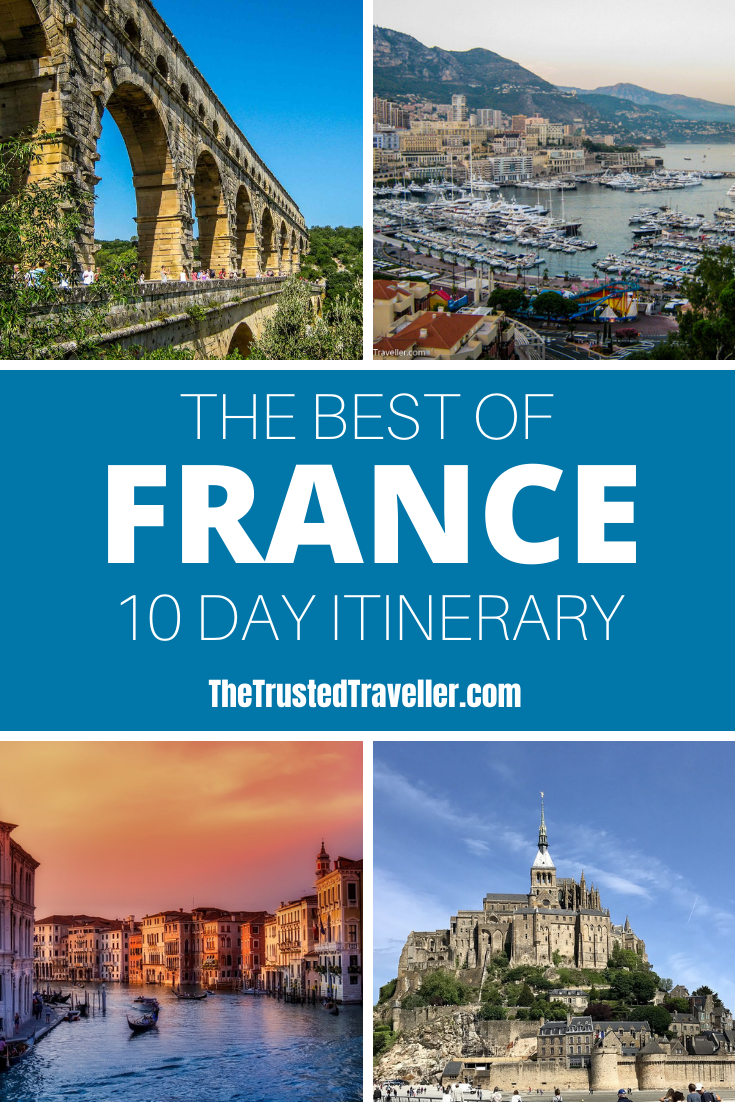 ---
---
Over to you!
What is your favourite part of this France vacation itinerary or where are you most keen to visit?
Let me know using the comments section below or join me on social media to start a conversation.
Thanks for reading and I hope you enjoyed this post.
Join my email list and get a FREE copy of my TRAVEL PLANNING TEMPLATE
My Travel Planning Template will make your travel planning simple & stress-free!