The most visited city in the world, Paris, or as it's more affectionately know, The City of Lights, is passionately loved by so many people all over the world. People who've been there once, twice or more, and people who dream of one day stepping foot in this intoxicating city.
It's a city with many opposite faces. You'll find total grandeur as you walk down the main thoroughfares, but as soon as you duck down a side street, you're in a quaint village completely sheltered from the loud bustling city beyond.
In this two-part series discover my list of the top 30 amazing things to do in Paris. Here are the first 15 and you can check out part two at the bottom of this post.
This post contains affiliate links. Our full disclosure policy is here.
---
Eiffel Tower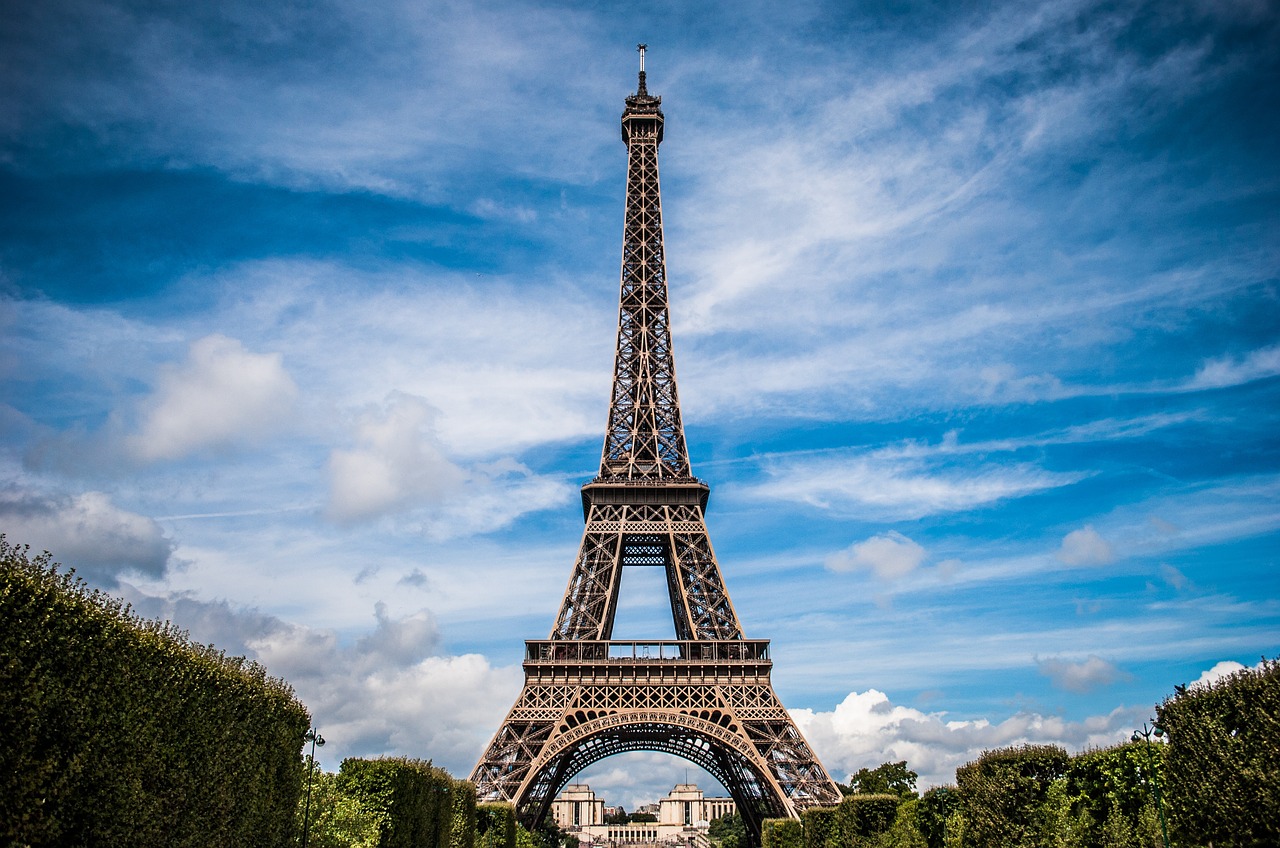 What better place to start a visit in Paris than at what is quite possibly the worlds most iconic attraction, the Eiffel Tower.
Built in 1889 for the World's Fair, the Eiffel Tower was never meant to be a permanent structure and was strongly opposed by the contemporary artist community at the time.
Despite this, today it is the icon of the City of Lights and can be seen rising high above Paris from just about every corner of the city.
The best views of the tower can be found at the opposite end of the Champs de Mars or at the Trocodero. The tower is also nice viewed from the river and the top of Montparnasse Tower.
Queues to take a lift up the tower to the second and third levels can be long. If this is something you really want to do, I suggest booking ahead (details of that below). You can also take the stairs to levels one and two for a more energetic visit.
There is also a restaurant on the first floor which is very popular and reservations need to be made months in advance, especially during peak season in summer.
Address: Champ de Mars, 7th Arrondissement
Cost: Tickets start from €10 for adults
Hours: 09:00-00:45 21 June to 2 September | 09:30-23:45 rest of the year
More Information: http://www.toureiffel.paris/
Arc de Triomphe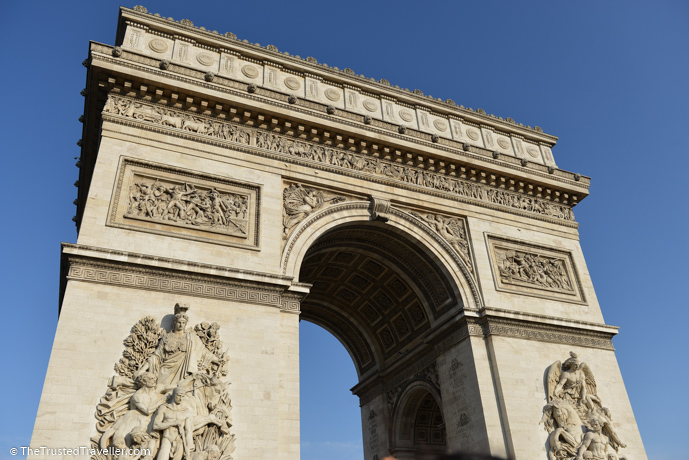 Located at the western end of the Champs-Élysées, The Arc de Triomphe was built to honour those who fought and died for France in the French Revolutionary and the Napoleonic Wars.
On the inner and outer surfaces of the Arc you'll find the names of all French victories and generals inscribed. Beneath the Arc in the vault is the Tomb of the Unknown Soldier from World War I.
You can climb the steps of this famous landmark in Paris to the top for nice views over Paris and down the avenues that run off the centre of the Arc.
Address: Place Charles-de-Gaulle, 8th Arrondissement
Cost: Adult €12.00, Concession €9.00, Free for under 18 with a paying adult and for 18-25 EU residents
Hours: 10:00-23:00 April to September | 10:00-22:30 rest of the year
More Information: http://arc-de-triomphe.monuments-nationaux.fr/
Jardin des Tuileries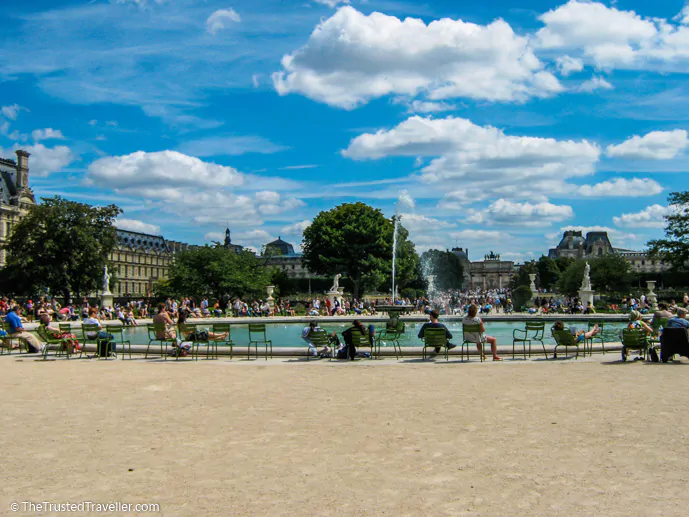 Any Paris itinerary is not complete without a visit to this popular public garden. Located between the Louvre and the Place de la Concorde, Jardin des Tuileries became a public park after the French Revolution.
It's a lovely spot for a stroll along the central gravel path or to take a wander off into the smaller gardens along the sides for some peace.
The central pond, surrounded by chairs with people relaxing, makes for an excellent spot to do a little people watching while you rest your feet.
Address: 1st Arrondissement
Cost: Free
Hours: From the last Sunday in March to 31 May, and from 1 September to the last Saturday in September: 07:00-21:00. From 1 June to 31 August: 07:00-23:00. From the last Sunday in September to the last Saturday in March: 07:30-19:30.
The Louvre Museum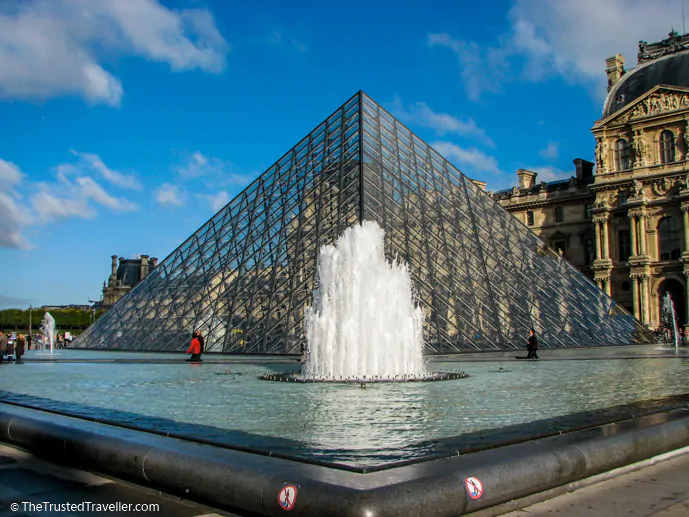 The world's largest and most visited museum, The Louvre attracts nearly 10 million visitors each year. The museum is spread across three wings with eight different departments and over 35,000 works of art and artifacts on display.
One visit is most certainly not enough to take it all in, so a little forward planning about what you want to see is a must.
The most popular piece in the museum is of course Leonardo da Vinci's famous Mona Lisa which you'll find crowded with people anytime the museum is open.
The main and most popular entrance to the museum is via the glass pyramid, however if you want to avoid the queues try another entrance.
Buying an advance ticket allows you direct access through the glass pyramid without queuing.
Address: 1st Arrondissement
Cost: Permanent Collection €17.00, separate tickets need to be purchased for temporary exhibitions | Free for under 18 and residents of the EU aged between 18-25, people with disabilities and the person accompanying them and people on income support.
Hours: Monday, Thursday, Saturday, Sunday 09:00-18:00 | Wednesday, Friday 09:00-21:45 | Closed on Tuesdays
More Information: http://www.louvre.fr/
Sacre Coeur
This popular basilica is located on the highest ground of an area called Montmartre in the 18th arrodissement.
Sacre Coeur is a fully functional Roman Catholic church dedicated to the Sacred Heart of Jesus and holds multiple daily services open to locals and visitors as well as being open to all at other times throughout the day.
Inside its best feature is the mosaics which are some of the nicest you'll find in Europe. Visitors can walk the 300 plus steps to the top of the dome for panoramic views over Paris or descend into the crypts (temporarily closed as at July 2018) to see tombs and interesting artifacts from the basilicas history.
For something really special, visit during Sunday mass at 11:00, 18:00 or 22:00 to hear the Grand Organ play. I visited by accident at this time and it was one of my most memorable travel moments.
The area in front of the basilica also affords spectacular views looking out over the city but unfortunately because of its popularity, it attracts pick-pockets and scammers, so watch your belongings and keep your wits about you while enjoying the views.
Address: Esplanade of the Basilica, 18th Arrondissement
Cost: Free
Hours: Basilica 06:00-22:30 daily | Dome 08:30-20:00 May to September and 09:00-17:00 October to April
More Information: http://www.sacre-coeur-montmartre.com/
Montmartre
Montmartre is a popular district of Paris that has for a long time attracted artists to set up workshops and build a community. The likes of Dalí, Monet, Picasso and van Gogh have all worked in or around the Montmartre area at some point during their lives.
Today the area still attracts artists but mostly the ones with a lot of money as prices in the area have shot up with its popularity.
During the day get lost wandering the steep cobblestone streets and at night come back for the nightlife, authentic Parisian cuisine and interesting characters.
Address: 18th Arrondissement
Book a Tour of Montmartre
Sacre Coeur and Montmartre Tour – explore this interesting bohemia area of Paris with an expert guide. Includes a tour of Sacre Coeur.
Champs-Élysées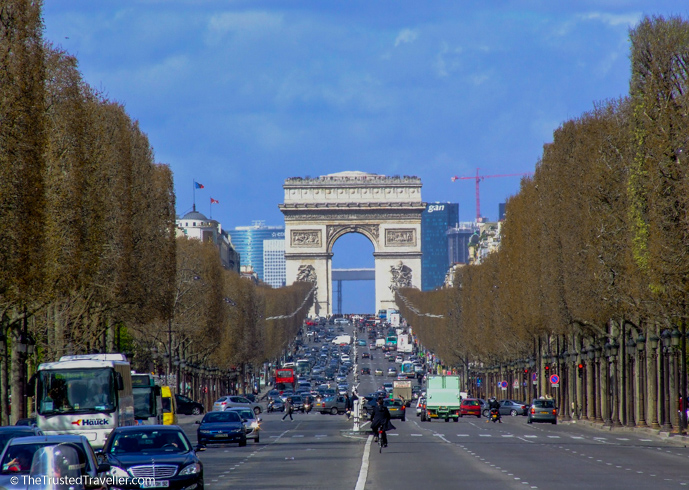 This almost 2 km avenue runs from the Place de la Concorde all the way up to the Arc du Triomphe and is lined with important buildings, stores and cafes.
The avenue is used each year on July 14 for the Bastille Day parade and as the end to the last leg of the Tour de France.
If you don't happen to be in town for either of those events then I can assure you there is still plenty to see along the avenue.
On the lower part of the Champs-Élysées you'll find the Grand and Petit Palais surrounded by some pretty gardens in the Jardin des Champs-Élysées.
As you start to head up the hill to the Arc, you'll find retail stores from some of the worlds biggest brands with both high street prices and luxury goods.
There are also plenty of cafes and restaurants with pavement seating, perfect for people watching, although a tad pricey and touristy.
Address: 8th Arrondissement
Notre Dame Cathedral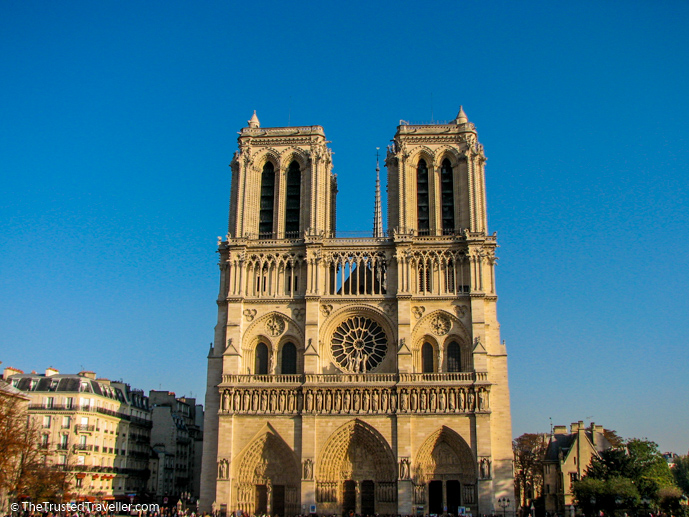 Notre Dame is considered one of the finest examples of French Gothic architecture in the world and is one of the top five most popular sights in Paris.
The cathedral is famous for its incredible stained glass windows, with the most impressive being the Rose window, and for the gargoyles that guard the cathedral from above.
Inside it is simply breathtaking and anyone who loves visiting churches and religious buildings around the world won't be disappointed.
Once you've enjoyed the inside you can then climb the 387 steps to the top to get a closer look at those gargoyles, the roof and spires of the cathedral and for lovely views over the city.
Address: 6 Parvis Notre-Dame – Place, 4th Arrondissement
Cost: Cathedral entry is free | Tower Adults €8.50, Concession €6.50, free for under 18s and EU residents aged between 18-25.
Hours: Catherdral 06:00-18:45 daily | Tower April to September 10:00-18:30, July and August, Fridays, Saturdays until 23:00, October to March 10:00-17:30
More Information: http://www.notredamedeparis.fr/
Montparnasse Tower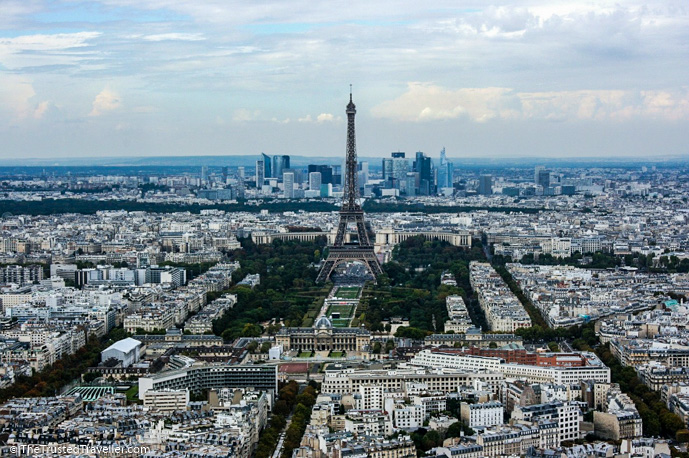 So you've been up the Eiffel Tower already and gotten a great view of the city, so why should you waste your money going up another tower? To get the view of the Eiffel Tower of course!
From the top of the 59 storey open air Montparnasse Tower you can get 360º views of Paris including the city's famous tower.
My suggestion is to go at night and experience the hourly show that the Eiffel Tower puts on, sparkling like a million diamonds. But if you do visit during the day and its clear, you'll be able to see for over 40 km.
Address: 33 Avenue du Maine, 15th Arrondissement
Cost: Adults €18.00, student €15.00, 4-11 years €9.50, disabled €8.50, under 4 years free
Hours: 09:30-23:30 all year
More Information: http://www.tourmontparnasse56.com/
Get Your Montparnasse Tower Tickets in Advance
Montparnasse Tickets – access to the 56th floor and roof terrace without the queues.
Walking Tour of The Marais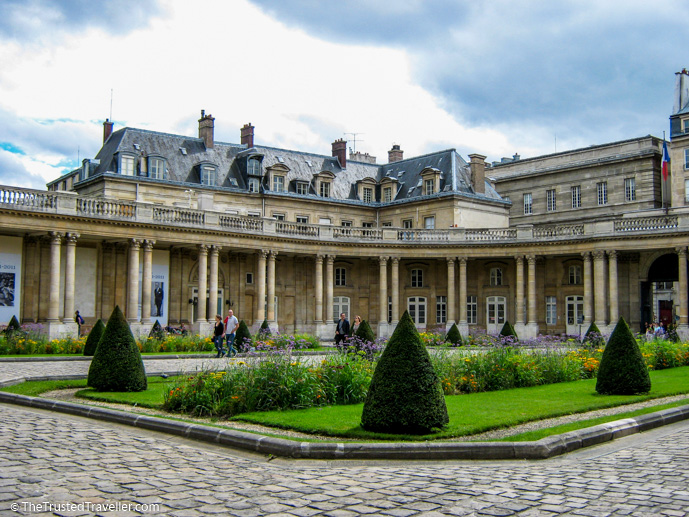 The Marais is one of the most charming areas of Paris. Crammed into one small area down small crooked medieval lanes you'll find bars and restaurants alive with patrons, trendy fashion boutiques, old-fashioned bread shops and patisseries, fashionable art galleries and museums.
The best way to get a feel for the area and learn about its history is on a walking tour. There are a few on offer depending on what you are interested in learning more about.
Guides are local and really know their stuff. What I love about these tours are that they focus less on tourist landmarks and more on authentic details of the area.
Opera Garnier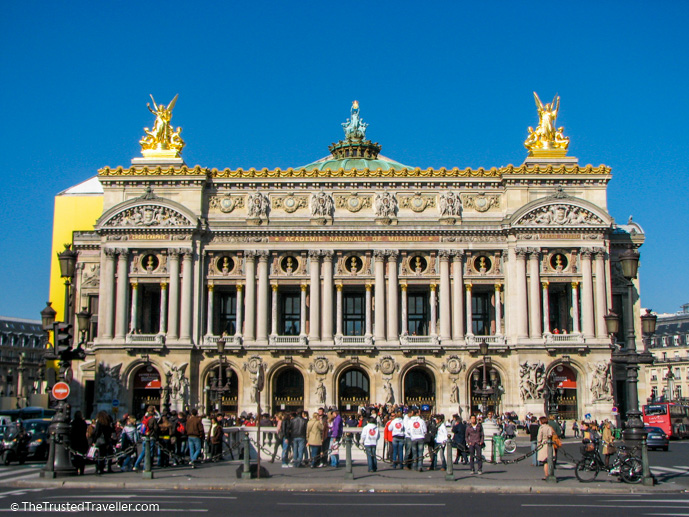 The home of Paris Opera, the Opera Garnier, is known for its opulent interiors and grand exterior but mostly for being the home of The Phantom of the Opera.
In 1910 Gaston Leroux used rumours of a ghost that haunted the Opera Garnier to write the gothic love story that has since been shown on stage and screen.
There are two ways you can take peek inside. Buy a ticket to the theatre which will set you back a small fortune or your can visit on a tour. With general entry you are free to roam the public areas at your leisure or you can take a tour an learn more about its history.
Address: Corner of Rues Scribe and Auber, 9th Arrondissement
Cost: General Entry (includes audio guide) Adult €12.00, 12-25 years €8.00 | Tours (includes entry and tour) Adult €15.50, Student under 26 €11.00, Child under 10 €8.50
Hours: 10:00-17:00 daily, check the website for specific closures
More Information: http://visitepalaisgarnier.fr/
Palace of Versailles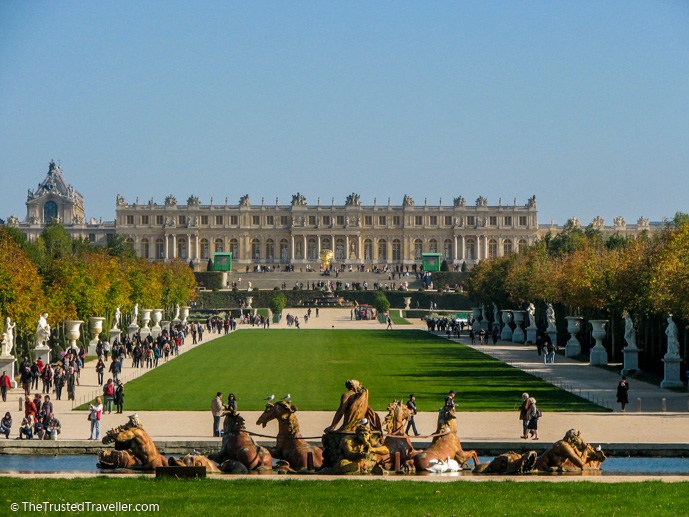 This grand chateau on the outskirts of Paris was the center of political power in France from 1682 until the beginning of the French Revolution in 1789 when Louis XVI and Marie Antoinette were taken back to the centre of Paris and guillotined.
The most famous palace in France is simply spectacular inside and out. You'll find grand rooms filled with priceless works of art, furniture and antiquities on the inside and sprawling perfectly manicured gardens on the outside. A visit to Versailles makes a worthy half day trip from the centre of the city.
Even if you're not into palaces and their over the top interiors, its worth the effort just to wander the grounds.
Address: Place d'Armes, Versailles
Cost: Passport tickets include access to everything – Adults €20.00, free for under 18 with accompanying adult and EU residents aged between 18-25. Tickets are also available for each attraction within the grounds.
Hours: Closed Monday's year round | April to October 09:00-18:30 | November to March 09:00-17:30
More Information: http://en.chateauversailles.fr/
Don't Miss Out, Get Your Versailles Tickets Early
Palace of Versailles and Gardens – skip-the-lines with this full access ticket to one of the most opulent palaces in the world.
Les Invalides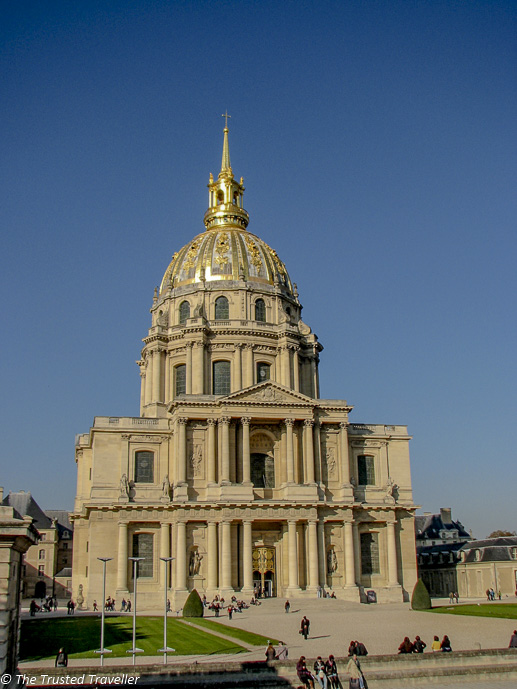 This complex of buildings houses museums and monuments on the military history of France with its most popular being the tomb of Napoleon Bonaparte.
The main buildings gold dome can be seen throughout Paris and is one of the most recognisable buildings in the city's skyline.
Apart from visiting the tomb of Napoleon you can find out more about him and the French army by visiting Musée de l'Armée, a military museum dedicated to the Army of France. Also in the grounds is the Musée des Plans-Reliefs and the Musée d'Histoire Contemporaine.
Address: 129 rue de Grenelle, 7th Arrondissement
Cost: One ticket for all Museums (permanent exhibits only) and Napoleons Tomb – €12.00
Hours: Check the website for opening times.
More Information: http://www.musee-armee.fr/
Priority Access to Les Invalides
Les Invalides – priority entry to Napoleon's Tomb and the Army Museum.
Cruise the Seine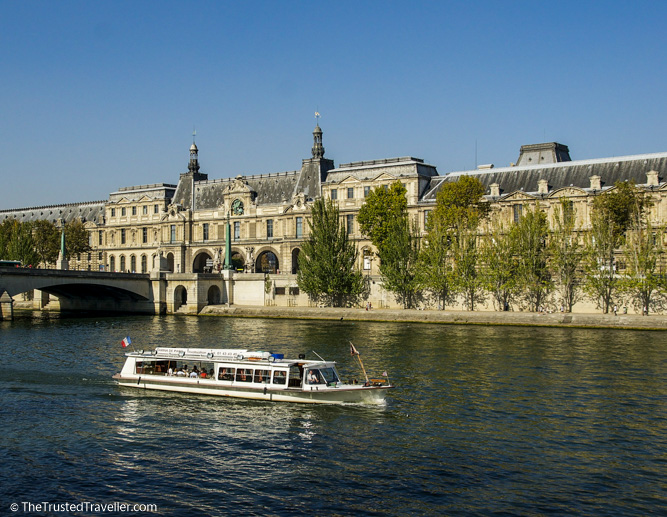 Any city built on a waterway should be seen from the water and Paris is no exception especially because more of the city's best architecture and landmarks line the Seine River.
There are lots of different types of cruises you can do like lunch or dinner cruises, private charter, sightseeing tours, night tours etc.
I've cruised the Seine both day and night and can't split them for which experience was better. If you have time, I recommend doing both. All cruises will take you under all the city's famous bridges and past its famous sites.
Where to Stay in Paris
Here are three accommodation options in Paris to suit all budgets that I recommend you check out. All are centrally located, highly rated and come with excellent facilities.
Budget – Hotel Marignan
Mid-Range – Hotel Le Relais des Halles
Luxury – Four Seasons Hotel George V Paris
More Fun Paris Tour Options
Paris City Pass – included admission to 60 museums, sights, and attractions in Paris plus free metro, bus and train travel.
Paris Highlights Bike Tour – see the highlights of Pairs on a 3-hour bike tour of Paris.
Hop-on Hop-off Bus Tour – choose from 1, 2, or 3 day tickets to see it all from the top of an open top bus.
Over to you!
What's your top pick of things to do in Paris?
Let me know using the comments section below or join me on social media to start a conversation.
Thanks for reading and I hope you enjoyed this post.