The heart of the French Riviera, Nice is everything you've heard it is and so much more.
Nice is a mixture of grit and opulence drenched with loads of sunshine. While the beaches and promenade are the places to be and be seen, it's the winding cobblestone lanes of the old town you'll want to get lost in and find your own little piece of Nice.
Here is my list of things to do in Nice that will keep you busy for a few days on this world famous coastline.
This post contains affiliate links. Our full disclosure policy is here.
Promenade des Anglais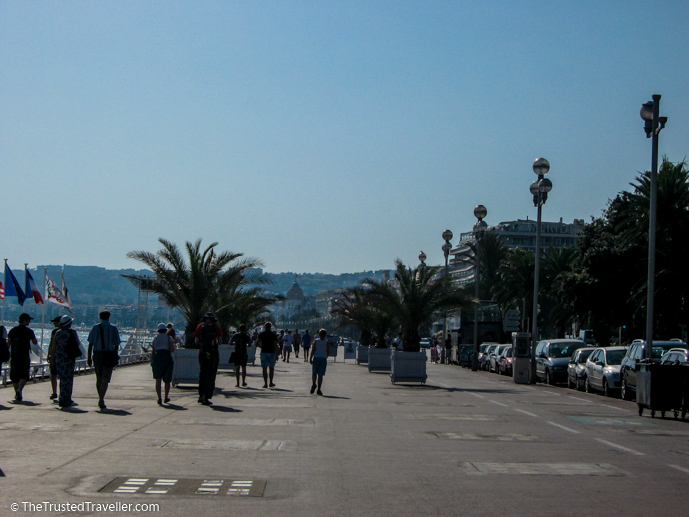 From the Promenade des Anglais you can enjoy the sunshine, beautiful views of the sea and the gorgeous Baie des Anges. The Promenade stretches for 7km along the coastline and in the summer is packed with people taking a stroll, riding their bikes or rollerblading.
You can walk the promenade or for something a bit more active, why not hire rollerblades, a bike or even a segway to experience this beautiful part of the city.
Address: The Promenade runs right along the beaches at Nice.
Soak Up the Sun on the Beach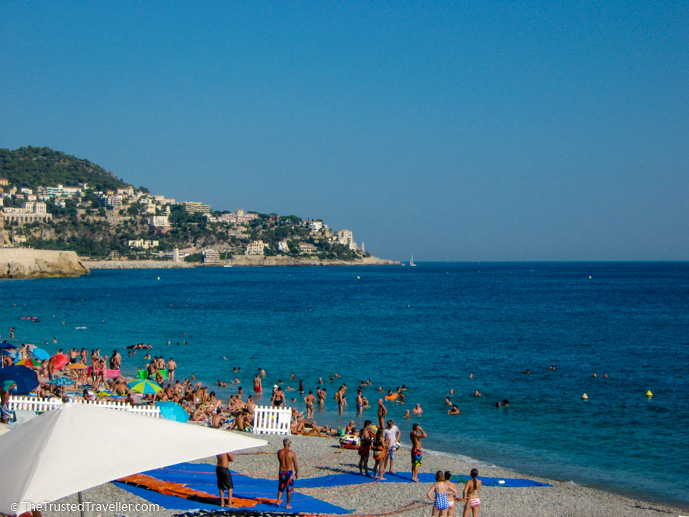 One of the quintessential Nice experiences is to spend at least a few hours on the beach. There are many big, small, private or secluded beaches in and around Nice but for a short term visitor you can't go past the stretch of beach right on the edge of the Old Town.
If you can't handle sitting or laying on the pebbles that make up the beach, then there are private areas where you can pay €10-20 for a comfortable padded sun lounger and umbrella. There is even food and drink service right to your seat!
Address: Various
Cost: Free to sit on the pebbles or hire a sun lounger on a private beach starting from €10.00 per person.
Hours: Private beaches open from 09:00 until sunset.
Wander the Vieux (Old Town)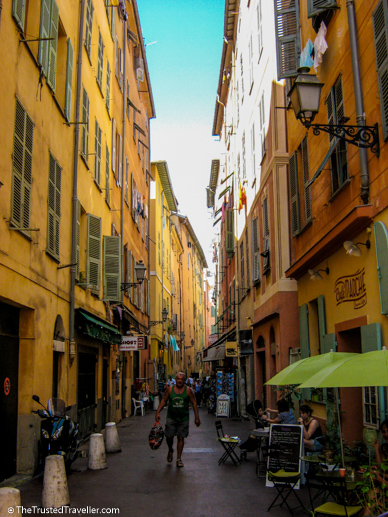 Getting lost in the narrow colourful streets of the Vieux is an absolutely must. The streets are lined with unique galleries; sidewalk cafés where locals enjoy their coffee and a chat; and greengrocers selling local produce.
And while you're wandering the Old Town, make sure you stop by the Cours Saleya Market, the city's oldest flower and produce market.
Address: Cours Saleya, Vieux
Hours: Market open 06:00 – 17:30 Tuesday to Saturday and to 13:30 Sunday
Musee Matisse
Nice is full of excellent galleries however, if you are to see only one, let is be the Matisse Museum. Henri Matisse lived in Nice from 1917 until his death in 1954.
The museum is located in a 17th-century villa on Cimiez Hill with a lot of his life's work on display. Pieces range from the 1890s to post Second World War.
Address: 164 av des Arènes de Cimiez, Nice
Cost: Adult €10.00 | Under 18 Free
Hours: 10:00 – 18:00 Wednesday to Monday
More Information: http://www.musee-matisse-nice.org/
Russian Orthodox Cathedral
On of the more unexpected sights to see in Nice is the Russian Orthodox Cathedral. Built in 1912, this impressive piece of architecture was the first church to be designated a Russian Orthodox cathedral outside of Russia.
Visit to find out more about the history of the church and explore it's interesting interior and exterior.
Address: Avenue Nicolas II, Nice
Cost: Free
Hours: 10:00 – 17:00 daily
More Information: http://www.sobor.fr/
Climb Castle Hill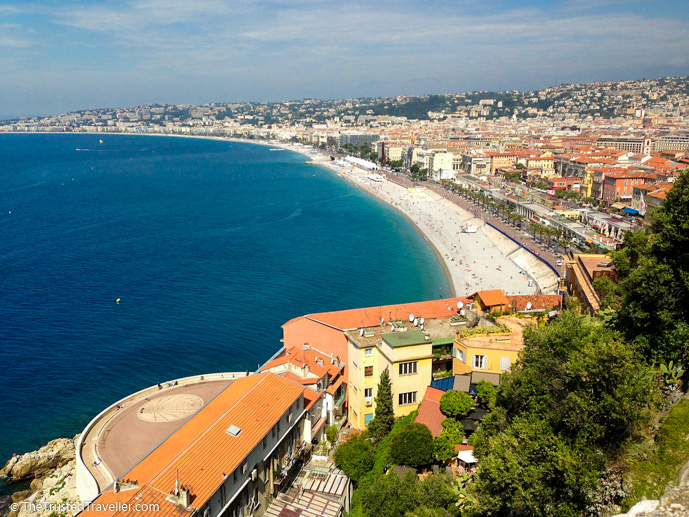 At the very end of the promenade is Castle Hill. Climb the 300 plus steps (or take the lift!) to admire the gorgeous views of Nice, the beaches and the bay.
At the top are the ruins of a Château, a few cafés, a playground and the chance to take some nice walks. It's a nice place to visit early in the morning to beat the heat and potentially have the view all to yourself.
Cost: Free
Hours: 08:00 – 18:00 daily (last lift 30 minutes prior to closing)
Day Trip Along the French Riviera Coast
Nice is just one of many towns along the French Riviera Coast and if you have a day to spare why not hire a car and take a drive along this stunning stretch of road.
Make stops in at least Antibes, Cannes and St Tropez along the way. Take a dip at the beach, walk the promenades and stop off at lookout points along the way. Or even continue onto Marseille and loop back via the inland route to Nice.
More Information: I recommend car hire from Expedia.com.
Night Out in Monaco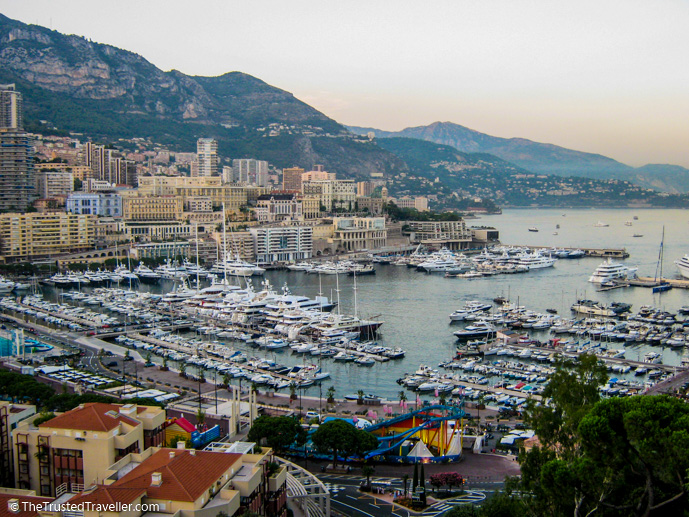 Just half an hour east of Nice is the independent micro-state of Monaco, one of the worlds smallest countries.
Famous for the yearly Grand Prix and home to some of the worlds richest and most famous, Monaco is a great place to spend an evening.
I suggest getting there just before sunset and heading up to the palace to see the colours change over the city and harbour. Then head down to the Monte Carlo Casino.
You can either spend the evening inside the casino or in one of the bars just outside and enjoy the people and car watching with a drink.
Address: Bus number 100 leaves from Ségurane (next to Place Garibaldi) and Place d'Armesevery.
Cost: One-way €1.50 purchased from driver
Hours: 06:00 – 20:00 daily every 15-20 minutes | Suggest a taxi to return to Nice after bus hours.
More Information: http://www.visitmonaco.com/
Where to Stay in Nice
Here are three accommodation options in Nice to suit all budgets that I recommend you check out. All are centrally located, highly rated and come with excellent facilities.
Budget – Hotel des Dames
Mid-Range – Ibis Styles Nice Centre Gare
Luxury – Hotel Le Negresco
Looking for more to see and do in and around Nice?
Over to you!
What of this list of things to do in Nice are you most keen to see and do?
Let me know using the comments section below or join me on social media to start a conversation.
Thanks for reading and I hope you enjoyed this post.