Arguably one of the greatest cities in the world, London is bursting at the brim with things to see and do.
Having lived in London for two years and spent a lot of that time being a tourist, I know a fair bit about the city and what attracts people to it. So, I have challenged myself to come up with a list of 60 things to see and do in London.
This list is completely random and not in any order but will included the more obvious well trodden sights along with some you may not have heard of.
Even if you have visited London before, I hope you find something on this list that will make you want to go back for more!
This post contains affiliate links. Our full disclosure policy is here.
St Paul's Cathedral
Built in the 17th Century, this beautiful (inside and out) cathedral is one of the most recognisable sights in London.
The impressive dome, modelled on St Peter's Basilica in Rome, rises 118 meters to the very tip of the cross on top and is one of the highest domes in the world.
Climb up into the dome for spectacular panoramic views of London or head down into the crypts to see the tombs and memorials of some of the UK's greatest heroes.
Address: St Paul's Churchyard, London, EC4M 8AD
Nearest Station: St Paul's Tube Station
Opening Hours: Mon-Sat, 08:30-16:00
Book your skip-the-line ticket to St Paul's Cathedral
The Shard
One of the newest buildings in London, The Shard rises 306 meters into the sky making it the tallest building in the European Union (until someone else builds a bigger one).
Located in the new London Bridge Quarter Development, this mixed use skyscraper has 25 floors of office space, three floors of restaurants, 18 floors are occupied by the Shangri-la Hotel and of course there's the indoor/outdoor observation deck on the 72nd floor offering unobstructed panoramic views of London.
Address: Entry via Joiner St,London SE1 9SL
Nearst Station: London Bridge Tube/Overground Station
Opening Hours: Sun-Wed 10:00-19:00 & Thurs-Sat 10:00-22:00
Avoid the queues and book you ticket online
Regents Park
Lovely Regents Park is one of the many green havens in Central London. What separates it from the others is the beautiful flowering gardens.
Covering 395 acres, you will enjoy strolling through Queen Mary's Gardens which features more than 30,000 roses of 400 varieties, as well as the William Andrews Nestfield's Avenue Gardens.
The rest of the park is taken up with sports facilities, an Open Air Theatre, London Zoo and Primrose Hill.
It's also a great place to try to spot some of the 100 species of wild birds that the park is home to.
Address: London NW1 4NR
Nearest Station: Baker St, Regent St & Great Portland St Tube Stations
Opening Hours: Gates open 05:00 everyday, closing time varies depending on the month
Hyde Park
Sprawling Hyde Park is the most well-known of the green spaces in London. Covering 350 acres, it is visited by millions of visitors and Londoners each year.
On any sunny day in the summer months you'll find people enjoying a walk, having a game of football or lazing in the sun.
There are a number of famous landmarks within the park including Serpentine Lake where you can hire a row-boat, Speakers' Corner and the Diana, Princess of Wales Memorial Fountain along with countless statues.
Enjoy a coffee or bite to eat from one of the two cafes on the lake or just get lost walking around the miles and miles of pathways.
Address: London W2 2UH
Nearest Station: Marble Arch, Hyde Park Corner, Lancaster Gate & Knightsbridge Tube Stations
Opening Hours: Gates open from 05:00-00:00 daily all year round
The Changing of the Guard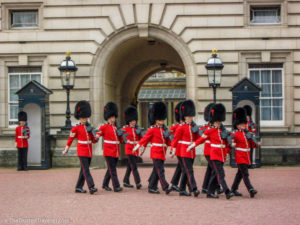 The Changing of the Guard takes place in the forecourt at Buckingham Palace and is a colourful spectacle of British pageantry.
Lasting about 45 minutes, the ceremony is basically as the name states, a changing of the guard. The royal band provides the music as the guards (and band) march and move into various formations before the guard is officially changed.
The guards, or Household Troops as they are formally known, have had the job of guarding the Sovereign since 1660.
From time to time this privilege is extended to regiments of the British Army, with most of these men having served overseas.
Top Tip: Summer is one of the worst times to visit London if you are really wanting to get a good look at the Changing of the Guard. Try visiting outside of summer is this is something you just can't miss!
Address: Buckingham Palace, London SW1A 1AA
Nearest Station: Victoria, Green Park, Hyde Park Corner or St James's Park Tube Stations
Hours: 11:30, daily during summer, every other day in winter, check the website to confirm schedule
Kensington Palace
Located in the Kensington Gardens at the far western end of Hyde Park, Kensington Palace is the current home of Prince William, Princess Catherine and their family.
In past the palace has been home to a number of well-known Royals including Williams late mother Diana, Princess of Wales.
Certain parts of the palace are open to the public such as both the King's and Queen's Apartments, various ever-changing Royal exhibitions and the lovely formal gardens.
Recently renovated, it is lovely inside and out with one of the nicest grand staircase I have seen. If you can, come in spring time to see the garden all in full bloom.
Address: Kensington Gardens London W8 4PX
Nearest Station: High Street Kensington or Queensway Tube Stations
Hours: 10:00-18:00 in summer, until 17:00 in winter
Secure your entry ticket now to avoid the queues
Museum of London
The Museum of London tells the story of, well, London (who'd a thought it). It contains more than two million objects in its collections and holds the largest archaeological archive in Europe.
Documenting London's history from prehistoric times to the modern-day, its collections form a series of chronological galleries. These galleries contain artifacts, pictures, models and diagrams focusing mostly on archaeological discoveries, the building of the city, urban development and social and cultural life.
A lot of the displays are interactive making it interesting for all ages.
Address: 150 London Wall, London EC2Y 5HN
Nearest Station: Barbican Tube Station
Hours: 10:00-18:00 daily
National Portrait Gallery
Located just off Trafalgar Square, the National Portrait Gallery comprises a collection of portraits of historically important and famous British people. In 1856 when the gallery opened, it was the very first of its kind in the world.
In the gallery you will find paintings, photographs, sculptures, caricatures and miniatures of people like Shakespeare, Edward VI, Queen Victoria and Prince Albert to name a few.
Along with the permanent collection you will also find ever-changing temporary exhibitions.
Address: St Martin's Place London WC2H 0HE
Nearest Stations: Charing Cross, Leicester Square and Embankment Tube Stations
Hours: 10:00-18:00, until 21:00 Thurs & Fri
Natural History Museum
The Natural History Museum is a very cool place. It specialises in life and earth science specimens comprising some 70 million items within five main collections, botany, entomology, mineralogy, palaeontology and zoölogy.
Because the museum is so old (1881), many of the collections have great historical and scientific value, including specimens collected by Charles Darwin.
Some of the biggest attractions include its exhibition of dinosaur skeletons including the large Diplodocus in the central hall and the mammal exhibit including the giant Blue Whale that takes up an entire room and is impossible to photograph in its entirety.
You could easily spend a whole day getting lost in this museum.
Address: Cromwell Road London SW7 5BD
Nearest Station: South Kensington Tube Station
Hours: 10:00-18:00
Sherlock Holmes Museum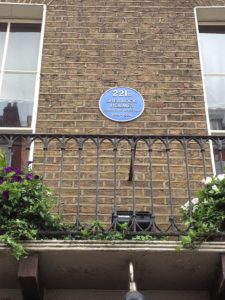 The Sherlock Holmes Museum is a privately run museum located close to Regent's Park. This Georgian town house at the address, 221b Baker St, is dedicated to the famous fictional detective Sherlock Holmes.
Formerly used as a boarding house from 1860 to 1936, and covers the period of 1881 to 1904 when Sherlock Holmes and Doctor Watson were reported to have resided there as tenants.
There are a number of rooms to explore, each fully restored with furniture and decorations from the time when Holmes was reported to have been in residence. The most famous being the study overlooking Baker St.
Address: 221b Baker St NW1 6XE
Nearest Station: Baker Street Tube Station
Hours: 09:30-18:00
Tate Britain
Tate Britain is one of the four galleries in the Tate network of galleries in England, with Tate Modern, Tate Liverpool and Tate St Ives. It is the oldest gallery in the network, opening in 1897.
The permanent collection displays historic British art, as well as a range of contemporary work. Some of the rooms are dedicated to works by one artist, such as Tracey Emin, John Latham and Sam Taylor-Wood.
As well as these permanent collections, there is also a constantly changing program of temporary displays making it a great place to visit time and time again.
Address: Millbank SW1P 4RG
Nearest Station: Pimlico & Vauxhall Tube Stations
Hours: 10:00-18:00 daily
British Pubs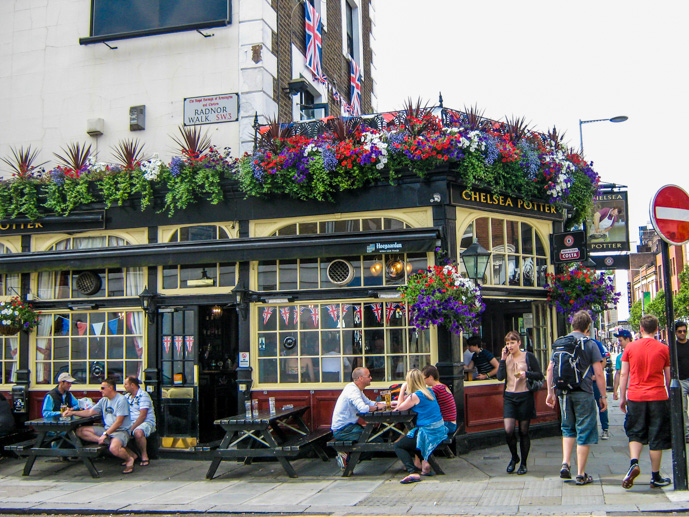 Nothing beats a British Pub for a pint and a bite to eat. Here you can enjoy a range of local and international ales while eating traditional pub food such as bangers 'n' mash, fish 'n' chips and the most popular Sunday roast.
Traditional pubs are usually small with intimate seating areas, small doorways and well-worn wooden furniture. They have character to boot.
Becoming increasingly popular over the last 15 years or so, is the gastropub. Slightly more upmarket than a traditional pub, expect to find a variety of local and international beers mixed in with hard to find craft beers. The menu is more upmarket too, with modern twists on the traditional pub meals and fusion style dishes. The setting will likely be more modern too.
Everyone who lives in London has their local or favourite pub that they frequent regularly. Having lived in London for nearly two years I developed my favourites. Here are a few of those that I hope you try out when visiting London.
The Leinster Arms – Small, friendly, traditional pub with a great classic menu including a delicious variety of sausages.
The Red Lion – This tiny pub, located in a passageway off Pall Mall, is mostly frequented by local wealthy gentlemen and is a great place to stop for a pint after a day of sightseeing.
The Windsor Castle – A locals pub a few minutes walk from Notting Hill Gate. Tiny doors, intimate seating areas, beer garden and delicious food.
The Kings Arms – Located in the lovely back streets of Waterloo near Southbank, The Kings Arms is a quintessential ale pub complete with prop up bar. There are lots of different ales to try and a great menu including pub classics and Thai food.
Why not book a a historical pub walking tour with a local!
Traditional Afternoon Tea @ The Ritz
What could be more British than a traditional afternoon tea. And the best place to partake in this simple British tradition is The Ritz.
Served in the spectacular Palm Court, you get the choice of several varieties of tea and a delicious menu of sandwiches and sweets including cucumber sandwiches and scones. It is truly an unforgettable experience.
Address: 150 Piccadilly W1J 9BR
Nearest Station: Green Park Tube Station
Hours: Sittings at 11:30, 13:30, 15:30 & 17:30 everyday
Booking are essential and can be made here.
Portobello Rd Market
One of London's most notable street markets is Portobello Rd Market. Located in Notting Hill, a short walk from Notting Hill Gate, finding the market on a Saturday is simple, just follow the crowds of people walking from the tube station.
Weekdays are all about fresh produce and you will find it much quieter. Friday and Saturday is known for its second-hand clothes and antiques, with Saturday being the busiest day where you will have to fight your way through the crowds to explore this incredibly popular market.
Along the road there are lots of places to eat including food stalls, pubs and quite a few vegetarian cafes.
Address: Starts crn Westbourne Gr & Portobello Rd
Nearest Station: Notting Hill Gate Tube Station
Hours: 8am-6.30pm Mon-Wed; 8am-1pm Thur; 8am-6.30pm Fri, Sat
While in the area, check out this 2-hour guided walking tour of Notting Hill including Portobello Rd.
High Street Shopping
London has some great shopping opportunities from markets, small boutiques, department stores, high-end and of course popular big name brands.
Oxford St shopping starts at Marble Arch and runs down to Tottenham Court Rd and about half way along Oxford St you will find Regent St which runs down to Piccadilly Circus.
There are also lots of arcades and laneways to explore off these streets. On Oxford St visit popular department stores such as Selfridges, John Lewis and Marks & Spencer to find everything and anything or sample delicious foods from their food halls.
Along with these department stores you will find all the big name fashion and accessories brands such as Zara, H&M, Primark, Dorothy Perkins, Forever 21, Monsoon ……………I could go on for hours.
Head down Regent St for a more upmarket shopping experience. Brands like Levis, Ted Baker, Timberland and the Apple store can all be found here along with the famous Hamleys Toy Store.
Also just off Regent St is Carnaby St, where you will find upmarket Liberty Department Store and one off boutiques and designers.
Nearest Station: Marble Arch, Bond St, Oxford Circus, Tottenham Court Rd & Piccadilly Circus Tube Stations
Hours: Shops are generally open 10:00-19:00 Mon-Sat & 12:00-18:00 Sun with late night shopping on Thurs
Regent's Canal
The Regent's Canal provides a link from the Paddington arm of the Grand Union Canal to the Limehouse Basin and the River Thames in east London.
A great way to explore this canal is on a canal boat trip from Little Venice to Camden Lock. The canal boat cruises along leafy fringes of Regents Park, London Zoo and through the dark and mysterious Maida HIll tunnel, finishing in Camden Lock.
You can do a one-way or return journey in either direction and it makes for a great day out when combining it with a visit to Camden Markets.
Address: Little Venice Brownings Pool (Warwick Ave side) or Camden Lock Dingwalls Dock off Chalk Farm Road
Nearest Station: Paddington, Warrwick Ave or Camden Town Tube Stations
Hours: Summer departures on the hour from 10:00 to 17:00, less frequent in the Winter
London Walks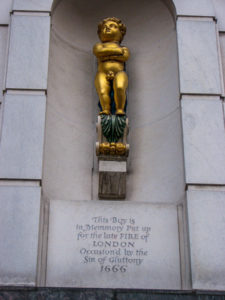 Technically I am cheating here because London Walks offers more than just one thing to do in London. Choose from 100's of walking tours in and around London. Each walk lasts about two hours, always depart from near a tube station and are guided by an expert London guide who will dazzle you with stories, myths and give you a history lesson or two.
I have done about a dozen or so and have walked away from each one a very satisfied customer.
Each tour is themed and there will be something to interest everyone including hidden London, Palaces, Camden, a ghost walk of the City, The Beatles, Kensington, war-time, Soho, pubs, I could go on for hours.
Check out the Website for more details on London Walks
Royal Albert Hall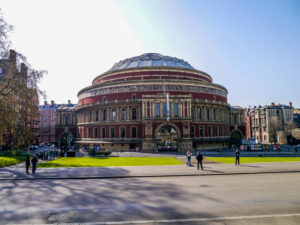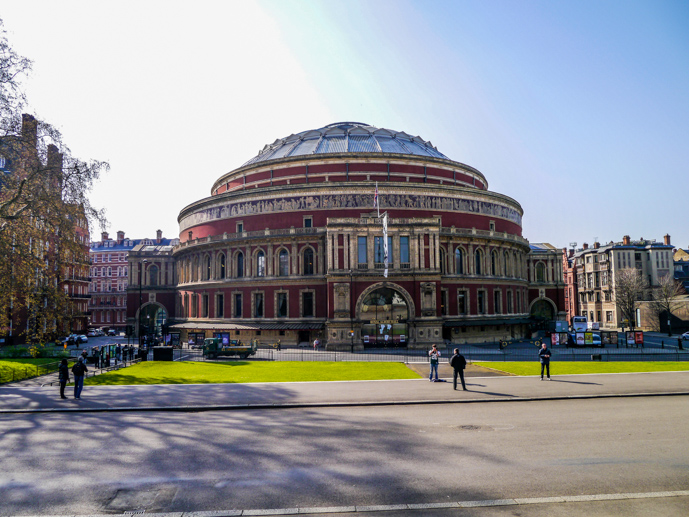 One of London's loveliest and most well-known Concert Halls, Royal Albert Hall is home to the yearly Proms concert and various other events throughout the year.
It is a beautiful building inside and out and was built to fulfill the vision of Prince Albert in 1871.
If you're not lucky enough to get tickets to see a show here you can take a tour of the venue with an expert guide. Each tour lasts about one hour and covers the auditorium, the Gallery, the Queen's private suites and the Royal Retiring Room.
Before catching a show, make sure to check out one of the best pubs near Royal Albert Hall, or try to time your day time tour visit with a pub for lunch.
Address: Kensington Gore SW7 2AP
Nearest Tube: South Kensington and High St Kensington Tube Stations
Hours: about 10 tours a day from 10:30-16:00
Book your guided tour with an expert guide here.
West End Theatre Show
London's West End is second only in the world for theatre to Broadway in New York City. With that in mind you can expect to see some world-class shows in some of the most beautiful theatres in the world.
Everything from small plays to big budget world-famous shows can be found in the West End. Some of the best include Les Mis, The Lion King, Jersey Boys, Chicago, We Will Rock You, Phantom of the Opera, Billy Elliot, Stomp, Wicked and Mamma Mia to name a few.
Tickets are not cheap but you can get some good deals from the London tkts booth in Leicester Square.
Address: Various theatres throughout the West End
Hours: Evening and afternoon matinée shows
Check out the Official London Theatre Website to find out what shows are playing during your visit.
Big Ben & The Houses of Parliament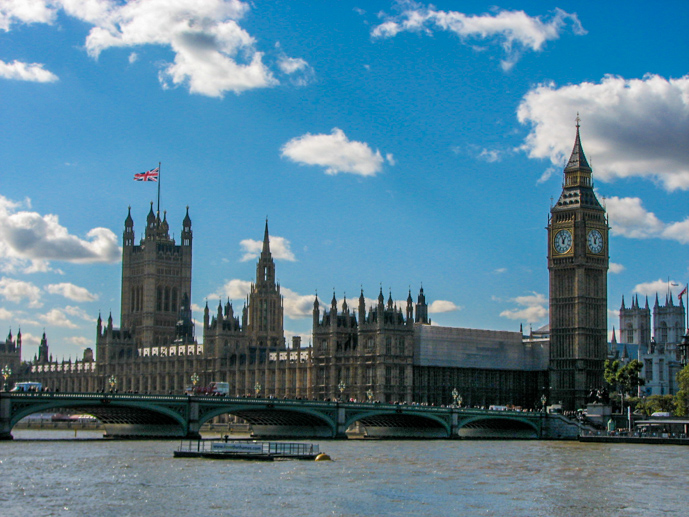 Officially known as The Palace of Westminster, Big Ben is the name of the bell in the giant clock tower at the end of the Houses of Parliament, where the UK Parliament meets.
This iconic sight is best viewed from the Westminster Bridge or from the south side of the Thames.
There have been various palace buildings on this site since the 11th century, some of which were burnt to the ground in London's many fires. The current building was built in the 19th century.
Tours of the Houses of Parliament are available at various times throughout the year and residents of the United Kingdom can also apply to sit in and observe when Parliament is in session.
Address: Westminster SW1A 0AA
Nearest Station: Westminster Tube Station
---
Where to Stay in London
Here are three accommodation options to suit all budgets that I recommend you check out. All are centrally located, highly rated and come with excellent facilities.
Budget
The Z Hotel Shoreditch
Located in Shoreditch, all rooms feature a 48-inch HD TV with free Sky Sports and Movie channels, free WiFi and an en-suite shower room with complimentary toiletries is also provided.
Check availability, prices and book
Mid Range
citizenM Tower of London
Located at Tower Hill. Each room is fitted with a flat-screen TV, Apple TV, free movies, free WiFi, a power rain shower and iPad controls. Some feature views of the Tower of London, the Shard or the London skyline.
Check availability, prices and book
Luxury
Pullman London St Pancras
Located a 3-minute walk from the Eurostar terminal and 5 minutes' walk from Kings Cross and Euston stations. The hotel boasts the Golden Arrow restaurant and bar, free Wi-Fi, fitness centre, and 24-hour room service.
Check availability, prices and book
Over to you!
Which of these things to do in London are you most interested in seeing and doing?
Let me know using the comments section below or join me on social media to start a conversation.
Thanks for reading and I hope you enjoyed this post.