So many people visiting London get caught up in all its fabulousness and forget that there is some really great places to visit just outside the city. During my time living in London I made sure I visited as many as I could on my free weekends and by the time I left, I got to cross of nearly all the places I really wanted to visit.
Here is a guide to five mini breaks from London visiting some of Great Britain's best cities. They are all perfect for an overnight trip or they can even be visited as individual day trips if you have limited time. I have included things to see, how to get there and of course where to stay.
This post contains affiliate links. Our full disclosure policy is here.
---
Oxford
Oxford is the UK's oldest university city and is world famous for this fact. The city is driven mostly by its large student population who each attend one of the 30+ colleges in the area. As soon as you arrive you can feel the intelligence in the air and the sense of sophistication this city gives off.
It is a great city to explore on foot, walking along the cobblestone streets as you pass the honey coloured buildings, medieval churches with their spires reaching for the sky and the colleges, some of them dating back over 750 years.
Oxford is growing and changing rapidly (the fastest growing city in the UK) and with this comes a diverse range of restaurants, bars and shops providing endless entertainment to locals and visitors alike. Trendy bars and cafes are popping up all over the city, attracting a younger modern crowd.

Top 5 Must See in Oxford
Christ Church College – The most popular college to visit in Oxford. Check out the beautiful cathedral, green central courtyard, countless works of art and antiques and of course the dinning hall made famous by the Harry Potter movies. Check out this Harry Potter themed tour or this official university walking tour.
Climb the tower of St Mary the Virgin Church – Climb the narrow spiral staircase of this 13th century tower for stunning views over the whole city and across the 'dreaming spires'.
Radcliffe Square – This square is totally surrounded by some of Oxford's most important and beautiful buildings including the Bodlein Library, St Mary's church, The Sheldonian Theatre and its centrepiece, the Radcliffe Camera, an 18th century building used as the reading room for Bodlein Library.
Go Punting – Punting is a quintessential Oxford pastime. It involves a punter who stands on the end of a flat bottomed wooden boat using a long pole to propel the boat forward by pushing off the river bed. You can jump in a boat with an expert punter or hire one yourself and give it a go. Its a lot of fun!
Shopping in The Covered Market – This market was established in 1774 for local traders and artisans to sell their goods. Not much has changed since. You will find everything from meat and fresh produce to fashion and accessories.
Where to Stay in Oxford
Budget – Lina Guest House
Mid-Range – The Galaxie
Luxury – The Old Bank
Getting to Oxford
Getting to Oxford by direct train is simple and quick from London's Paddington Station. The journey takes just under an hour with ticket prices starting at around £11 one way.
Driving it is a one to one and a half hours drive from London on the M40 and A40 depending on where in London you are leaving from and time of day due to traffic.
---
Canterbury
Canterbury is known as the cathedral city with its biggest draw card being its Cathedral, but there is so much more to see and do in this quaint English city that you can easily spend two days there.
It is a small and very easy city to explore on foot, with the train station only 10 minutes walk from the centre of town. Explore the winding cobblestone lanes and streets, take in the historical architecture, cross the bridge over the River Stour, and enjoy the green spaces along the river, home to ducks and swans, weeping willow trees and wild flowers.
Despite being a city steeped in tradition it is growing and moving with the times becoming more modern and vibrant. Boutique accommodations, nice restaurants with cuisine from across the globe, popular and boutique shopping, nightclubs and welcoming pubs combine to give a complete experience.

Top 5 Must See in Canterbury
Canterbury Cathedral – Dominating the cities skyline, this stunning Cathedral is the oldest in England and the centre of the Church of England. Its simply stunning inside and out with is tall stained glass window, 11th century Romanesque Crypt, 12th century Gothic Quire and 14th century perpendicular Nave.
St Martin's Church – The oldest church in England still in use as a parish church. It was the first base of St Augustine when he came to Canterbury in 597. About a 10 minute walk from the Cathedral but combining it with St Augustine's (below) makes it a worthy walk.
St Augustine's Abbey Ruins – Founded in 600 AD by St Augustine, these ruins show traces of three separate Saxon churches, burial sites of the 2nd, 3rd and 4th Archbishops of Canterbury and the remains of a large Norman church, cloisters and monastic buildings. There is also great views looking back to Canterbury Cathedral from the grounds.
Westgate Tower & Gardens – This tower is the main entrance into the city centre and forms part of the old city walls. The eleven acres of public gardens provide an ideal setting for a stroll along the banks of the River Stour or it is a great place to relax after a day of sightseeing.
Canterbury Historic River Tours – A great way to see some of the city. Hop onboard the small row boats seating only a few people and be guided down the River Stour with a knowledgeable and entertaining guide.
Where to Stay in Canterbury
Budget – The Maidens
Mid-Range – Hampton by Hilton Canterbury
Luxury – Canterbury Cathedral Lodge
Getting to Canterbury
Getting to Canterbury by direct train is simple and quick with a High Speed rail link getting you from London's St Pancras International Station to Canterbury West Station in just under one hour. Ticket prices start at around £33 one way. Cheaper tickets are available if you travel from London's Charing Cross Station but the journey time almost doubles as this is not a high speed service.
Driving it is a 1.5 hour drive to Canterbury on the M2 and A2 depending on where you are coming from and what time of day.
---
Cambridge
Cambridge is another of England's great university cities with its population dominated by students and its main attractions being colleges. The city is full of historic buildings and open green spaces and is located on the lovely River Cam with its weeping willows and trees, ducks and swans and old bridges.
Most of what you will want to see and do is easily accessible on foot. There are countless museums and art galleries to inspire, beautiful architecture and college buildings to admire and quaint passages and cobblestone streets to explore.
The city offers plenty of restaurants and cafes plus a meal and a pint in one of the lovely old pubs is always a great choice. Of a nighttime there is something to entertain everyone with a thriving live music scene, constant opportunity to catch a student theatrical production and great comedy shows most nights of the week.

Top 5 Must See in Cambridge
Punting – This is quintessentially Cambridge. Of course this is also done in Oxford as mentioned above, but according to those from Cambridge, not half as well. This is a great way to see the back of seven of the colleges and their bridges. You can book a guided punting tour in advance here to avoid the queues.
Kings College & Chapel – No visit to Cambridge would be complete without a visit to one of its colleges and Kings is the best. Founded in 1441, you can explore parts of the college for a fee and of course visit the Chapel which is one of the finest examples of late Perpendicular Gothic architecture. Its has a very impressive vaulted ceiling and walls lined with equally impressive stained glass. Visit the Kings College with an Alumi guide on this tour.
Walking Tour – Oxbridge Tours offers daily 90 minute walking tours of Cambridge led by the students attending the colleges in the city. Its a great way to get a quick history lesson and see some of the cities most popular sites.
The Eagle Pub – There are lots of great pubs in Cambridge but this is the only one with WWII airmen graffiti on the walls and ceiling. Grab a pint and take a seat in the RAF bar at the back of the pub to read some of the messages left by the airmen.
The Fitzwilliam Museum – This museum explores the history of Cambridge dating back 3,500 years. Its free and they have a fantastic collection of artifacts and displays that offer a fascinating insight into early life in Cambridge.
Where to Stay in Cambridge
Budget – YHA Cambridge
Mid-Range – Ibis Cambridge Central Station
Luxury – The Varsity Hotel
Getting to Cambridge
Getting to Cambridge by direct train is simple and quick from two of London's central stations. From Kings Cross you can reach Cambridge in less than 50 minutes from about £22 and from Liverpool St Station in about 1 hour 20 minutes from about £6. There is quite a difference in price, so you would need to weigh up speed vs price and decide what works best for you.
Driving takes less than 1.5 hours on the M11 depending on where in London you are leaving from, the time of day and traffic.
Read More About Cambridge
Bath
Great Britain is full of beautiful cities but very few of them are as stunning as Bath. This city is bursting with history dating back to Roman times, its buildings are examples of some of the UK's finest Georgian architecture and it's streets are some of the grandest in the world.
The Roman occupation of Great Britain during the 1st Century AD was when Bath first became really recognised both as a place to enjoy natural hot spring waters and as a centre of worship for the city and surrounding area.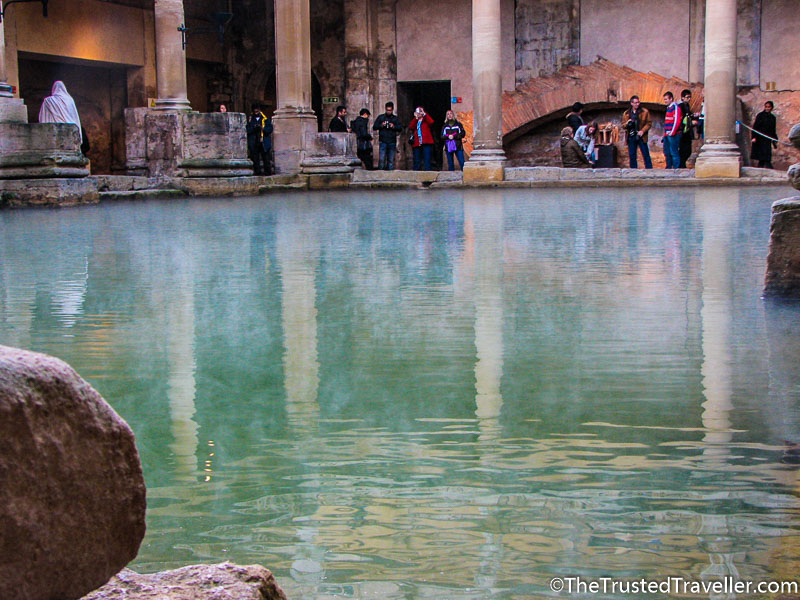 The city is built almost entirely of the same material, the honey coloured Bath Stone, that is mined locally. It gives off an incredible effect when viewed from afar or walk the streets from the train station through the new shopping precinct up the slope into the older parts of town to see how this stone has aged over time.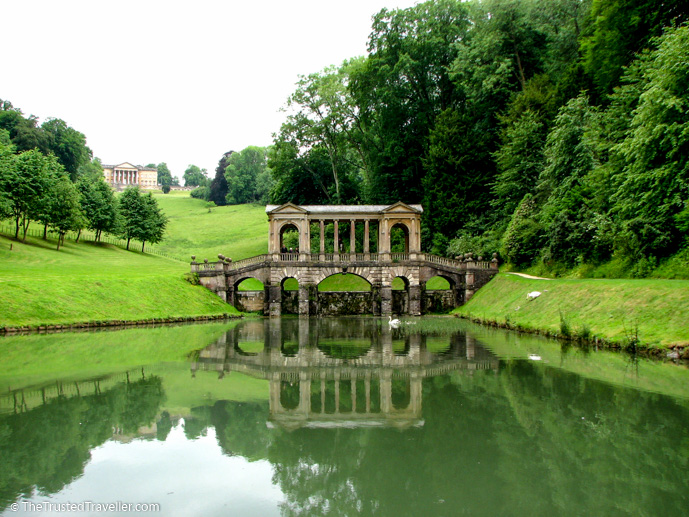 Bath can sometimes feel a little over crowded with the hoards of day trippers, but stay the night and explore early in the morning and through the evening to discover the beautiful city that I love.
Top 5 Must See in Bath
Roman Baths – Bath's main attraction, founded in 44 AD, it is one of the most well preserved and impressive Roman Bath complex in Europe. The visit includes the opportunity to gain incredible insight into the lives of the ancient Romans as you explore and get up close to the baths themselves, elegant statues overlooking the Great Bath, the original hot water which is known to have healing powers and the Temple, one of the most sacred sights in the complex.
The Royal Crescent – The most prestigious address in Bath. This curved row of 30 Georgian townhouses set against a large green lawn is a photographers dream and is one of the greatest examples of Georgian architecture in the UK. While nearly all of the townhouses are privately owned you can get a glimpse at the interior of No. 1 Royal Crescent which has been turned into a museum.
Bath Abbey – It is a very important part of Bath's religious history with an Abbey having been on this piece of land since the 10th century. What I love most about the Abbey is the stained glass windows and the high vaulted ceiling. The windows, along with various other wall and floor plaques, are there to commemorate several notable people from the local population who served in war.
Prior Park – This lovely green space on the edge of town is best known for it Palladian Bridge which is one of only four left in the world. Designed by poet Alexander Pope with help from landscape gardener Capability Brown, this 28 acre landscaped garden is set on a dramatic site running down a small steep valley. From the top of the park and valley are spectacular views across the city.
Free Walking Tour – This isn't like other free walking tours that accept tips as the only form of payment. The Mayor of Bath's Corps of Honorary Guides lead these walking tours for the satisfaction of knowing their visitors know the city a little better. Running mostly on weekends, you are guided around most of Bath's most important sights while the guides tell stories, tales and inform you of important pieces of history relating to Bath, its buildings and its residents. For a small fee, you can also book your own Blue Badge tour guide to check out the sites if a large group isn't your thing.
Where to Stay in Bath
Budget – YHA Bath
Mid-Range – Brocks Guest House
Luxury – The Gainsborough Bath Spa
Getting There
Getting to Bath by direct train is simple and quick from London's Paddington Station. The journey takes just under an hour and a half with ticket prices starting at around £15 one way.
The drive to Bath takes a bit longer, over two hours on M4 depending on where you started your journey in London, time of day and traffic.
Brighton
Brighton is the ultimate quintessential English seaside town complete with kitsch pier, fish 'n' chips and pebble stone beach. It's a very popular place for day tripping Londoners and tourists as well as overnight trips for its nightlife.
Although the main attraction is the beach area, make sure to have to time to see some other parts of this town because they are equally as attractive. It's a great place to discover some interesting oriental architecture and shop in the many boutiques and markets.
Brighton has a very Bohemian, anything goes type of feeling to it that I didn't experience anywhere else in England. It is a pretty unique town.

Top 5 Things to See in Brighton
Brighton Pier – This Victoria Pier is probably one of the most famous in the world and is the first place most visitor head to. On the pier you will find fish 'n' chips a plenty, a large array of amusements for big and little kids including a few small rides and arcade style games and an assortment of very touristy shops. Yes it is completely tacky but you have to do it!
Brighton Beach – Of course it wouldn't be a seaside town without a beach. Being an Aussie I had a lot of trouble understanding why you would want to visit a beach covered in pebbles. And I still would never venture onto the pebbles in bare feet but I did enjoy it visually. It is a very beautiful beach and extremely popular in summertime with visitors and locals catching the sun and swimming in the cool waters.
Shop The Lanes – This small area of shops set in a jumble of lanes is a great place to shop or just have a wonder. Most of the stores sell jewellery and accessories but there is also a few record, vintage clothing and antique stores thrown in the mix. You will also find lots of cafes, delicious cake shops and restaurants. Or see the lanes on a food walking tour with an expert guide.
The Royal Pavilion – This interesting architectural attraction, built between 1815 and 1823 by the architect John Nash, at the direction of the then Prince Regent. The exterior has an Indian theme, whilst the interior is decorated with Chinese decor. Its simply stunning and totally unexpected!
Sample the Nightlife – Brighton's nightlife is well known across the UK for being incredibly diverse. It accommodates all tastes, from relaxed bars to hard-core clubs and most places are open and packed seven nights a week. Most of the best and popular clubs can be found along the beach but there is a great range of smaller bars and pubs with live music in the streets back from the beach. You will also find a thriving comedy scene with shows most nights of the week.
Where to Stay in Brighton
Budget – YHA Brighton
Mid-Range – Brighton Marina House Hotel
Luxury – Jurys Inn Brighton Waterfront
Getting to Brighton
Brighton is one of the easiest beaches near London to get to by train. Direct trains to Brighton depart both London Bridge and Victoria Stations taking just under an hour. Tickets can cost as low as £5 one way making this the best value day trip or overnight destination in this article.
Driving to Brighton from London will take around 1.5 hours on the M23 and A23 depending on where in London you are coming from, what time of day and how much traffic there is.
---
Important Notes
All of the train travel times mentioned above are for express services. Keep an eye out when booking as some trains stop more frequently meaning it takes longer to reach your destination.
All train ticket prices mentioned are examples of the cheapest price available when booked 14 days in advance and for train times outside of peak hours. Fares will increase if booked closer to the departure day, on the day at the station or for travel during peak times (before 9am and from about 5pm or 6pm to 7pm in the evenings).
To book train tickets online I recommend using The Train Line and selecting the option to collect the tickets from the station on the day. Alternatively you can book at any National Rail station across the country.
To save time and hassle consider leaving most of your luggage at a left luggage facility at one of the major London train stations and just taking a small day pack or backpack style overnight bag with you. This way you won't have to worry about lugging around heavy bags and as soon as you arrive at your destination you can head off sightseeing to maximize you time.
Over to you!
Have you visited any of these cities? Is there others that you have visited as day or overnight trips from London that you loved?
Let me know using the comments section below or join me on social media to start a conversation.
Thanks for reading and I hope you enjoyed this post.