Located roughly halfway between Sydney and Brisbane on the NSW Mid North Coast is the popular beachside town of Coffs Harbour, home to my family for over 30 years.
While I didn't grow up in Coffs, as the locals call it, I have spent a huge amount of time in the region due to family living there. My grandparents retired up there when I was young and we would spend our school holidays up there, visiting the beaches everyday and enjoying the abundance of sunshine on offer all year round.
While my grandparents have passed on now, my parents, sister and her partner all call the Coffs Harbour region home now, so I am up there visiting every other month, or more when I get the chance.
Given this, you'll believe me when I say that despite never having lived there myself, I know the place like a local. I've been to every beach more than once and visited every one of the things to do in Coffs Harbour listed below many times before.
I have seen the place grow and change over the years and really don't know why it has taken me so long to share it all with you guys. But better late than never right! So here is my top list of 15 things to do in Coffs Harbour and the surrounding region that I think you should check out on your next visit.
This post contains affiliate links. Our full disclosure policy is here.
The Beaches
The biggest draw card for visitors (and locals) to Coffs Harbour are the beaches. And there are a tonne of them, over 20 in fact between Woolgoolga in the north to Sawtell in the south. Here are some of my favourites for swims, walks, even 4WDing and just sheer beauty.
Woolgoolga Beach
Famous for Buster, the shipwreck that is sometimes visable in the sand up the north end of the beach, "Woopi" Beach as it is known by the locals, is great all rounder beach. It is patrolled during the summer making it one of the safest beaches in the area. The gets less of a swell so is great for the little ones too. And the flatness of the sand also makes it great for a walk.
Emerald Beach
A great spot away from some of the busier beaches in the heart of Coffs, Emerald is set in a picture perfect location with headlands at each end of the beach. It is patrolled throughout the summer making is also a safe beach for swimming and it is my favourite spot for a beach walk with lots of rocks to explore.
Moonee Creek/Beach
Depending on the time of day and tides, this is a highly popular spot for families and groups of friends to gather in the park and out on the sand islands that form throughout the day at the tide comes in an out. I've spent many a day with the cabana up on an island floating around the creek on a lilo enjoying the crystal clear water.
Charlesworth Bay
This lovely little beach is flanked on either side by cliffs with signs of houses barely visable making it feel very secluded. Its also a bit out of the way so is usually pretty quite. While it isn't patrolled with lifeguards, it is a lovely spot for a short walk and to take in the views.
Diggers Beach
Popular with surfers and swimmers, Diggers is a great all rounder beach that can get busy on a warm summers weekend. Patrolled so good for swimming and also perfect for a walk or just sit in the hut overlooking the beach and watch the surfers catching a few waves.
Park Beach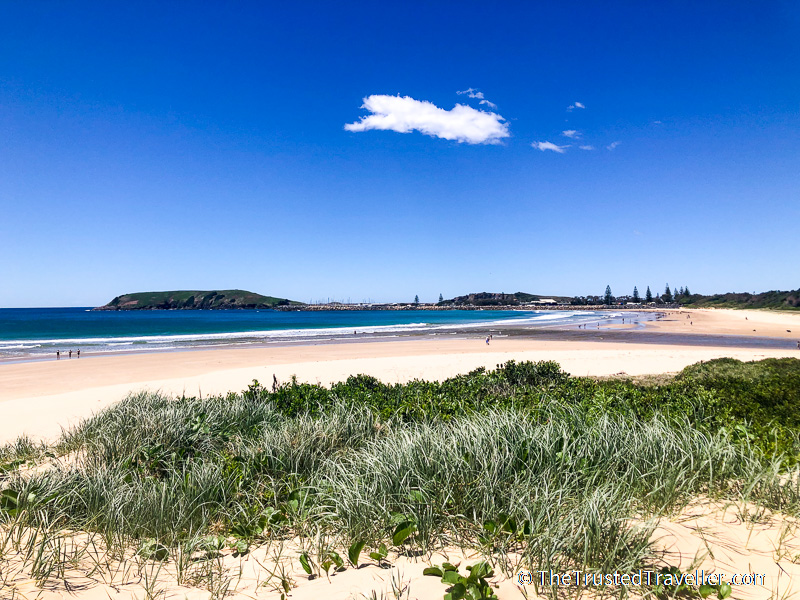 The most popular beach in the Coffs Harbour region by far. It is perfectly located right in the heart of Coffs with most of the holiday apartments and motels across the road. It is patrolled and has some great views of Coffs Marina and Muttonbird Island.
Boambee Beach
If you have beach worthy 4WD then pack it up for the day and head out for a beach 4WD adventure with your friends and family. From the nearly headland on a nice day, Boambee Beach is always dotted with a dozen or so vehicles of people enjoy the outdoor space.
---
Muttonbird Island
Located right in the harbour, Muttonbird Island is one of the best wildlife spotting locations in Coffs Harbour. Home to a flock of muttonbirds who nest here throughout the year, you'll also be able to catch whales passing on their way north and south and dolphins playing around the rocks on the other side of the island.
The walk up is a little steep but short, with plenty of viewpoints to stop and admire the spectacular views out to sea and looking back to Coffs Harbour the the mountains behind.
Address: Access via Marina Drive, Coffs Harbour
Hours: 7am-7pm daily
Cost: Free
---
The Big Banana
Australia is well known around the world for its "big" attractions and one of the famous of all is found in Coffs Harbour, The Big Banana. I've been coming here since is was just a quick stop for a photo and maybe if you had time you'd go on the banana plantation tour. These days it has way more than to offer with a fantastic cafe (locals love it!), water park, laser tag, 4D ride experience, tobogganing, ice skating rink, mini golf and reptile park.
Address: 351 Pacific Hwy, Coffs Harbour
Cost: Free to take a photo, otherwise check the website for individual attraction prices and packages
Hours: Everyday 9am-5pm (some attractions have different hours, check the website)
Website: https://bigbanana.com/
---
Coffs Harbour Jetty
The Coffs Harbour Jetty is located in prime position jutting out into the harbour with great views of the harbour, Muttonbird Island, marina and surrounding area. Great for a walk, a spot of fishing or wildlife spotting. Keep your eyes peeled for swooping seabirds or turtles bobbing about in the water. Occasionally you might even spot some dolphins playing around in the harbour.
Address: 1 Marina Drive, Coffs Harbour
---
Coffs Harbour Southern Break Wall
When the sun is shinning and the sea is calm, this is one of the best places to come for a stroll around the harbour in Coffs. The flat concrete break wall was upgraded in in 2020 and is a easy 10-15 minute walk each way. It offers great views looking back towards Coffs Harbour.
Address: Located at the end of the Jordan Esplanade, Coffs Harbour
---
Look at Me Now Headland
My favourite spot in all of the Coffs Harbour region is Look at Me Now Headland in Emerald Beach, just north of Coffs Harbour. While it is an excellent spot for a walk with stunning ocean views any time of day, it is at sunset that the place comes alive. The excellent vantage point shows off the stunning sunsets over the mountains and across the water. And the local mob of kangaroos can always been seen grazing on the steep grass headland, I've at times counted nearly 50 in one visit!
Address: Located at the end of Dammerel Crescent, Emerald Beach
---
North Coast Regional Botanic Garden
Hidden in the heart of Coffs Harbour is an oasis of peace and quiet free to explore. This 20 hectare site is a great place to spend a few hours wandering the many paths that take you through various climates and regions of the world. Spot exotic, rare and endangered species as you explore the rainforest, then come out the other side into a traditional Japanese garden. There are over 5km of paths to explore and take in this hidden Coffs Harbour gem.
Address: Corner of Hardacre and Coffs Streets, Coffs Harbour
Hours: 9am-5pm daily
Cost: Free
Website: https://coffsbotanicgarden.com.au/
---
Forest Sky Pier, Sealy Lookout
For the best view looking out over Coffs Harbour and its spectacular coastline, it is just a short drive up Sealy Lookout to the Forest Sky Pier. This newly built platform juts out over the rainforest below facing south east over the Coffs Harbour township and beaches.
Address: Sealy Lookout Drive, Coffs Harbour
Hours: 8am-5pm daily (occasionally closed in bad weather)
Cost: Free
---
Markets
Every town, big or small in Australia has at least one or two local markets, the Coffs Harbour region has a few.
Harbourside Markets
Happening every Sunday from 8am to 2pm on the Jetty Foreshore (Marina Drive), Harbourside Markets feature a collection of food made and grown by local growers and crafts made by local craftspeople. There's always music and something fun for the kids too!
Twilight Food Market
Every Friday evening from September to April Park Beach REserve is home to local food trucks set up to sell all their delicious goods to locals and visitors having an evening picnic by the water. Take a picnic blanket, some drink, grab some food from your favourite truck and relax in the warm summer air by the water listening to local entertainment.
Coffs Coast Growers Market
Stock up on your local produce every Thursday at this food market located opposite Coffs Central Shopping Centre. Meet the local producers of fruit and veg, cheese, meat and seafood and grab a few sweet treats to enjoy later on.
Made with Love Market
Held four times throughout the year (generally March, June, September and December) in the Park Beach Plaza high rise carpark you'll find over 100 stalls of local designers selling their wonderful creations. Think everything from clothes and cushions, to soaps, jewellery and other creative trinkets.
---
Boambee Headland Lookout
One of the nicest and most accessible lookout along the Coffs Coast is Boambee Headland Lookout in Sawtell. The lookout looks south over Murrays Beach and north over the Boambee Creek and Beach (a great spot to see those 4WD's on the beach). There is plenty of parking and picnic tables available for you to relax and enjoy the view.
Address: Turn left off First Ave on your way into Sawtell, well signposted
---
Bellingen
An easy 35 minutes drive inland from Coffs Harbour is the creative township of Bellingen, the perfect spot for a half day trip or as part of a longer day out to Dorrigo and the Waterfall Way. In Bellingen you will find lots of great little shops to explore, fabulous cafes, restaurants and pubs and one of the most popular and well known markets on NSW north coast.
Have a browse through the Hammond and Wheatley Emporium or the Yellow Shed for some antiques, stop for a beer at the Bellingen Brewery or into the Federal Hotel for delicious and generous meal, pop down to the river for a swim or a picnic or time your visit with massive Community Market held on the third Saturday of the month.
---
Urunga Boardwalk
A short drive south of Coffs Harbour on the highway will lead you to the small town of Urunga and its great boardwalk. The walk takes you over the Kalang River to the junction of the Bellingen River, past mangroves and out to the ocean. The whole boardwalk is wheelchair accessible and has lots of spots to sit along the way to stop and enjoy the lovely views.
Address: Morgo Street, Urunga
---
Dorrigo National Park
Less than one hours drive from Coffs Harbour is the world famous Dorrigo National Park, home to some of NSW's best waterfalls and walking tracks. On arrival head to the Dorrigo Rainforest Centre for information on the walks and sites in the park that interest you. While you are there, check out the Skywalk for amazing views of the over one million year old rainforest below.
If you have limited time in Dorrigo, don't miss Dangar Falls, one of the easiest waterfalls in the region to access and a great place for a swim.
Leave the car at home for the day and let someone else do all the driving on this full day guided tour of Dorrigo National Park including stops at Dangar Falls, a winery and lots of great view points along the Waterfall Way. Check out this tour and make a booking here.
---
Woolgoolga Headland
The best spot in the Coffs Harbour region to see the migrating whales from May to November is Woolgoolga Headland. Every time I've been up there on a clear day during whale season I have seen at least one whale breach the surface, if not more. Regardless of whether it is whale season or not, the views from the headland are beautiful and worth a quick stop.
Address: Ocean Street, Woolgoolga
---
Taste Locally Made Beer and Wine
The Coffs Coast region is becoming quite the beer and wine destination with new venues opening up regularly. If you love a local craft beer or wine when you travel, you'll want to check out these places, not just for the drinks, but they all serve great food options too.
King Tide Brewing
I like to think I'm a bit of a beer snob, having visited dozens of breweries and trying hundreds of craft beers in my time, but no brewery has every blown me away quite as much as King Tide for the quality of their beer offerings. At the time of writing this, I have tried seven of the beers they have on offer and I cannot fault each one. The Polish food on offer also compliments the beer perfectly!
Address: 1 Studio Lane, Coffs Harbour
Hours: Wed, Thurs, Sun 12pm-10pm | Friday, Sat 12pm-11.30pm
Website: https://www.kingtidebrewing.com.au/
Woopi Brewing Co
Simple drinkable beers, a chilled sunny vibe and delicious woodfired pizzas is what makes Woopi Brewing a popular place. I love coming here in the afternoon the sit outside under the umbrellas enjoying the sunshine and a cold crisp beer. If you have room for dessert, their woodfired cookie sharing dessert is to die for!
Address: 7 Willis Road, Woolgoolga
Hours: Thurs 12pm-8pm | Fri, Sat 12pm-9.30pm | Sun 12pm-7pm
Website: https://woopibrewingco.com.au/
Two Tails Winery
Just a 25 minute drive from Coffs Harbour, Two Tails winery is located in beautiful countryside in the town of Nana Glen. Stop by for a quick tasting at the cellar door to try their range of white, red and dessert wines (I love their Rose!) or make a booking to sit down and enjoy the delicious food at the onsite restaurant Velvets. With lovely views of the vineyard and surrounding countryside, this is a special place to visit.
Address: 963 Orara Way, Nana Glen
Hours: Wed-Fri, 11am-3.30pm | Sat, Sun 10.30am-4.30pm
Website: https://www.twotailswines.com.au/
Raleigh Winery
15 minutes south of Coffs Harbour is another cute little winery which is also a restaurant and B&B. Situated on the Bellingen River, enjoy a wine tasting or on the deck overlooking the vines and river or indulge in one of their decedent meals (the desserts are to die for!), matched perfectly to the small selection of wines they make onsite and further south in Port Macquarie winery Cassegrain.
Address: 36 Queen Street, Raleigh
Hours: Wed-Sun 10am-5pm
Website: https://raleighwines.com.au/
---
Where to Stay in Coffs Harbour
For a town of its size, Coffs Harbour has a huge amount of accommodation options to suit every budget and taste. Here are my top picks for three places to stay in Coffs Harbour.
Budget – Royal Palms Motor Inn
Mid-Range – Beachpark Apartments
Luxury – Aanuka Beach Resort
Over to you!
Which of the things to do in Coffs Harbour are you most looking forward to doing?
Let me know using the comments section below or join me on social media to start a conversation.
Thanks for reading and I hope you enjoyed this post.