England is a country quite close to my heart. I lived in London for a few years and spent as much time as I could afford exploring the cities, towns and villages; getting to know the country's history, engaging with its people, eating the local food and ogling at its beauty.
My England three week itinerary covers a lot of what England has to offer. It brings together the best bits of a trip around England so you can get a taste for this beautiful country and make the most of your precious vacation time.
If you have less time, I suggest picking bits from the itinerary that appeal to you most. Bringing together your own custom itinerary. If you need advice on this, use the comments section below to ask your questions and I will gladly help you craft the perfect England vacation itinerary for you.
This post contains affiliate links. Our full disclosure policy is here.
---
Getting Around
Car Hire
On this England road trip itinerary, if you follow this trip to a tee you'll be driving over 1,600 km's, so you'll want a vehicle that is comfortable for all, driver and passengers, plus one that has plenty of space for your luggage.
For all my car hire bookings I use and recommend Hertz. I've found they offer the most comparable prices, let you search and compare multiple car hire companies and they have a great customer service team who can help if you come into any unexpected troubles.
Alternate Transport
If driving isn't your thing, you can also turn this into an England by train itinerary or even by bus. It might need a few tweaks here and there to make either option possible, but generally England has an extensive rail and bus network that can get you to just about every corner of the country.
You can find more information about trains on one of the links below. Each link refers to your home country and will allow you to check timetables and book tickets in advance to avoid queues and missing out on your ideal travel time.
And buses, check out Megabus.
---
England Three Week Itinerary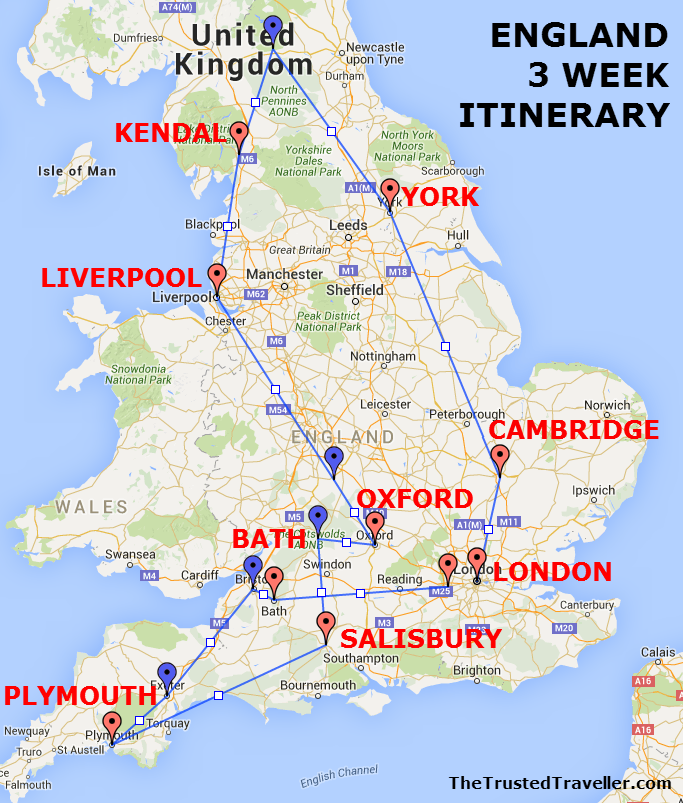 Days 1 & 2 – Bath
Day 1 – Start your 3 weeks in England by flying into London Heathrow, pick up your hire car and drive straight to Bath (2 hours). If you happen to arrive late in the evening or are coming off a long flight, factor in an extra night to spend in an airport hotel and start out refreshed the next morning.
Great Britain is full of beautiful cities but very few of them are as stunning as Bath. This city is bursting with history dating back to Roman times, its buildings are examples of some of the UK's finest Georgian architecture and its streets are some of the grandest in the world.
What to See & Do in Bath
Roman Baths – Founded in 44 AD, these Roman Baths are some of the most well preserved and impressive in Europe. A visit includes the opportunity to gain insight into the lives of the ancient Romans as you explore and get up close to the baths themselves, the elegant statues overlooking the Great Bath, the original hot water which is known to have healing powers and the Temple, one of the most sacred sights in the complex.
The Royal Crescent – The most prestigious address in Bath. This curved row of 30 Georgian townhouses set against a large green lawn is a photographers dream and is one of the greatest examples of Georgian architecture in the UK. While nearly all of the townhouses are privately owned you can get a glimpse at the interior of No. 1 Royal Crescent which has been turned into a museum.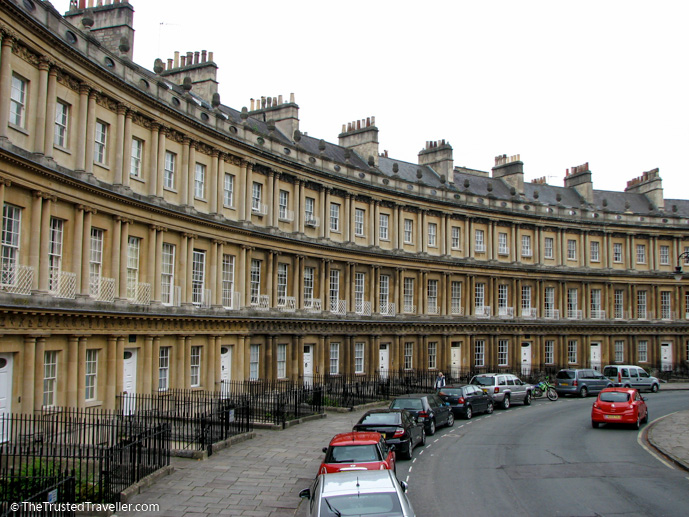 Bath Abbey – It is a very important part of Bath's religious history with an Abbey having been on this piece of land since the 10th century. What I love most about the Abbey is the stained glass windows and the high vaulted ceiling. The windows, along with various other wall and floor plaques, are there to commemorate several notable people from the local population who served in war.
Prior Park – This lovely green space on the edge of town is best known for its Palladian bridge which is one of only four Palladian bridges left in the world. Designed by poet Alexander Pope with help from landscape gardener Capability Brown, this 28 acre landscaped garden is set on a dramatic site running down a small steep valley. From the top of the park and valley are spectacular views across the city.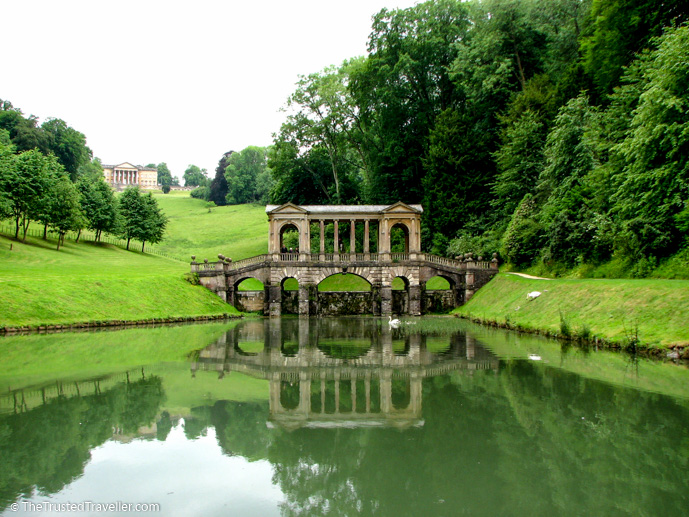 Free Walking Tour – This isn't like other free walking tours that accept tips as the only form of payment. The Mayor of Bath's Corps of Honorary Guides lead these walking tours for the satisfaction of knowing their visitors know the city a little better. Running mostly on weekends, you are guided around most of Bath's most important sights while the guides tell tales and inform you of important pieces of history relating to Bath, its buildings and its residents.
Where to Stay in Bath
Here are three accommodation options to suit all budgets that I recommend you check out. All are centrally located, highly rated and come with excellent facilities.
Budget – Albany Guest House
Mid-Range – The Bath House Boutique B&B
Luxury – The Gainsborough Bath Spa
Days 3 & 4 – Plymouth, Cornwall/Devon
Drive: Leave Bath early so you have plenty of time for stops on the 2.5 hour drive to your next stop on this England travel itinerary, Plymouth.
Suggested Stop
Just 20 minutes from Bath is the city of Bristol. You could spend about two hours or so in Bristol checking out the cool street art scene and wandering around the river front. Also, before arriving in Plymouth is the capital of Devon, Exeter. Here you'll find a Norman cathedral, Georgian streets and Roman ruins aplenty.
Located on a peninsula that juts out of the south-west corner of the country, these two regions offer visitors the biggest chance to enjoy some sunshine in England. From golden sand beaches, cosy towns, rugged coastline and naturally beautiful rolling countryside, Cornwall and Devon are not to be missed when you travel around England.
What to See & Do in Cornwall & Devon
I suggest a self guided driving tour of the Cornwall and Devon regions on your first half day and full free day in the area. Here are a few of the key things to see around the area:
Eden Project – Home to the largest rainforest in captivity, the Eden Project consists of two massive Biomes housing plants collected from different regions and climates around the world. It is open to visitors to explore and learn.
St Michael's Mount – Accessible by a man made causeway, the Mount (as the locals call it) is a tidal island just off the coast that is home to a small population of about 35 people. On your visit, explore the small village and head to the castle at the summit for spectacular views.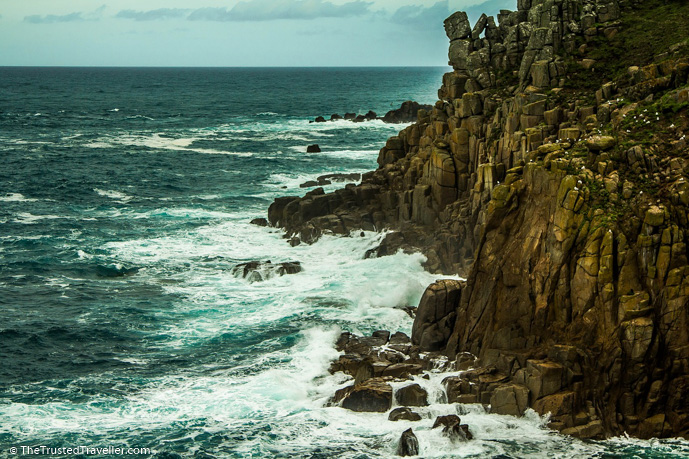 Land's End – Join the walking trails along the coastal paths that lead from Land's End visitors centre. The scenery in this most westerly point of Cornwall is nothing short of breathtaking from the granite cliffs plunging into the sea to the lighthouse and other historic landmarks along with trail. Check out this guide to finding the best scenic views at Land's End.
Beach-hop the West Coast – From Lands End take the road north along the west coast detouring off the main road to some of the cosy towns and golden sand beaches. Check out St Ives, Padstow and Newquay at a minimum and make your way all the way north to Bideford before continuing inland south.
Dartmoor National Park – 365 square miles of wooded nature and moorland and snug little hamlets with cosy pubs is what you'll find exploring this Devon gem. Hire a canoe on the River Dart, go for a hike or just simply relax in a pub.
Where to Stay in Plymouth
Here are three accommodation options to suit all budgets that I recommend you check out. All are centrally located, highly rated and come with excellent facilities.
Budget – The Ferry House Inn
Mid-Range – Imperial Plymouth
Luxury – Boringdon Hall Hotel & Spa
---
Day 5 – Salisbury
Drive: It's about 2.5 hours to Salisbury from Plymouth. An early start will give you time to make a few stops along the way and see the sights of the Salisbury area in the afternoon.
While Salisbury is a lovely little town, the main motivation to visit the area is to see the world famous Stonehenge. But don't forget to check out the charming town and surrounding countryside too while you're there.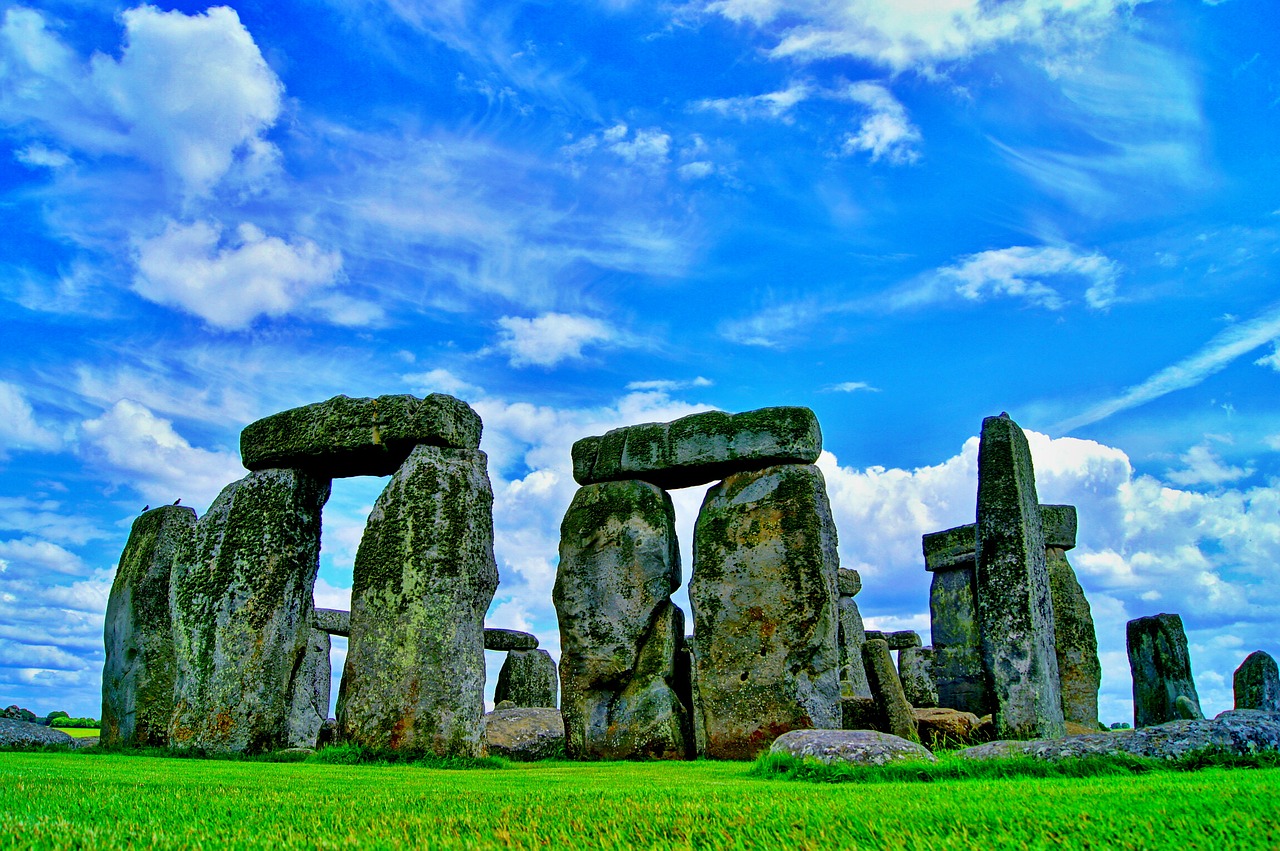 What to See & Do in Salisbury
Stonehenge – This prehistoric monument is believed to have been built somewhere between 3000 and 2000 BC and there is still much speculation as to how the massive stones actually got there. Once you've walked around and viewed them from all angles, check out the small museum to get more insight on this fascinating attraction.
Salisbury Cathedral – At over 750 years old, pretty Salisbury Cathedral is one of the leading examples of early English architecture in the country. Tour the inside of the hollow spire with its ancient wood scaffolding and wander the cloisters and cathedral close, the largest in Britain. You can also check out the world oldest working clock and the best surviving copy of the Magna Carta.
Where to Stay in Salisbury
Here are three accommodation options to suit all budgets that I recommend you check out. All are centrally located, highly rated and come with excellent facilities.
Budget – The Pembroke Arms
Mid-Range – Best Western Red Lion Hotel
Luxury – Three Crowns Guest House
Or why not book an Airbnb stay. Use this link to get up to $45AUD off.
---
Days 6 & 7 – Oxford
Drive: It's a short 2 hour drive from Salisbury to Oxford, the next stop on your England trip itinerary. This will give you the chance to do sunrise at Stonehenge and still have time for a detour.
Suggested Detour
The Cotsowlds are just 20 miles west of Oxford and make a perfect detour on your drive. Spend a few hours driving through and stopping at quaint villages, passing traditional thatched roof houses and rolling fields.
Oxford is the UK's oldest university city and is world famous for this fact. The city is driven mostly by its large student population who each attend one of the 39 colleges in the area. As soon as you arrive you can feel the intelligence in the air and the sense of sophistication this city gives off.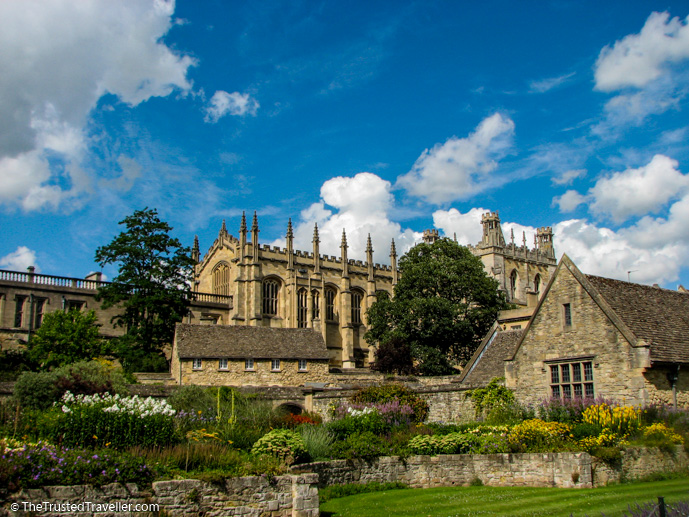 What to See & Do in Oxford
Christ Church College – The most popular of the Oxford Colleges for visitors, check out the beautiful cathedral, green central courtyard, countless works of art and antiques and of course the dinning hall made famous by the Harry Potter movies. Taking a walking tour of the college with an Alumi guide is also a great way to get insight into life on campus.
Climb the tower of St Mary the Virgin Church – Climb the narrow spiral staircase of this 13th century tower for stunning views over the whole city and across the 'dreaming spires'.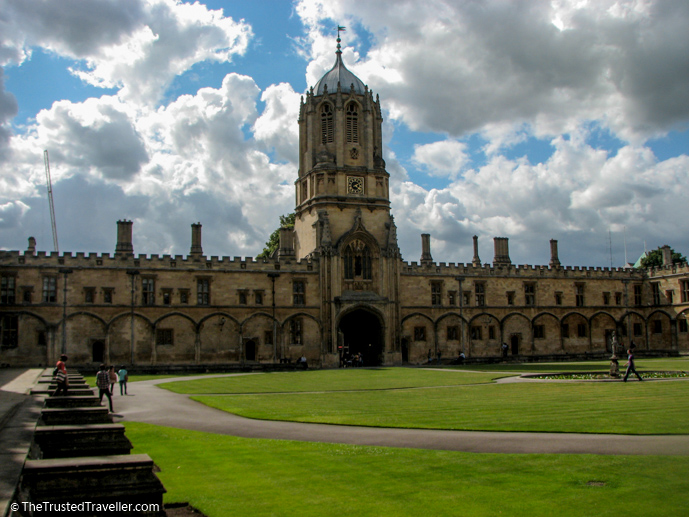 Radcliffe Square – This square is totally surrounded by some of Oxford's most important and beautiful buildings including the Bodlein Library, St Mary's church, The Sheldonian Theatre and its centrepiece, the Radcliffe Camera, an 18th century building used as the reading room for Bodlein Library.
Go Punting – Punting is a quintessential Oxford pastime. It involves a punter who stands on the end of a flat bottomed wooden boat using a long pole to propel the boat forward by pushing off the river bed. You can jump in a boat with an expert punter or hire one yourself and give it a go. Its a lot of fun! Check here to book a punting experience which also includes a tour of the college with and Alumni guide.
Shopping in The Covered Market – This market was established in 1774 for local traders and artisans to sell their goods. Not much has changed since. You will find everything from meat and fresh produce to fashion and accessories.
Where to Stay in Oxford
Here are three accommodation options to suit all budgets that I recommend you check out. All are centrally located, highly rated and come with excellent facilities.
Budget – Central Backpackers
Mid-Range – Sanfield Guest House
Luxury – The Old Bank 
Days 8 & 9 – Liverpool
Drive: Leave Oxford early and head north to Liverpool for the 3 hour drive. This will allow you plenty of time for stops or extra time in Liverpool when you arrive.
Suggested Stop
Fans of Shakespeare will want to make a stop in Stratford-upon-Avon to visit the birthplace of the man himself. It's also a lovely town and makes the perfect morning tea stop at one of the many tea shops in town.
Made famous as being the home of the Beatles, Liverpool is a thriving city with lots of interesting things to see and do. The city's rapid growth during the industrial revolution led to it becoming a busy port city which has over the years drawn in a wide range of people, cultures, and religions.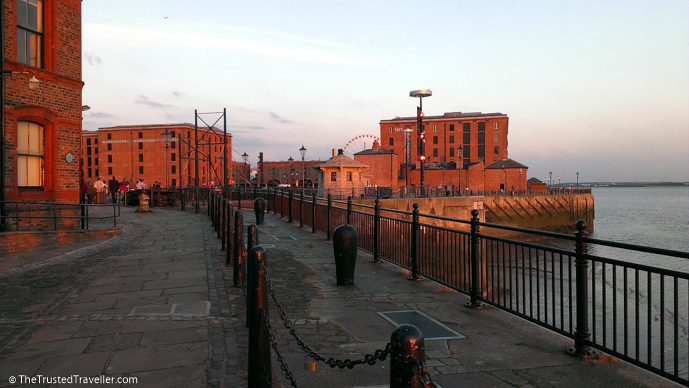 What to See & Do in Liverpool
Pier Head – Head straight down to the river and the Pier Head to take in your first bit of Liverpool history. Much of the city's past prosperity came from this area and it can be found in the Three Graces, three important buildings that line the waterfront. While they're not open to the public, it is a picturesque place to start your visit.
Albert Dock – Down by the riverfront you'll find the renovated Victorian warehouses of the Albert Dock. As well as being home to the Beatles Story (see below), you'll find four free museums: Tate Liverpool, the Maritime Museum, the Customs and Excise Museum and the Museum of International Slavery. The dock is a great place to visit in the evening as it's full of trendy bars and restaurants.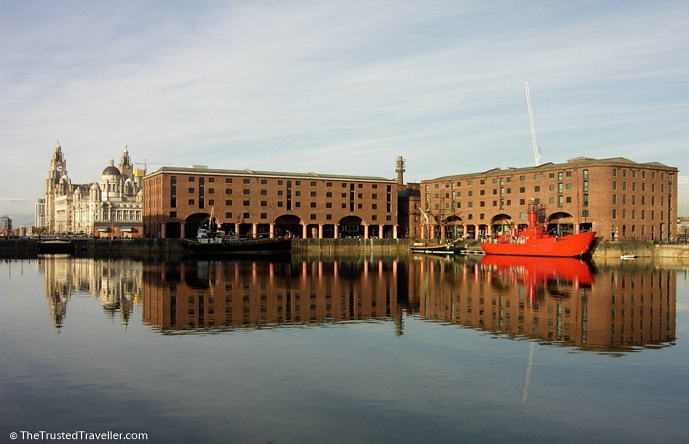 The Beatles Story – Fans of The Beatles, or even just fans of music in general won't want to miss The Beatles Story, a museum completely dedicated to the work of this pop music phenomenon. An audio-guided tour takes you around the museum that details the lives of the band members, their music and how they shot to fame.
Beatles Tour – If you haven't had enough Beatles after visiting the museum then jump abroad this fun Magical Mystery tour. Many of the places associated with the Beatles are located outside the city centre and this tour takes you to them all.
Mersey Ferry – Get the best view of hilly Liverpool but taking the 50 minute Mersey Ferry (book it here!) along the river. Seeing a place from the water is always a must on my list because it lets you see if from a new perspective in a leisurely way.
Where to Stay in Liverpool
Here are three accommodation options to suit all budgets that I recommend you check out. All are centrally located, highly rated and come with excellent facilities.
Budget – Anfield Rooms
Mid-Range – Pembroke Studios
Luxury – Pullman Liverpool
---
Day 10, 11 & 12 – Kendal, Lake District & Yorkshire Dales
Drive: To continue your 3 weeks in England it's just 1.5 hours drive to Kendal so feel free to spend the morning continuing to explore Liverpool before heading north after lunch.
Kendal is the perfect place to base yourself for exploring these two picturesque northern England regions popular with those who love to explore the outdoors. The Lakes District is all shimmering lakes and craggy hilltops which attract over 15 million people each year. The Yorkshire Dales on the other hand is about the snaking rivers running though valleys of rolling green hills. It's the perfect place to spend a few days stretching the muscle's on a long walk or two.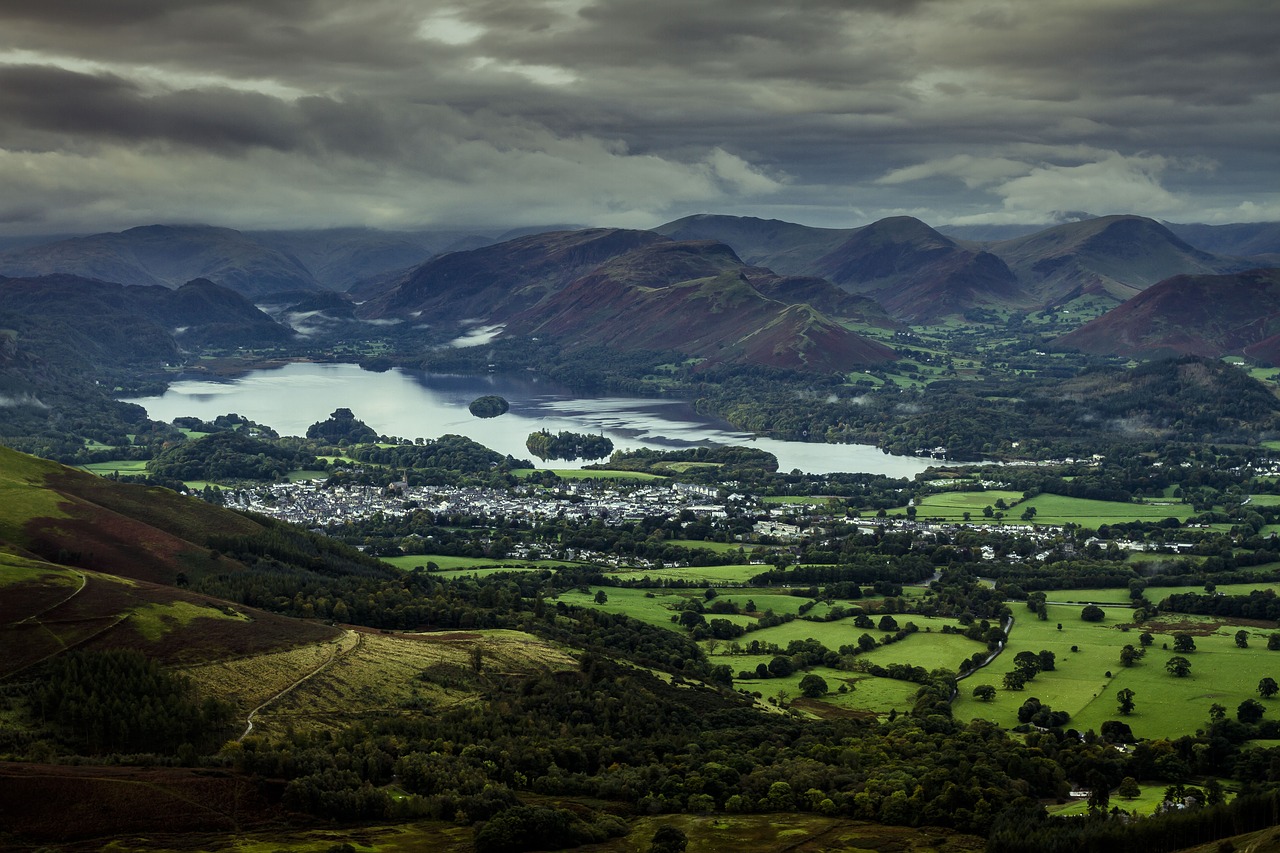 What to See & Do in The Lake District
Cruise Lake Windermere – For a picture perfect introduction to the region hop aboard a cruise on the areas most popular lake, Windermere. There are short 45 minute cruises or longer 3 hour cruises available that take in different parts of the lake. You can even buy a 24 hour pass to keep coming back for more.
Hill Top Cottage – The 17th century Hill Top Cottage was once home to the famous writer Beatrix Potter and is a time capsule of her life. The house and gardens, run by the National Trust, are open for you to explore and learn more about this fascinating women.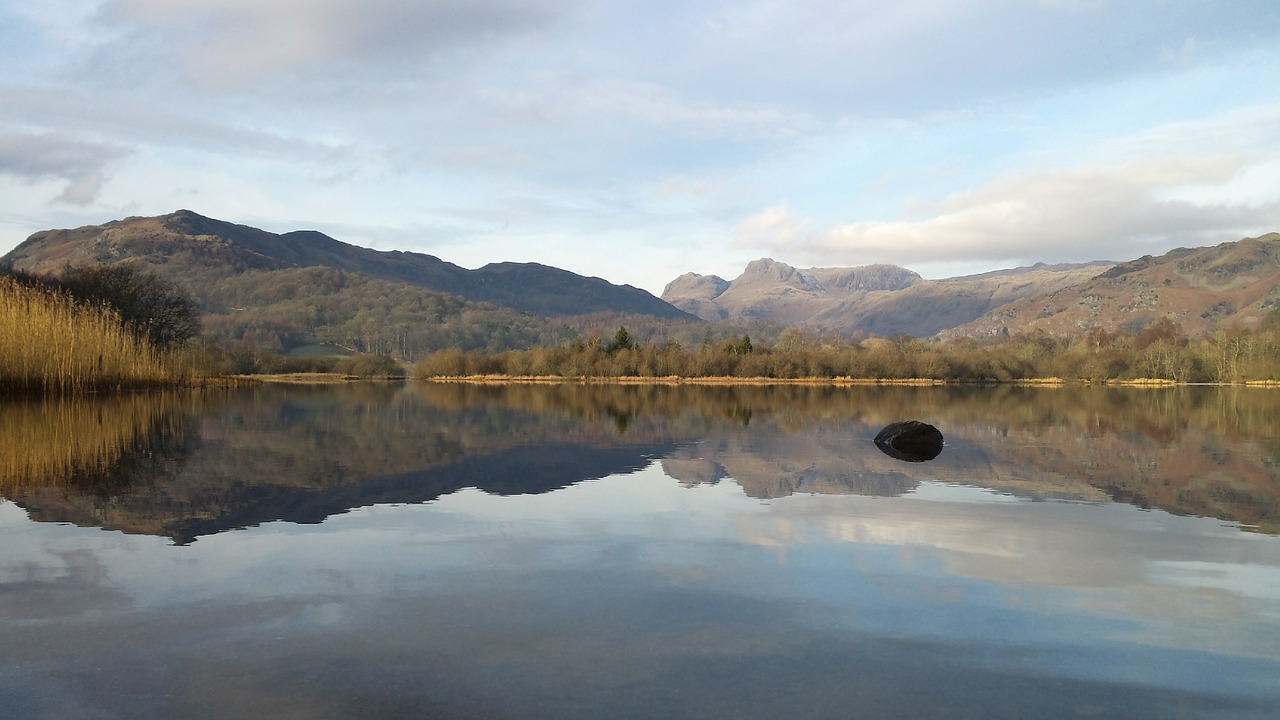 Walks – For short stays it can be challenging sifting through the many wonderful walks on offer in this region. You'll find walks that range from a few kilometres to one that summits an almost 1,000 m peak. The Walk Lakes website has comprehensive information on all the walks in the region including their difficulty levels and maps.
What to See & Do in The Yorkshire Dales
Explore the Villages – There a so many quaint villages scattered around the Dales. From the tasty sounding Appletreewick and Buttertub, to the bigger villages of Bedale, Leyburn and Skipton; each has cobbled streets, specialist shops, pretty tea rooms and cosy pubs.
Gordale Scar – This stunning double waterfall cuts through the rock and cascades down through the rocks. You can climb up the center of the waterfall and walk around the top of the valley which offers beautiful views.
Explore the Caves – The limestone rich Yorkshire Dales is riddled with cave systems many of them open for visitors to explore. There is no one best cave to visit and no one website for them all but the Yorkshire Dales official tourist site has lots of information to get you started.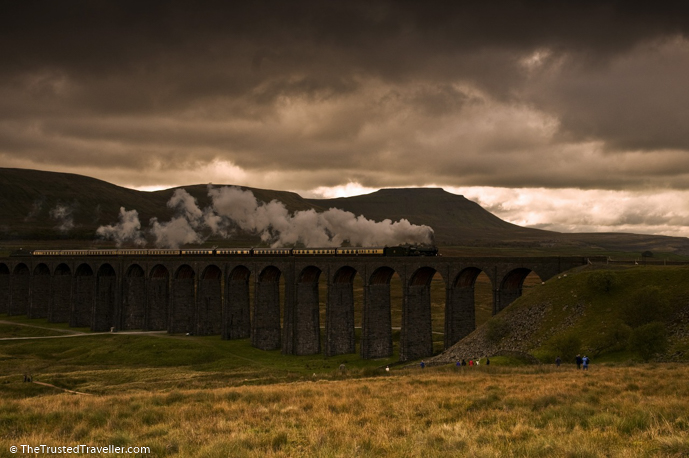 The Ribble Viaduct – Spanning 400 m across the River Ribble, this striking piece of engineering was constructed in 1875 and is still in use today as part of the Leeds to Carlisle train line.
Bolton Abbey – At the heart of the Yorkshire Dales is the stunning Priory ruins of Bolton Abbey. Founded in 1154, the Priory has a long history and a visit to Yorkshire wouldn't be complete without exploring the ruins or challenging yourself to cross the river by the stepping stones.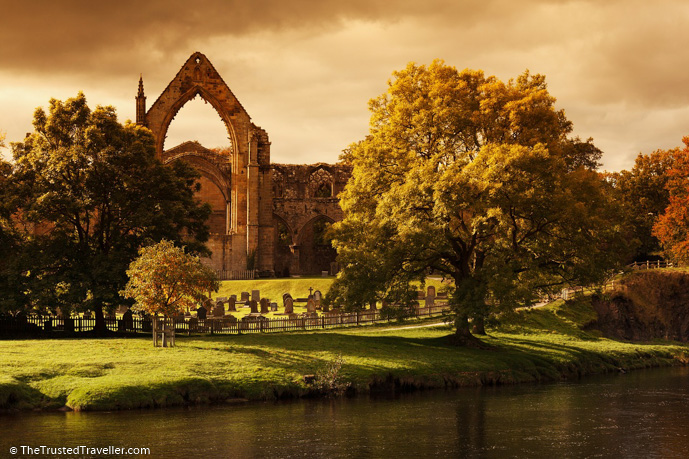 Where to Stay Near Kendal
Here are three accommodation options to suit all budgets that I recommend you check out. All are centrally located, highly rated and come with excellent facilities.
Budget – The Wheatsheaf Inn
Mid-Range – The Lodge @ Carus Green
Luxury – Lyth Valley Country House
Read More About The Lake District
---
Days 13 & 14 – York
Drive: The drive to York from Kendal on this England travel itinerary is just over 2 hours if you drive straight there. However, I suggest a bit of a detour to visit Hadrian's Wall which would almost double your driving time.
Suggested Detour
Head north from The Dales along the edge of The Lakes District through Penrith and Carlisle to Hadrian's Wall. Constructions of this defensive fortification began in 122 AD by the Romans in an attempt to keep their empire intact. The wall is 73 miles long and runs east and west to the sea cutting the top of England off. Park the car somewhere along the wall and take a bit of a walk if time allows it before heading south again to York.
The unofficial medieval capital of England, York is a walled city with enough charm and history to impress. Its cobbled streets are like a spiders web of narrow winding lanes lined with historic buildings and shops, leading to the city's centrepiece, the Gothic York Minister.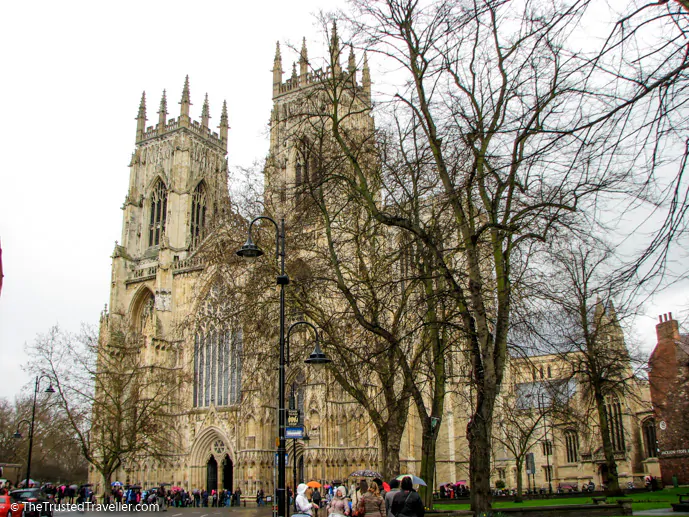 What to See & Do in York
York Minster – The largest Gothic cathedral in northern Europe, York Minster sits in the heart of the city and is the predominate feature of the city's skyline. Wander around inside and out and climb the tower for views over York. The nicest feature on the inside is the famous Rose window.
City Walls – There are three miles of encircling medieval walls around the city of York. These walls have been maintained and restored over the centuries and still contain many remnants of the original Roman wall structure. The view from the walls over the rooftops of York is lovely.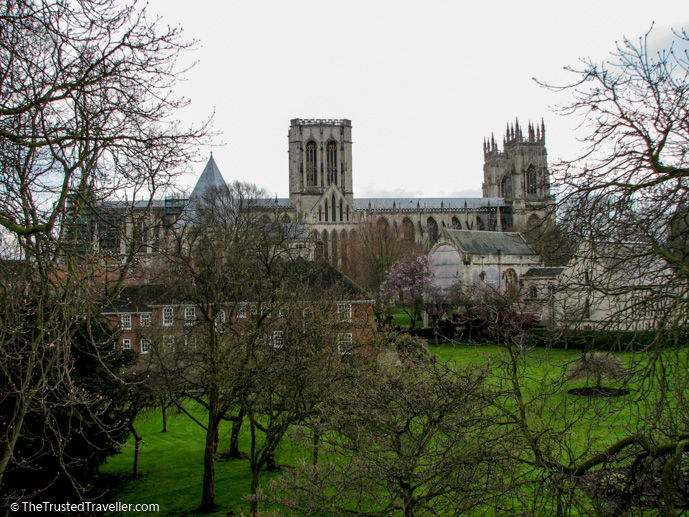 The Shambles – This bustling historic York street is one of the UK's most visited. The street is lined with quaint shops, restaurants, museums and tour offices where you can book ghost walks and historic talks of the area. The overhanging timber-framed buildings date back as far as the 14th century and have famously been home to butchers, with up to 25 shops being located along the street at one time. Now, none remain but the street still has lots of charm.
National Railway Museum – Get up close to over 300 years of fascinating railway history at the National Railway Museum. Explore giant halls full of trains including the majestic Duchess of Hamilton, step on to the futuristic, Japanese Bullet Train simulation or marvel at the stunning opulence of the Royal Trains.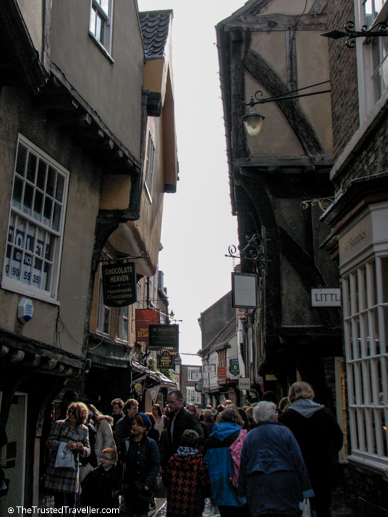 Jorvik Viking Centre – Travel back 1,000 years to a traditional Viking village and learn about how Vikings lived in this time period. The displays even create the traditional sounds and smells of the time further immersing you into the Viking way of life.
Where to Stay in York
Here are three accommodation options to suit all budgets that I recommend you check out. All are centrally located, highly rated and come with excellent facilities.
Budget – Brentwood Guest House
Mid-Range – The Staymor in the City
Luxury – The Grand, York
Days 15 & 16 – Cambridge
Drive: It's a three hour drive from York to Cambridge with lots of stunning countryside and small villages to take in on the way. Allow yourself a few extra hours to make a few spontaneous stops along the way.
Cambridge is another of England's great university cities with its population dominated by students and its main attractions being colleges. The city is full of historic buildings and open green spaces and is located on the lovely River Cam with its weeping willow trees, ducks and swans and old bridges.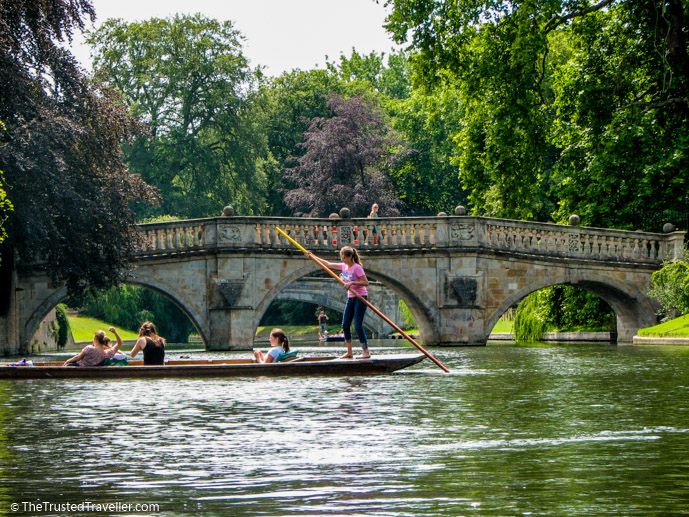 What to See & Do in Cambridge
Punting – This is quintessentially Cambridge. Of course this is also done in Oxford, as mentioned above, but according to those from Cambridge, not half as well. This is a great way to see the back of seven of the colleges and their bridges. Book a guided punting trip to here all the secrets about the local area.
Kings College & Chapel – No visit to Cambridge would be complete without a visit to one of its colleges, and Kings is the best. Founded in 1441, you can explore parts of the college and of course visit the Chapel which is one of the finest examples of late Perpendicular Gothic architecture. It has a very impressive vaulted ceiling and walls lined with equally impressive stained glass. A guided tour by a member of the college Alumni is a must!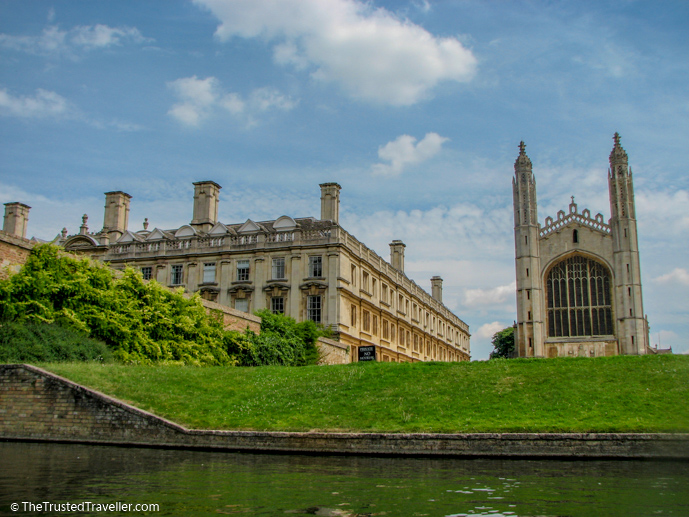 The Eagle Pub – There are lots of great pubs in Cambridge, but this is the only one with WWII airmen graffiti on the walls and ceiling. Grab a pint and take a seat in the RAF bar at the back of the pub to read some of the messages left by the airmen.
The Fitzwilliam Museum – This museum explores the history of Cambridge dating back 3,500 years. It's free to enter and explore the fantastic collection of artifacts and displays that offer a fascinating insight into early life in Cambridge.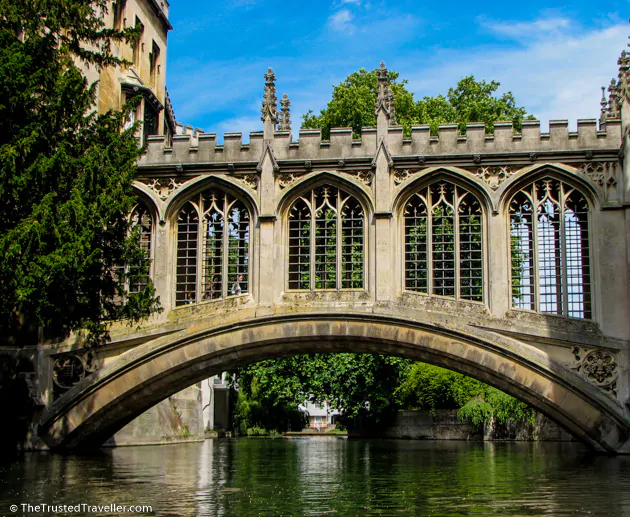 Where to Stay in Cambridge
Here are three accommodation options to suit all budgets that I recommend you check out. All are centrally located, highly rated and come with excellent facilities.
Budget – YHA Cambridge
Mid-Range – The Cambridge Guest House
Luxury – Worth House
Read More About Cambridge
Note: I recommend at this point that you leave the car in Cambridge at the end of your stay and take the train to London. London is one of the world's busiest cities and having a car will be a major inconvenience to you for getting around and parking.
---
Days 17, 18, 19, 20 & 21 – London
Train: Your trip around England comes to a close with the train from Cambridge to London which takes 1-1.5 hours depending on the stopping pattern of the train. Trains arrive into London King Cross or Liverpool Street Stations with about 5-6 departures per hour. Because of the frequency, you can purchase tickets at the station on the day.
Arguably one of the greatest cities in the world, London is bursting at the brim with things to see and do and should be included on every England vacation itinerary. It's a city so full of historic sites, cultural gems and buzzing entertainment 24/7. Whether you're a big city person or not, London guarantees to offer something for everyone.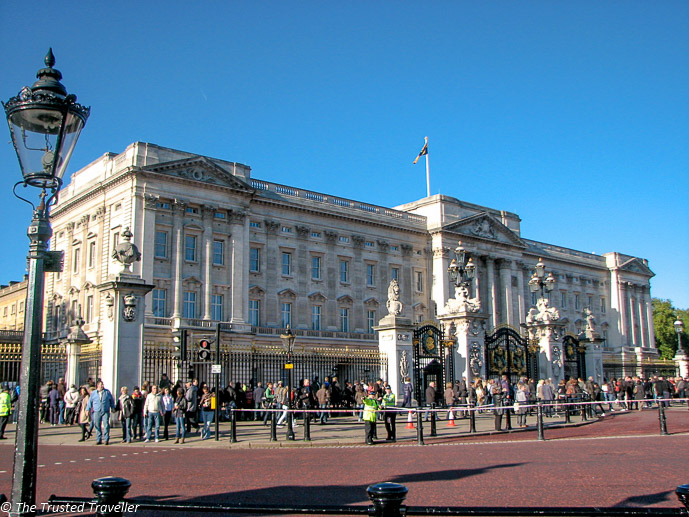 What to See & Do in London
St Paul's Cathedral – Built in the 17th Century, St Paul's Cathedral is one of the most recognisable sights in London. The impressive dome, modeled on St Peter's Basilica in Rome, rises 118 meters to the very tip of the cross on top and is one of the highest domes in the world. Climb up into the dome for spectacular panoramic views of London or head down into the crypts to see the tombs and memorials of some of the UK's greatest heroes.
Hyde Park – Covering 350 acres, Hyde Park is visited by millions of visitors and Londoners each year. There are a number of famous landmarks within the park including Serpentine Lake where you can hire a row boat, Speakers' Corner and the Diana, Princess of Wales Memorial Fountain along with countless statues. Enjoy a coffee or bite to eat from one of the two cafes on the lake or just get lost walking around the miles and miles of pathways.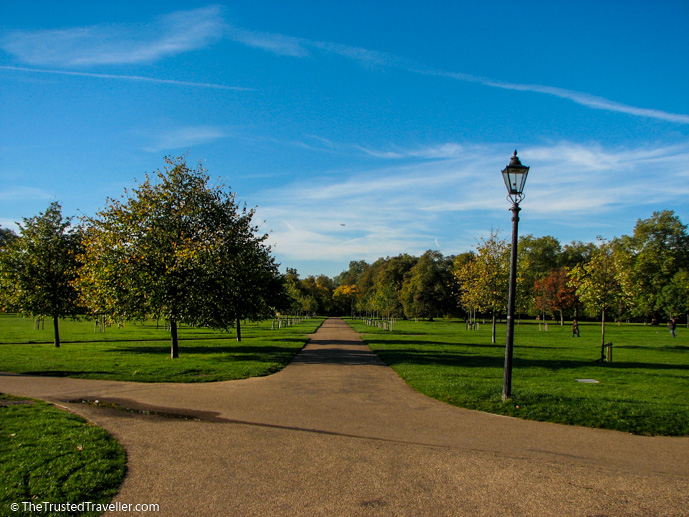 Buckingham Palace & The Changing of the Guard – Try to time your visit to the home of the Queen on a day when the Changing of the Guard ceremony is happening. It is 45 minutes of British Pageantry at its best. And if you happen to be visiting in August/September then you'll get the chance to take a walk around inside a selection of the palace rooms and out into the gardens. Tickets for this sell out way in advance, secure your ticket by booking here.
West End Theatre Show – London's West End is second only in the world for theatre to Broadway in NYC. With that in mind you can expect to see some world class shows in some of the most beautiful theatres in the world. Everything from small plays to big budget world famous shows can be found in the West End. Tickets are not cheap but you can get some good deals from the London tkts booth in Leicester Square.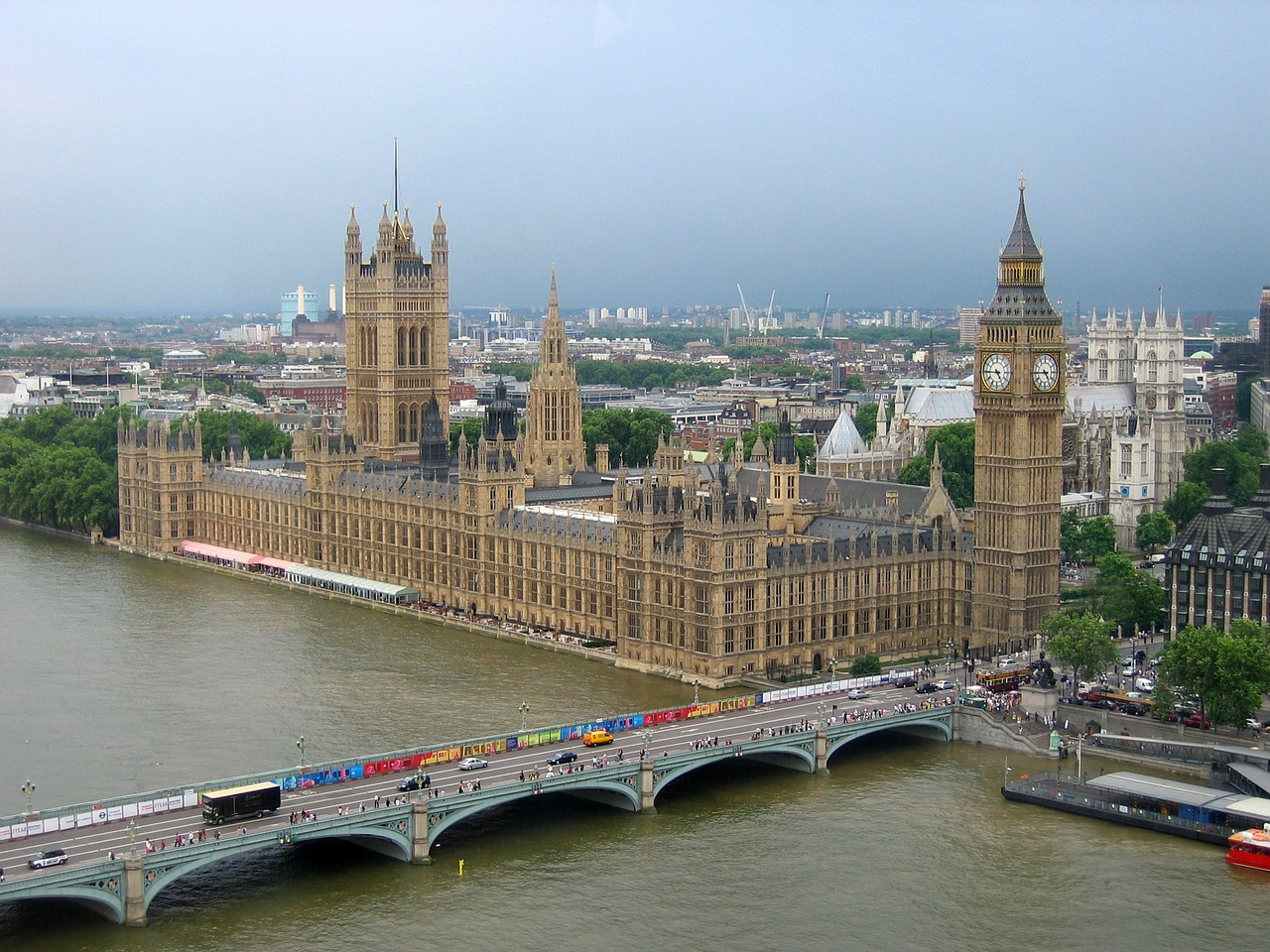 Big Ben & The Houses of Parliament – Iconic Big Ben is the name of the bell in the giant clock tower at the end of the Houses of Parliament, where the UK Parliament meets. This iconic sight is best viewed from the Westminster Bridge or from the south side of the Thames.
Westminster Abbey – This large, mostly Gothic, church is one of the most notable religious buildings in the UK and is the traditional place of coronation and burial site for British monarchs. It is simply breathtaking both inside and out but it is inside that you will find so much to explore. Make sure you allow a good few hours to visit properly and book in advance here as queues are massive all year round.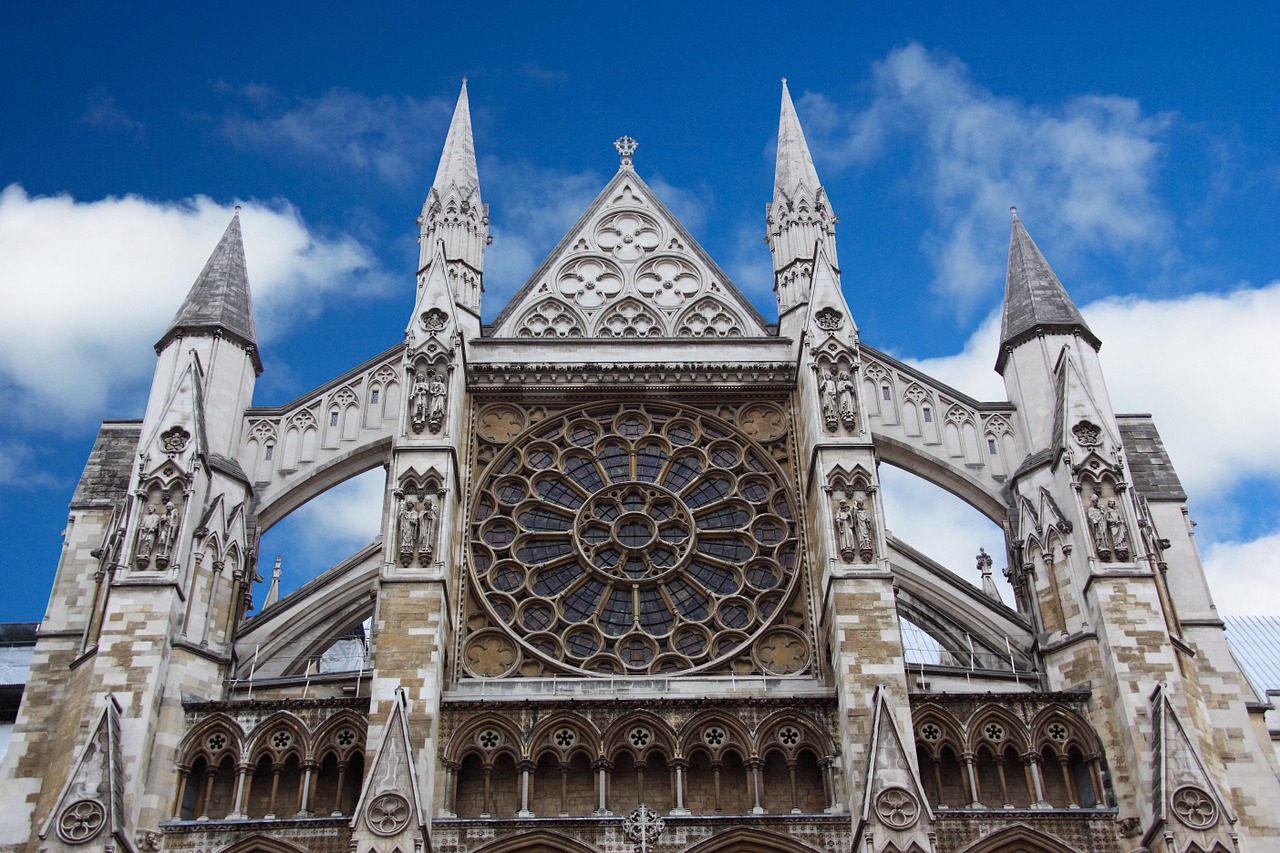 The Tower of London – Built by William the Conqueror in 1078, the Tower of London was turned into a prison in 1100. Some of its most famous prisoners included King Henry VI, the wives of King Henry VII, Anne Boleyn and Catherine Howard and Sir Thomas More. These days the Tower is a museum rather than a prison. A great way to see some of the grounds is with an entertaining tour hosted by the Yeoman Warders who will frighten and dazzle you with tales of the Towers past. Alternatively they also have a great audio tour available for you to explore at your own pace. Both options are included in a ticket you can pre-purchase here to avoid missing out!
Trafalgar Square – Always full of people, Trafalgar Square is a popular meeting place and hang out for tourists and locals and is known as a place for public gatherings, demonstrations and New Year's celebrations. In the centre of the Square is Nelson's Column which is guarded by four lion statues at its base.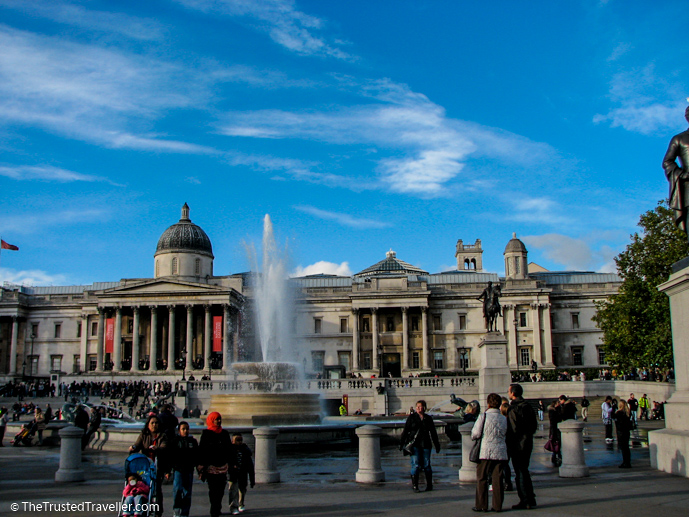 British Museum – The British Museum is one of the best free museums in the world and is an absolute must visit on any trip to London. The museum is dedicated to human history and culture with its permanent collection consisting of some eight million works and is among the largest and most comprehensive in existence. It documents the story of human culture from beginning to present, covering items from all continents.
Camden Market – Camden Market is one of London's most popular weekend markets, offering fashion and crafts with a mix of people and foods from every corner of the world. There isn't just one market here but a few, all joined together to form one big indoor/outdoor market set on the Camden Lock's.
London's attractions are very spread out over this massive city. The best way to orientate yourself quickly is on the Hop-On-Hop-Off bus which offers routes that cover everything you could possibly want to see in London. Passes last for 24 and 48 hours giving you the freedom to explore at your own pace and also include a cruise on he Thames. Pre-purchase your tickets here to avoid the queues and save.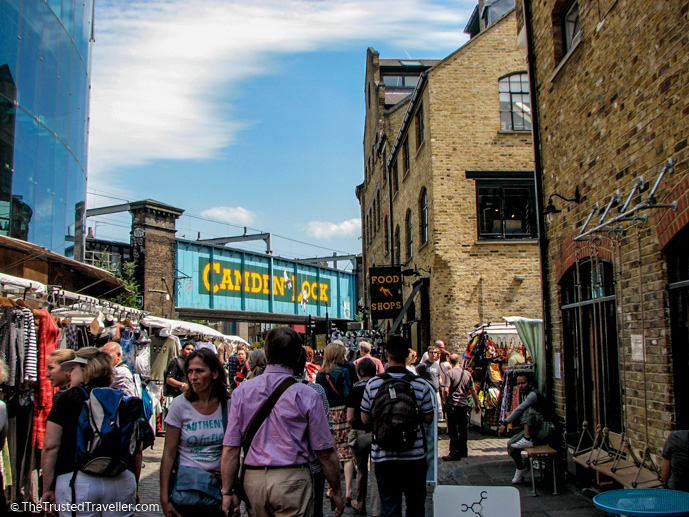 Where to Stay in London
Here are three accommodation options to suit all budgets that I recommend you check out. All are centrally located, highly rated and come with excellent facilities.
Budget – The Z Hotel Shoreditch
Mid-Range – citizenM Tower of London
Luxury – Pullman London St Pancras
Got More Time?
Extend your visit around England by spending more time in the destinations mentioned above or add a few new ones like Brighton, Canterbury, Manchester and the White Cliffs of Dover. Alternatively you can combine your visit to England with a visit to Scotland and/or Wales.
---
Over to you!
What is your favourite part of this England trip itinerary or where are you most keen to visit?
Let me know using the comments section below or join me on social media to start a conversation.
Thanks for reading and I hope you enjoyed this post.
Join my email list and get a FREE copy of my TRAVEL PLANNING TEMPLATE
My Travel Planning Template will make your travel planning simple & stress-free!