Taking a day trip to Akaroa from Christchurch is one of the must do things when your visiting Christchurch.
Akaroa is perfectly positioned for both a full or half day trip outside the city and compliments a visit to Christchurch perfectly.
The drive from Christchurch to Akaroa is worth it in itself as a great day out from Christchurch as you wind through the stunning countryside and over mountains to reach the Banks Peninsula.
Adding to that, once you arrive in Akaroa you'll find a beautiful little French settlement with oodles of charm and a whole bay full of on and in water adventures complete with unique wildlife.
This post contains affiliate links. Our full disclosure policy is here.
Day Trip to Akaroa from Christchurch
This guide on taking a day trip to Akaroa from Christchurch will show you how to get there, what to see on the way and what to do once you are there.
How Far is Akaroa from Christchurch?
As you can see from the map below, the distance between Christchurch and Akaroa is just over 80km.
If you drive straight there without any stops along the way it will take you less than one and a half hours. This makes it a really easy day trip from Christchurch.
How to Get to Akaroa from Christchurch?
You have two options to visit Akaroa on a day trip and I'm going to fill you in on both and all the pros and cons that come with each option so you can make a decision on which option suits you best.
A Self Drive Akaroa Day Trip
The good things about doing a self drive day to Akaroa is that you have all the freedom in the world to do exactly what you want. You can leave at a time that suits you, stop when you want, see only the things that interest you and return to Christchurch when you are ready.
You will most likely need a hire car if you are visiting Christchurch from overseas.
For all my car hire bookings I use and recommend Hertz. I've found they offer the most comparable prices, let you search and compare multiple car hire companies and they have a great customer service team who can help if you come into any unexpected troubles.
The drive itself is scenic and easy on a one lane each way country road that winds through the mountains. So any type of vehicle will be suitable for this day trip.
An Akaroa Day Tour from Chistchurch
The beauty of a tour is that you will likely get to see things that only a local guide would know about. You know, those secret spots that only those who have been beating the same path time and time again know about. A good tour guide can get you away from the more touristy things despite what some may think about tours.
And being on a tour also means you don't have to drive. You have the opportunity to really have a good look at the scenery while someone else drives you, something most drivers on a driving holiday miss out on.
If you'd prefer to let someone else do the driving, there are many tours departing from the centre of the city that will take you on a Christchurch to Akaroa tour, include a few activities and bring you back in the afternoon.
Read more about these tours and book in advance to avoid missing out below.
Information About Akaroa
Whichever option you choose, you'll first want to know a little bit more about Akaroa and how it came to be.
Akaroa, meaning "Long Harbour" in Maori, is an old whaling township situated on the Banks Peninsula, south-east of Christchurch. It was founded by the French in 1840 and today it still has a distinctly French flavour with quaint architecture and charming hospitality.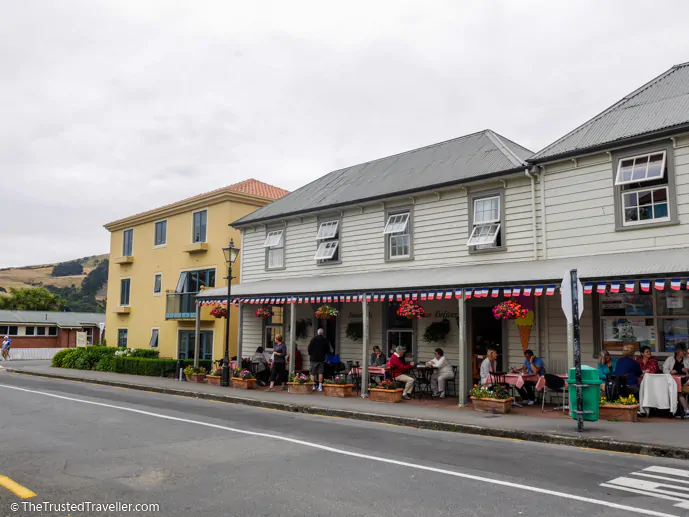 The village is nestled into a wide bay on the eastern side of the rugged harbour and has a permanent population of around 700 which swells significantly over the summer months.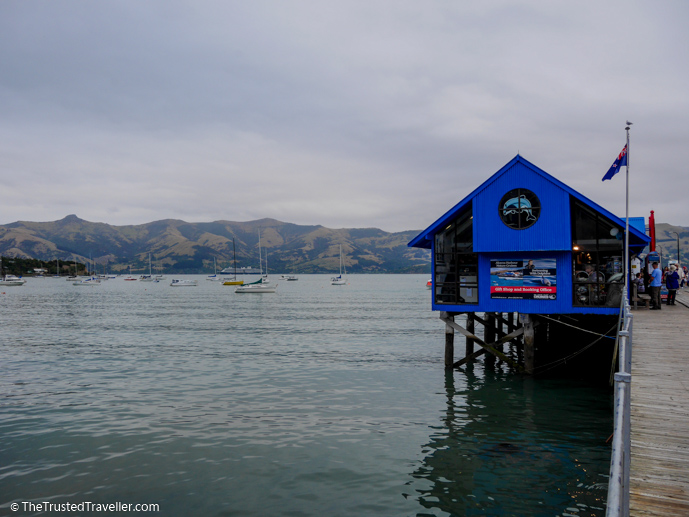 It's a popular stop for cruise ships making their way around New Zealand so it can be a little on the busy side around the middle of the day. So if you are self driving, I recommend getting there early and booking in any tours or boat trips well in advance. If there is a cruise ship in, all tours will be booked out.
Things to See on the Drive to Akaroa
Heading out from Christchurch you're first stop should be at the lookout in the Port Hills. From there you can look out across the city, the bays of Lyttelton Harbour, the Canterbury Plains and even out to the Southern Alps on a clear day.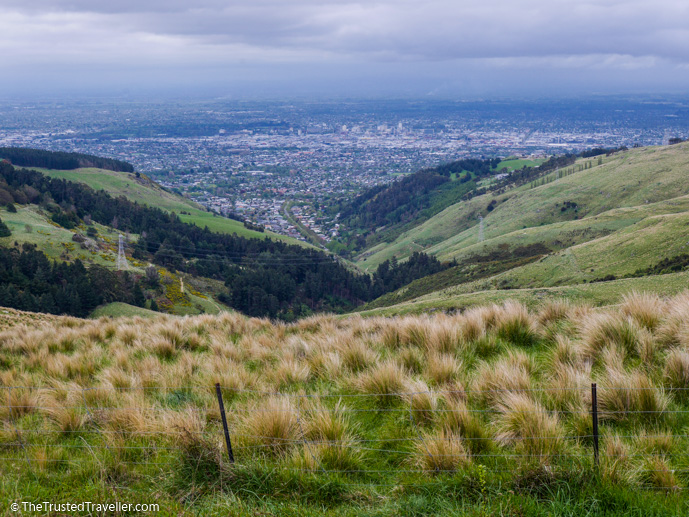 Next the road continues down the other side of the hills to Lyttelton Harbour, a sea-filled extinct volcanic crater. I suggest a quick photo stop at Governors Bay, one of the small townships on the harbour.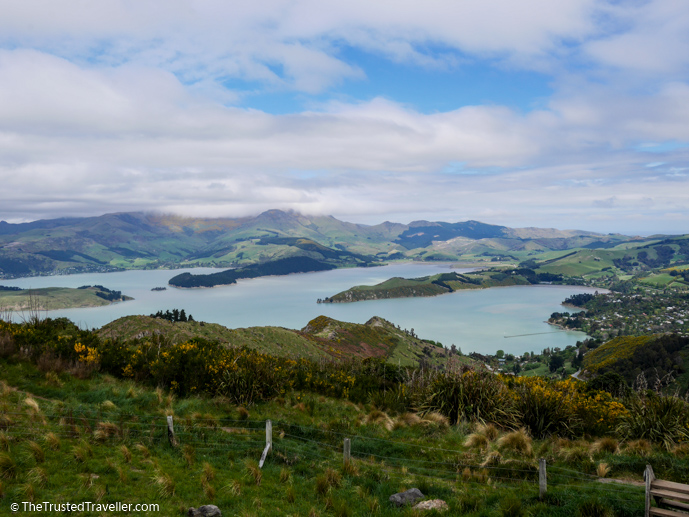 Drive across Gebbies Pass to join the main road out to Akaroa which passes Lake Ellesmere which is full of many different bird species. And just past the lake you'll see the turn off for Birdlings Flat. The beach and ocean is just a minutes drive from the main road.
Back on the main road, the road starts to head north east into the peninsula with the first town you'll encounter being the historic and arty Little River.
The next stop after a breathtaking climb through the mountain is at Hilltop, where you are actually standing on the crater rim of the long extinct Akaroa volcano, and from here there are incredible panoramic views of Akaroa harbour and the townships that dot the bays.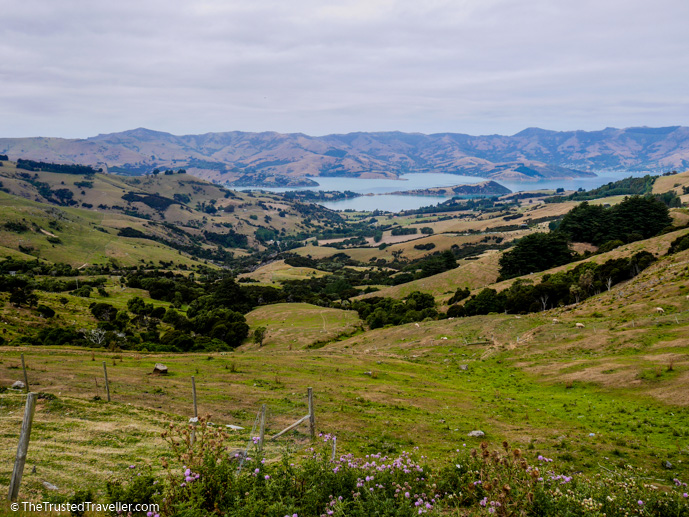 The road then leads down the mountain and as soon as you arrive at the bottom you'll see Barry's Bay Cheese on the left. Stop here for a chance to taste and buy delicious locally made cheese.
The final leg into Akaroa winds along the edge of the bay through small townships full of holiday homes and caravan parks.
What to Do in Akaroa
While the drive to Akaroa itself is great, there is heaps to see and do once you get there to make it more of a full day trip. Here a few suggestions to get you started.
Take a long walk through town – For this I suggest you drive to the furthest part of town, park the car and then slowly walk your way through town. Stop in the shops for a peek, have a coffee in one of the many waterfront cafes, and stroll along the waters edge admiring the view. Most of the tours I suggested above will allow time for you to browse the main street too.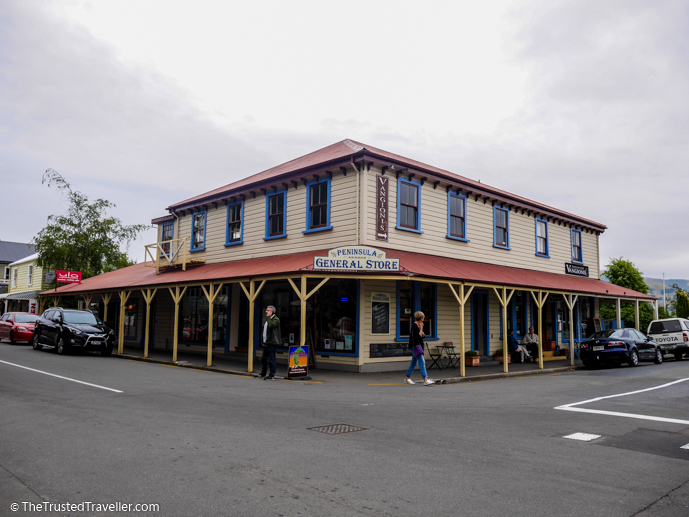 Kayak on the bay – Get out on the water to explore some of the secluded bays by hiring a kayak. You can hire a kayak from one of the kiosks on the water or take a guided tour. There are two great tours on offer. A small group guided sea kayaking tour of the marine reserve or if you can get to Akaroa early enough you can enjoy a sunrise wildlife sea kayaking adventure.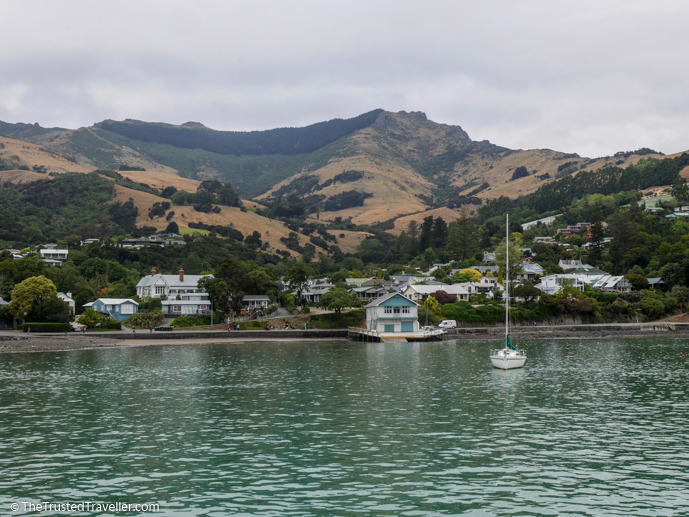 Take a nature cruise – Akaroa Harbour is full of marine life from rare dolphin species to penguins and an abundance of sea birds. A dolphin cruise is the popular option but you also have to option of seeing it all ont he Fox II sailing ship.
You can read more and book these tours below.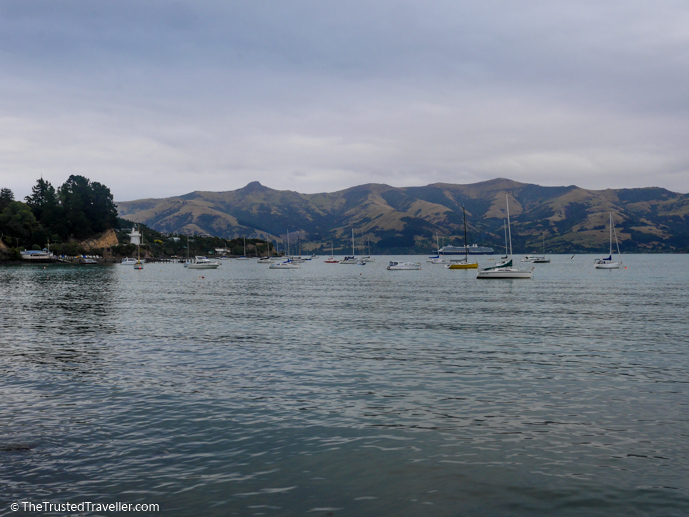 Swim with dolphins – From September to May each year, the worlds smallest, rarest and friendliest dolphins, the Hector Dolphins, make Akaroa Harbour their home. You can join a small boat of just 10 people to go out and snorkel with the dolphins in their natural environment.
Take a hike – There are over 50 walks you can do in the Banks Peninsula area ranging from short 15 minute strolls to multi-day tramps. This website has excellent information on each of them which will help you decide which ones are right for you.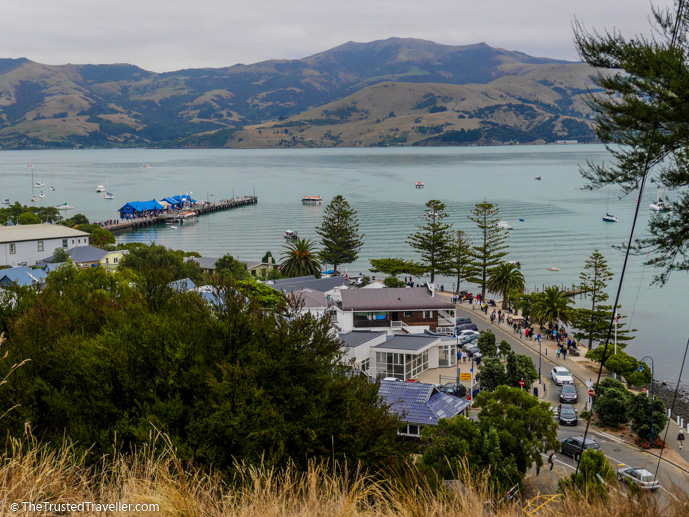 This Christchurch to Akaroa day trip is just one of many great day trips you can take from the South Island's biggest city. Read more about some of the other options here.
Over to you!
On this Christchurch to Akaroa day trip what you most like to see and do?
Let me know using the comments section below or join me on social media to start a conversation.
Thanks for reading and I hope you enjoyed this post.
Join my email list and get a FREE copy of my TRAVEL PLANNING TEMPLATE
My Travel Planning Template will make your travel planning simple & stress-free!