Christchurch is the largest city on New Zealand's South Island and third largest in the country. A visit to Christchurch offers visitors a diverse range of things to do in the city itself, but it is also an excellent gateway to the incredible surrounding area.
There are lots of day trips from Christchurch you can take if you base yourself in this ever changing city for a few days. Some close by, while others will take you on great full day adventures to see some of the most spectacular sights New Zealand has to offer.
Each of these Christchurch day trips offers visitors something different, from refreshing hikes in the wilderness, to tasting and shopping for locally grown and made products, unique wildlife encounters, precious relaxation time and finally, views so spectacular they will rival anywhere in the world.
I've created this list to help you pick a day trip from Christchurch that best suits your interests. It is ordered by distance from Christchurch with the closest and easiest day trips first, running through to day trips that are more like road trips from Christchurch.
The Best Day Trips from Christchurch
Port Hills
Distance: 10km | 15 minutes drive
Located on the southern edge of the city running east to west is the Port Hills, a stretch of hills covered in tussock grass and ragged rock, offering some of the best views of Christchurch and the surrounding area.
While you don't need a whole day to pop up and take in the view, you could easily spend the day exploring the many popular hikes and bike tracks for endless vistas of the turquoise bays on the other side. Some of the best day hikes near Christchurch can be found in the Port Hills.
If you don't have your own transport, you can still experience the Port Hills on a Christchurch city tour. Read more about and book this tour here.
Lyttelton
Distance: 12km | 15 minutes drive
Lyttelton is a small port town located on the southern side of the Port Hills and north-eastern side of the Banks Peninsula.
There are two ways you can drive to Lyttelton, either through the handy tunnel under the Port Hills which provides the fastest route. Or the scenic windy road from Cashmere in Christchurch over the Port Hills and then along the water. I recommend taking the tunnel to get there and the scenic route with the water on your left on the way back.
While in Lyttelton you can explore on foot along the marina full of boats and through the small town centre where you will find lovely colourful shops and cute cafes. If you can time your visit on the weekend then you can also enjoy browsing the local weekend market.
For those a little more adventurous there are a number of tours you can do in Lyttelton including a morning kayak on Lyttelton Harbour and a guided walk to Godley Head.
Oxford
Distance: 55km | 40 minutes drive
Oxford is an English-style rural village located at the foothills of the Southern Alps in the Waimakariri District north-west of Christchurch and is one of the best places for day walks near Christchurch.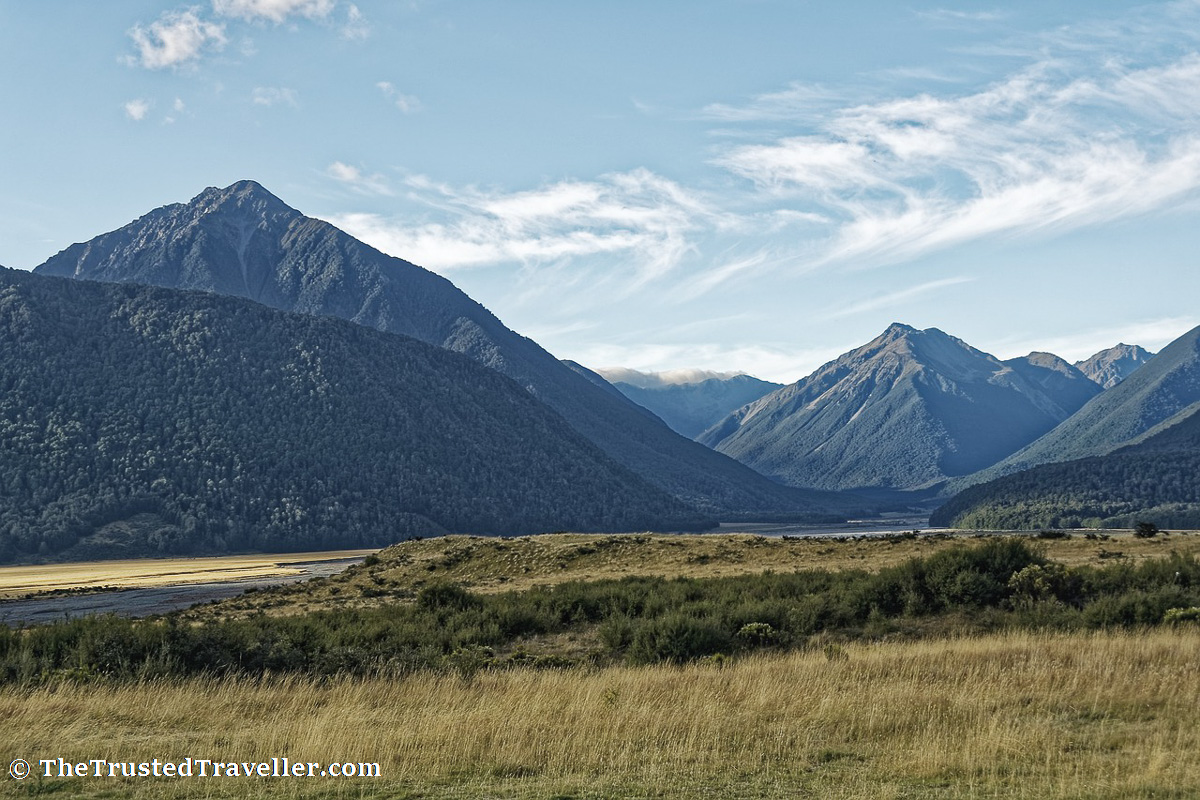 If you love to hike or mountain bike then this is one of the best places to go near Christchurch to do just that. There are trails to suit all fitness levels, from the 20 minute Mears Track walk to the five hours one way walk on the Wharfedale Track.
If you have time for only one walk in Oxford on your day trip from Christchuch, check out the Ryde Falls track. The longer walk is three hours one way from the Coopers Creek car park. Or you can take the shorter route, 1.5 hours one way from the View Hill car park. All this effort will be rewarded with an up-close view of the five-tier waterfall.
Oxford itself is a tiny town with cute boutique shops and cafes perfect for fueling up or re-fueling before and after your walks.
Waipara Valley
Distance: 60km | 45 minutes drive
The picture perfect Waipara Valley is located north of Christchurch on Highway 1 and is one of the best places nearby for Christchurch wine tours.
The region is home to more than 10 vineyard with cellar doors who specialise in Pinot Noir, Chardonnay and Rieling. You can hire a bike and use the pathway that connects them all to go from vineyard to vineyard, drive yourself (with a designated driver of course) or you can book one of the tours below that all depart from Christchurch.
If you are looking for more than just wine, why not enjoy lunch at a cellar door restaurant (Fiddler's Green and Waipara Springs are two of the best) or visit one of the local olive or nuts farms for tastings and take away.
If you'd prefer not to self drive to the Waipara Valley then there are a number of different tours you can take that will pick you up in Christchurch. Click on each tour to learn more and make a booking.
Methven
Distance: 95km | 1 hour and 10 minutes drive
Located directly east of Christchurch, Methven is the closest place nearby to hit the slopes in winter and partake in all sorts of outdoor adventures at other times of the year.
Given that Methven is only just over an hours drive away, you can easily do a day trip from Christchuch to go skiing. It is a popular spot for locals to head for skiing and snowboarding fun with nine ski fields close by.
Outside of winter it is also worth a day trip if you love your outdoor adventure activities. On offer in the region is scenic flights, mountain biking, hot air ballooning, fishing and jet boating. And you can finish your day of adventure with a visit to the local thermal pool to relax any aching muscles.
Akaroa and the Banks Peninsula
Distance: 80km | 1 hour 15 minutes drive
Taking an Akaroa day trip from Christchurch is one of my top picks on this list. Located on the Banks Peninsula, south-west of Christchurch, there is plenty to see and do in the region to keep you busy for the day.
First is the drive itself, it is simply stunning and winds through the mountains with lots of places to stop along the way for photos.
Arriving in the town of Akaroa you will be instantly charmed by this old whaling township which was founded by the French in 1840. The French flavour still exists today with quaint architecture and charming hospitality. The town is dotted with boutique shops and cute cafes some along the waters edge with lovely views.
If you'd like to get out on the water in Akaroa, there a number of ways you can do that. Kayaking around the secluded bays is popular with kayak hire and guided tours available. You can also take a nature cruise to see some of the marine life in the bay such as dolphins, penguins and an abundance of sea birds.
Go one step further and jump in the water. From September to May each year some of the worlds rarest dolphins can be found in the harbour and you can go snorkeling with them in their natural habitat.
While it is easy to visit Akaroa by yourself, an organised tour leaving from downtown Christchurch can be very convenient and offers the opportunity to listen to local insights with a guide. Check out these options by clicking on the links.
Hanmer Springs
Distance: 130km | 1 hour 40 minutes drive
One of the best days trips from Christchurch to unwind is Hanmer Springs, located directly north of the city.
Hanmer Springs is an alpine resort town that is best know for its natural hot pools. Take a soak in the mineral rich thermal pools and indulge in some lovely spa treatments to really relax and rejuvenate the body and release all the stress travelling can sometimes bring.
If soaking in thermal waters is not your thing, there is so much more to Hanmer Springs, especially if you like a bit of adventure. Think jet boating, whitewater rafting, bungee jumping, bush walking and mountain biking just to name a few.
Do it all on an easy organised day tour including thermal pools and jet boating in Hamner. Check out this tour and make a booking here.
Arthur's Pass
Distance: 150km | 2 hours drive
North-west of Christchurch, located in the heart of the South Island, is probably one of the most spectacular day tours from Christchurch, Arthur's Pass.
Arthur's Pass is the highest pass in the Southern Alps, so as you can imagine, with great heights, comes great views. The drive out starts with a trip across the expansive Canterbury Plains from where you will be able to get your first glimpse of the mountain ranges waiting for you ahead.
Once you reach the Alps you'll wind your way up towards Arthur's Pass Village past and over glacial fed rivers, through deep gorges and through ancient beech forests. It is nothing short of spectacular.
While most of these day trips can easily be enjoyed in your own vehicle, I personally recommend doing a day trip to Arthur's Pass with a guide and on a train, yes there is a train line that runs all the way from Christchurch on the east coast to the Greymouth on the west coast.
One of the main reasons why I think this day trip would be more enjoyable on a tour is because no one in your travelling party has to drive, if no one is driving then everyone can focus on the amazing scenery.
Find more details about this tour to Arthur's Pass and make a booking here.
Kaikoura
Distance: 180km | 2 hours 20 minutes drive
If you don't have time to spend a few nights here, then a Christchurch to Kaikoura day trip is a must! I fell in love with this stunner of a coastal town a few hours north of Christchurch and I know you will too.
Kaikoura has something for everyone. As the northernmost settlement of the Canterbury Region, Kaikoura is famous for its natural beauty and abundance of wildlife. In one day you can get up close with some of the amazing wildlife New Zealand is famous for.
Start with taking in the views from the Peninsula Lookout, this will help set your expectations for the amazingness (I know that's not a real word!) ahead.
Next you'll want to get your first wildlife encounter so head to the Fyfe Quay Seal Colony at Point Kean where you'll find the seals lazing about on the rocks, right in front of the carpark (sometimes they even venture into the carpark!).
As tempting as it is to get up close to these cheeky creatures, make sure you keep a safe distance, at least 10 metres from them. They are unpredictable wild animals after all and they deserve our respect so they can be enjoyed for generations to come.
From here you can head out on the water for some more wildlife action. Get up close with more seals plus whales, dolphins and albatross on a cruise, kayak or swim tour out on the bay. Or see it all from above on a whale watching flight.
There is one organised tour that leaves from Christchurch to Kaikoura and includes whale watching. You can check it out here.
Alternatively, there are lots of tour options available if you self drive from Christchurch to Kaikoura for the day. My only recommendation here is to book in advance as this is a very popular destination and tours will book out in advance. Check out these tour options and make a booking by clicking on the links below.
Lord of the Rings Tour to Edoras
Distance: 165km | 3 hours 10 minutes drive
If you are a Lord of the Rings fan, then this is one day trip from Christchurch you can't miss out on! No trip to New Zealand would be complete without doing something Lord of the Rings themed.
On this tour you will travel to Middle Earth's Edoras, the mythical capital city of the Rohan people. On the way you'll stop off at multiple Lord of the Rings filming locations and get to admire the scenery of the Southern Alps.
Visit Lake Clearwater, My Potts and Mt Hutt on your way to Erewhon Station, a working high country sheep and cattle station.
Expert commentary from a highly knowledgeable tour guide who will fill you in on all things LOTR and point of various other breathtaking sites along the way as you travel in a luxury coach.
You can book this tour, which sells out way in advance due to LOTR popularity, using this link.
Aoraki Mount Cook National Park
Distance: 330km | 3 hours 50 minutes drive
My final suggestion is one of the most popular day trips around Christchurch, especially among those who don't have a lot of time to venture out and explore other parts of the South Island.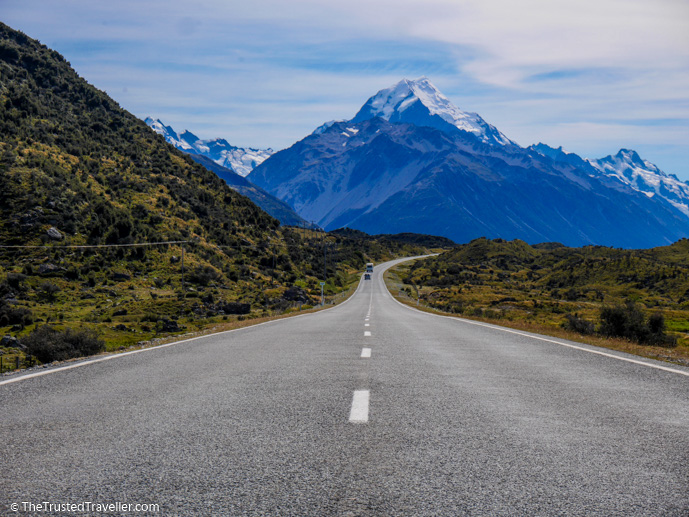 Aoraki (Mount Cook) is the highest peak in New Zealand and is located directly west of Christchurch in the Southern Alps. The surrounding National Park is a prime location for adventure lovers with some of New Zealand's best walks to be found in the park.
It is a long day visiting Aoraki on a day trip from Christchurch but it is worth every second, especially if you do it with an expert guide who can drive you everywhere and point out all of the best stops along the way (including more LOTR sites).
There are two really great small group tours you can do from Christchurch to Aoraki. Both include stops on the way at Lakes Tekapo and Pukaki (the bluest lake you'll ever see) and Aoraki Mount Cook Village where you can take off on a short hike to see the Tasman Glacier or enjoy the show at the Sir Edmund Hillary Alpine Centre's 3D theatre, museum and Digital Dome Planetarium.
If you are visiting from November to January you may be lucky enough to catch the spectacular Lupin fields along the lakes and get that iconic photo with Mount Cook in the background you've probably seen all over Instagram.
Find more information about these two tours and make a booking below.
---
Car Hire
Due to the fact that New Zealand is an island, most people visiting Christchurch will need to hire a car when they arrive to help with getting around to see everything and taking some of these day trips.
For all my car hire bookings I use and recommend Hertz. I've found they offer the most comparable prices, let you search and compare multiple vehicle types and they have a great customer service team who can help if you come into any unexpected troubles.
---
Tours in Christchurch
Maybe you don't have time in your itinerary to leave Christchurch on a day trip or you only have one day in Christchurch to explore. There are plenty of tours in Christchurch to keep you busy during your visit no matter how long or short your visit may be.
From rock climbing adventures to more sedate city trolley tours, this selection of tours will give you plenty to choose from and have you feeling more acquainted with this lovely city by the time you leave.
A few of the best are below and you will find a more comprehensive list here.
Christchurch Sightseeing Tours
A tour on the Tramway is a great way to get yourself acquainted with Christchurch quickly. You can choose the standard hop-on-hop-off option, enjoy it with your evening meal or combine with a punt (English boating term) on the river.
Christchurch Wildlife Experiences
New Zealand has an abundance of wildlife, some well known, others very unique to New Zealand. A visit to Willowbank Wildlife Reserve allows you to get up close and learn more about some of the worlds more interesting creatures.
Active Christchurch Day Tours
If you like a bit more action mixed in with your sightseeing then these tours are for you. Take in the spectacular surrounding views from the helicopter tour or explore the city on two wheels with an expert guide who will tell you all about the history of Christchurch.
---
Where to Stay in Christchurch
Here are three accommodation options to suit all budgets that I recommend you check out. All are centrally located, highly rated and come with excellent facilities.
Budget – Jailhouse Accommodation
Mid-Range – Ramada Suites by Wyndham Christchurch City
Luxury – The George
Over to you!
Which of these day trips from Christchurch are you looking forward to doing?
Let me know using the comments section below or join me on social media to start a conversation.
Thanks for reading and I hope you enjoyed this post.
Join my email list and get a FREE copy of my TRAVEL PLANNING TEMPLATE
My Travel Planning Template will make your travel planning simple & stress-free!