This is your essential guide on how to get around Christchurch's transportation system and exploring all that it has to offer.
Christchurch is a sprawling city with a variety of transportation options available to visitors, from buses and trams to taxis, rental cars, and bicycles.
In this post, you'll find detailed information on each mode of transportation, including the pros and cons of each and tips for getting the most out of your journey. You'll learn about the city's public transportation system, including bus and tram routes, schedules, and fares, as well as taxi services and car rental options.
Navigating a new city can be daunting, but with the information and tips provided in this post, you'll know how to get around Christchurch with confidence and ease. So buckle up, hop on a bike or jump on a bus, and get ready to discover all the amazing sights and experiences that Christchurch has to offer.
Getting from the Airport
Given New Zealand is made up mostly of two large islands, most people visiting Christchurch will arrive via plane.
Christchurch only has one airport which is located about 10km, or 15-20 minutes drive, north west of the city centre.
In this section, I'll run you through all the ways you can get from the airport to downtown Christchurch.
Taxi
Taxis are the quickest way to exit the airport and get into the city centre as the taxi rank is located directly outside the International Arrivals terminal.
There are about half a dozen taxi companies operating in Christchurch, all of which offer a similar service at a similar price.
You don't need to call or book a taxi, as you'll always find them lined up waiting for newly arrived passengers. There can sometimes be a short queue, but as Christchurch is a smaller city this will be minimal.
A taxi ride from Christchurch Airport to the city will cost around $NZ40.00, including the $NZ5.50 airport charge. Taxis accept both cash and credit card payments, the latter sometimes attracting a surcharge.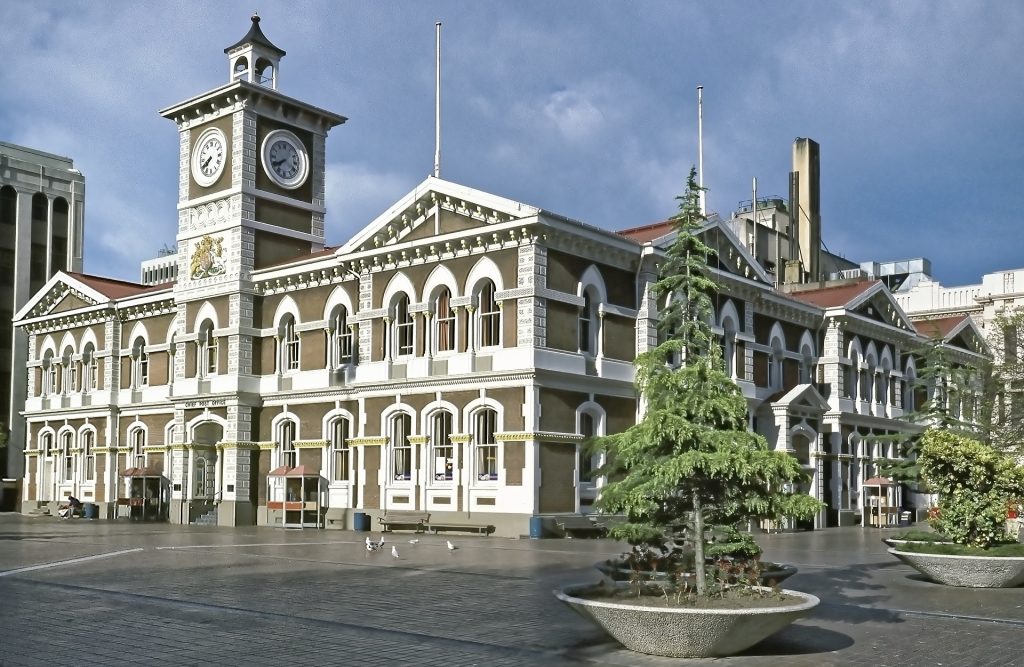 Rideshare
Rideshare services like Uber are found in just about every city of the world these days and Christchurch is no exception.
Christchurch has three rideshare providers, Uber, Ola and Zoomy. You will need to use the rideshare companies app to book as you exist the terminal. The app will tell you how long until your driver will arrive, usually only a few minutes.
All providers pick up from the Rideshare Pick-up Zone which is located as you exit the terminal behind the Express Park building. Just follow the easy to see signs.
Taking a rideshare from Christchurch Airport to the city centre will cost slightly less than a taxi at about $NZ35.00 including the $NZ5.50 airport charge.
Airport Shuttle
Super Shuttle meets every flight that arrives into Christchurch and pick up is right outside the arrivals area. They also have a booking desk inside the arrivals area for buying tickets and general questions.
Their vans have ample space for luggage and they use the bus lanes when driving through the city, making this a quick way to get from the airport to your accommodation.
Bookings via their website (here) are highly encouraged as this is popular way for locals to get to and from their homes throughout the greater Christchurch area.
Cheaper than both a taxi and a rideshare, a one-way fare on the Super Shuttle is $NZ25.00.
Local Bus
Even cheaper again is using the local bus service to get from Christchurch Airport to various points around Christchurch, including the city centre.
There are three bus routes that service the International Arrivals, No. 3, No. 29 and No. 125.
Bus No. 3 will take you to areas like Avonhead, Riccarton and Sumner with a service every 30 minutes.
Bus No. 29 will take you right into the city centre Bus Interchange with a service every 30 minutes.
Bus No. 125 will take you the areas of Westlake, Russley, Northlands and Redwood with a service every 30 minutes.
All three buses depart from the northern ed of the International Arrivals, next to the Novotel Hotel.
Bus fares work in Zones, with both the Airport and the city centre being located in Zone 1. A standard Zone 1 fare which will get you from the Airport to the city centre will cost an adult $NZ4.20 when paying cash as you board the bus. If you purchase a Metrocard, that cost drops to $NZ2.65.
Unfortunately there is no way to purchase a Metrocard in the airport, so unless you have one from a previous trip to Christchurch, you will need to pay full fare.
If you would like to know about the Metrocard, read on in the chapter as I explain ways of getting around the city.
This post contains affiliate links. Our full disclosure policy is here.
Rental Cars
If you are planning to venture outside of Christchurch during your visit to New Zealand, then a rental car is a great option.
You will find a wide range of rental car companies represented at Christchurch Airport including Hertz, who have always been my preferred rental car company to use on my travels around the world.
When you walk out into the arrivals hall of the airport you will see all of the rental car company desks lined up ready to check you in a hand over your keys.
I highly recommend booking a rental car in advance to avoid missing out on arrival. Being a smaller country, there are not endless options for cars as you may find in bigger countries and cities around the world.
On average, a rental car will cost you $NZ100-150 per day depending on the size of the vehicle you go for.
Get Around Christchurch
Christchurch is quite a sprawling city, however most of what you will want to see and do during your stay is contained within the city centre, with the exception of some of the more adventurous, outdoorsy experiences.
In this section of the chapter, I am going to run you through all the different modes of transport you might need during your stay in Christchurch
Walking
The absolutely best way to see any city or town in the world is by far on foot. Enjoying a city on foot means you can stop anytime you see something interesting and you get an up-close look at everything you walk by.
For most of what you might want to see and do in Christchurch, a lot of it will be walkable if you are staying in the city centre.
The city centre is relatively flat, making walking easy for most fitness levels.
You can easily walk from Cathedral Square to the Botanic Gardens, to Cashel Mall and the bustling eateries of High Street, all without much effort.
Local Bus
If you are planning to catch a bus during your visit to Christchurch, then the best place to start is by visiting the Christchurch Bus Interchange, located right in the centre of the city on the corner of Lichfield and Colombo Streets.
Here you will find maps, timetables and friendly staff to assist with any questions you might have. You can also purchase a handy and money saving Metrocard here.
There are two ways to pay for you bus fares, either cash when you board the bus or by having a pre-paid Metrocard. The Metrocard gives you at least 25% off the standard cash fare. So if you are planning to do a few bus trips during your visit, buying a Metrocard is a good idea.
Fares are based on Zones, so the more Zones you travel through the higher the fare will be. Most of what you will want to see and do in Christchurch should be within Zone 1.
The Metro website has all of the information you will need if you plan to take the bus in Christchurch.
Taxis / Ride Shares
If you need to get somewhere that isn't on the bus network or you don't feel so confident taking public transport, then a taxi or rideshare service is the way to go.
There are seven taxi companies in Christchurch, all of which allow you to book your journey for a specific time in advance by calling or on their website. I have added links to each companies website below:
A few key places you might need to get a cab to, including a rough idea of price from the city centre are outlined below:
Christchurch Gondola – $NZ40.00
Sumner Beach – $NZ50.00
New Brighton Pier – $NZ35.00
Lyttelton Harbour – $NZ45.00
There are also three rideshare companies operating in Christchurch which you can use if you have their app downloaded to your phone;
These work by using the app to order a ride from the location you are in or booking one in advance from a location you select.
Fares for rideshares tend to be about 20-25% lower than a taxi fare, so this could be an economical way to get to some of the more far reaching attractions in Christchurch without using a bus.
Bicycle
Christchurch has over 60km of cycleways throughout the city making this an easy and safe way to get around the city.
Cycleways connect some great spots to visit in Christchurch including Sumner Beach, New Brighton Pier and Hagley Park.
A full map of all of the cycleways in Christchurch can be found here.
Action Bicycle Club, located on Walker Street right in the city centre is a good place to hire a bike for a few hours, up to a few days. They also have a great website with self-guided bike rides you can take to explore different parts of the city. Bike hire starts from $30 for five hours hire.
Tram
While Christchurch doesn't have an extensive network of Trams, it does have one historic tram that takes you on tour around 17 stops in the city centre.
You can hop-on and hop-off the tram as much as you like with trams operating every 15-20 minutes from 9am to 6pm most days.
Tickets for the tram cost $NZ30 for adults and are valid for a full day. You can pre-purchase your tickets here to avoid missing out on this once in a lifetime experience.
Over to you!
Have you planned how you will get around Christchurch? Which option or options have you decided with?
Let me know using the comments section below or join me on social media to start a conversation.
Thanks for reading and I hope you enjoyed this post.
Join my email list and get a FREE copy of my TRAVEL PLANNING TEMPLATE
My Travel Planning Template will make your travel planning simple & stress-free!