Whether you're planning a weekend getaway or a longer stay, choosing where to stay in Christchurch can make all the difference in making your trip a memorable one.
In this post we will explore the various neighborhoods and accommodation options available in Christchurch to help you find the perfect place to stay during your visit.
From luxury hotels to budget friendly hostel, I've got you covered! I'll break this post down by type of accommodation and give you multiple options in each section.
So, let's dive in and discover where to stay in Christchurch.
This post contains affiliate links. Our full disclosure policy is here.
Hostels $ – $$
Hostels are by far my preferred type of accommodation, especially when travelling for longer periods of time.
Hostels can come in many shapes and sizes but generally they are great value for money and give you the chance to meet other like-minded travellers.
Rooms range from multi-bed dorms with shared facilities to twin/double/family rooms with private bathrooms.
Expect a guest kitchen that you can cook meals in, a laundry, a communal area of sorts to hang out with other travellers and helpful staff who know where all the best and cheapest places to eat and drink are.
The biggest misconception with hostels is that they are only for young people and backpackers. But things have change a lot over the last 10 years and hostel are now a haven for cheap, clean and comfortable accommodation for all ages.
Over the years, I've stayed in hostels that are fancier than some hotels. Spacious rooms, comfy bedding and lots of free facilities make them a very attractive offering.
No more should you discount this option as viable just because you don't fit into the hostel stereotype.
Here are three hostel that are all centrally located in Christchurch making it easy for you to get around on foot or the local bus.
Jailhouse Accommodation
This is, in my opinion, the best place to stay in Christchurch if you are on a budget and want to be in a great location.
Housed in the refurbished Addington Prison which was built in 1874, you won't be treated like an inmate these days when spending a night or two "inside".
On-site is a cafe, guest lounge with cinema projector for cosy nights in, free parking, free wi-fi, billiards table, communal kitchen and an information desk where the friendly staff can help you arrange excursions and hikes.
All rooms have access to shared bathroom facilities, of which there is ample for all "inmates". Rooms are configured from single, twin and double to 6-10 person single sex dorms.
The location is great, slightly out of the city centre in the area called Addington where you will fine some of the funkiest bars and restaurants in all of Christchurch.
YHA Christchurch
Conveniently located just a few minutes walk to both the Botanic Gardens and Cathedral Square, right in the heart of the city, YHA Christchurch is a great option if you want the convenience of being able to walk everywhere.
This hostel has a BBQ and garden area which is nice for cooking evening meals and meeting other travellers. Also included onsite is two guest lounges and two guest kitchens, so there is plenty of space for you to relax and cook.
Some twin, double and family rooms have private bathrooms, while others can access the ample shared facilities. If you are looking for a cheaper option, then they have 3-6 bed dorms for coed and females only.
Urbanz
Also located in the heart of the city centre, Urbanz is just steps away from New Regent Street where there is a great range of bars, cafes and restaurants to explore in the evening.
The property features free parking and wi-fi, kitchen, laundry, free continental breakfast daily, pool table and onsite bar, making it a great choice for accommodation in Christchurch.
For the rooms, you can choose from single, double and family rooms with either private or shared bathroom and dorms, both coed and female, ranging in size from 4-8 beds.
Budget Hotels/Motels $ – $$
Budget hotels and motels are quite similar to hostels except you're not likely to interact with other guests and you are unlikely to have shared facilities like a kitchen and communal living space to enjoy.
They might however have shared or private bathrooms and rooms themselves will be basic with a minimum of a single, twin or double bed.
Budget hotels and motels are most likely to be kitted out with a small TV, kettle and mini-fridge. And rooms with bathrooms will have a basin, toilet and shower, sometimes over a bathtub, with generic toiletries.
Here are three budget hotels/motels in Christchurch for those wanting to save a bit on accommodation costs for their trip.
Hotel Give
Conveniently located in the city centre, right next to the Botanic Gardens, Hotel Give is the most central Christchurch accommodation on this list.
Unusually, this hotel has onsite shared laundry and two shared kitchens with lounge areas, giving you more value for money. You'll also get free wi-fi and there is a onsite cafe for your morning coffee fix.
The cheapest room type is their classic twin and double with shared bathroom. If you can spend a little more you'll be able to book a deluxe with private bathroom or upgrade further to one of their studio or one bedroom apartments.
Canmore Hagley Park
If a walk through the park into town every morning sounds like you, then this Christchurch hotel is for you.
This recently revamped motel is surrounded by great bars and restaurants in the suburb of Riccarton.
This is a good option if you have a car with you as there is free onsite parking available. The rooms also include small kitchenettes with microwave, refrigerator and tea and coffee making facilities.
Rooms are all studios or small apartments, giving you a bit more space than what you would usually get from a hotel in this category. Some have small sitting areas and dining tables and chairs to give you more space.
The Bealey Quarter
Located around 15-20 minutes walk north of the city centre, The Bealey Quarter is not just a motel, but a destination, with a fantastic onsite ale and steak house.
Onsite you will also find shared kitchen, laundry, BBQ, movie room, pool table, picnic area and there is free wi-fi throughout the property.
The Bealey Quarter has rooms to suit everyone, even the budget conscious. From dorm rooms, double or twin rooms with shared or private bathrooms to suites, some with a lovely garden outlook.
Self-Catered $$ – $$$$
Expect either apartment style of even houses/villas that have their own private kitchen, separate living area to sleeping area and most of the time a balcony or terrace area.
Self-catered accommodation, while it might be a bit more expensive, can help you save money on eating out which is some cities can be very expensive.
It is also a great option for groups travelling together and families looking for extra space and a more homely experience.
Here are three self-catered options in Christchurch for those wanting more space.
Central City Apartments
This apartment complex is located in the southern part of the CBD with an easy walk to everything the city has to offer.
The one bedroom apartment comes with a fully equipped kitchen, laundry facilities, air conditioning, and private balcony.
West Fitzroy Apartments
This apartment is located an easy few minutes walk into the centre of the city, the river and the Botanic Gardens.
All apartments come with free wi-fi, parking, access to the fitness room, full kitchen with dishwasher and air conditioning.
Rooms range in size from studio to one and two bedroom family apartments.
Apartment in the Heart of the City
This apartment is located right in the centre of the CBD, being the best located of the three options in this list. It is also the biggest, with three bedrooms, two bathrooms.
Onsite you have free wi-fi and parking available. In the apartment you will find a fully equipped kitchen, dining area and balcony with city views.
This apartment is great value for a group of up to six people with ample space for everyone.
Top Class Hotels $$$ – $$$$
Expect nothing but the best in service and quality at any hotel with a four plus star rating.
Rooms should be spacious and plush with lots of extras like in-room mini-bar, luxury toiletries and a desk or small sitting area.
Staff will go out of their way to help on check-in and out and assist with local activity bookings or any other queries you might have.
Contained in the property for all guests to enjoy might be a pool, gym, cafes/restaurants/bars, conference facilities and many more luxurious facilities.
Here are three options in Christchurch for those wanting the splash out a little more during their stay.
The George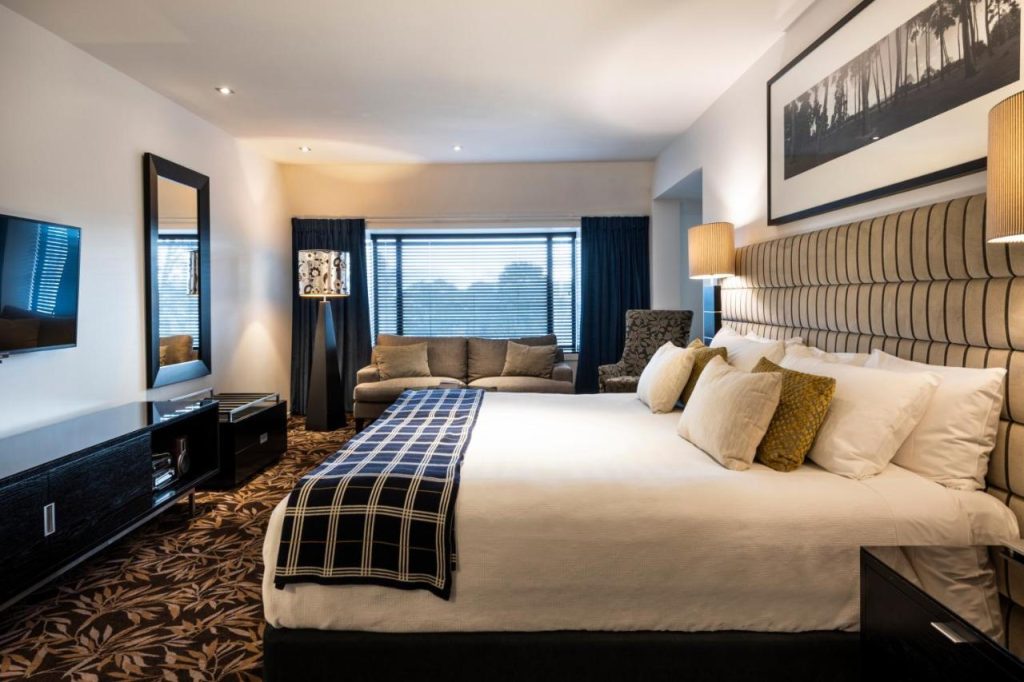 This five start hotel is part of the Small Luxury Hotels of the World, with only 52 rooms, you'll get exceptional and personalised service when you stay here.
The George, known as the best hotel in Christchurch, is located overlooking Hagley Park and the River Avon. It is an easy walk to everything in the city centre.
Guests will enjoy spacious rooms with contemporary furnishings. Luxury toiletries in the modern bathroom, air conditioning and free wi-fi are also included.
Onsite is the award wining 50 Bistro, offering modern cuisine as well as an outdoor dining terrace for the warmer evenings.
The Observatory Hotel
The Observatory Hotel is located in one of the The Arts Centre's gothic style buildings, just steps away from the city centre and Botanic Gardens.
Opulence is the theme of this hotel with decadent furnishings throughout the entire hotel, including in the rooms.
Rooms are spacious with air conditioning, coffee machine and free wi-fi.
Onsite you'll be able to start the day right with their continental breakfast options. There is also private parking, concierge services and a fitness centre.
The Mayfair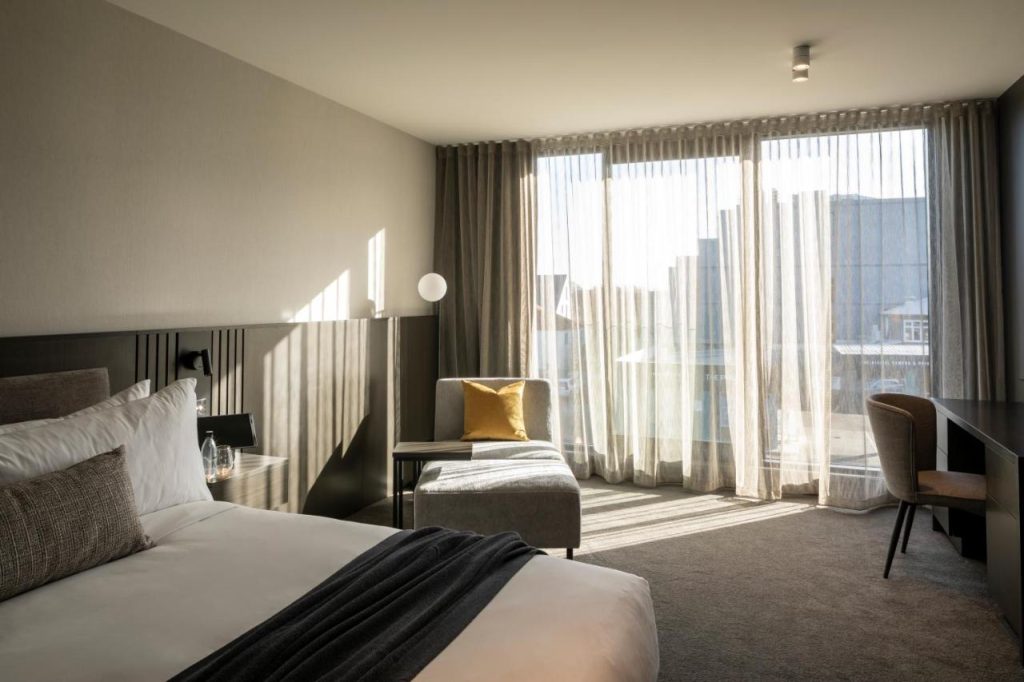 The Mayfair is located on popular Victoria St just north of the city centre and right near Hagley Park.
This five star hotel offers fitness centre, private parking, onsite restaurant and bar and free wi-fi throughout.
The spacious and modern rooms are all air conditioned, have a small seating area, tea and coffee making facilities and modern bathrooms with luxury toiletries. Some rooms have a balcony with fabulous city views.
Over to you!
Which of these places to stay in Christchurch would you like to stay in for your next trip?
Let me know using the comments section below or join me on social media to start a conversation.
Thanks for reading and I hope you enjoyed this post.
Join my email list and get a FREE copy of my TRAVEL PLANNING TEMPLATE
My Travel Planning Template will make your travel planning simple & stress-free!