This Christchurch itinerary will help you decide how best to spend your time when exploring this beautiful and interesting city rising from the rubble of the earthquakes that occurred over 10 year ago.
Whether you plan to spend two, three or more days in Christchurch, this itinerary will show you what to see and do during your time both in and around city.
Included are all the main attractions plus some you may not have heard of yet in your travel planning. I've also included a few Christchurch accommodation options which are centrally located for ease of sightseeing during your stay.
Best Time to Visit Christchurch
The best weather to enjoy Christchurch is during the summer months (December to February) when temperatures are warmer and sky's are clearer. However those times can be very busy.
I have visited Christchurch at all different times of the year and I found it quieter, yet still with reasonably good weather in October/November and March/April. At that time of year the weather isn't too cold and it is out of local holiday time so the crowds are less.
If you're also looking to enjoy winter activities as part of your trip to Christchurch, then June to September will allow you to do just that.
This post contains affiliate links. Our full disclosure policy is here.
Car Hire in Christchurch
Due to the fact that New Zealand is an island, most people visiting Christchurch will need to hire a car when they arrive to help with getting around. Although not completely necessary if you utilise some of the tours I mention below.
For all my car hire bookings I use and recommend Hertz. I've found they offer the most comparable prices, let you search and compare multiple vehicle types and they have a great customer service team who can help if you come into any unexpected troubles.
Accommodation in Christchurch
There are plenty of different options for accommodation in Christchurch with most of the best options being located in the city centre or the nearby cool neightbourhood of Addington.
Here are three accommodation options to suit all budgets that I recommend you check out. All are centrally located, highly rated and come with excellent facilities.
Budget – Jailhouse Accommodation
Mid-Range – Ramada Suites by Wyndham Christchurch City
Luxury – The George
2 Day Christchurch Itinerary
Day 1 – Hop-on Hop-off Tram
The best way to get yourself orientated in a new city is to jump on the hop-on hop-off bus, but in Christchurch they do this a little differently with a heritage tram.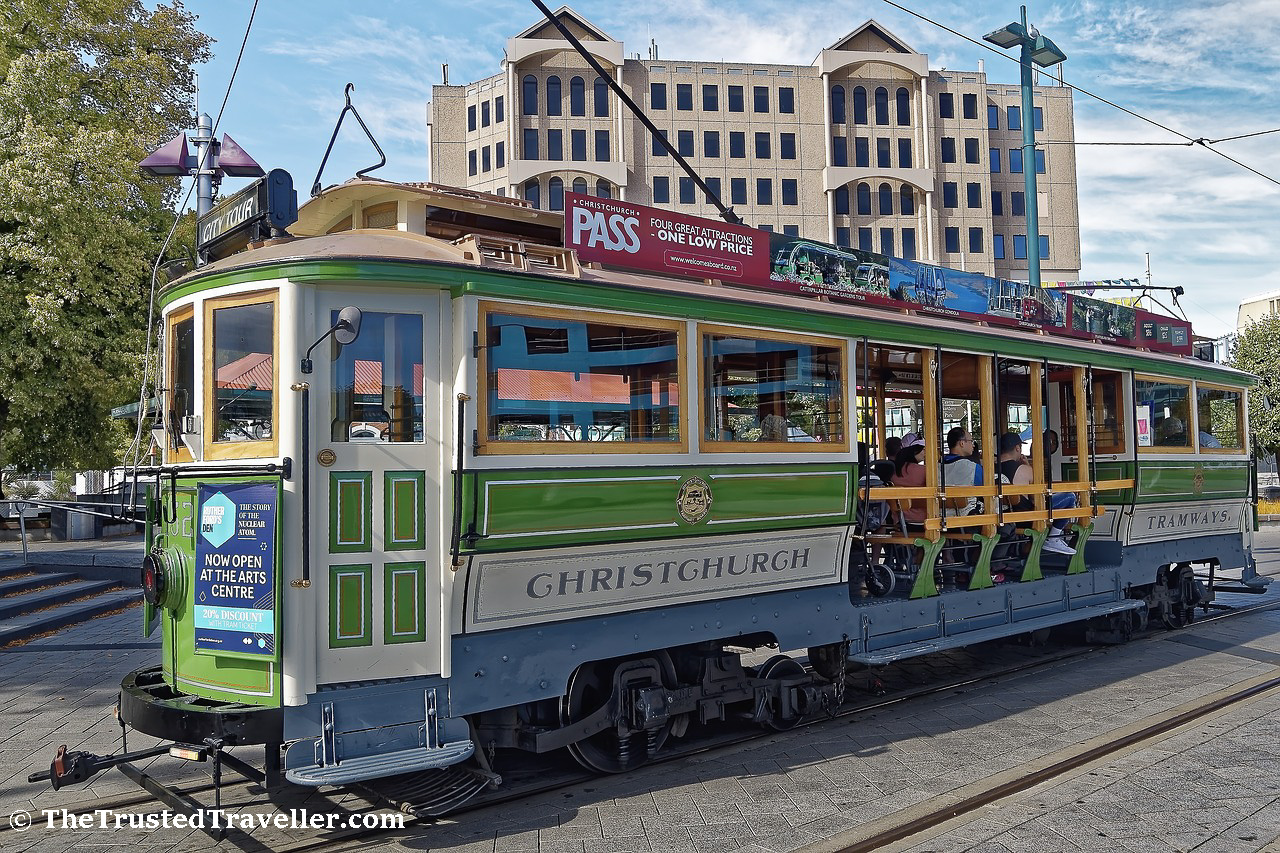 The full circuit takes 50 minutes to complete and your ticket is valid for a full day. There are 17 tram stops to hop-on and hop-off at with trams running every 15-25 minutes, meaning you'll never have a long wait for the next service.
I recommend doing a full loop first. Sit back, listen to the expert commentary and get a good understanding of what there is to see at each stop. Then on your second time around, hop off at whichever stops interest you the most.
You can easily spend the whole day doing this seeing all or most of the attractions close by to each stop, and that is what I recommend you do.
Here is a run down on the must do Christchurch tram attractions:
New Regent Street – Stop 1 or 17 – Popular pedestrian mall with over 50 shops to browse and plenty of cafes and restaurants to enjoy.
Cardboard Cathedral – Stop 1 – It is worth the short walk from stop 1 to visit the Christchurch Transitional Cathedral, built almost entirely out of cardboard after the earthquakes to replace the city centre place of worship. ChristChurch Catherdal, that was badly damaged.
Cathedral Square – Stop 2 – See the remains of the Christchurch Cathedral, learn more about the cathedrals history and future in the viewing hut and pay your respects at a memorial made out of hundreds of pebbles held inside a wire frame.
Cashel Street – Stop 4 or 5 – Home to City Mall, the most popular shopping precinct in Christchurch. Most of the buildings along this strip are brand new as they were demolished due to the earthquake.
Punting on the River Avon – Stop 9 – Take in the view of the city on a River Avon punt boat, a handcrafted flat bottom boat that is poled along by a Punter as they tell you stories about Christchurch.
Christchurch Botanic Gardens – Stop 12 – These parklands and gardens are full of colourful flower beds, massive trees in all shades of green, red and orange that are hundreds of years old, ponds with ducks inquisitively waiting for passers by to feed them, the river Avon flowing through, green houses containing specialist plant species and long winding gravel paths meandering through it all, perfect for a stroll or a picnic lunch!
Canterbury Museum – Stop 12 – At this free museum you can learn about New Zealand's cultural and natural heritage and delve deeper into the past, present and future of Canterbury, the region Christchurch is located in.
Quake City – Stop 15 – Chronicles the Canterbury earthquakes through history with statistics, important artifacts and tells the stories of the people of Christchurch including the volunteers and emergency services and construction workers.
Victoria Square – Stop 16 – Used for public events such as markets throughout the year. It is a lovely little square home to statues, water fountains and plenty of green space.
Day 2 – Christchurch Gondola, Lyttelton & Port Hills
Christchurch Gondola
The Christchurch Gondola opens at 10am so get there straight after breakfast when it opens to enjoy the morning light and fewer people around.
The gondola is a must do in Christchurch attraction that offers stunning panoramic views of the city, Canterbury Plains, Southern Alps, Pacific Ocean and Lyttelton Harbour.
At almost 500 metres above sea level, the gondola ride travels nearly a kilometre to the top of the Port Hills where you can jump off and enjoy a few walks for even more stunning views and a bit of morning tea in the cafe.
If you have a car it is an easy 15 minute drive to the Christchurch Gondola from downtown Christchurch. Alternatively there is a shuttle that leaves from Cathedral Square about once per hour from 9.30am.
Lyttelton
From the Christchurch Gondola it is a short drive through the Lyttelton Tunnel to the small port town of Lyttelton located on the southern side of the Port Hills.
When you arrive in Lyttelton find a parking spot and explore on foot. Head along the marina full of boats and through the small town centre where you will find lovely colourful shops and cute cafes that would be a great option for lunch.
If you can time your visit on the weekend then you can also enjoy browsing the local weekend market full of local artisan products and produce.
For those a little more adventurous try this morning sea kayaking tour on Lyttelton Harbour and to Quail Island.
Port Hills
Leaving Lyttelton my suggestion is to not head back through the tunnel, but rather taking Governors Bay Road west out of Lyttelton.
Follow this bayside winding road for about 8km before taking a right onto Dyers Pass Road which will take you up and over the Port Hills.
The Port Hills are a stretch of hills covered in tussock grass and ragged rock, offering some of the best views of Christchurch and the surrounding area.
If you do nothing else in the Port Hills make a stop at the Sugarloaf Scenic Reserve for incredible views of Port Hills, looking back at Lyttelton and over Christchurch.
If you are a keen hiker or just like a nice walk then you could easily spend the day exploring the many popular hikes and bike tracks for endless vistas of the turquoise bays on the other side. Some of the best day hikes near Christchurch can be found in the Port Hills.
If you don't have your own transport, you can still take in all three of these places on one of these Christchurch City tours. Find more information below.
Enough Time for 3 Days in Christchurch?
The Christchurch itinerary above only just touches the surface of Christchurch must see attractions. If you have more than 2 days in Christchurch, even just one more day then you have plenty of options.
You can easily make this a Christchurch 3 day itinerary by taking an awesome day trip on the third day. Here are few popular options to choose from and you can find more suggestions here.
Akaroa and the Banks Peninsula
Akaroa is located on the Banks Peninsula, about 80km south-west of Christchurch and is one of the easiest day trips from Christchurch you can take. It is also one of the most beautiful.
The drive itself winds through the mountains with lots of great photo stops along the way. In Akaroa there is lots to keep you busy for the whole day.
Wander the charming old whaling township which was founded by the French in 1840, browse through the boutique stores and stop for food and drinks in one of the waterfront cafes and restaurants.
Out on the water you'll encounter lots of wildlife including rare dolphins, penguins and lots of sea birds. A great way to get up close with these creatures is either in a kayak or on a cruise. Some of the tours leave directly from Christchurch, while others you can pick up from Akaroa. The best options are all listed below.
Leaving from Christchurch
Leaving from Akaroa
Kaikoura
Two and a half hours north of Christchuch on the coast is the stunning town of Kaikoura, gateway to all the amazing marine wildlife of New Zealand.
Kaikoura is famous for its natural beauty and abundance of wildlife, allowing you to get up close with seals, rare dolphins, whales and albatross all in one day.
The best place to start a visit to Kaikoura is at the Fyfe Quay Seal Colony where you'll get your first wildlife encounter, seals lazing about on the rocks.
To see the rest of the wildlife in Kaikoura you can jump on a cruise, kayak, swim or flight tour. You'll need to self drive to Kaikoura and join the tour while you are there. All the greatest options are list below.
Arthur's Pass
Located two hours drive north-west of Christchurch is one of the most spectacular day trips from Christchurch, Arthur's Pass.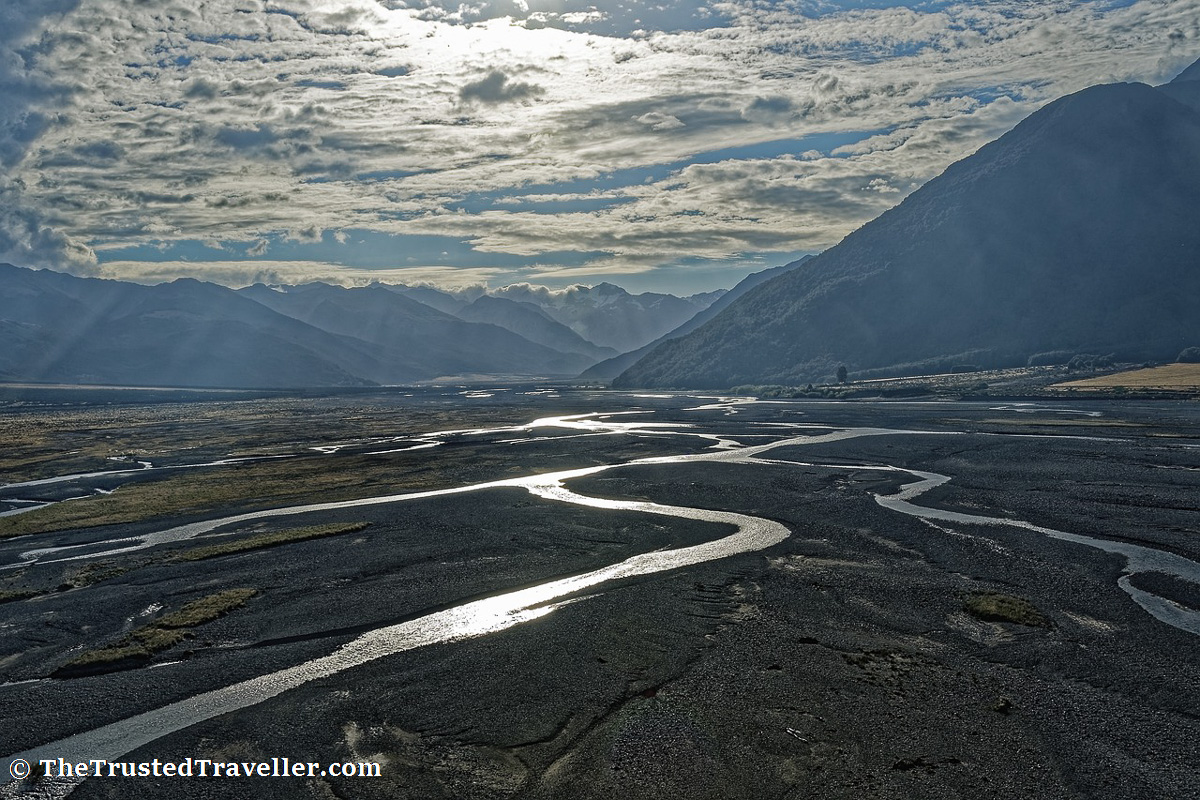 Arthur's Pass is the highest pass over the Southern Alps offering some pretty incredible views. The drive takes you first across the expansive Canterbury Plains where you'll be able to see the Southern Alps rising up ahead.
The road up the alps to Arthur's Pass Village takes you over glacial fed rivers, through deep gorges and through ancient beech tree forests.
You could easily do this day trip in your own hire car or you could take a more hands off approach and visit Arthur's Pass with a guide on the Tranz Alpine train. The train runs from Christchurch to Greymouth over Arthur's Pass.
The tour doesn't take you all the way to Greymouth, rather to Arthur's Pass for sightseeing and then you will return by bus with lots of stops with your guide along the way.
More Time Than 3 Days in Christchurch?
This is already a pretty packed itinerary with lots of different things to see and do in and around Christchurch. Should you wish to extend your stay in Christchurch or in the South Island of New Zealand for a few more days (or more!), then these posts will help you do just that.
The Best Christchurch Sightseeing Tours
The Best Day Trips from Christchurch
Christchurch to Queenstown Road Trip Itinerary
Driving from Christchurch to Marlborough: What to See and Do
Two Week New Zealand South Island Road Trip Itinerary
How to Get Around Christchurch
---
Over to you!
Which part of this Christchurch Itinerary are you most looking forward to doing?
Let me know using the comments section below or join me on social media to start a conversation.
Thanks for reading and I hope you enjoyed this post.
Join my email list and get a FREE copy of my TRAVEL PLANNING TEMPLATE
My Travel Planning Template will make your travel planning simple & stress-free!