Lucerne is one of the most popular tourist destinations in Switzerland. And it's easy to see why. The city sits just next to Lake Lucerne. It's also surrounded by gorgeous, picturesque mountain landscapes. Besides its beautiful natural landscapes, there's also a lot of things to do in Lucerne city itself, from the historic Old Town to medieval wooden bridges.
So, if you are planning to visit Lucerne, choosing what to do in Lucerne and where to spend your time can be overwhelming for a first-time visitor, especially with so many attractive spots to add to your itinerary.
The good news is, we've done the heavy lifting for you. In this article, we will walk you through 8 unforgettable things to do in Lucerne and surrounds. So, if you are visiting Lucerne for the first time, this travel guide will come in handy. With that said, let's jump straight in.
Cruise on Lake Lucerne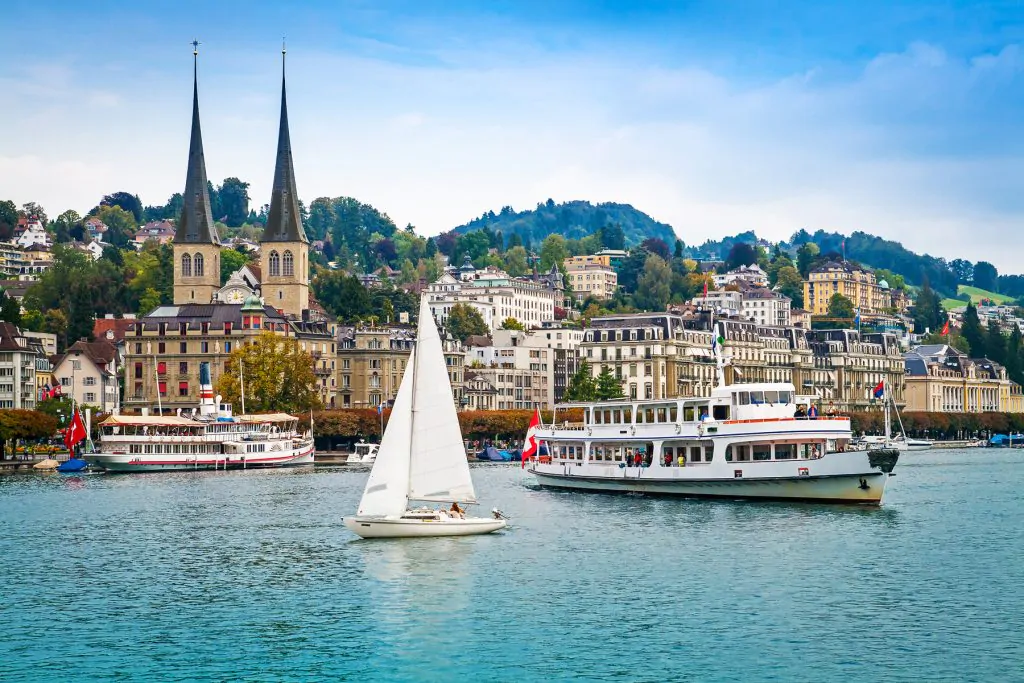 Lake Lucerne is, without a doubt, one of the main attractions in Lucerne for most people who visit this region. And that's exploring Lake Lucerne via a boat ride. While you can do this trip any time of the year, summer is the best time for a cruise on Lake Lucerne, since the weather is friendly and the surrounding areas are lush green. A cruise on Lake Lucerne is especially unforgettable if you take one of the five historic paddle steamboats, which are still operating in the summer season.
And, there are several options to choose from when it comes to boat trips. But mostly, it will depend on the amount of time that you can spare to explore this lake. You can opt for a one-hour, two-hour, or up to 6-hour boat trip. The one-hour (from Lucerne to Kehrsiten-Bürgenstock and back) and two-hour (from Lucerne to Alpnachstad) boat trips are ideal for someone who wants to explore the lake but time is limited. In the summer season, you can combine the trip to Alnachstad with an excursion on Mount Pilatus (with the world's steepest cogwheel train) or take a 20 minutes train ride back to Lucerne.
Also, there's the option of going for a whole day boat trip, exploring the entire beauty of Lake Lucerne from Lucerne to Flüelen (the roundtrip takes around six hours). Rental pedal boats are also available during the summer.
Another option to consider is the Lake Lucerne Sightseeing Cruise, which is a 49-meter yacht, featuring outdoor and indoor seating. This cruise will take you to all the beautiful spots around this lake.
So, regardless of whether you are passing through Lucerne for a hiking expedition in the nearby mountains or you intend to stay in the city for a couple of days, a cruise on Lake Lucerne should definitely be part of your itinerary. Simply put, it's unmissable.
Visit the Swiss Museum of Transport
The Swiss Museum of Transport should also feature in your list of things to do in Lucerne. It's the most visited museum in Switzerland (get your tickets in advance to avoid missing out!). And it's easy to see why. It features a combination of outdoor displays and exhibition halls, where you will see the history of the development of almost all modes of transportation.
From trains to airplanes, ships to automobiles, you can follow the development of these different modes of transportation, since the first models. And the good news about this museum is that it's highly interactive, meaning it's almost impossible to get bored. Furthermore, you can visit any time, regardless of the weather conditions or time of the year.
If you are visiting Lucerne with children, you can rest assured they will love this place. In fact, you can expect them to keep talking about this beautiful visit for years to come – after your visit.
Besides the museum, you can also explore other nearby attractions such as the Planetarium, which runs 3D films every day. For maximum enjoyment, it will be highly advisable to set aside an entire day for a trip to the Swiss Museum of Transport. And if you can't manage to set aside a whole day, then you can opt for half a day. Anything less than that, you will be doing yourself an injustice.
Stroll in the Historic Old Town
A visit to Lucerne is not complete without a stroll in the historic Lucerne old town. Wandering the streets of the Old Town feels more like taking a trip back in time. Its historic buildings are well preserved. If you love architecture and history, then a stroll through the Old Town will truly be a mesmerizing experience.
The entire old town is pedestrianized. Also, it's quite compact. Therefore, it's quite easy to explore the whole town on foot. Regardless of the direction that you take, you will come across numerous opportunities for capturing beautiful and memorable photos. Most of the building's facades have been embellished with figures of knights, court jesters, and milkmaids, to name just a few.
Some of the places that you shouldn't fail to visit include the Old Town Hall, the Weinmarkt square, and Kapellplatz, where you will get an opportunity to explore the town's oldest church, which was originally built in 1178.
The Old Town also provides an opportunity to purchase authentic Swiss souvenirs like army knives, Swiss watches, and chocolates, among others. You should also make time to visit the fruit and vegetable market at Town Hall Square. It takes place every Tuesday and Saturday.
If you are want to get more insight on Lucerne's Old Town then booking a guided tour with expert guide is the way to go.
Take a Trip on Mount Stanserhorn and Hike a Part of the Tell Trail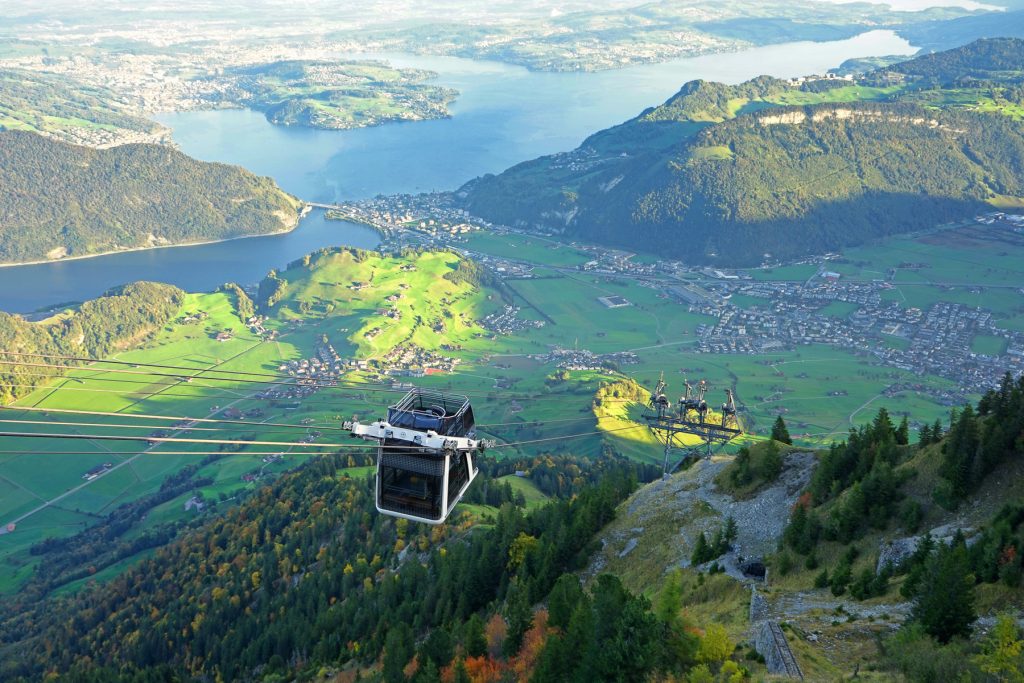 After spending some time in the city, it's now time to explore the surroundings. And there's no better way to do that than by taking a trip to Mount Stanserhorn. On this tour, you hope on a train to Stans and then, you will board the Vintage Funicular Train, which will take you through beautiful surroundings, all the way to the valley station.
From the valley station, you will board the world's first open-top cable car, which will take you all the way to the top of Mt. Stanserhorn. This open-top cable car is the first of its type in the world. So, you can expect a thrilling ride all through.
At the top of the mountain, you will soak in stunning panoramic views of approximately 60 miles of the Alpine mountain range as well as 10 lakes in the basin below. There is also a revolving restaurant on top. From there, you can then opt to hike a part of the Tell Trail or explore other short trails in the area. So, remember to pack a pair of hiking pants.
Watch the Sunset and Swim in Lake Lucerne from Ufschütti Lucerne
Located just a couple of minutes from Lucerne's main train station, Ufschütti is a popular free bathing spot in Lucerne. It's a spot where swimming enthusiasts get an opportunity to swim, lie back, relax and soak in the surroundings.
Besides swimming, you can also enjoy a game of football or even prepare some meat over the barbecue. Meet up with some locals and bring a camping cooler with you to keep your drinks cold, as the sun can get quite hot during the summer.
And as the day comes to a close, you will get a chance to catch some beautiful sunsets from Ufschütti.
Taste Local Cuisine like the Traditional Puff Pastry in Restaurant Pfistern
As you explore the area around Lucerne, you should also create time to sample some of the local cuisines. And the Pfistern restaurant is one of the best places where you can enjoy some delicious, local cuisines.
Established in the 16th century, the Restaurant Pfistern was originally designed to be a guide hall for Lucerne's millers and bakers. Here, you will enjoy mainly Swiss dishes, comprising nicely cooked salads, the renowned Swiss fondue, and various other local dishes. You can then finish off with some local wine. Be sure to try Lucerne's signature dish, the traditional Lucerne puff pastry.
Food prices at this joint may be higher, compared to some of the other eateries in the area. But, the portions served are quite large. Furthermore, you will also enjoy your delicious food, surrounded by a pleasant ambiance. Therefore, you can rest assured you will get value for your money.
Explore Aeschbach Chocolate World
Switzerland is renowned for its rich history in chocolate making. And, you can get an opportunity to experience this rich history at the Aeschbach Chocolate World during your trip to Lucerne.
At this facility, located in Root, you will enjoy various chocolate samples made at the factory. The site is just a few minutes by train from Lucerne. You will also get a chance to make your own bar. You will also learn about the history of Swiss chocolate making during your visit to the factory.
Also, there are large windows overlooking the factory, where you can see various types of chocolate being made and packaged. For this experience, I recommend visiting it during the weekdays if possible.
Depending on your preferences, you can opt for a guided or self-guided tour. You can visit this facility any day from Monday to Sunday. Opening hours are between 10 am and 5 pm. Once you've finished your trip, you can also purchase some chocolate bars at the shop located within this facility.
Visit Glasi Hergiswil
Established in 1817, Glasi Hergiswil is one of the oldest glass factories in Switzerland. Besides being a glass factory, it also doubles up as a glass museum. It is an excellent adventure for families and one of the more unique places to visit in Lucerne.
You will learn how glass is prepared, the color mixing process, and how new glass pieces are created – all from scratch. You will also get a chance to craft your customized glass spheres. Also, you can request special glass items to be crafted for you, which you can carry back home as souvenirs.
The facility also has stores and exhibitions, where you can purchase various types of products. The Glasi Hergiswil glass factory and museum is open from Monday to Friday, 9 am to 6 pm. It's also open on Saturdays between 9 am to 4 pm.
Closing Remarks
From renaissance glass factories to medieval homes, delicious cuisines to chocolate factories, gorgeous boat rides to picturesque mountain views Lucerne offers the complete package to every traveler. And if you are visiting Lucerne for the first time, the recommendations we've given you on this list will leave you with a memorable experience.
---
Best Hotels in Lucerne
Here are three accommodation options to suit all budgets that I recommend you check out. All are centrally located, highly rated and come with excellent facilities.
Budget – Backpackers Luzern
Mid-Range – Hotel De la Paix
Luxury – Hotel Schweizerhof Luzern
---
Authors Bio
Res Marty is an expert advisor in camping and hiking. From his cabin-crew days till now, he'd been on uncountable hiking sprees. He loves to share his experience with the world through his blog. Living in Lucerne, Switzerland he loves to share his favorite activities in Lake Lucerne region.
---
Over to you!
Which of these things to do in Lucerne are you looking forward to doing?
Let me know using the comments section below or join me on social media to start a conversation.
Thanks for reading and I hope you enjoyed this post.
Join my email list and get a FREE copy of my TRAVEL PLANNING TEMPLATE
My Travel Planning Template will make your travel planning simple & stress-free!