I'll get right too it. Travel insurance is the one thing for your trip that you do not want to scrimp on or skip altogether just to save a bit of money.
Imagine being on the other side of the world, stranded because the budget airline you were flying on went bust. You have no money left because you've just spent it enjoying your holiday.
Add to that the niggling voice in the back of your mind that says "YOU SHOULD HAVE BOUGHT TRAVEL INSURANCE".
It's not a great way to end a trip!
Now imagine how much calmer you'd feel knowing that you are covered in case the unexpected happens.
One simple act before you leave home means that you will have peace of mind if your bags don't arrive with you, or you are unfortunate enough to be pickpocketed. Or even worse you are involved in a medical emergency.
The out of pocket expenses for dealing with medical emergencies overseas could see you going bankrupt (no joke!).
So, don't be one of those people I hear about all too often ending up stranded on the other side of the world, get yourself some travel insurance!
But with so many policies on the market, which one should you book with? It's a tough choice and their is so much jargon to get through to find the policy that is going to suit you are your circumstances.
Personally, I book with World Nomads because of there range of policies that suit my longer travelling lifestyle.
However, I am no qualified to give financial advice, so instead of telling you why you should book with them, I'm going to share with you my tips on what to look out for when buying travel insurance.
Again, I must stress that I am in no way, shape of form, qualified to give financial or insurance based advice. These tips are purely from my experience booking travel insurance for myself over the last 10 years or so.
I recommend that you seek out your own professional advice if you are still unsure about what policy is going fully cover you for your whole trip and everything you do while you are away.
Things to Look Out For When Buying Travel Insurance
1. Get the Duration Right
It might sound pretty simple, but, when you are calculating how many days you will be away, make sure you get this right.
If you miss calculate and are away for one or more days more than your policy covers, this automatically makes it invalid. Attention to detail is so important here!
More insurance websites will allow you to put in the date you leave and the date you return so you can avoid this mistake. Just make sure you input the actual date you land at home. If you are flying over time zones, you may arrive home a day after you left.
2. Ensure All Your Destinations Are Covered
If you are visiting more than one country, be sure to check that every country you are visiting is included in the policy you intend to visit.
Usually when you book you are asked which country you will spend the most time in. Not always are you asked for every country. If in doubt, call the insurance provider and ask before booking online.
3. What's a Pre-Existing Medical Condition?
To this day, I am still a little confused about this one. You see, I have asthma and have had it since I was a child. It's not chronic like it was when I was a kid, but I still take daily medication. So to me, that means I have a pre-existing medical condition, which under most policies, won't be covered unless you declare it and in some cases, pay extra.
However, most insurance providers have a list of pre-existing medical conditions that are covered because they are lower risk. Asthma is usually on that list.
It's important to be honest with your insurance provider about any ailments you may have. If you've been seeing a chiropractor for a back problem, they need to know about that. If your back goes on you while you are away and you need to seek medical care, you'll cop an expensive bill if you are not covered.
And don't think you can get away with not declaring something. If you need to make a claim while you're away, the insurer has the right to request access to your medical records. If they find out you didn't declare your pre-existing condition, this will likely void your policy.
4. If There's An Element of Danger, You'll Need Extra Cover
Planning to go bungee jumping, sky diving or horse riding or skiing? Be sure to check that a standard, off the shelf type policy will cover you for these activities.
Some insurers won't cover you are all for some of the really high risk activities, however in most cases, you will just have to pay a little extra to ensure that you are covered should the unfortunate happen.
Call and check with your insurer before you book if you are unsure.
5. Make Sure You Can Afford the Excess
Like with any other insurance policy, an excess applies to any claims you might make. For example, say your bag never arrives at your destination and you file a claim for $2,000 to recoup the costs. If the excess is $500, this means you pay $500 to replace your items and the insurer will give you the remaining $1,500.
The lower the excess the higher your policy will be. The higher the excess the cheaper the policy will be. But don't decide to just go with a higher excess just because the policy is cheaper. It is more important that you know you can afford the excess.
6. Are All of Your Belongings Cover?
In most cases, yes, everything you take with you on your trip is covered. However, if you travel with expensive camera equipment or jewellery (I don't recommend taking expensive jewellery on your trip), it may not be covered unless you declare it to the insurer.
In some cases you may need to pay extra to cover these expensive items.
Some policies will also show you an amount you can claim up to for your belongings. If you calculate that your belongings are worth more than this, then you may need to keep looking for a policy that will cover you.
One thing I've heard more and more recently is insurers not covering mobile phones. How many stories have you heard of friends and family going for a swim with their mobile phone while on holiday. Or leaving it on the restaurant table for pickpockets to easily grab on their way past.
The amount of claims people make for mobile phones has sky rocketed over the past 10 years, which has turned some insurers off covering them.
7. Report Any Type of Theft IMMEDIATELY
Got your wallet pinched from your back pocket? It sucks I know and you probably just want to get on with your holiday and worry about claiming your losses late. But for most insurers, if you don't have an official police report outlining what happened, you won't be able to claim for it.
There are terms to this also. In most cases you will need to file the police report within 24-48 hours. So don't wait around feeling sorry for yourself, get to the nearest police station, report your theft, get your report and then get on with enjoying your holiday.
8. Don't Miss Your Flight!
Whether it's your fault or not, missing your flight, usually isn't covered on your policy. And even if it is covered, you will have to have solid proof that you made every effort to get to your flight on-time.
Leave home with plenty of time. It is more inconvenient to miss your flight than to spend a little extra time before your flight in the airport.
If you are that way inclined and find yourself running late often, I would recommend checking with your insurer on this policy before you leave home so you know what you are and aren't covered for.
9. Buy Your Policy Early
Don't leave buying your travel insurance to the last minute. There are two reasons why I recommend buying early.
Firstly, if you leave it to the last minute, you are most likely to forget or not have enough money left to pay for it, and therefore won't be covered.
But the other reason is that if something, like illness for example, occurs before your trip and you have to cancel, you will be covered to a certain extent.   Ensure you check what exactly the policy covers in these cases before you purchase.
Finally, I'll say it one more time, DO NOT SKIP BUYING TRAVEL INSURANCE, it is the most important thing you will buy for your trip and could save you hundreds of thousands of dollars should the unfortunate happen.
---
PIN THIS FOR LATER!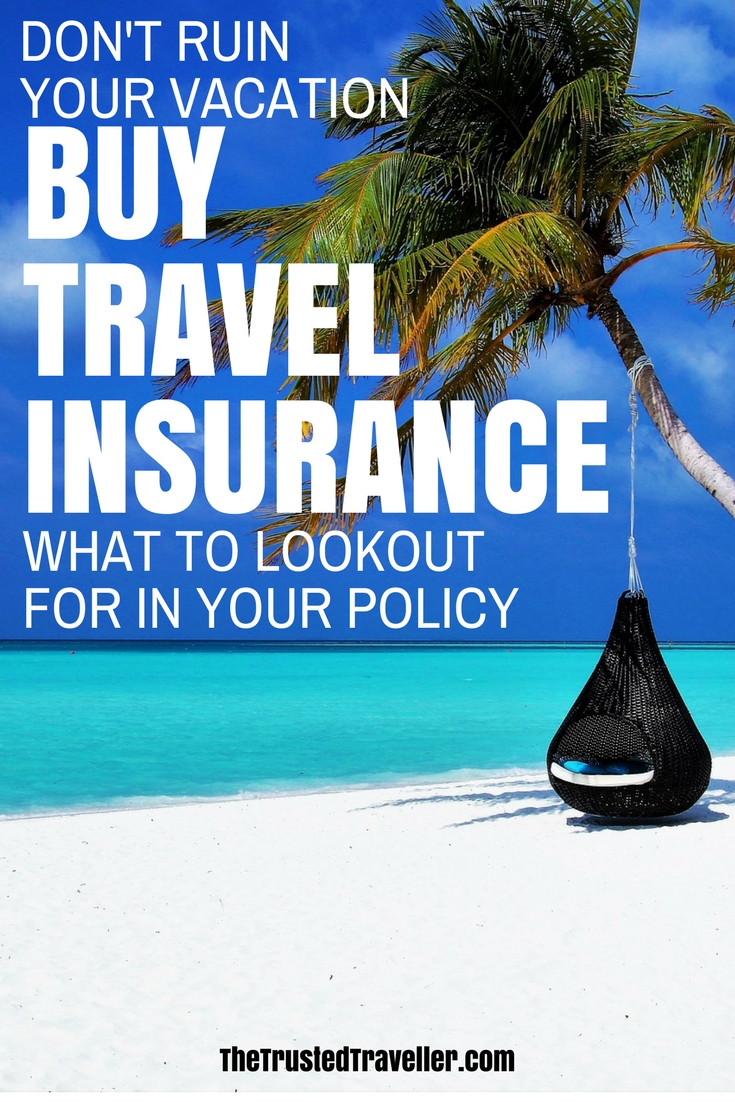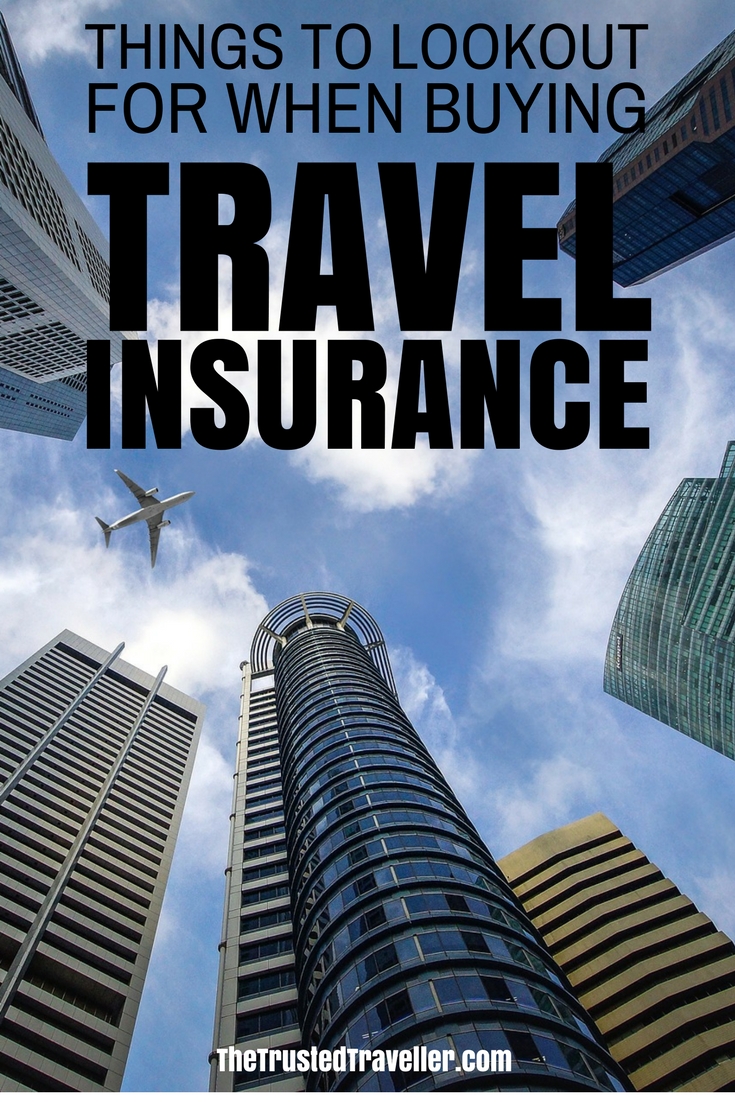 ---
Disclaimer: This page contains affiliate links. If you found this article helpful, please consider using them to book your trip. It costs you no extra and helps to keep The Trusted Traveller running.
---
Over to you!
Leave your travel insurance recommendations below for other readers to check out!
Let me know using the comments section below or join me on social media to start a conversation.
Thanks for reading and I hope you enjoyed this post.