You've chosen your next holiday destination, worked out a budget, started a savings plan and begun putting together your itinerary. The next step in the travel planning process is booking your flights. And how to find cheap flights can be one of the toughest parts of the process.
But don't stress just yet, I've had lots of practice over the years having travelled on 100+ flights. I know most of the tips and tricks to getting the best flight deals and today I want to share them with you so you too can learn how to find cheap flights.
How to Find Cheap Flights: 10 Tips and Tricks
1. Start Your Research Early
Most airlines generally release seats 11 months in advance. As soon as you know you'll potentially be travelling you should start your research then.
Start by figuring out rough dates of travel and monitoring the prices. You can do this by regularly checking your favourite airfare search engine or airline website and keeping an eye out for good deals.
Signing up for email alerts is also a good idea. Most of the major airfares search engines and airline website have this facility available.
2. Search Multiple Websites
Don't just search on one website when looking for flights. You see, not all airlines will be represented on all websites, so shopping around will not only get you the best price but it will also give you more options.
Check at least two of the big name flight search websites like Webjet, Skyscanner or Expedia and then check out the websites of the airlines that fly that route. You can find out which airlines fly from and to where on your departure cities airport website.
3. Book at the Right Time
This is a tough one as there is no real 'right time" to book as airlines can announce sales at any moment.
However, past trends do tell us a little about when the right time to book a flight is. The website CheapAir.com completed a study that determined 47 days in advance was the cheapest time to book domestic fares. And as for international fares, they concluded that the time frames varied wildly based on where you are flying to with the number of days ranging from 46 to 318 days in advance.
I find that if I follow our first rule by starting my research early and not jumping in to book too early, I generally get the best price. Educating yourself is key to booking at the right time.
4. Travel on a Cheaper Day
It is said that mid-week, Tuesday, Wednesday and Thursday, are the cheapest days of the week to fly but I have found this theory to be a little inconsistent at times.
To find the cheapest day of the week to fly I use Skyscanner. By simply selecting "Whole Month" in the departure date rather than one date in particular, the results will show a calendar letting you see when the cheapest days are over that month.
They also have a cheapest month option now which will automatically bring up the cheapest month calendar based on the average flight price throughout that month.
5. Be Flexible
In just about everything we do in life, being flexible will see you saving money.
When booking flights you can save by being flexible with the dates you travel and even with the airport you fly into. Also considering flights with lay-overs or multiple stops could save you hundreds of dollars. The more flexible you can be the cheaper your flights will be.
On my trip to Canada, I originally wanted to fly direct from Sydney to Vancouver. However, once I researched flight prices, I found that stopping over in LA was going to save me a massive $1,200. The direct flight was $2,200 and I ended up paying just under $1,000 by choosing to stopover route.
But remember that sometimes it isn't always worth it to be flexible. If having more quality time in your destination is the most important thing then a flight with multiple stops that takes half a day longer might not be right for you.
6. Browse Incognito
Search engines and booking sites store your previous search history so that they know what they offered you last time.  To get around this and ensure you are getting the best deal possible, turn your internet browser incognito so they can't see you've been searching previously.
This way you will get fresh prices, not prices based on what you have browsed for before. I know, it seems crazy that they would do this, but it happens.
7. Fly To/From Alternate Airports
Some of the biggest cities around the world don't just have one major airport, they might have multiple airports. Checking out whether it is cheaper to fly to an alternate airport could potentially save you a bit of money.
London for example has five airports within 50 km of the city centre. All of which are well connected to public transport. While Heathrow Airport is the biggest, most budget airlines will fly into the smaller Luton or Stanstead Airports.
One thing to consider though is just how far away these alternate airports are. If they are significantly further from the city than the major airport and have limited transport options then it might still be cheaper to fly to/from the closest one even if the flights are more expensive.
8. Use Frequent Flyer Miles
If you are a frequent flier then being a member of a frequent flyer program is a must. Each program is a little different but basically how they work is for every mile you fly you earn a certain amount of points which once accumulated can be used instead of cash to book future flights.
There are also many other ways to earn miles these days too, not just by being a frequent flyer. Using certain affiliated credit cards will earn you point just for day to day spending and some programs have special bonuses for shopping and booking with their affiliated partners.
Sign up bonuses with major credit cards could also start you off with a stack of points. I recently got a card where I got a bonus 90,000 points just for signing up and using my card for three months.
I use my card for everything I can, even rent, and find that my points are growing rapidly.
You just need to make sure when using a credit card that you are not spending beyond your means. I keep a budget spreadsheet to make sure I'm not spending more than I can afford each month and pay the card off in full so I don't incur hefty interest charges.
9. Consider Budget Airlines & Forgo In-flight Luxuries
At least one budget airline services just about every airport in the world these days. Using them might mean you have to forgo some of those in-flight luxuries like meals and entertainment but if saving money is your number one priority then you can easily go without.
Bring your own device loaded with TV shows and movies or a book/magazine to keep you entertained. Have a substantial meal pre-flight and pack plenty of snacks and water to last you the duration of the flight.
Also consider travelling with only carry-on baggage to avoid the hefty checked baggage fees that budget airlines are famous for enforcing. And if you have good quality travel insurance (which you should) then cancellations, while still a hassle, will be covered.
10. Follow the Airline on Social Media
Over the last few years, most of the major airlines around the world have turned to social media to spread the word about their brand.
So if you want to be the first to know when their biggest sales are happening you need to be following them on platforms like Facebook or Twitter to hear about these deals.
---
PIN THIS FOR LATER!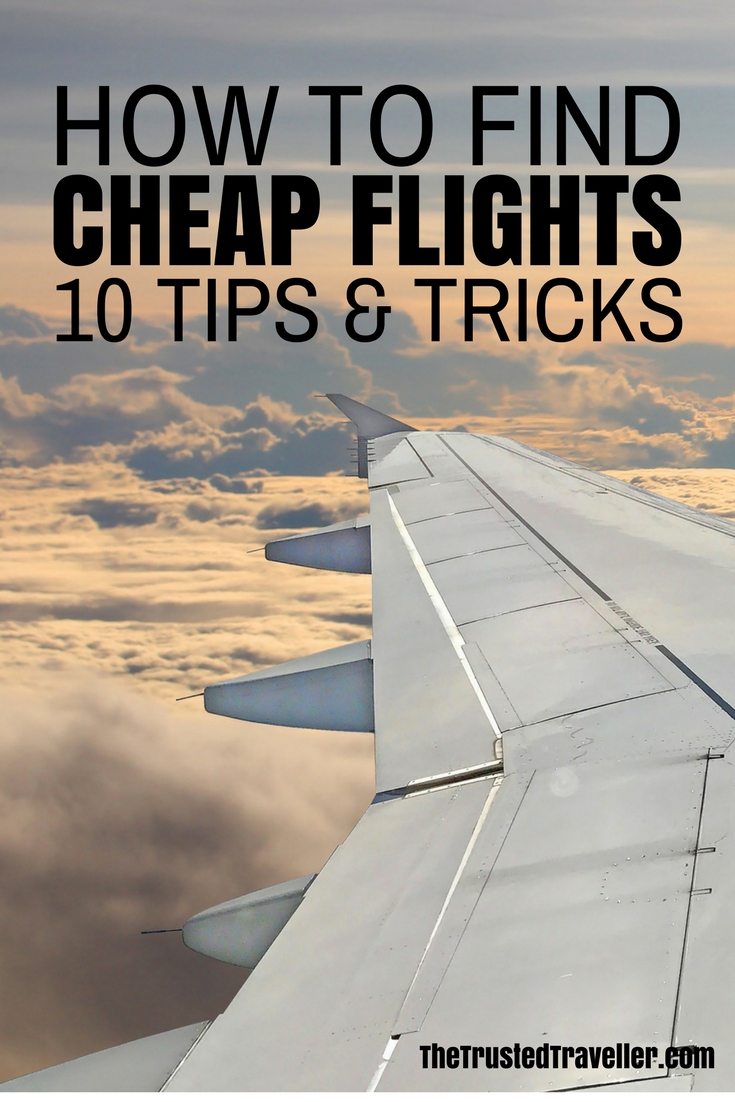 ---
Disclaimer: This page contains affiliate links. If you found this article helpful, please consider using them to book your trip. It costs you no extra and helps to keep The Trusted Traveller running.
---
Over to you!
Do you have any tips and tricks to add on how to find cheap flights?
Let me know using the comments section below or join me on social media to start a conversation.
Thanks for reading and I hope you enjoyed this post.