So you've chosen the perfect destination and worked out a rough budget, now it's time to start saving money to travel and make that dream a reality!
Finding the money to travel can sometimes be difficult with bills to pay and an everyday life to live. But by having a budget plan and making a few minor changes to your life, you will be saving money in no time.
How Long Do You Have to Save
Firstly, go back to the travel budget that you created earlier and make a note of the rough total cost of your holiday. Remember that this is just a rough estimate at this stage and may increase or decrease over time. Because of this it's a good idea to keep referring back to this budget every few weeks and evaluating your savings plan.
By now you have probably also figured out when you want to go. Calculate the number of pay days you have between now and when you plan to leave. If you get paid weekly, then it's the number of weeks, or for monthly, the number of months and so on.
Creating a Simple Personal Budget
Next you need to figure out your personal budget so you can decide how much you can afford to save and whether your goal of travelling in x amount of time is realistic, or whether you need to make some adjustments to your time frame, travel budget or lifestyle.
To help you out with this, I've put together a Simple Personal Budget Spreadsheet which you can download for free by clicking the link below.
Completing Your Simple Personal Budget Spreadsheet
To get started with the spreadsheet, adjust the heading according to the frequency of your regular income. Then input the amount of that regular income in the field on the right of Total Income.
Below is a screenshot of a completed version of the Simple Personal Budget Spreadsheet to show you how it should look once you finish.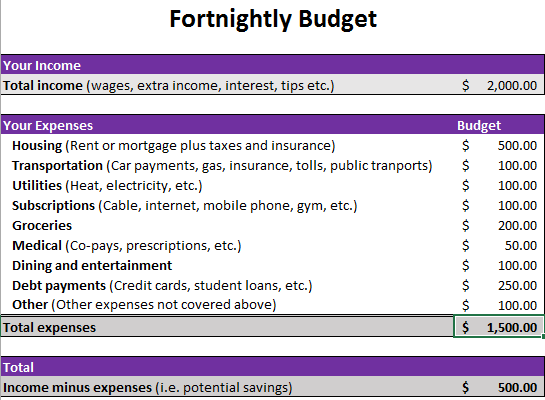 Next you need to calculate your expenses. Think about how much you usually spend each income period on all of the fields in the spreadsheet and any other expenses that you may have.
You can add new rows to the spreadsheet if you have an expense that isn't mentioned on my sample. If you are new to spreadsheets, then this Youtube video series will show you how to do this.
Input all of the figures in the field on the right of each expense type and the Total figure at the bottom will calculate automatically for you.
Hopefully this figure won't have a minus sign in front of it. If it does you will need to make some adjustments so that you are not spending above your means and creating more credit card debt for yourself.
If this is a positive figure then that is potentially how much you can afford to save each income period to go towards your holiday.
In the example above you would be saving $500.00 per fortnight. If you were planning to travel in three month's time then you would have approximately six fortnights until your holiday.This means you'll have saved $3,000.00 total. If this isn't enough to cover your holiday expenses then you may need to do one of the following:
Change Your Departure Date
Change your departure date to a date further in the future. Using the above example, if you needed $5,000.00 for your holiday then you would have to extend your departure date by about two months to save the extra $2,000.00.
Adjust Your Travel Budget
Go back and adjust your travel budget. Think about some areas where you might be able to save a bit of money. Maybe you can stay in three star hotels instead of four star, or try factoring picnic lunches with items bought from the local market rather than sit down lunches.
Make Temporary Adjustments to Your Lifestyle
Make some adjustments to your lifestyle to be able to meet your goal of saving $5,000.00 in three months and still being able to travel at the time you originally wanted. Read on below for more tips on this.
Making Cuts to Your Savings Plan
If you ended up with a negative figure or you need to make some adjustments to your spending, the below tips on making cuts to your everyday spending will help get you on your way.
Housing
This is most likely going to be your biggest expense each income period, unless of course you live with your parents or your one of the lucky few who completely owns their own home (if so, way to go you!).
If you currently have a mortgage then you can try speaking with your bank or mortgage broker about ways of reducing your repayments. Maybe you're currently on a fixed term interest rate which is higher than the variable rate and you have the option to switch for a few months to save a bit of money. Or there could even be the option of refinancing and finding a better deal.
For those who are renting, you can look at downsizing to a smaller house or apartment that has cheaper rent if that suits your current situation or moving to a different area that has a similar sized apartment or house for cheaper rent.
Whether you own your home or rent, you can always look at moving in with your parents or other family members for a few months and renting out your home or letting go of your lease. This option is especially good if your trip is going to be a big trip of 6 months or more. Not only will you save money on rent but you can probably sell a lot of your unwanted furniture to help boost those savings.
Transportation
How much do you really need that car? Think about it. If you live in a major city with sufficient public transport which you use to get to and from work and only use your car once or twice at weekends, do you really need that car? Think of the savings you could be making on insurance, servicing, mechanical repairs and gas.
Another way to save money on transport is to walk more. If you're just travelling a short distance and it's a nice day, why not walk rather than getting in the car or paying for public transport.
Utilities
I'm not sure about where you live, but in Australia the cost of electricity has been rising quite dramatically over the last 10 years. I find that it's always a shock when that electricity, water or gas bill arrives in the mail each quarter.
The best way to save money here is by being more conscious of how you are using each utility. For electricity you can try turning things off more often like lights, computers and using the clothes dryer less.
For water, try cutting your daily shower by as little as 30 seconds and if you have a garden, having a bucket in the shower to catch the used water to use on the garden.
And for gas, if it's used for your hot water system then the same goes for the showers.
These simple actions could potentially save you a few hundred dollars in a few months if you really try to be conscious of what you're doing.
It also can't hurt to call your utility providers and ask for a discount. As the saying goes "if you don't ask, you don't get". I've heard stories of people who have been offered 20% discounts for just asking. This would be especially effective if you have been using the same provider for a long period of time.
Subscriptions
Just about everything that falls into this category is not a necessity. But in this mobile world we live in now, it's hard not to have some type of mobile device.
Have a think about how you use your mobile devices, like your mobile phone and tablets. Can you get a better deal on your plan or would a pre-paid option be easier for you to manage and save money. Visit your service provider and tell them you want a better deal or you will start shopping around. Nine times out of ten they will do whatever they can to keep your business and save you money.
Think about how you can save money with entertainment subscriptions like Netflix, Hula or Spotify. With Netflix there are plans that allow you to share your account with a few people. In my house we have one account for $15 a month and split it between three people, which means my monthly share is only $5.
Do you subscribe to magazines? If so, it is likely they are available to subscribe to online via an app for cheaper. See if you can switch your subscription to help save money. Every little bit helps!
Groceries
This is another big regular cost which is virtually unavoidable, but there are ways you can save money.
Try shopping at a cheaper supermarket. Here in Australia we have Aldi which is our cheapest and sells virtually the same things as any other supermarket except without the brands.
Or just continue to shop in your local supermarket but be more conscious about buying no name brands that cost less. A bag of dry pasta for example is about $3.00 for the brand name here in Australia, but the no name brand in the same size bag costs only about $1.00. That's a big saving.
Also having a shopping list with you and sticking to it when you're shopping will ensure you're not reaching for the premium items like chips, chocolate and ice cream that bring that final bill up.
Plan your meals for the week before you go to the shops and only buy what you need. Think about how many times in one week you can use each ingredient. This also helps to reduce food waste.
Medical
Saving money on your health shouldn't be the first place you start to look for savings as I believe it's important to be covered and well looked after in times of sickness. But there are a few simple ways you can find small savings with your medical expenses.
When getting your prescriptions filled ask if there is a cheaper, generic brand that you can have that will cost you a few dollars less. This is especially good if you are taking a lot of medication.
If you have private health insurance, do some shopping around to see if you can get a better deal or possibly look at reducing your cover if the circumstances are right for you. If you are young, healthy and fit, do you really need a high level of insurance that will cover you for a hip replacement? (Disclaimer: This is not advice, rather a suggestion of something to think about and consult with a professional.)
Dining & Entertainment
The amount of money you spend on your social life is really entirely up to each individual and how social they like to live their lives. I personally try to limit my meals out to once a week when I can help it but I wouldn't say no to invitations based on the fact that I have already been out once that week.
I'm a big believer in still being able to have a social life while saving for your goals.
If you are social like me, there are a few ways you can cut these costs down a bit. Try having friends over for a dinner party with everyone bringing a dish to share, eating out at less expensive places, or going to restaurants that let you bring your own wine.
You can also join free websites like GroupOn or Living Social that offer daily deals for meals out, shows, massages, you name it they have had a deal for it in the past. Or become a member of your local cinema and you might be able to get a free or cheap movie once in a while.
Debt Payments
These days, I don't think I know anyone who doesn't have at least a tiny bit of debt, whether it be an old student loan or the dreaded credit card debt.
The best way to save money here is to not use a credit card at all, but for most people that isn't always possible.
If you have a large amount of debt it might be worth speaking with a financial planner about ways you can consolidate that debt and make the repayments more manageable for you.
If you must have a credit card, shop around for one that offers a low interest rate with at least 30 days interest free and is either low in fees or better yet, fee free.
Another thing to look at with credit cards are the ones connected to rewards programs. Collecting points or miles for your spending could be earning you valuable points that you can cash in for flights, accommodation or activities on that upcoming holiday.
Remember when using a credit card to avoid spending beyond your means. Paying the card off in full each month means you won't pay hefty interest fees.
Sticking to Your Savings Plan
Once you have a savings plan in place, all you need to do now is concentrate on trying to stick to that budget and putting those savings away each income period.
A good way to track what you are spending, at least for the first few weeks, is to write down everything you spend to ensure that your budget is achievable and that you are staying within the limits.
Having a separate bank account for your savings is also a good way to ensure this money is kept out of your spending reach. These types of accounts are generally higher in interest which means your money grows while it is just sitting there.
When I am saving for something, I set up an automatic transfer from my everyday bank account to my savings account on the day after pay day. Let's say I was paid weekly on a Monday and I needed to save $100 per week to save for my trip, I'd have an automatic transfer of $100 set for Tuesday each week.
Now it's time get saving and make those travel dreams come true!
Over to you!
What are your tips for saving money to travel?
Let me know using the comments section below or join me on social media to start a conversation.
Thanks for reading and I hope you enjoyed this post.