There are several incredible national parks in the UK. However, Lake District National Park is one of the favorites among the British. The UNESCO World Heritage Site offers amazing activities for everyone. From climbing beautiful mountains to exploring waterfalls, this place will make you fall in love with this country.
The mountainous area in the northwestern part of England was an inspiration for many artists. Ullswater paintings by John Parker or a group of people known as The Lake Poets are just a few examples of how inspirational the Lake District is.
In this post I will show you all of the best things to do in the Lake District, including some great tours you could do and at the end you will find suggestions on where to stay in the Lake District as well.
Best Things to Do in the Lake District
Scafell Pike – climb the highest mountain in England
If you like challenges and great views, climb Scafell Pike, one of the first things you should do on your Lake District itinerary. This tough trek that requires scrambling attracts over 100,000 people every year. A beautiful panorama of the mountains and lakes at the summit is definitely worth it. For an even better adventure, join the Three Peaks Challenge which also includes climbing the highest mountain in Wales and Scotland.
At the height of 978 meters (3,209 ft) above sea level, Scafell Pike offers excellent views from the summit. You can admire plenty of peaks such as the Great End, High Raise, or Helvellyn in the northeast. On the other hand, on the west, you can see the Seatallan and Wast Water lake. During nice weather with such an extensive panorama, you will be able to see over 30 incredible peaks in the Lake District.
Wast Water – relax at the deepest lake in the Lake District
It is undoubtedly one of the most beautiful lakes in the UK. Scafell Pike, Red Pike, or Kirk Fell are just a few mountains that surround Wast Water lake. The views in this area are breathtaking. Mountains that are coming down to the water are creating perfect scenery for taking incredible pictures.
This glacial lake with a depth of 79 m attracts a lot of people for wild swimming. If you don't mind cold water you will definitely enjoy swimming with such an amazing view. In 2007 ITV viewers had chosen Wast Water as "Britain's Favourite View".
Castlerigg Stone Circle – visit one of the best prehistoric sites in the UK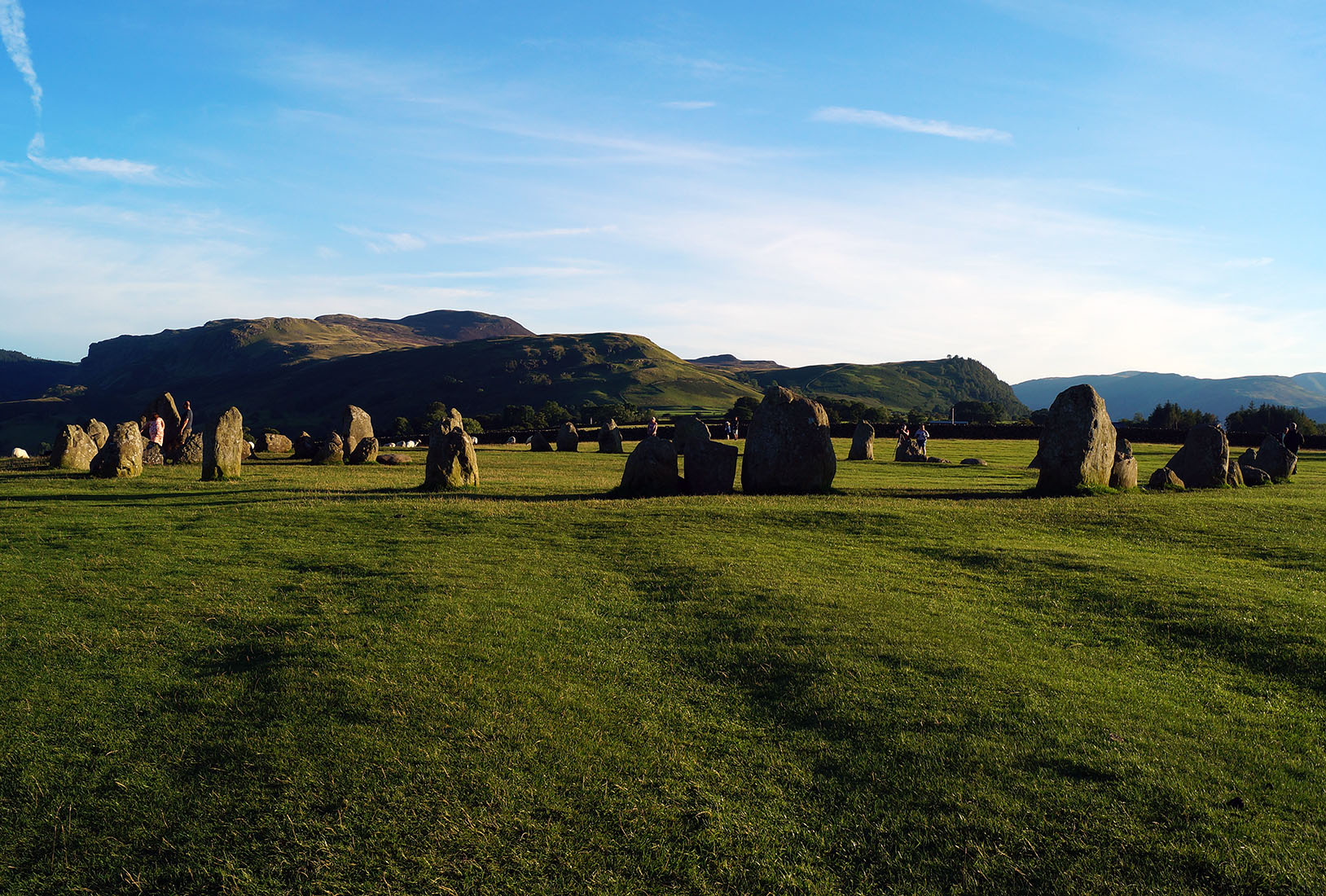 There are over 1,000 stone circles in the UK with the most famous Stonehenge. If you wonder why you should visit Castlerigg Stone Circle, I have an answer for you. This is one of Britain's oldest stone circles set in a magnificent location. In contrast to Stonehenge, you can walk around the stones and see them from close up.
The prehistoric site of Castlerigg Stone Circle also offers amazing views of Blencathra, Lonscale Fell, and Skiddaw. All those mountains surround 38 stones with the highest at 2.3 meters. This is an amazing location to relax after a long hike and admire beautiful sunsets at the end of the day.
Helvellyn – enjoy scrambling in the Lake District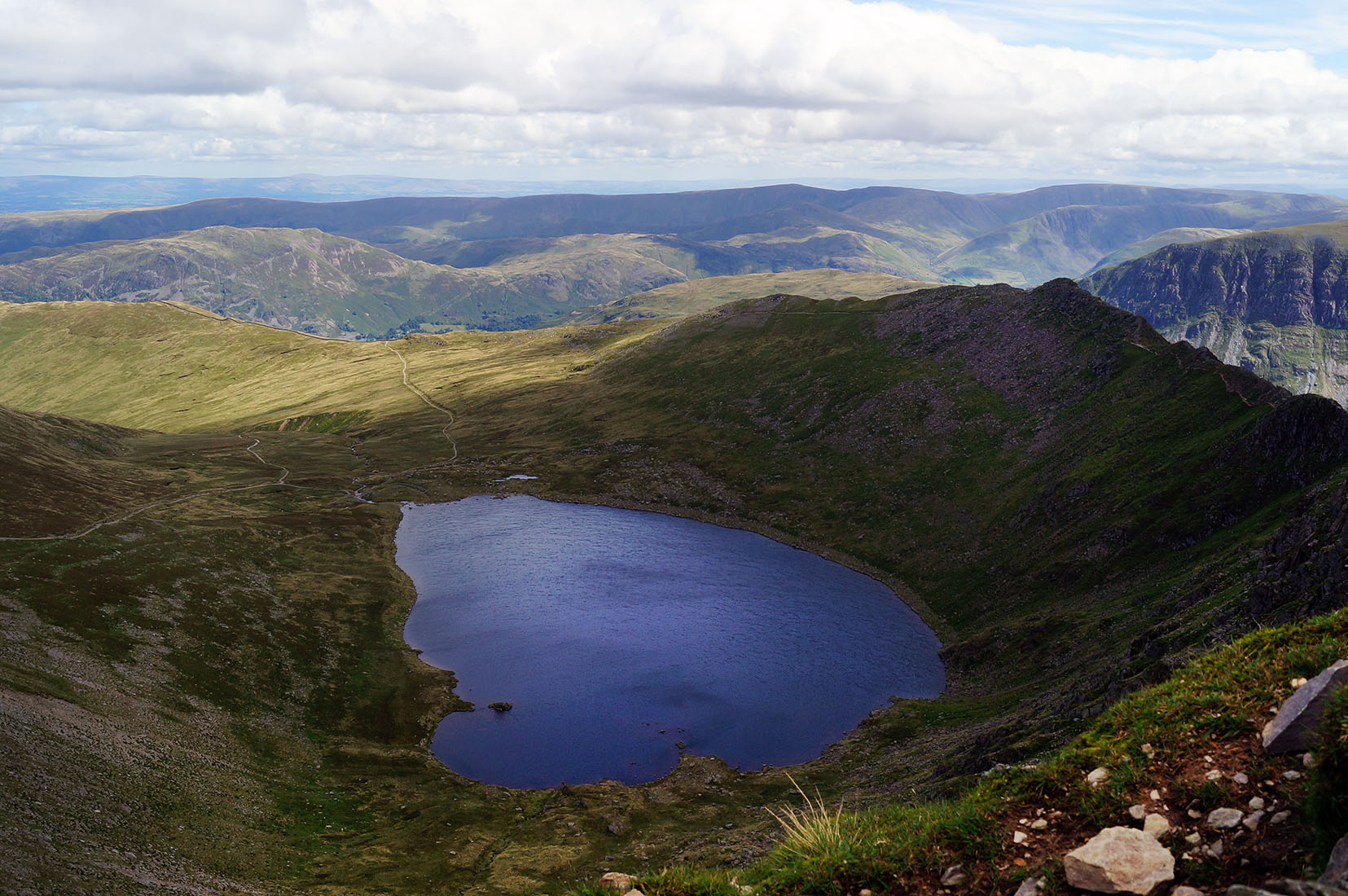 Helvellyn at a height of 950m above sea level is the third-highest mountain in the Lake district after Scafell Pike and Sca Fell. It offers amazing views of Red Tarn lake and Striding Edge. If you enjoy scrambling, this mountain is one of the best to climb in the Lake District.
Striding Edge is one of the most famous routes to Helvellyn that requires scrambling. It begins at Hole-in-the-Wall and continues for 1.5km to the summit. If you want to try this route, start your hike at Glenridding or Patterdale. Both of those locations are only 30 minutes drive from Keswick, which is a great place to find accommodation.
Thirlmere – relax at beautiful lake
With a plethora of lakes in the Lake District, you should definitely visit a few of them. For the best views of Thirlmere, climb a mountain and admire the lake from the top. You will see a few islands on the lake such as Hawes How or Deergarth How. The wonderful scenery of this area makes it a great spot for relaxing during your holiday.
Skiddaw – climb the most eye-catching mountain in Lake District
This colorful mountain is simply a mix of bracken, heather, and scree that covers Skiddaw. The variety of colors makes it stand out in the Lake District. Due to unobstructed views from the top of Skiddaw, you can admire the beautiful panorama of the lakes and mountains. It is a great spot that will allow you to get some hiking experience before climbing Scafell Pike.
Drive around the Lake District
The British weather is not always perfect and you can expect a lot of rain. That's why you should also consider driving around the Lake District. There are many scenic drives by beautiful lakes and spectacular mountains. One of them is the circular route starting at Keswick. It includes Derwentwater, Crummock Water, and Buttermere lakes, but also plenty of other attractions.
Another option is the Coniston loop which is a 40 miles drive. Views of Wrynose Pass, Eskdale, and Duddon Valley will offer you an unforgettable experience. During nice weather, you can make a few stops to see Stanley Ghyll waterfall or relax at Coniston Water Lake.
Farm experience
You can also spend some quality time with a local family and find out more about farming. Learning about agriculture or constructing dry stone walls are just a few fun things to do during your farm experience. There are also a few great farms to visit with kids that are just on a border with the Lake District. Lakeland Maze Farm Park or Abbott Lodge offers a great day out for kids.
Conclusion
With such a diverse choice of attractions in the Lake District, you will definitely enjoy your time in the Lake District. You can have not only a mountain adventure but also an amazing dining experience. In this UNESCO World Heritage Site, you can find 5 Michelin Star restaurants. Who wouldn't want to taste amazing food after climbing the highest mountain in England? Make sure to tick off the Lake District from your bucket list as this is one of the best places to visit in the UK.
Accommodation in the Lake District
Here are three accommodation options to suit all budgets that I recommend you check out. All are centrally located in the town of Kendall, gateway to the beautiful Lake District. They each come highly rated and with excellent facilities.
Budget – The Wheatsheaf Inn
Mid-Range – The Lodge @ Carus Green
Luxury – Lyth Valley Country House
Author Bio
Guest post by Paulina, author of ukeveryday.com. Her blog was shortlisted as one of the Top 70 UK Travel Blogs to follow. She loves exploring hidden places in England, Wales and Scotland. You can follow her on Instagram and Facebook.
---
Over to you!
Which of these things to do in the Lake District are you most looking forward to doing?
Let me know using the comments section below or join me on social media to start a conversation.
Thanks for reading and I hope you enjoyed this post.
Join my email list and get a FREE copy of my TRAVEL PLANNING TEMPLATE
My Travel Planning Template will make your travel planning simple & stress-free!