Notoriously one of the most expensive cities in the world for visitors, London can be a daunting prospect for those travelling on a tight budget. Popular attractions like the London Eye, Westminster Cathedral and the Tower of London will all set you back at least £20.00 a pop, leaving you with little left over to experience other things this amazing city has to offer.
But London doesn't have to drain your travel budget. Look at visiting some of the lesser known attractions and even some of the most popular and you'll discover they are actually free and just as fun, interesting and entertaining as the one's that cost you a small fortune.
Plan you trip well with a mix of paid and free attractions and you'll find that London isn't as expensive as you first thought.
Take a look at this list of 30 free London attractions and I guarantee you there is at least a few you will love.
This post contains affiliate links. Our full disclosure policy is here.
Museums & Galleries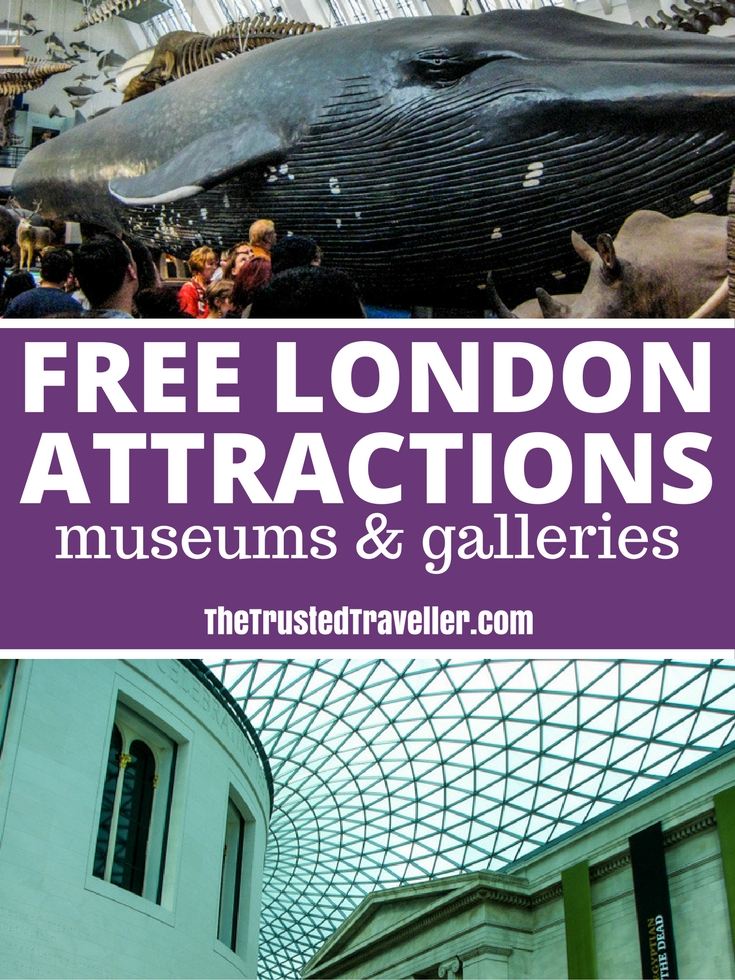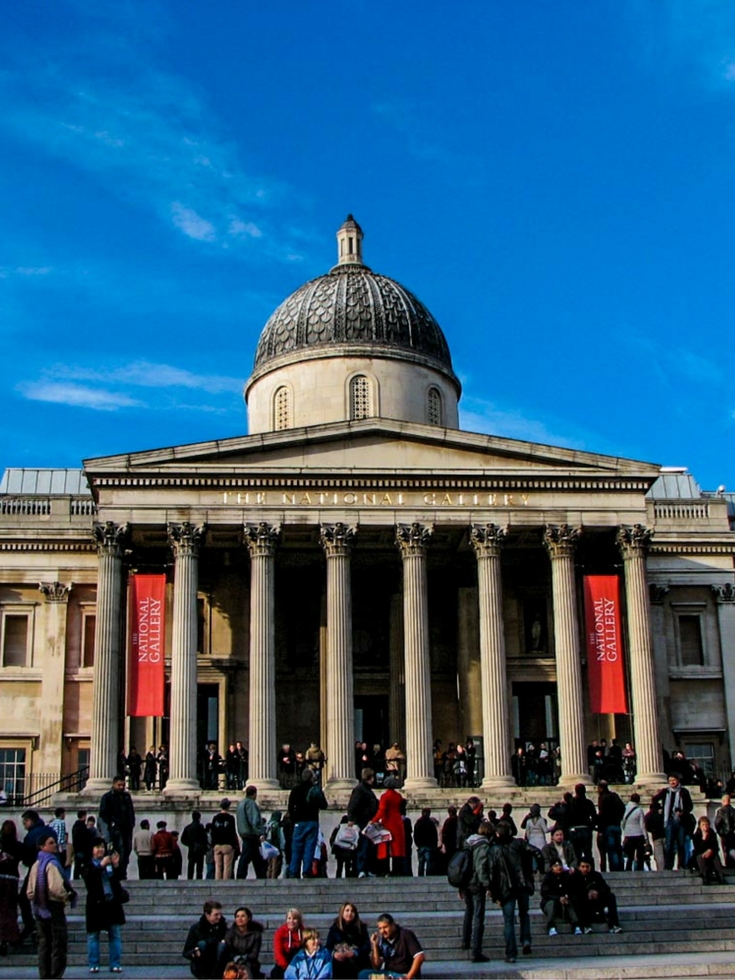 A great place to start exploring free London attractions is in the city's museums and galleries. Most are free but here is a list of the best. Note that only entry to the permanent exhibits of these museums is free. If you want to view the temporary exhibitions, a fee will likely apply.
British Museum
If you only visit one museum in London, then the British Museum should be it. Dedicated to human history and culture, the collections comprise over eight million items and document human culture from beginning to present.
Museum of London
This museum tells the story of London from the Roman times right through to the present day with interactive and educational displays.
National Gallery
Housing a collection of over 2,000 Western European paintings from the middle ages to the 20th century, the National Gallery is a must-see for art lovers.
National Maritime Museum
Discover everything there is to know about Britain's maritime history at this interactive and interesting museum in Greenwich.
National Portrait Gallery
This gallery comprises a collection of portraits of historically important and famous British people from throughout time. Think Shakespeare, Edward VI, Queen Victoria and Prince Albert, to name a few.
Natural History Museum
Specialising in life and earth science specimens comprising over 70 million items including pieces collected by Charles Darwin, dinosaur skeletons and the impressive life-size model of a blue whale. It is also one of the best things to do in London with Kids as their is so many hands on displays and interesting things to amuse them for hours.
Victoria & Albert Museum
One of the greatest art and design museums in the world, the V&A contains some of the best examples of Renaissance works of art and most precious jewel collections surviving in the world today.
Tate Modern
Home to the national collection of British art from 1900 to the present day with a few international and contemporary pieces thrown in the mix.
Tate Britain
While the Tate Modern focuses on more recent art, Tate Britain is all about the past with a big collection of historical British art.
Parks & Gardens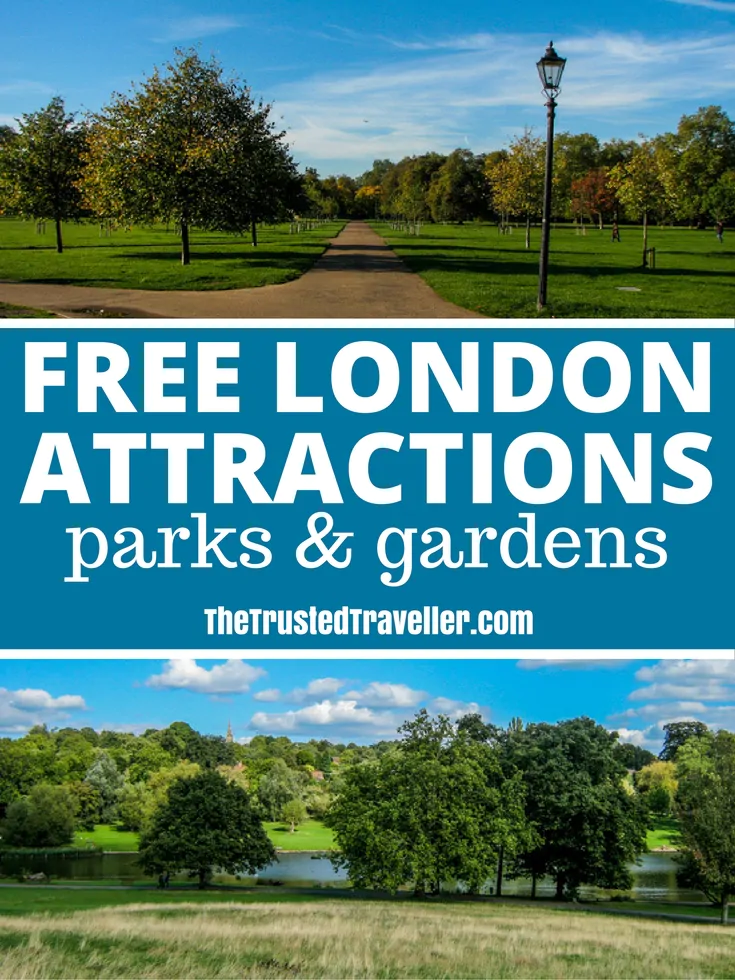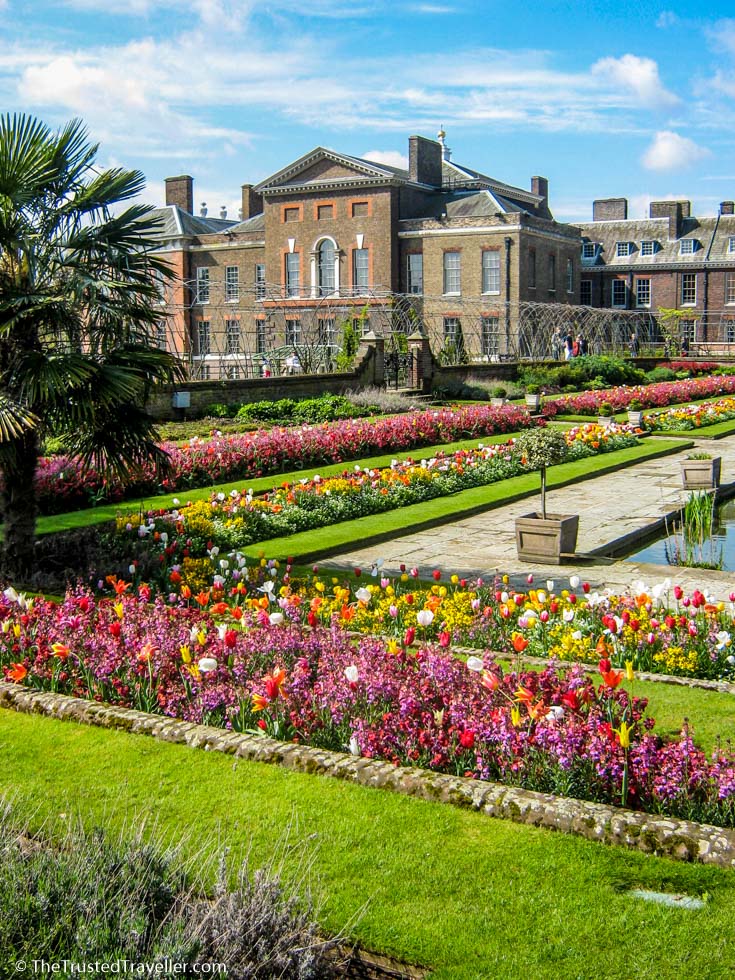 On a mild sunny day you will find most of London's population enjoying one of the many parks and gardens scattered around the city. They are the perfect place to take a long walk, see some beautiful English gardens, have a picnic or just relax in the sun. Parks are also a great place to visit when travelling to London with kids.
Hyde Park
London's most popular and famous park is a sprawling 350 acres in the heart of the city with miles of walking paths, dozens of statues and fountains and a beautiful lake perfect for relaxing by.
Regents Park
Regents Park is known to be one of London's loveliest gardens because of its very aromatic rose garden and mass flowering displays throughout the year. The area around the lake is always surrounded with people enjoying picnics or taking a stroll.
St James's Park
One of the Royal London Parks, St James's Park is one of the most visited each year mostly because of the many royal events that take place, like the annual Trooping of the Colour.
Kensington Palace Gardens
At the far western end of Hyde Park is the lovely Kensington Gardens. While there is a fee to enter the palace, the immaculate and colourful gardens are free. The best time to visit is in spring when everything is in full bloom.
Hampstead Heath
One of the more natural and untamed parks in London, Hamstead Heath is 320 hectares of parklands with stunning views over London from the top of Parliament Hill.
Richmond Park
A little further afield but worth the trip is Richmond Park. London's largest park is home to deer and various other wildlife, woodlands, hills, trails for riding and walking and large open fields.
Markets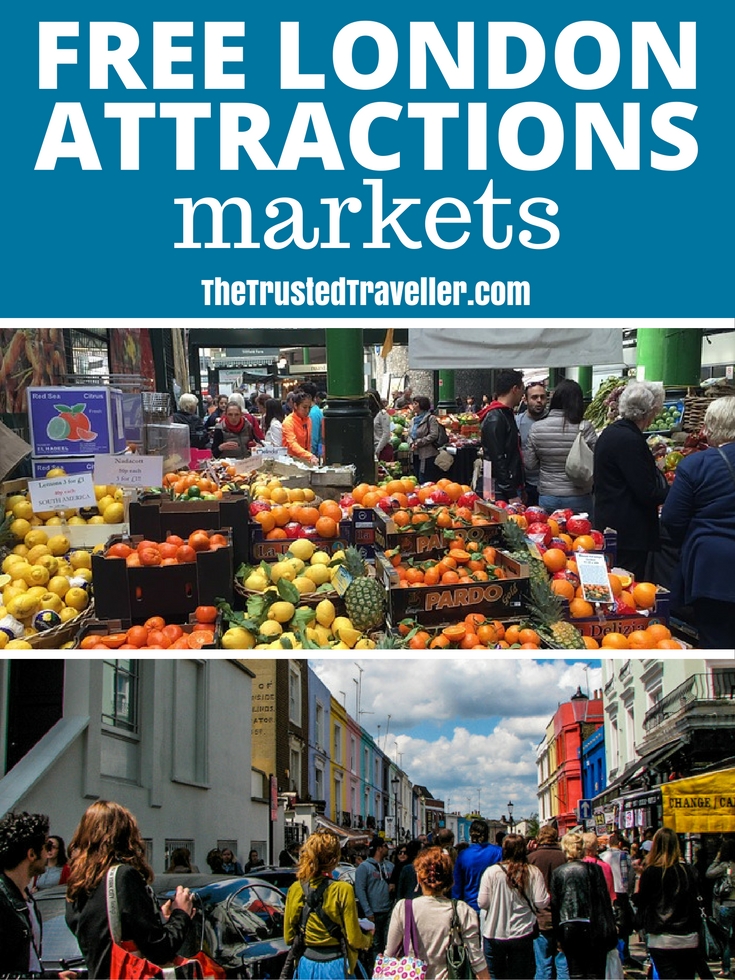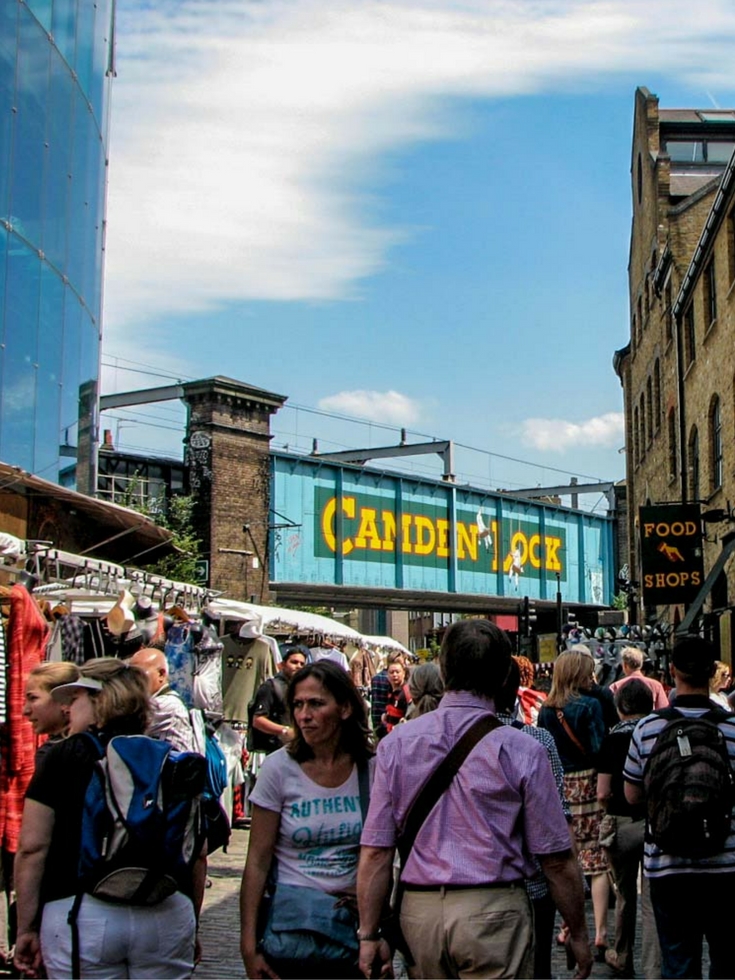 While technically not free if you're visiting the markets and buying things, if you can resist the urge to spend, they are a great place to get a feel for London life, do a bit of people watching and soak up the atmosphere.
Borough Market
Borough Market is London's gourmet paradise. You'll find everything from fresh fruit and vegetables to meats, condiments, fresh bakery items and stalls selling fresh and delicious street food.
Portobello Road
Particularly famous for its antiques, this very busy Saturday market is also good for bric-à-brac, vintage clothing and delicious street food. It gets very crowded so get there early!
Camden Markets
Not just one market, Camden is a few markets all linked together. On weekends you will find just about everything you can possibly think of and more. It's also the best people watching spot in all of London.
Brick Lane Market
At this colourful Sunday market you'll find vintage secondhand goods like bric-à-brac, furniture and clothing mixed in with the aromas from the spice stalls and colours of the stalls selling saris.
Columbia Road Flower Market
Here you will find spectacular displays of flowers and plants for sale along with funky gardening accessories.
Greenwich Market
One of London's longest running markets offers beautiful local designers and small business stalls selling everything from jewellery, shoes, clothes and unique gifts.
Old Spitalfields Market
In the cool east London area of Shoreditch you'll find this weekend market selling clothes, food and artworks along with permanent shops, bars, and restaurants that will keep you entertained well after the markets close.
Other Free London Attractions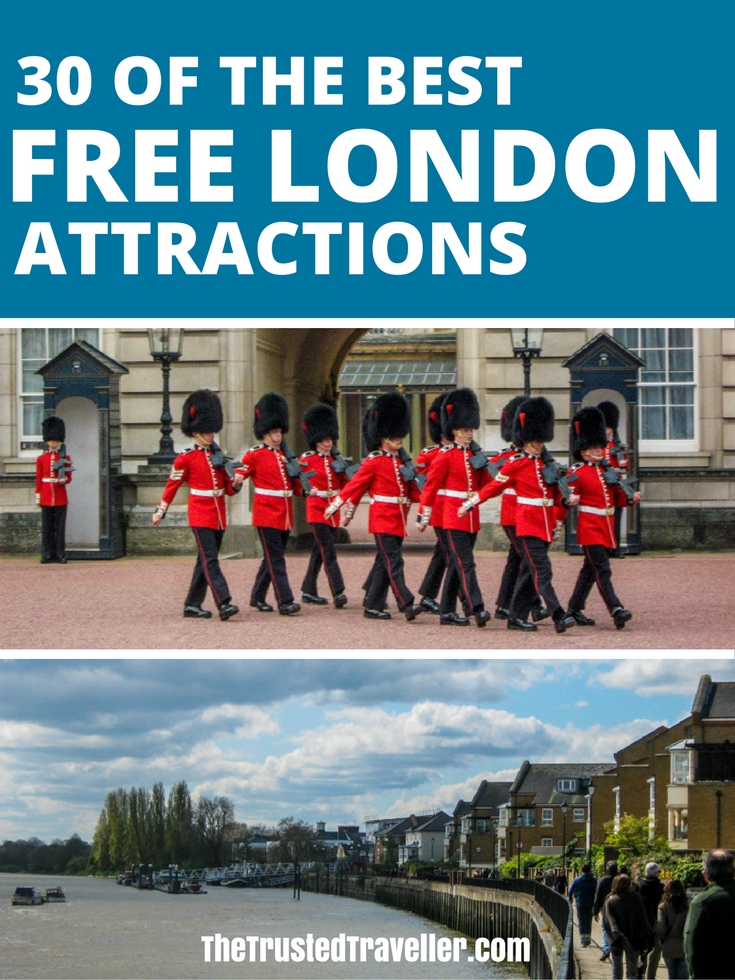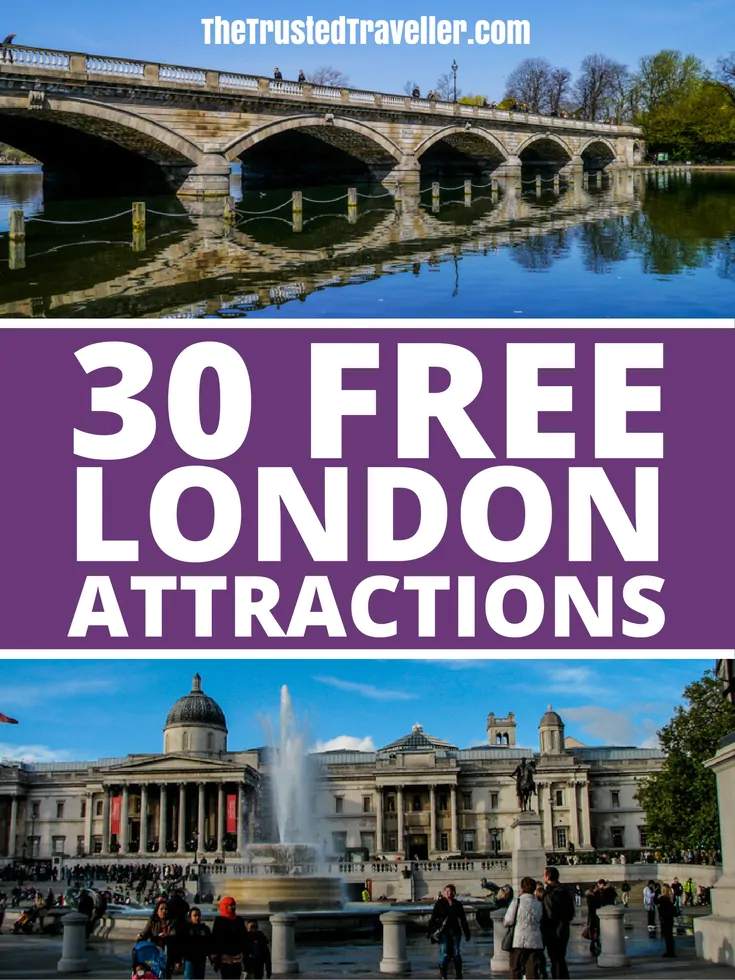 Changing of the Guard
This 45 minute ceremony takes place at the gates of Buckingham Palace at 11.30am most days during summer and alternate days at other times of the year. The royal band provides the music as the guards move into various formations before the guard is finally changed. Get there early!
Old Royal Naval College
Sir Christopher Wrens twin domed masterpiece is one of the nicest attractions in Greenwich. Inside you'll find beautiful frescoes and a lovely chapel.
Abbey Road
Take a walk over the famous crossing captured on the Beatles Abbey Road album cover.
Trafalgar Square
This popular meeting place for locals and tourists is a great spot to sit, relax, watch the people passing by and see some of London's famous landmarks like Nelson's Column and Admiralty Arch at the entrance to the Mall.
Thames Walk
Take a walk along a section (or all) of the 180 mile long National Trail path that runs along the Thames from the Thames Flood Barrier at Woolwich in South East London to Kemble in Gloucestershire, west of London.
Platform 9 ¾
Relive you Harry Potter fantasies by visiting the station platform made famous by the books and movies. It's located at Kings Cross Station and you can't miss the trolley half sticking out of the brick wall.
Covent Garden
On the fringe of London's East End, this popular square is home to a bunch of great shops, restaurants and cafes but most importantly, free entertainment, rain, hail or shine. No matter when you wander by, you're likely to find entertaining street performers dazzling big crowds.
Free Walking Tour
Sandermans New Europe offer free walking tours in cities all over Europe including London. In about two and a half hours your guide will show you around some of London's most famous sights and at the end of the tour it's totally up to you if you want to tip the guide or not.
---
Budget London Accommodation
Looking for budget accommodation options for your budget trip to London? Here are two budget accommodation options that I recommend you check out. All are centrally located, highly rated and come with excellent facilities.
Wombats City Hostel
Located in central London close to Tower Bridge. This hostel offers free WiFi access throughout and features a terrace, a bar and a 24-hour front desk. Accommodation is basic with private or shared bathroom facilities. Book Now
YHA London St Pancras
Across the road from St Pancras Station in the centre of London, this hostel offers 24-hour reception, free Wi-Fi, a bar and laundry facilities. Rooms are dormitory style, some with an en-suite bathroom, while others have shared bathroom facilities. Book Now
Over to you!
What other free London attractions have you visited?
Let me know using the comments section below or join me on social media to start a conversation.
Thanks for reading and I hope you enjoyed this post.