When travelers think of the Thai islands, they commonly refer to the islands in the south of Thailand. Koh Phangan, Koh Samui and Koh Tao.
However, there are some equally as amazing islands located about 4 hours east of Bangkok near to the Cambodian border, which are just waiting to be explored.
In this itinerary we will take you for a quick trip from Bangkok to the islands in the province of Trat including; Koh Chang, Koh Mak and Koh Kood.
Never head of them? Perfect, read on.
Days 1 to 3 – Koh Chang
Koh Chang is sometimes referred to as Elephant Island. This is by far the largest of the three islands in this island hopping trip.
The best way to get to Koh Chang is by taking a minivan from Ekkamai bus terminal. A one-way trip takes about four hours and 300 THB per person. The van stops about 25km from the pier where you transfer to a pick-up up truck. Depart early in the morning and you will arrive to Koh Chang by about lunchtime.
Decide which beach to stay on Koh Chang. Lonely Beach has a lively party vibe with music playing late into the night, great for backpackers. Klong Prao and White Sands beach both have a good range of boutique hotels for the mid-range budget (from USD 50 per night). To escape the world, head over to Long Beach where you will find a small selection of secluded bungalows.
The first day you can spend relaxing at the beach by you hotel. You have earned it from all the travel. The west coast of Koh Chang has some of the best sunsets I have seen in Thailand. Kick back with a cold drink, a nice Thai meal and soak it all in.
The next morning head out for a snorkeling trip from Bang Bao pier. Boats depart early in the morning, around 8am, for a half day trip. Bookings can generally be made through your guesthouse, or at a travel agent in town.
In the afternoon, stop by the Kai Bae Viewpoint for sunset. You will get a fantastic view of the smaller islands off the west coast of Koh Chang.
For an adventure on your third day on Koh Chang, take a kayak out from your guesthouse to one of the small islands off the west coast. Koh Suwan is small island 1.6km off the coat where you can enjoy a secluded beach to yourself, surrounded by jungle.
Days 4 to 5 – Koh Mak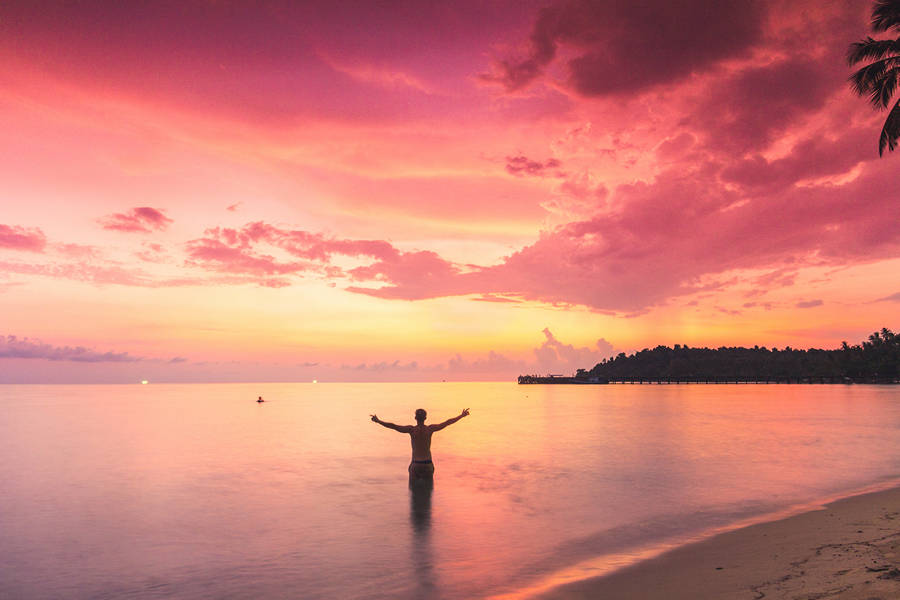 In the morning, go back to the mainland in Trat then make your way over to the Laem Ngop Pier. It is located about 10 minutes from the ferry pier for Koh Chang. Here you take a speedboat across to Koh Mak.
Koh Mak is much smaller and less developed than Koh Chang. The main beaches to stay on and Ao Kao (south west coast) and Ao Suan Yai (north west coast), most bungalows are located on these two beaches. Both are nice long sandy beaches with clear blue water.
Explore the island's walking trails by foot or bicycle. The island is quite flat so walking trails are easy. You can explore the islands coasts, the islands original community, and the obscure artwork called the Kingdom of Somchai.
Koh Mak is also a good island for scuba diving as it is right on the marine national park. Head over to Koh Mak Divers on Ao Kao to inquire on which trips are going out for the day. Dives are amongst the cheapest you will find in the region from just 2,500 THB for two dives on the same day!
If you are not a qualified diver, you can also go out for either snorkeling or kayaking during the day. Most beachfront guesthouses offer equipment for day rental.
The next stop is Koh Kood. Boonsiri Ferry is the only daily scheduled service between Koh Mak (Ao Nid Pier) and Koh Kood (Ao Salad Pier). The 30min boat departs Koh Kood at 3pm in high season only. It is also possible to charter a speedboat between the two islands in the high season. During the low season you will have to transfer back to Trat before traveling to Koh Kood.
Days 6 to 7 – Koh Kood
Koh Kood is smaller than Koh Chang, yet larger than Koh Mak. There is quite a lot to do on Koh Kood, therefore you could spend a few extra days here is time permits. Check out this article for a full list of things to do on Koh Kood.
There are two waterfalls on Koh Kood, but Khlong Chao is the nicest with a decent pool of freshwater for swimming. To get to the waterfalls you can either hire a motorbike or charter a songtaew from your guesthouse.
After the waterfall, you can visit one of the fishing villages around the islands. Ao Salat is a nice village built on stilts over the water. You can visit Ao Salat to get some fresh seafood for lunch.
During the high season Koh Kood Cabana has fire shows every second night. A group of five workers from the hotel put on a great 10 minute show which is definitely worth watching. A great way to end the night on Koh Kood.
Spend your second day on Koh Kood enjoying the tranquility of Ao Ta Prao Beach. On a busy day you might share the beach with ten other people, on a quiet day you will be the only on there.
Walking south down Ao Ta Prao, you will find some small sandy trails. Follow these trails around the island to discover other secluded beaches and bungalows by the water.
Ferries depart Koh Kood from Ao Salat Pier in the morning between 9am and 11am. There are also speedboats from Ao Salat to Trat as late as 1pm, however seats are limited and tickets are about double the price. Your final island hopping day is mainly spent traveling from the island back to the mainland, then 4-5 hours in a minivan back to Bangkok. You will arrive in Bangkok by mid-afternoon.
---
About the Author
Josh Shephard is a travel writer and photographer on The Lost Passport. After living in Thailand for five years, he has compiled this comprehensive Thailand travel guide containing plenty of top destinations and off the beaten track gems. Be sure to follow The Lost Passport on Facebook and Instagram for regular travel updates.
---
Over to you!
Which of these Gulf of Thailand islands would you most like to visit?
Let me know using the comments section below or join me on social media to start a conversation.
Thanks for reading and I hope you enjoyed this post.
Join my email list and get a FREE copy of my TRAVEL PLANNING TEMPLATE
My Travel Planning Template will make your travel planning simple & stress-free!