New Zealand's Glacier Country is one area of the country you have to see sooner rather than later. Why you ask? Because the features that give this region its name are rapidly melting away.
Receding at an alarming rate of around 70 cm a day (yes A DAY!), these ancient glaciers are badly bearing the brunt of global warming.
There is a little more to the area though than just the glaciers. From the towering mountain peaks to the picture perfect lakes, I guarantee you'll be mesmerised by the many things to do in New Zealand's Glacier Country just like we were.
This post contains affiliate links. Our full disclosure policy is here.
Things to Do in New Zealand's Glacier Country
The Glaciers
The obvious place to start your adventures in Glacier Country is of course the glaciers themselves. There are two main glaciers in the area, Franz Josef Glacier and Fox Glacier. Each are about 30 minutes drive from one another and can be accessed by a number of different ways. Here is a run down on the different ways you can see them and access them.
Walk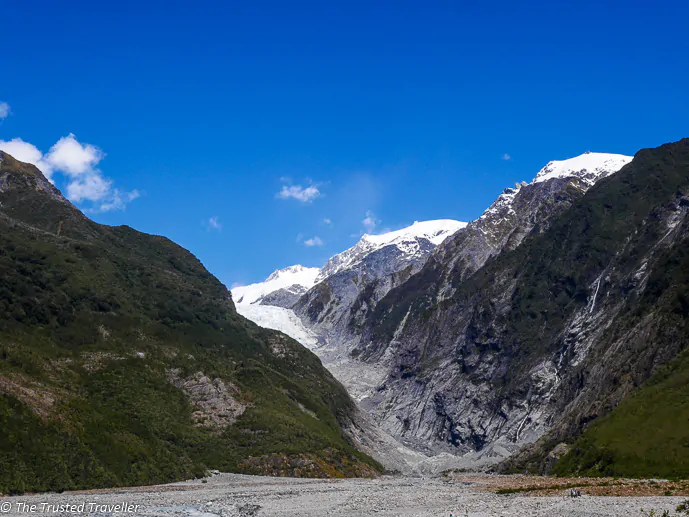 This one is simple! Both glaciers have designated car parks (or shuttle buses from the villages) from which you can walk along the old glacier bed to an area near the base of the glacier.
The walk to both glaciers is quite easy for most levels of fitness although good footwear is recommended because of the uneven rocky surface of the trail.
Franz Josef Glacier Valley Walk takes around one hour and twenty minutes round trip and the Fox Glacier Valley Walk takes about one hour round trip. Along both walks you'll see the glacier towering above, walk along the river that flows off the glacier and see temporary waterfalls that form after rain on the surrounding cliffs.
Address: Franz Josef, south of the village on Franz Josef Glacier Valley Access Road | Fox, south of the village on State Highway 6 just before Cook River Bridge
Cost: Free
Hours: Dawn to dusk
More Information: http://www.doc.govt.nz/
Tramp
Tramp is the word that Kiwis use instead of hike, basically it means a long walk.
There are a bunch of different tramps you can do in the area (with or without a guide) that will give you the chance to get up close to the glaciers without the expense of a helicopter (more on that further down).
They range in length from a few hours to full day return tramps and require you to have a good level of fitness as the tracks are at times steep, slippery and uneven. But those who can handle this will be rewarded with unrivaled views or the glaciers, the Tasman Sea and the hundreds of mountain peaks surrounding.
Address: Various starting points throughout the area.
Cost: Free unless you decide to take a guided walk.
More Information: http://www.doc.govt.nz/
Helicopter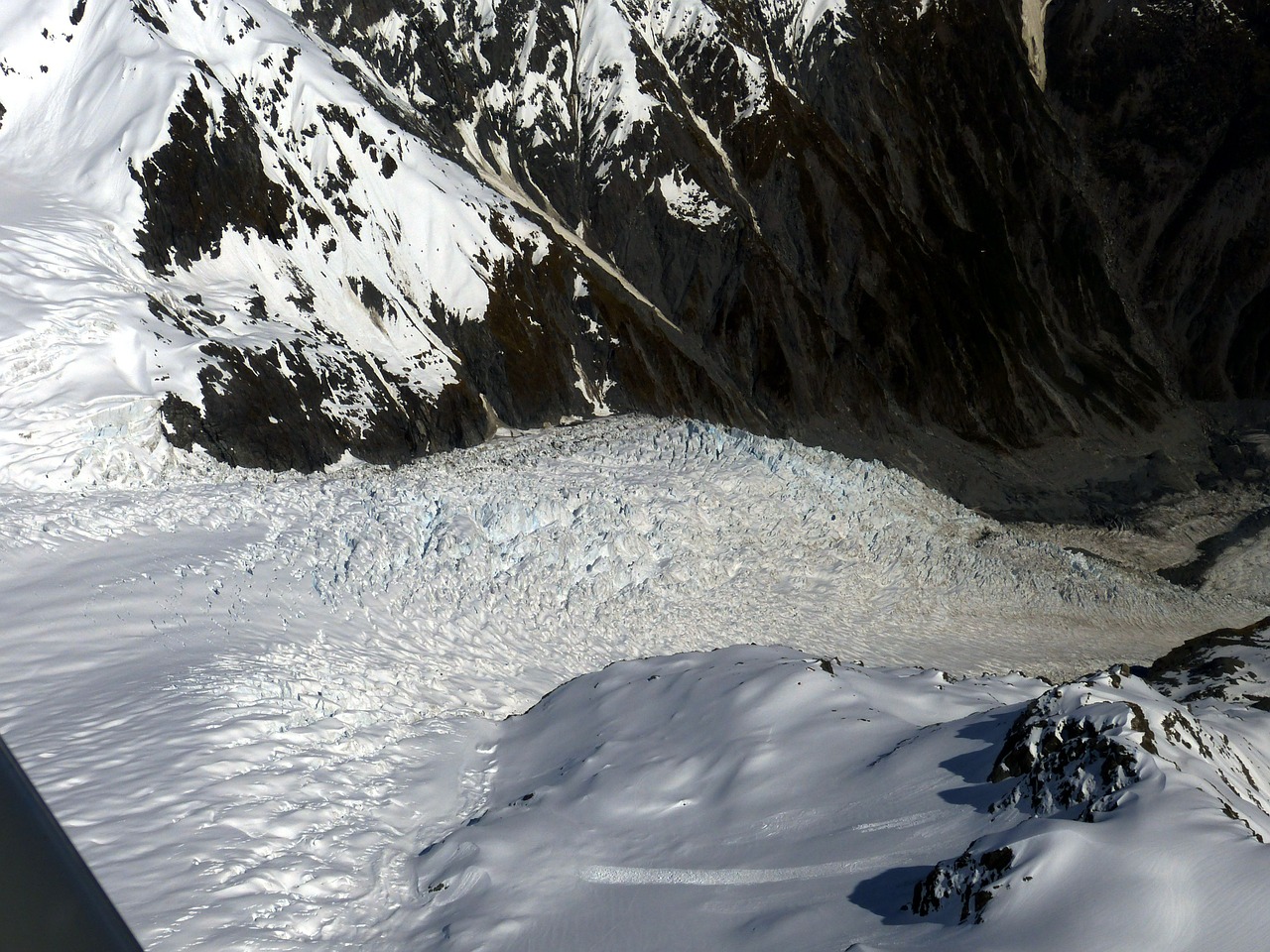 For the ultimate Franz Josef or Fox Glacier experience you can take a scenic flight in a helicopter and even land on and walk on the ice.
When the weather is right helicopters leave from the village almost ever few minutes taking visitors up to and over the glaciers for some of the best views in the world.
Rides range from a quick 10 minute fly over to a landing on the ice where you can get out briefly for a walk or again landing on the ice and going on a challenging hike through the ice with an experienced guide.
Address: Most leave from Franz Josef Village
Cost: Prices start from $NZ220.00 per person
Hours: Dawn to dusk
More Information: Viator offer a great range of Franz Josef and Fox Glacier Helicopter tours.
---
Lake Matheson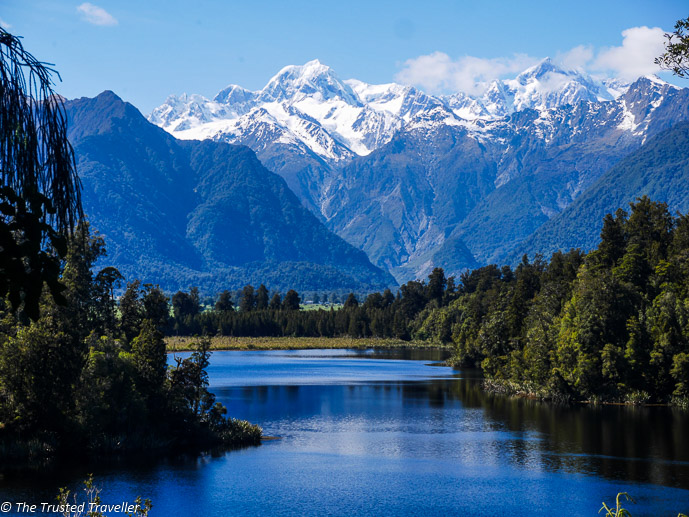 Located just a few kilometres from Fox Village is the picture perfect Lake Matheson. The walk around the lake from the car park and cafe takes about one and half hours if you don't make stops to take in the incredible view along the way. On a clear, calm day from various spots around the lake, you'll be able to see a perfect reflection of Mt Cook, New Zealand's highest peak, in the dark water of the lake. It is a truly breathtaking walk and one not to be missed!
Get some inspiration from my walk around Lake Matheson.
Address: Just off Cook Flat Road, 5km from Fox Village
Cost: Entry to the main pools is $NZ26.00 for adults and $NZ22.00 for children. A private pool for two people for 45 minutes is $NZ90.00.
Hours: Dawn to dusk
More Information: http://www.doc.govt.nz/
---
Read More: Two Week New Zealand South Island Road Trip Itinerary

---
Glacier Hot Pools
Surrounded by rainforest, the Glacier Hot Pools are the perfect place to rest your aching muscles after a day of tramping around the nearby glaciers.
The Glacier Hot Pools are located just a stones throw from the centre of Franz Village and are home two three main pools of different temperatures plus a few private pool as well.
The pool are feed by the waters of Franz Josef Glacier or Ka Roimata o Hinehukatere in Maori. The legend of Hgai Tahu (a local Maori tribe) says that these waters are the tears of aroha, meaning love, which were frozen by the gods creating the Franz Josef Glacier.
Address: 67 Cron St, Franz Josef Village
Cost: Entry to the main pools is $NZ26.00 for adults and $NZ22.00 for children. A private pool for two people for 45 minutes is $NZ90.00.
Hours: Open daily from 13:00 – 21:00
More Information: http://www.glacierhotpools.co.nz/
---
Where to Stay
There are lots of places to stay in both Franz Josef and Fox Villages catering to everyone's preferred accommodation styles. We chose to stay at and recommend the YHA Franz Joseph Glacier Hostel because of it's location in the heart of the Franz Josef Village, wide selection of accommodation options including private and shared rooms and their large kitchen and common area for meals and down time.
---
Where to Eat
For drinks and a hearty meal head to the The Landing Bar right on the main street of Franz Josef village. If the sun is shining you can sit on the large front terrace (don't worry they have heaters!) and relax with a well earned drink after a day of walking.
Also in Franz Josef Village is Picnic's European Bakery which serves up a delectable range of doughnuts and other sweet treats all hand made. They also have savoury pastries you can enjoy hot before you tuck into the sweets.
---
Over to you!
Of all the things to do in New Zealand's Glacier Country, what would you most like to do?
Let me know using the comments section below or join me on social media to start a conversation.
Thanks for reading and I hope you enjoyed this post.