Whether you're planning a weekend getaway or a longer stay, choosing where to stay in Marlborough can make all the difference in making your trip a memorable one.
In this post we will explore the various accommodation in Marlborough, including the towns of Picton and Blenheim, to help you find the perfect place to stay during your visit.
From luxury hotels to budget friendly hostels, I've got you covered! I'll break this post down by type of accommodation and give you multiple options in each section so you know what is the best Marlborough accommodation for you.
So, let's dive in and discover where to stay in Marlborough.
This post contains affiliate links. Our full disclosure policy is here.
Where to Stay in Marlborough
Hostels $ – $$
Hostels are by far my preferred type of accommodation, especially when travelling for longer periods of time.
Hostels can come in many shapes and sizes but generally they are great value for money and give you the chance to meet other like-minded travellers.
Rooms range from multi-bed dorms with shared facilities to twin/double/family rooms with private bathrooms.
Expect a guest kitchen that you can cook meals in, a laundry, a communal area of sorts to hang out with other travellers and helpful staff who know where all the best and cheapest places to eat and drink are.
The biggest misconception with hostels is that they are only for young people and backpackers. But things have change a lot over the last 10 years and hostel are now a haven for cheap, clean and comfortable accommodation for all ages.
Over the years, I've stayed in hostels that are fancier than some hotels. Spacious rooms, comfy bedding and lots of free facilities make them a very attractive offering.
No more should you discount this option as viable just because you don't fit into the hostel stereotype.
Here are two hostels for a cheap stay in Marlborough that are all centrally located.
The Villa (Picton)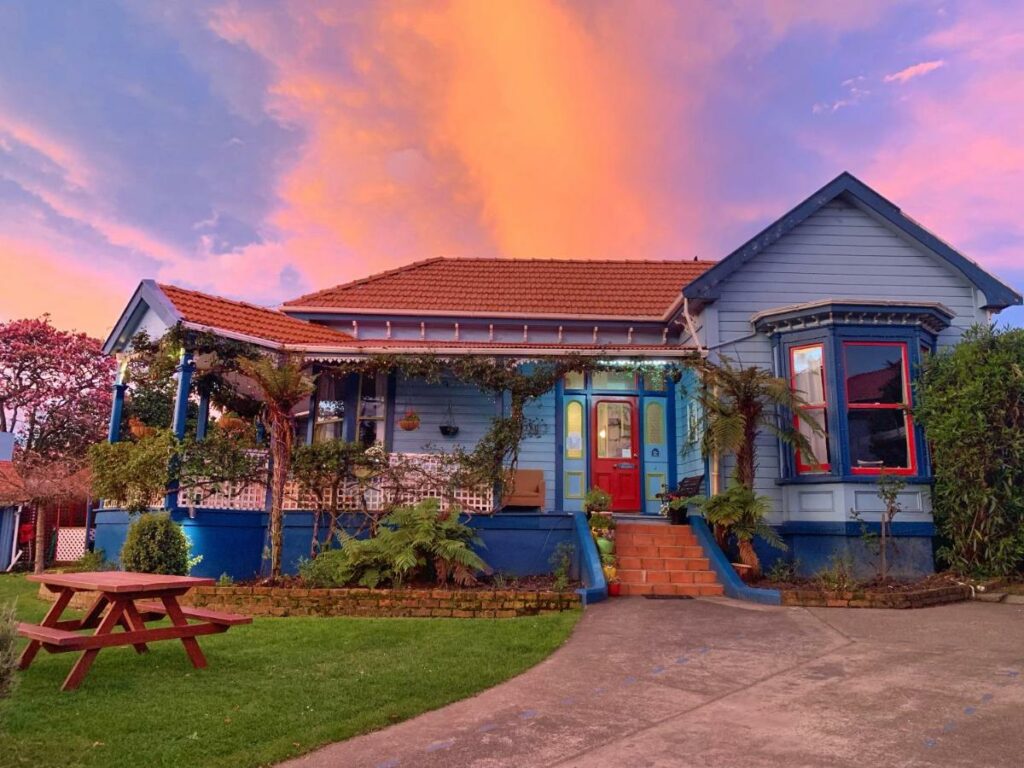 This hostel is located in the heart of Picton just a few minutes walk to the waterfront and surrounded by the local shops.
Onsite if free Wi-Fi, outdoor hot tub, complimentary breakfast and dessert daily, guest lounge with TV, BBQ facilities in the sunny garden space and free use of their bicycles.
Rooms range from a 4, 6, 8 and 10 bed dorms to private double and twins rooms, some of which have their own bathroom facilities. Rooms are simple but comfortable, perfect for those just needing a place to sleep while they are out exploring the marvelous Marlborough region.
Tombstone Lodge & Backpackers (Picton)
Looking for somewhere a little more quirky yet homely to stay? This is the place! Living onsite are birds, cats, a dog and a goat who you will share the stunting garden, with its abundant fruit trees and vegetation and amazing bay views.
All guests have free access to the well-equipped, spacious lodge facilities which include a shared kitchen, dining area, TV room, laundry facilities, games deck, gym equipment and spa. Free breakfast is available each morning and hot drinks throughout the day.
The budget rooms range from private double and twin rooms, some with ensuites, a self-contained apartment and dorm rooms with access shared facilities.
Budget Hotels/Motels $ – $$
Budget hotels and motels are quite similar to hostels except you're not likely to interact with other guests and you are unlikely to have shared facilities like a kitchen and communal living space to enjoy.
They might however have shared or private bathrooms and rooms themselves will be basic with a minimum of a single, twin or double bed.
Budget hotels and motels are most likely to be kitted out with a small TV, kettle and mini-fridge. And rooms with bathrooms will have a basin, toilet and shower, sometimes over a bathtub, with generic toiletries.
Here are two affordable accommodation in Marlborough for those wanting to save a bit on accommodation costs.
Ashleigh Court Motel (Blenheim)
This motel is located in the heart of Blenheim, just one block from the centre of town and a few minutes walk to the river.
Ashleigh Court Motel features a solar-heated swimming pool, BBQ facilities, free Wi-Fi and parking and a kids playground, making this a great option if travelling to Marlborough with kids.
All rooms are self-contained with a TV, kitchenette (studios) or kitchen (one and two bedroom) with a microwave and refrigerator, spacious seating area, and some also include a spa bath.
AAA Marlin Motel (Picton)
Located a short walk from the centre of town and waterfront, Marlin Motel is set just off the main road making it a great choice for those who will be in and out of town often to explore.
The property offers BBQ facilities, a lovely spacious garden and outdoor seating areas to enjoy your evening BBQ meal or just to relax in the sunshine.
All accommodation features a TV, kitchen facilities including a refrigerator, microwave, and a stovetop with some apartments also having an oven. Luxury towels and toiletries are provided in the spacious bathroom.
Self-Catered $$ – $$$$
Expect either apartment style of even houses/villas that have their own private kitchen, separate living area to sleeping area and most of the time a balcony or terrace area.
Self-catered accommodation, while it might be a bit more expensive, can help you save money on eating out which is some cities can be very expensive.
It is also a great option for groups travelling together and families looking for extra space and a more homely experience.
Here are two self-catered apartments in Marlborough for those wanting more space.
Asure Sundowner Apartments
Asure Sundowner offers well-appointed self-contained, spacious, ground floor units with parking directly outside the door and located a few minutes drive to the centre of Blenheim, with the wineries not far away also.
Onsite you will find plenty of free parking, outdoor swimming pool, free Wi-Fi and sunny garden spaces perfect for relaxing after a long day exploring Marlborough.
Apartments are either studio or one bedroom, so would suit a family or couple. Studios have a kitchenette while one bedroom apartments have a fully equipped kitchen. The superior one bedroom apartments have a spa bath as well.
Picton Waterfront Apartments (Picton)
As the name says, these waterfront apartments are perfectly positioned to enjoy the stunning views of the Marlborough Sounds and make it easy for you to explore the waterfront and town on foot.
Each apartment boasts a private balcony, all facing the Picton Harbour, Marina and the famous Marlborough Sounds. Secure off-street parking is included as well.
All apartments feature a fully equipped kitchens, laundry facilities, separate living and dining areas and air-conditioning/heating. Apartments sleep up to 6 people so this is a great option for a larger family or a small group travelling together.
Top Class Hotels $$$ – $$$$
Expect nothing but the best in service and quality at any hotel with a four plus star rating.
Rooms should be spacious and plush with lots of extras like in-room mini-bar, luxury toiletries and a desk or small sitting area.
Staff will go out of their way to help on check-in and out and assist with local activity bookings or any other queries you might have.
Contained in the property for all guests to enjoy might be a pool, gym, cafes/restaurants/bars, conference facilities and many more luxurious facilities.
Here are two options in Marlborough for those wanting the splash out a little more during their stay.
Chateau Marlborough Hotel (Blenheim)
Perfectly located in the centre of Blenheim, Chateau Marlborough Hotel offers luxury self-contained suites a stone throw from the best restaurants and cafes in town.
Guests enjoy free Wi-Fi, outdoor swimming pool, onsite day spa, free parking, fitness centre, tour desk and a cafe and bar which serves breakfast and dinner each day and offer outdoor dining.
Your options for rooms are either well appointed suites or luxury one and two bedroom apartments with kitchen facilities. All rooms are airconditioned and have push furnishing allowing for a very comfortable stay.
Escape to Picton Boutique Hotel (Picton)
Escape to Picton Boutique Hotel, located in the heart of town, is less than 5 minutes walk from the marina and waterfront and offers elegant luxury accommodation.
The onsite restaurant offers local and international cuisine along with daily specials where you can enjoy outdoor dining or a drink in the courtyard. The whole property has free Wi-Fi, there is free parking and a free continental breakfast available each morning.
Each room has elegant furniture and fittings as well as an ensuite bathroom and air-conditioning. Some rooms have direct access to the terrace where you will find a small sitting area to relax after a day of sightseeing.
Over to You!
Which of these places to stay in Marlborough are you going to pick for your next trip?
Let me know using the comments section below or join me on social media to start a conversation.
Thanks for reading and I hope you enjoyed this post.