Discover the beauty of Marlborough, New Zealand, in just two days with this Marlborough 2 day itinerary.
Situated at the northern tip of the South Island, Marlborough is renowned for its breathtaking landscapes, world-class wineries, and thrilling outdoor adventures.
Whether you're a wine enthusiast, a hiking aficionado, or a traveler seeking a tranquil escape, Marlborough has something for everyone.
This itinerary will transform your Marlborough visit into an unforgettable adventure. Grab your camera, prepare your taste buds, and ignite your sense of adventure—it's time to explore Marlborough, New Zealand, like never before.
---
Best Time to Visit Marlborough
Before we dive into the itinerary, it's essential to consider the best time to visit Marlborough.
While this stunning region is worth exploring year-round, the optimal time often depends on your preferences.
Summer, from December to February, is perfect for warm weather, long daylight hours, and vibrant vineyard scenes.
Autumn (March to May) offers a unique charm with colorful foliage and grape harvests in full swing, making it a favorite for wine lovers.
For those who prefer fewer crowds and cooler temperatures, spring (September to November) and early autumn are ideal. Keep in mind that Marlborough's weather can be changeable, so packing layers is a smart move no matter when you plan your visit.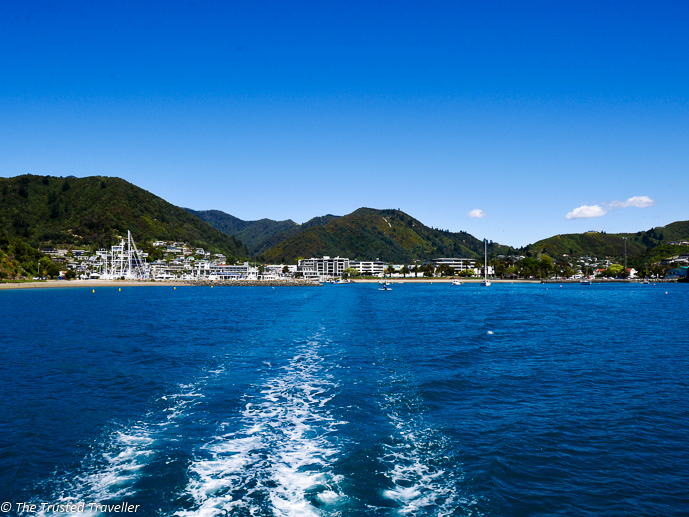 ---
Car Hire in Marlborough
Due to the fact that New Zealand is an island, most people visiting Marlborough will need to hire a car when they arrive to help with getting around.
For all my car hire bookings I use and recommend Hertz. I've found they offer the most comparable prices, let you search and compare multiple vehicle types and they have a great customer service team who can help if you come into any unexpected troubles.
You will find Hertz in all major airports around New Zealand, meaning no matter where you fly into, you should be able to find a good deal on car hire for your trip to Marlborough.
---
Accommodation in Marlborough
This itinerary is for 2 full days spent in the Marlborough region. So if you choose to follow it exactly, you will need a few nights accommodation.
There are plenty of different options for accommodation in Marlborough and the surrounding region with most of the best options being located in Picton and Blenheim.
Here are three accommodation options in both Picton and Belnheim to suit all budgets that I recommend you check out. All are centrally located, highly rated and come with excellent facilities.
Accommodation in Picton
Budget – The Villa
Mid-Range – Bay Vista Waterfront Motel
Luxury – Escape to Picton Boutique Hotel
Accommodation in Blenheim
Budget – Colonial Motel
Mid-Range – Nottinghill BnB
Luxury – Peppertree Luxury Accommodation
You can read all of my top picks for accommodation in Marlborough here.
Marlborough 2 Day Itinerary
Day 1 – Marlborough Sounds
The area collectively referred to as Marlborough Sounds comprises three main Sounds; Queen Charlotte, Kenepuru and Pelorous Sounds. These Sounds are basically valleys filled with water from the Pacific Ocean that were created by a combination of land subsidence and rising sea levels.
A best way to explore the Marlborough Sounds is to get out on the water. There are a big variety of cruises and kayaking trips you can take from the town of Picton, some of which also include hikes and wildlife and foodie experiences.
If you choose one of the options below and it doesn't take up the whole day, I highly recommend spending some of the rest of your day exploring Picton.
Picton is a charming little waterfront town. Take a stroll along the sounds, stop for a coffee and some sweets in one of the many lovely cafes and browse the small local stores. This could easily take you a few hours to truly enjoy this lovely little town.
Here are my top picks for experiences to enjoy the Marlborough Sounds for the day.
Queen Charlotte Sound Mail Boat Cruise from Picton
The most unique cruise on this list if by far this one. You'll board your cruise, a working mail boat, at Picton in the afternoon and spend the afternoon delivering mail, parcels and groceries to the remote residents that call these waterways home.
Onboard is lots of comfy seating inside and out and you'll have some of the best views of the Sounds as you listen the the commentary delivered by the skipper as they deliver from residence to residence.
Queen Charlotte Sounds Sightseeing Cruise
If you don't have a full afternoon to cruise the Marlborough Sounds, then this is next tour is a great option for you. Departing also from Picton, this 1.5 hour cruise you give the the highlights of the Sounds including Double Cove, Lochmara Bay and Onahau Bay.
Onboard you'll find plenty of inside and outside seating to relax and enjoy the view as you listen to the onboard commentary. Keep your eyes peeled for local wildlife, both in and above the water.
Marlborough Sounds and Ship Cove Cruise from Picton
This 3.5 hour cruise departing from Picton will allow you the opportunity to disembark the cruise at Ship Cover to explore a favourite anchorage of Captain Cook's. You'll also see all the sights of the 1.5 hour cruise above.
Again, keep your eye out for wildlife on this cruise as you enjoy the commentary from inside or outside the cruise.
Picton and Marlborough Sounds: Seafood Odyssea Cruise
Indulge a little further with this 3 hour cruise with not only allows you to enjoy the beauty of Marlborough Sounds but also enjoy a range of local seafood paired perfectly with a glass of local Sauvignon Blanc.
There is a licensed bar onboard for additional drinks and lots of places to enjoy the views while listening to the onboard commentary on this luxury cruise boat.
Cruise/Hike the Queen Charlotte Track
There are many great hikes in this region, but the one that is the most famous, for very good reason, is the Queen Charlotte Track.
The best way to experience the 15 kilometre hike is to have someone else transport you to the start and finish of the track.
This tour starts with a 1 hour cruise from Picton to Ship Cove where you will be shown the start of the track and can then, at your leisure, hike your way along the track.
The track climbs away from the beach as you pass through native forest regenerating beneath a high canopy of trees. You will then be able to admire stunning views of the sound when you reach Tawa Saddle. The track then drops into Resolution Bay and follows an old bridle path into Endeavour Inlet to Furneaux Lodge.
At Furneaux Lodge you will be collected by the boat to return to Picton by 6pm.
Kayaking the Marlborough Sounds
The serene waters of the Marlborough Sounds are the perfect place to explore by kayak. And there is no better way than to do it than on this guided tour where you'll get to see many beautiful bays with an experienced guide.
To start the tour you will be kitted out in your safety gear and given a quick paddling introduction, good for first timers or those who haven't kayaked recently.
Then you'll hit the water where the tour will take you to the best spots based on the conditions of the day.
There will be the chance to stop and stretch your legs at a secluded bay, have a picnic lunch and if the weather is warm enough, have a swim in the cool tranquil waters.
Half-Day Dolphin Eco-Tour from Picton
One of the best places in the world to spot dolphins in their natural habitat, because of the sunken river valleys, forested cliffs and sandy bay, is the Marlborough Sounds.
This half-day tour departs from Picton on a small boat cruise, meaning you'll be able to get to some spots that the larger boats can't, and these the spots where the dolphins can usually be found.
Keep your eyes peeled for dusky, bottlenose and orca dolphins frolicking in their natural environment as your expect eco guide takes you around the Marlborough Sounds in search of these majestic creatures.
Early Bird Eco-Cruise
Enjoy a boat ride from Picton out to Motuara Island, home to some of New Zealand's most vulnerable bird life.
Look for these rate birds as you explore the native flourishing bush and enjoy the peace and quiet of the island. You might get to see blue penguins, saddleback, robins and much more during your visit to the island.
Your expert guide will provide live commentary both on the boat and on the island to help you understand these creatures and give you the best chance of spotting them.
Day 2 – Exploring the Marlborough Wineries
The Marlborough region is famous the world over for its excellent varieties of Sauvignon Blanc wine. So, for wine lovers, taking a day out to explore some of the region's best is an absolute must.
Nestled at the northeastern tip of the South Island, this picturesque area boasts a temperate maritime climate and diverse terroir, making it ideal for grape cultivation.
Most celebrated for its signature Sauvignon Blanc, Marlborough's vineyards also produce outstanding Chardonnay, Pinot Noir, and other varietals. The region's distinct wines are characterised by vibrant fruit flavors, crisp acidity, and an unmistakable expression of their unique terroir.
A great way to spend your second day in the Marlborough region is by visiting the vineyards. While you could do this on your own in a car, someone will have to be the sober driver for the day, and where's the fun in that!
Taking a tour is by far the best way to visit the vineyards. Not only do you get a designated driver for the day, but you also get their local expertise on the best cellar doors to visit.
Here are a few of the best options for exploring the Marlborough wine region on a tour so no one in your group has to be designated driver for the day!
Hop-On Hop-Off Tour of the Wineries
Exactly as the name suggests, this tour, departing from Picton, allows you to make your own schedule by selecting the stops from a list of some of the finest breweries, gastronomic hubs, and vineyards in the region. There are 18 stops to take in so a little forward planning will help you out for the day.
Enjoy the freedom to stay as long or as little as you want at each stop and get tips from the knowledgeable drivers on where to hop-off next.
Marlborough Full Day Wine Tour
Spend a full day exploring the wineries of the Marlborough region with an expert guide. Sample the best wine in the region and enjoy a stop at a vineyard restaurant for lunch.
This tour leaves from Blenheim in a small group luxury mini-bus with guest comfort in front of mind. Your guide will tell you what is in store for the day and point out landmarks and explain why Marlborough grows such great grapes for wine making.
Marlborough Half-Day Wine Tour
If you don't have the full day to enjoy the wineries in Marlborough then this half day tour is perfect. Pick up in Picton in the late morning, you'll visit will be to five cellar doors, all of which are boutique family-run wineries.
Group sizes are kept small and you'll be transported between cellar doors in a luxury mini-van driven by an expert guide who will fill you in all everything there is to know about this popular wine making region.
Marlborough Full-Day Self-Guided Biking Wine Tour
Did you know that there are 12 wineries all within 3 kilometres of each other in the Marlborough region making this the perfect place for a self-guided biking tour from cellar door to cellar door.
Transfers from Blenheim to bike rental place are included and once you've got your bike, helmet and wine map, you are free for explore as little or as many wineries at your leisure. A great way to do this is also by picking up a picnic from one of the wineries to have on you ride.
Over to you!
Which of this Marlborough 2 day itinerary is top of your list?
Let me know using the comments section below or join me on social media to start a conversation.
Join my email list and get a FREE copy of my TRAVEL PLANNING TEMPLATE
My Travel Planning Template will make your travel planning simple & stress-free!