One of the most picture perfect regions of New Zealand, Lake Tekapo and its surrounds, lies roughly in the centre of the South Island between the sprawling plains of Canterbury and the towering mountains of the Southern Alps.
As there's an abundance of things to do in Lake Tekapo and surrounds, I suggest allowing yourself at least a few days (if not more) to explore everything the region has to offer. From picturesque lookouts, adventure sports and walks; there is something to suit everyone.
The Basin is 700 metres above sea level and reaches 100 km north to south and 40 km east to west. It's landscape is a stark brown in the summer and green during other times of the year with a sprinkling of snow during winter.
What brings most visitors to this must-see part of New Zealand is its famous powder blue lakes and direct access to Mt Cook. It's why we visited and why we fell in love with it. And not many other places we've visited have been quite so naturally beautiful.
Here are our suggestions on the top things to do in Lake Tekapo (and surrounds) to help get your travel planning started for the region.
Things to Do in Lake Tekapo
The Lakes
There are seven lakes in the Mackenzie Basin, four which are fed by the glaciers and three which are man-made hydroelectric lakes. The powdery blue hues of the areas most famous lakes are created by glacier flour, silt-sized particles of rock caused by erosion.
If you don't have time to explore them all then there are two that you shouldn't miss: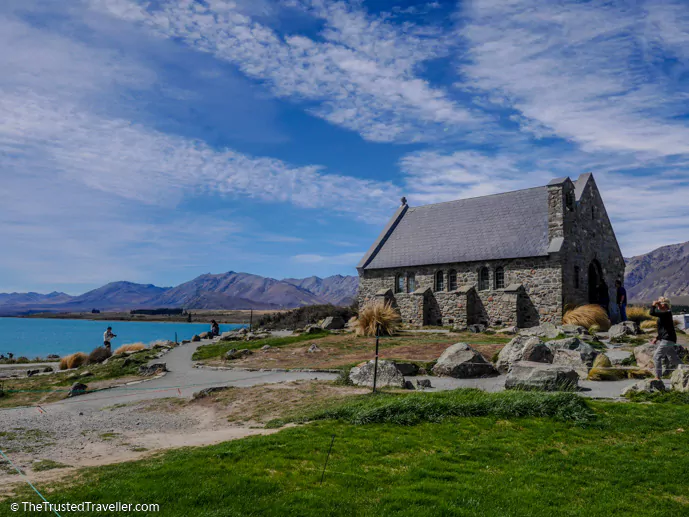 Lake Tekapo – One of New Zealand's most photographed lakes because of its powdery blue colour on blue sky day and because of the perfectly positioned Church of the Good Shepherd that lies on the southern edge of the lake. Built in 1935, this tiny church features an altar window that frames stunning views of the lake and mountains. you'll find many avid photographers trying to get that perfect shot of the church and the lake on a nice day.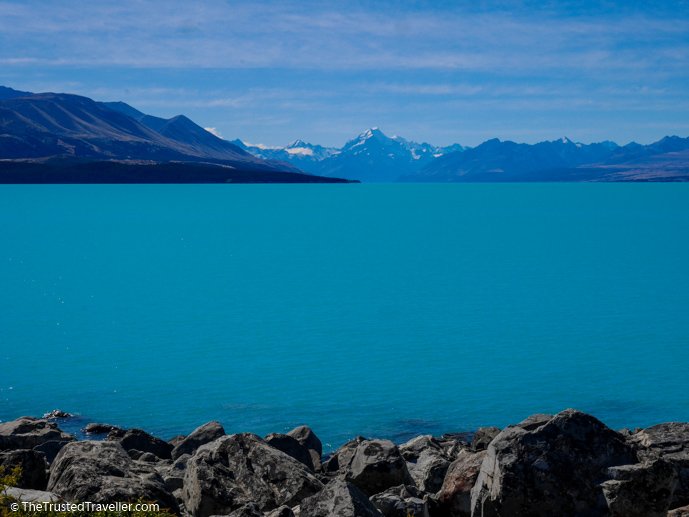 Lake Pukaki – Probably on of the most underrated of all the lakes on New Zealand's South Island. As you drive over the rise on the road from Tekapo, Lake Pukaki appears out of nowhere and stuns drivers to instantly slow from travelling at 100km/h to 60km/h. We found the colour of Pukaki to be more amazing than Tekapo but it's not just the colour that makes this lake so impressive, at the far north of the lake is New Zealand's tallest mountain, Mt Cook, in all its glory.
There are many lookout points and places to stop for photos around both of these lakes that each take full advantage of the incredible views and showcase that iconic water colour.
---
Aoraki Mt Cook Alpine Village
Just a 50 minute drive from the main highway at the southern end of Lake Pukaki is Aoraki Mt Cook Alpine Village, the most accessible point to New Zealand's highest peak.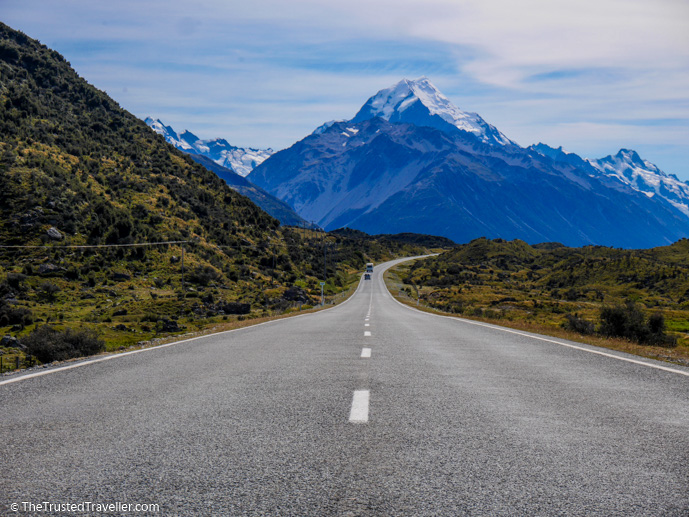 The drive out there is an attraction in itself with uninterrupted views of Mt Cook, the Southern Alps, glaciers and Lake Pukaki. There are plenty of safe spots to stop for photos along the way.
At the village you can learn more about the impressive mountain at The Sir Edmund Hillary Alpine Centre through a series of 2D, 3D and a Digital Dome Planetarium shows. There is also dozens of walks you can do ranging from short 10-15 minute walks up to full day hikes (read more about these below).
Address: The Sir Edmund Hillary Alpine Centre, The Hermitage, Aoraki Mount Cook Alpine Village
Cost: Explorer Pass allows access to all shows – Adult $20.00 | Child $10.00
Hours: Daily from 7:30 to 20:30 (summer) and 8:00 to 19:00 (winter)
More Information: http://www.hermitage.co.nz/
---
Walks
New Zealand is a walkers paradise and the Mackenzie Basin is no exception. There are dozens of walks you can do in the region and you could quite literally spend weeks there and not run out of paths to walk. Here are a few of the most popular that keen walkers won't want to miss:
Hooker Valley Track – This four hour walk crosses three swing bridges, offers great views from the Alpine memorial and ends at the glacier lake with amazing views of Aoraki Mt Cook, the Hooker Glacier and the Southern Alps.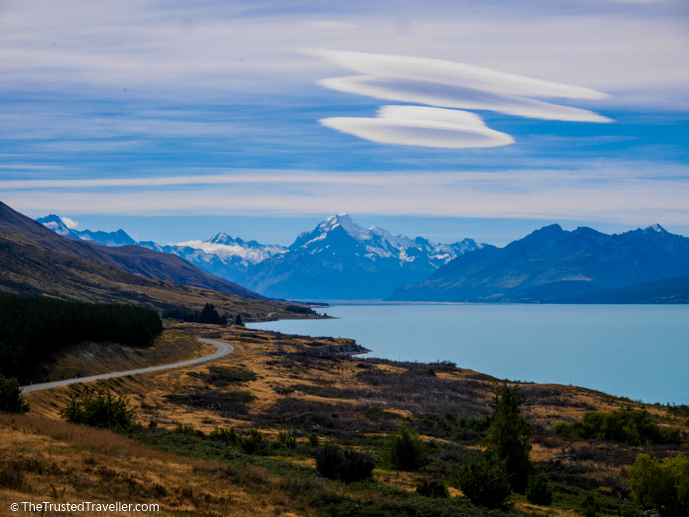 Lake Pukaki Track – This is a great walk for everyone as you can walk as far as you like along the lake and then turn back when you've had enough. It offers stunning views of the lake and of Aoraki Mt Cook in the distance.
Mt John Summit Track – Taking up to three and a half hours, this steep climb up Mt John to the Observatory offers very rewarding 360 degree views of Lake Tekapo and the surrounding Mackenzie Basin. Have a break at the cafe at the top.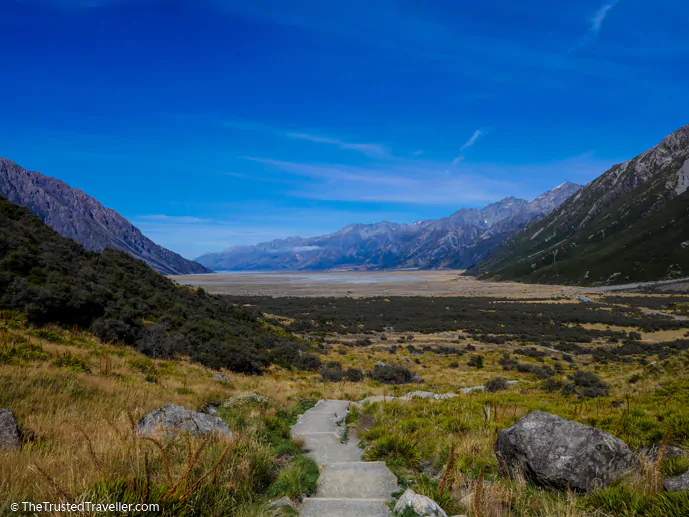 Tasman Glacier Lake – This one hour walk from the Tasman Valley carpark out near Aoraki Mt Cook Alpine Village takes you through the valley past the Blue Lake and and leads to a viewpoint of the glacier terminal lake. You'll see icebergs floating in the lake in summer, and in winter the lake freezes over.
---
View the Night Sky
Back in 2012 the Mackenzie Basin was named as on of the darkest places on earth, giving it the status of being a Dark Sky Reserve. This means that there is very little light pollution which allows for some incredible star gazing.
You can head up to the Mt John Observatory in Tekapo to make the most of it or just simply step outside after dark to see more stars than you could ever have imagined. The Milky Way will be fully visible on a clear night and in perfect weather conditions, the Southern Light (Aurora Australis) might even come out to play.
Address: Mt John Observatory, Godley Peaks Rd, Lake Tekapo
Cost: Tours of the Observatory – Adult $145.00 | Senior $135.00 | Child $80.00
Hours: 7 days a week each evening. Time vary depending on sunset.
More Information: http://www.earthandskynz.com/
---
Salmon Farm
Floating on glacier waters is just outside of the town of Twizel is the High Country Salmon Farm. Stop by to purchase the freshest salmon money can buy and a whole range of salmon products from pies, sushi, hot and cold smoked salmon, ready to cook salmon fillets or whole salmon.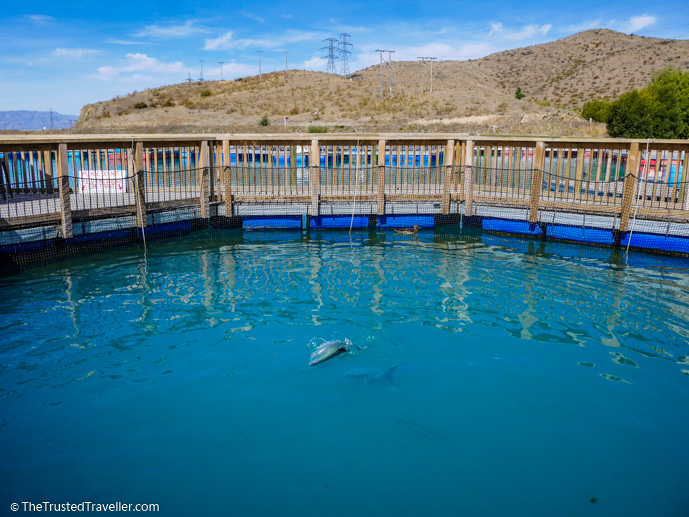 For a small donation you can also feed the salmon who almost jump out of the water to catch the incoming pellets. You can also sit out on the deck and admire the views with a coffee and a some fresh salmon products from the cafe.
Address: State Highway 8, just south of Twizel
Cost: Free to visit.
Hours: Daily 08:00 to 18:00
More Information: http://www.highcountrysalmonfarm.co.nz/
---
Where to Stay in Lake Tekapo
Lake Tekapo has a good variety of accommodation options to choose from. Here are few accommodation options in and around Lake Tekapo to choose from.
Budget – Tailor Made Tekapo Hotel
Mid-Range – Tekapo Lakefront Apartments
Luxury – Grand Suites Lake Tekapo
Over to you!
Which of these things to do in Lake Tekapo are you most keen to do? Have you been before? What did you love most about it?
Let me know using the comments section below or join me on social media to start a conversation.
Thanks for reading and I hope you enjoyed this post.
Join my email list and get a FREE copy of my TRAVEL PLANNING TEMPLATE
My Travel Planning Template will make your travel planning simple & stress-free!