Are you planning a trip to Wanaka and looking for the best tours to explore this stunning destination? With a plethora of outdoor activities and natural wonders to discover, it can be challenging to decide which tours to take. To help you plan your trip, I've put together a list of the best tours in Wanaka, so you can experience the town's beauty and adventure in the best way possible.
For adventure lovers, Wanaka is a dream come true. There are plenty of thrilling activities to choose from, such as jet boating, skydiving, and rock climbing. But for those who prefer a more relaxed pace, there are plenty of scenic tours that showcase the town's natural beauty. Whether you want to explore the stunning alpine scenery on a guided hike or take a leisurely cruise on the lake, there is something for everyone in Wanaka.
This post contains affiliate links. Our full disclosure policy is here.
The Best Tours in Wanaka
Cruising Lake Wanaka
Lake Wanaka is a stunning glacial lake which you can access from right in the heart of downtown Wanaka.
It is one of the largest lakes in the country, stretching over 42 km in length and surrounded by beautiful mountain ranges and one of the top attractions in Wanaka itself. The crystal-clear waters of the lake reflect the natural beauty of the surrounding landscape, making it a popular spot for photography and outdoor activities such as hiking, fishing, and kayaking.
To really enjoy the calm waters of Lake Wanaka, you'll want to take a cruise. Most cruises are short, so they won't take up too much of your time, usually ranging from 1-3 hours, some have a specific theme.
Here are a the best options available for a cruise on Lake Wanaka:
Jet Boating on the Clutha River
Jet boating in Wanaka is easy. Leaving from the Wanaka waterfront you will skim across shallow water, over sand bars, through rapids, and around rocks at speeds in excess of 80 kilometers per hour while taking in stunning snow-capped mountain views. And this is all just to get to the ultimate destination of this short tour.
You will then enter one of the world's swiftest-flowing rivers, the Clutha River where you will experience the iconic Hamilton Spin, a high-speed maneuver causing the boat to spin rapidly on the spot.
Your expert driver will raise your adrenalin, demonstrating the maneuverability of the jet boat and pushing it to its absolute limits, safely and skillfully navigating you on an unforgettable adventure.
Rock Climbing
The area surrounding Wanaka offers some of the best rock climbing opportunities in the Southern Hemisphere.
Choose from a 2 hour beginner waterfall cable climb or a 4 hour intermediate waterfall cable climb, depending on your fitness and skill level.
For both climbs, your adventure begins at Twin Falls Waterfall, located 20 minutes from Wanaka town. You will meet your guides, grab your helmets and harness and head over to our practice climb for your safety briefing.
On the beginner experience you'll have approximately 1 hour scaling vertical and horizontal rock climbs, crossing suspension bridges over pools and discovering hidden waterfalls. At the end of this trail, take the opportunity to stop for a small snack and drink, admiring the stunning panoramic views over farmland, mountains, and Lake Wanaka.
And on the intermediate route you will be climbing up 350m of vertical cliffs, crossing over blue pools, and braving suspension bridges. Take the opportunity to stop on a bridge next to a huge cascading waterfall for an unforgettable photo. When you reach the summit of the climb, relax at the base of the 60m waterfall for lunch.
Scenic Flight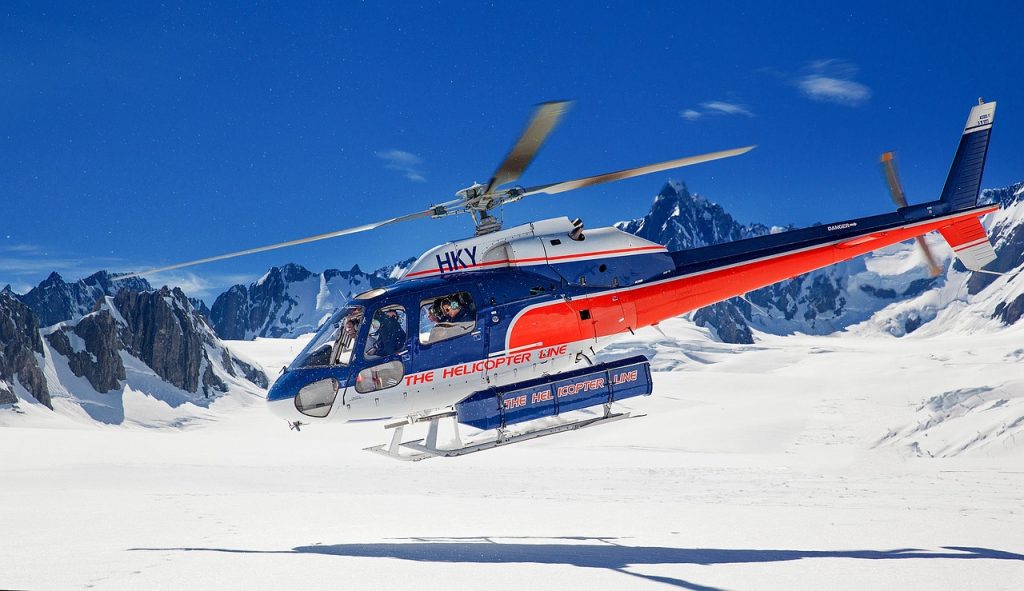 One of the best ways to see the stunning scenery around Wanaka and the Southern Alps is on a scenic flight.
From Wanaka you have two options, both are a bit pricy but for this once in a lifetime experience, I see it as a must-do when in this part of the world.
Option one is a 35 minute scenic flight with glacier landing. Soaring into the sky, fly over the tussock-covered hills of the farm and into the alps over remote mountain peaks, covered with deep, glacial-carved valleys. Gaze at the otherworldly landscape, with its deep blue chasms and stunning glacial caps. Landing high on a glacier overlooking the Alps, you'll enjoy a photo stop with guaranteed snow year round prior to returning to the hangar.
Option two is a 1 hour flight that includes not one but two glacier landings. As with option 1, you will fly over the tussock covered hills of the farm and into the Southern Alps over remote mountain peaks with deep glacial carved valleys and year-round glaciers. Get up close to Mt Aspiring, the highest peak in the country outside Mt Cook National Park. On a good day, you can see all the way to the ocean and all the way to Mt Cook. Enjoy 2 separate remote alpine landings with the opportunity to take photos with spectacular backdrops. For most of the year, one of the landings will be on snow (not guaranteed).
Skydiving
Admire some of New Zealand's most beautiful scenery and picturesque landscapes as you freefall from above at 200kph, sound like something you'd enjoy?
Your experience starts when you walk in the door and meet the awesome frontline crew. Receive a full briefing and gear up. Before you know it, you'll be meeting your tandem instructor and climbing into the plane for the incredible scenic flight to altitude.
During your 20-minute flight over the Southern Alps, your instructor will point out Mt. Cook, Mt. Aspiring, the Southern Alps, a number of lakes and the Clutha River.
Once you've reached your chosen altitude, it's time to leap. Experience the pure adrenaline rush of freefalling at 200kph above the stunning Central Otago landscape. After 25 to 60-seconds of freefall, catch your breath and enjoy the smooth flight under canopy safely back down to the drop zone.
Self Guided Bike Tour
Any place famous for the outdoors is best explored on a bike, so if you love to ride and can handle being on the saddle for 30km or so, then this is tour for you.
To begin your ride on one of the best bike trails in Wanaka, you'll jump on an included shuttle that will collect you from Wanaka Town Centre and take you to the neighbouring town of Hawea where you have the time to check out the village and grab a coffee.
Once you are caffeinated, it is time to jump on your bike and set off for the Hawea River Track. The easy riverside track has fantastic views of the surrounding mountains as you pass towns like Albert Town, where you can stop for a drink.
As you continue the path will take you along the Clutha River, which leads into Lake Wanaka. Before arriving back into Wanaka Town Centre, you'll ride along the lake, past the famous Wanaka Tree and other beautiful spots to stop and take in the breathtaking views.
The standard tour includes a normal bike, however if you don't fancy peddling all 30km, then you can upgrade to an e-bike to save your legs for all the hike you'll like be doing while in Wanaka.
Wine Tour
Located on the doorstep of the Central Otago wine region, Wanaka is a great place to experience some of New Zealand's best wine, and doing a tour will ensure everyone in your travelling group can enjoy a few drinks safely.
There are three wine tours in Wanaka on offer, all offering convenient local accommodation pick up and drop off, included tastings and a small amount of local food to taste as you visit each winery.
Check out more about each of the tours below by clicking on the links:
Accommodation in Wanaka
Wanaka has a tonne of luxury apartments and chalets being a ski resort town. But there are also plenty of other options nearby to town and the lake that you can look at too. These three are all walking distance to town and the lake.
Budget – Wanaka Backpackers Bothy
Mid-Range – Wanaka View Motel
Luxury – Lakeside Apartments
Over to you!
Which of these best tours in Wanaka you looking forward to the most?
Let me know using the comments section below or join me on social media to start a conversation.
Thanks for reading and I hope you enjoyed this post.
Join my email list and get a FREE copy of my TRAVEL PLANNING TEMPLATE
My Travel Planning Template will make your travel planning simple & stress-free!