A visit to Queenstown offers visitors a diverse range of things to do in the city itself, but it is also an excellent gateway to the incredible surrounding area. Within easy reach you will find some of the best day trips on New Zealand's South Island.
There are lots of day trips from Queenstown you can take if you base yourself in this picture perfect city for a few days. Some close by, while others will take you on great full day adventures to see some of the most spectacular sights New Zealand has to offer.
Each of these Queenstown day trips offers visitors something different, from refreshing hikes in the wilderness, to tasting and shopping for locally grown and made products, unique wildlife encounters, precious relaxation time and finally, views so spectacular they will rival anywhere in the world.
I've created this list to help you pick a day trip from Queenstown that best suits your interests. It is ordered by distance from Queenstown with the closest and easiest day trips first, running through to day trips that are more like road trips from Queenstown.
This post contains affiliate links. Our full disclosure policy is here.
The Best Day Trips from Queenstown
Arrowtown
Distance: 19km | 19 minutes drive
Arrowtown is a charming village just outside of Arrowtown situated on the Arrow River. This former gold mining town from the 1860's still closely resembles what it looked like back then.
In town you will find over 70 buildings from the gold rush era and the remnants of the Chinese miners village from 1928.
While in town, make sure you take a wander up the main street, checking out the stores selling locally made goods and heading down to the Arrow River for stroll in the very pretty spot.
If you don't have your own transport to get to Arrowtown, then there is a great tour you can take from Queenstown. This half day self-guided bike or e-bike tour will allow you to take in the spectactular scenery on the way to Arrowtown as well as time in Arrowtown to explore this pretty little village.
Glenorchy
Distance: 46km | 41 minutes drive
Located at the northern tip of Lake Wakatipu, the drive to Glenorchy is one of the most scenic on this list of the best days trips from Queenstown.
Wind your way along the side of the lake with towering mountains in all directions, with one stunning after another as you round each corner.
Aside from the drive, Glenorchy is famous for two things. Firstly, it is the starting off point for the popular 32km Routeburn walking track. But most famously it is known as the real life Middle Earth from the Lord of the Rings Movies.
The best way to enjoy Glenorchy and it famous movie history is on a tour from Queenstown. Not only does someone else do the driving for you, but you'll also get taken directly to some of the most famous spots for movie buffs in the region. Check out some of these tours for more details:
Cardrona
Distance: 45km | 45 minutes drive
Whether you are in Queenstown in winter or summer, you will find a day trip to Cardrona offers lots for visitors to see and do.
In winter, hit the slopes of the popular Cardrona Alpine Resort where you will find skiing and snowboarding experiences for all ages, including lessons and more experienced runs for those who already know how to ski. A must do when visiting this popular ski resort is to take the gondola to the top of the mountain and get back down on the sun snow tubes.
Grab your ski, snowboard and gondola passes in advance as this is a very popular ski field for locals and visitors. Options are below:
During summer when the snow has cleared, Cardrona turns into the perfect spot nearby to Queenstown for mountain biking and hiking. There are both bike and hike trails for all experience and fitness levels.
The final must do when visiting Cardrona at any time of year is to stop in at the historic Cardrona Hotel. Established in 1863, this pub is set in scenic grounds and is the perfect spot for lunch or a drink or two after a long hike or bike ride.
Central Otago Wine Region
Distance: 55km | 50 minutes drive
In my humble opinion, some of the best wines in the world can be found just outside of Queenstown in the Central Otage Wine Region.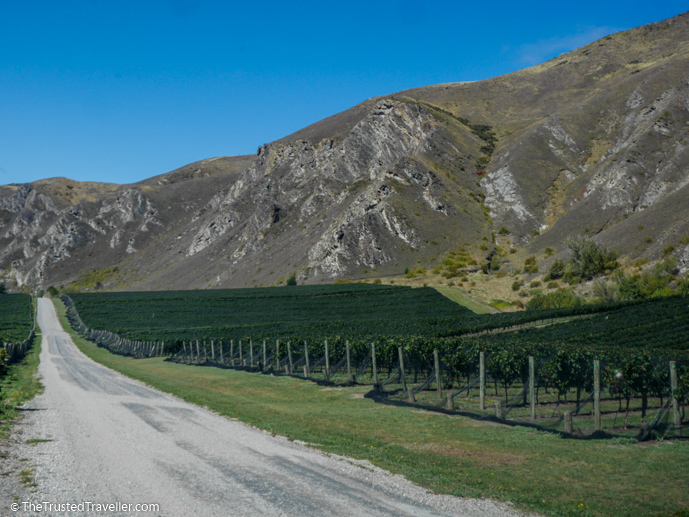 There are more than 80 wineries spread across the region with the specialties being Pinot Noir and crisp cool climate Chardonnay.
The best way to visit the best of the best wineries in Central Otago is on an organised tour. Being on a tour means you don't have to sip in moderation and your guide will know the best places to take you based on your personal preferences. Here are a few great options for tours, both half and full day, some including a delicious meal made with local ingredients.
The wineries are fairly spread out so if you decide to go it alone, without a tour when I suggest you focus on one area for the day. Choose from the Gibbston Valley, Bannockburn, Cromwell, Alexandra and Clyde areas.
Wanaka
Distance: 69km | 1 hour 5 minutes drive
If you don't have a few days to spend in Wanaka (which is what I highly recommend, then a day trip to Wanaka from Queenstown will give you a glimpse of this simply stunning resort town.
This breathtaking town located on the lake of the same name is a great place to visit for more than just the famous tree that has photographers flocking from around the world to capture.
Get out on the lake on a boat tour to really see the region in all of its glory and explore one of the many islands in the lake. (Check out this Ruby Island cruise and photo walk or this Stevensons Island cruise and nature walk.)
For a big more adventure, Wanaka is home to some of New Zealand's best day hikes including the half day climb up Roy's Peak and walks around the lake.
Don't miss out having a wander through the charming lakeside town too. You will find a tonne of great cafes, restaurants and bars, with some of the best food in New Zealand being found in Wanaka.
Read more about all the things to do in Wanaka here, the best tours in Wanaka here and where to stay in Wanaka here. Or check out my comprehensive Wanaka Itinerary here.
Mt Aspiring National Park
Distance: 130km | 1 hour 50 minutes drive
New Zealand's third largest National Park at over 3.500 square kilometres, Mt Aspiring National Park is a hiking and nature lovers paradise and an easy day trip from Queenstown.
Within the park there are over 100 glaciers with lakes and rivers being fed off the glacial water making this a great spot for jet boating, canoeing, rafting, ice climbing and canyoning. If canyoning is your thing, then check out this full day adventure tour from Queenstown.
If you have limited time to see Mt Aspiring National Park and its spectacular glaciers, then this 50 minute helicopter tour will let you experience the incredible views as well has enjoy an exhilarating landing on the glacier.
Doubtful Sound
Distance: 172km | 2 hours 10 minutes drive to Manapouri
While Milford Sound might be the more famous of the fiords in Southern New Zealand, Doubtful Sounds packs its own punch of spectacular views, wildlife encounters and awe inspiring moments. Not to mention it is bigger in size too!
It is an adventure in itself getting to Doubtful Sound with a two hour stunning drive to start your journey, before boarding a cruise in Manapouri to cross crystal clear Lake Manaoouri. You'll then need to board another bus to take you through some of Fiordland National Parks, most dense rainforest as you cross the Wilmot Pass.
When you reach Deep Cove you'll board a catamaran for an almost three hour cruise exploring the waterways of the spectacular Doubtful Sound. During the cruise, keep your eye out for the local wildlife, dolphins, seals and penguins are often spotted frolicking this stunning waterway.
If you book this full day tour from Queenstown to Doubtful Sound, it means no one in your group has to be the driver and everyone can sit back, relax and truly enjoy the journey to one of the most incredible corners of the world.
Aoraki Mt Cook
Distance: 265km | 3 hours 10 minutes drive
If you don't have enough time to make it to Mt Cook for a few days during a visit to New Zealands South Island, then the next best option is a day trip from Queenstown.
Aoraki (Mount Cook) is the highest peak in New Zealand and is located north of Queenstown in the Southern Alps. The surrounding National Park is a prime location for adventure lovers with some of New Zealand's best walks to be found in the park.
It is a long day visiting Aoraki on a day trip from Queenstown but it is worth every second, especially if you do it with an expert guide who can drive you everywhere and point out all of the best stops along the way (including more LOTR sites).
There is one main group tour you can do from Queenstown to Aoraki. This tour includes a stop at Roaring Meg Lookout, traverses the majestic Lindis Pass, breathtaking views of Lake Pukaki and hiking on the Hooker Valley Track for views of the Hooker Lake, Glacier and Aoraki Mt Cook itself.
If you are visiting from November to January you may be lucky enough to catch the spectacular Lupin fields along the lakes and get that iconic photo with Mount Cook in the background you've probably seen all over Instagram.
Read more and book the Aoraki Mt Cook tour from Queenstown here.
Milford Sound
Distance: 287km | 3 hours 30 minutes drive
Last but most certainly not least is awe inspiring Milford Sound. Known the world over as one of the most breathtaking fiords in the world and visited by over half a million people each year.
The drive to Milford Sound is nothing short of amazing, but also a little hairy at times. The weather changes rapidly in this part of the world. I could be warm and sunny when you leave Queenstown, and in Milford Sound it could be snowing with ice all over the road. This is why I recommend you let the experts take you on this amazing journey. Leave the car in Queenstown for the day take a tour instead.
There are three main tour options you can take, I've laid out the benefits and inclusions of each one below.
Option 1: Full Day Bus & Boat Tour – This tour gives you the best of everything. Photo stops at the Eglinton Valley and Mirror Lakes, a two hour cruise on the fiord and a comfy big coach with an expert driver and guide to navigate you safely there and back. This is also the most cost effective option. The downside in my opinion is that it is a large coach with limited flexibility on the stops and route. Check out this tour here.
Option 2: Full Day Small Group Minivan & Boat Tour – This tour includes everything from option one, except you'll be travelling in a 16 seat minivan which can pull over to the side of the road for photo stops at any time. It is more personalised to the group travelling that day while also still including the two hour cruise and wildlife spotting plus get away from the crowds with a wildlife rainforest walk as well. It is only slightly more expensive than option 1 too. Check out this tour here (my top pick for a trip Milford Sound).
Option 3: Five Hour Plane & Boat Tour – If you don't have a full day to explore Milford Sound and you have a bit of extra cash to spend then this is the tour for you. The tour starts with a 40 minute scenic flight from Queenstown to Milford Sound taking in the spectacular views from above of the lakes and mountains below. You'll then enjoy a two hour cruise on the fiord before returning on the same flight back to Queenstown. While this is a pretty special tour, you do miss out on the drive through the rainforest which is an adventure in itself. Check out this tour here.
Whichever option you choose for visiting Milford Sound from Queenstown, it is sure to blow your mind with just how spectacular this corner of the world really is.
---
Car Hire in Queenstown
Due to the fact that New Zealand is an island, most people visiting Queenstown will need to hire a car when they arrive to help with getting around to see everything and taking some of these day trips.
For all my car hire bookings I use and recommend Hertz. I've found they offer the most comparable prices, let you search and compare multiple vehicle types and they have a great customer service team who can help if you come into any unexpected troubles.
---
Tours in Queenstown
Maybe you don't have time in your itinerary to leave Queenstown on a day trip or you only have one day in Queenstown to explore. There are plenty of tours in Queenstown to keep you busy during your visit no matter how long or short your visit may be.
From jet boating to more sedate lake cruises, this selection of tours will give you plenty to choose from and have you feeling more acquainted with this lovely mountain town by the time you leave.
Queenstown Sightseeing Tours
With Queenstown being located on beautiful Lake Wakatipu completely surrounded by mountains, the best way to take it all in is with a cruise. This half day cruise on the TSS Earnslaw with a gourmet BBQ at Walter Peak is the perfect way to become quickly acquainted with Queenstown and all of its glory.
Active Queenstown Day Tours
If you like a bit more action mixed in with your sightseeing then you can't miss out on a jet boat ride on the Shotover River through the canyon of the same name. This is a short one hour tour that takes you through the canyon for the ultimate adrenaline rush as the jet boat makes 360° spins at high speed through narrow channels and spectacular scenery.
---
Where to Stay in Queenstown
Here are three accommodation options to suit all budgets that I recommend you check out. All are centrally located, highly rated and come with excellent facilities.
Because of the spread of Queenstown city centre, most places to stay have easy walking access to town and Lake Wakatipu.
Budget – Adventure Queenstown Hostel
Mid-Range – Copthorne Hotel & Apartments Queenstown Lakeview
Luxury – Hilton Queenstown Resort & Spa
Or check out my other post with a full list of places to stay in Queenstown here.
Read More About Queenstown
Over to You!
Which of these day trips from Queenstown are you most egar to do?
Let me know using the comments section below or join me on social media to start a conversation.
Thanks for reading and I hope you enjoyed this post.
Join my email list and get a FREE copy of my TRAVEL PLANNING TEMPLATE
My Travel Planning Template will make your travel planning simple & stress-free!