This Queenstown itinerary will help you decide how best to spend your time when exploring this absolutely breathtaking part of New Zealand's South Island.
5 days in Queenstown will give you enough time to see and do all of the highlights in and around this picture perfect mountain town. If you have less or more than 5 days in Queenstown, then use this itinerary as a guide and pick out the activities that will suit the length of your visit.
Included are all the main attractions plus day trips to some of the most spectacular parts of the region. I've also included alternative options for some days and a few Queenstown accommodation options which are centrally located allowing you to be on foot around town in the evenings.
Best Time to Visit Queenstown
Queenstown is a year round town. But determining what you want to do on your trip will help you decide which time of year is best for you next visit.
The best weather to enjoy Queenstown is during the summer months (December to February) when temperatures are warmer and sky's are clearer. However, those times can also be very busy.
Shoulder season, March to May and October to November can also be quite pleasant weather wise and you'll find less crowds. The skies may be a little more cloudy, but in my experience, this kind of adds to the atmosphere of being in New Zealand.
If you're also looking to enjoy winter activities as part of your trip to Queenstown, then June to September will allow you to do just that. You'll find lots of fresh snow on the mountains and open fireplaces to retire to in the evening.
Car Hire in Queenstown
Due to the fact that New Zealand is an island, most people visiting Queenstown will need to hire a car when they arrive to help with getting around. Although, with this itinerary, a car is not completely necessary if you utilise some of the tours I mention below.
For all my car hire bookings I use and recommend Hertz. I've found they offer the most comparable prices, let you search and compare multiple vehicle types and they have a great customer service team who can help if you come into any unexpected troubles.
Accommodation in Queenstown
There are plenty of different options for accommodation in Queenstown with most of the best options being located in the town centre near the waterfront of Lake Wakatipu.
Here are three accommodation options to suit all budgets that I recommend you check out. All are centrally located, highly rated and come with excellent facilities.
Budget – Adventure Queenstown Hostel
Mid-Range – Copthorne Hotel & Apartments Queenstown Lakeview
Luxury – Hilton Queenstown Resort & Spa
Or check out my other post with a full list of places to stay in Queenstown here.
5 Day Queenstown Itinerary
Day 1 – Check out the town and lake
Welcome to Queenstown, one of the most beautiful towns in New Zealand, if not the world!
Queenstown is a relatively small town so getting around on foot for day one will be easy.
Skyline Gondola
Usually the mountains are more free from clouds in the morning, so get yourself straight up on the Skyline Gondola for the best views in Queenstown.
The gondola glides up 480 metres up Bob's Peak offering stunning 220 degree views of the town, the Remarkable mountains and Lake Wakatipu. Then at the top you can enjoy the view even more from the viewing deck or restaurant.
Once you have checked out the view and maybe had a drink or something to eat at the restaurant, you have two options on how to get back down into Queenstown.
You could simply jump back on the gondola for a nice relaxing journey back down. Or you can choose to ride the Luge. Open to all-ages, the purpose built carts will take you down the mountain through 1,600 metres of banked corners, tunnels and dippers. It is a trilling ride that might make you want to do it over and over again.
For more information about the Queenstown Gondola and Luge, check out their website.
Cruise Lake Waikatipu
Once you've recovered from your trilling Luge ride back down the mountain, make your way to the waterfront for a different view of Queenstown, this time from a boat on the lake.
Leaving from the Steamer Wharf Dock a few times a day is the over 100 year old TSS Earnslaw, which has carried many famous visitors in its time such as Queen Elizabeth and Bill Clinton.
With this itinerary in mind you have a few options, there is a daily 11am or 1pm cruise which takes 1.5 hours. You can also couple this cruise with a stop for either a BBQ lunch or a guided farm tour, both at Walter Peak, the latter being a great option is you are travelling with kids.
The views from the cruise are just absolutely spectacular looking back at Queenstown as you leave the dock and the Remarkables and other mountain ranges framing the town. Make sure you find time to have a quick explore of the impressive ship too.
All three of these tours sell out days in advance, so it is my recommendation that you book in advance to avoid missing out. Below are links to find out more about each tour and to make a booking.
Explore the Waterfront and Town
For the remainder of the day, I suggest taking a walk around the waterfront and the town.
The waterfront in Queenstown is littered with charming buildings that house, restaurants, cafes, bars and boutique shops. Spend a bit of time watching the boats come and go, browsing through the shops and grabbing a bite to eat if you didn't take up the BBQ lunch on the cruise.
Check out Queenstown Beach, while not a beach most would usually swim at due to the water temp being a bit chilly, it is a pretty spot to stop for a short break.
Next head into the town centre for a bit of exploring and to help you get your bearings for the next few days. Shotover Street is a great place to start as it leads away from the waterfront and into town. On Shotover Street, check out Fergburger, one of the most famous burger joints in the world for a simple, fresh and delicious burger. They also do great coffee and other snacks.
Once you hit Camp Street, turn right and head down Beach Street where you will find a nice range of boutique shops, restaurants and a brewery.
When you get back towards the waterfront at Rees Street, turn left and head to The Mall, this is the main shopping street in the town centre. Again, here you will find more boutique shopping, plus a big range of adventure shops, restaurants, bars and cafes.
Two stops on The Mall I highly recommend are The Winery, which is a cosy place where you can taste wines from all over New Zealand while sitting in front of a fireplace eating a cheese board. If you are a bit more hungry, then check out Joe's Garage, an American style diner with hearty and delicious food.
Day 2 – Scenic drives nearby
Fuel up ready for a big day of scenic drives around Queenstown.
There are a few great drives to choose from which I will detail below. You could easily fit them all in one day or if you'd prefer to go at a more leisurely pace, pick the one or ones your prefer and relax and enjoy the day. If you don't have a car, I've also included a few tour options you might like to check out instead.
Glenorchy
The spectacular drive out to Glenorchy takes about 40 minutes from the centre of Queenstown and follows Lake Wakatipu the whole way, twisting and turning around the lakes edge.
Glenorchy itself is a quaint tiny town with a cafe or two, traditional pub and a few other shops worth a look. The area is most popular for being the gateway to some of the best hiking trails in New Zealand, like the Routeburn Track, and Middle Earth, a fictional place in the Lord of The Rings movies.
Don't have a car to get to Glenorchy? No worries, there are two great tours you can choose for the make the most of your visit.
Arrowtown
Just a short 25 minute drive from Queenstown is gorgeous little Arrowtown. This historic old gold mining town has over 60 historic buildings still standing, some of which can be seen on a walk down the charming main street which is now lined with cafes and local artisan stores.
Make sure you also venture away from the main street towards the river to see the Historic Chinese Settlement, which was where the Chinese settled during the 1860's gold rush.
If you are feeling a bit more adventurous, then you can also take a self-guided bike tour from Arrowtown to Queenstown. A shuttle will pick you up in Queenstown and take you on the 25 minute drive to Arrowtown where you will have time to explore the town before taking a slow 4 hour ride back to Queenstown. On the ride you will pass rivers and lakes for a very scenic ride. Check out more details of this tour here.
Wanaka
While I highly recommend fitting in a few days to visit Wanaka, if you don't have the time, then a day trip to Wanaka from Queenstown will give you a glimpse of this simply stunning resort town.
This breathtaking town, just over an hour drive from Queenstown is located on the lake of the same name is a great place to visit for more than just the famous tree that has photographers flocking from around the world to capture.
Get out on the lake on a boat tour to really see the region in all of its glory and explore one of the many islands in the lake. (Check out this Ruby Island cruise and photo walk or this Stevensons Island cruise and nature walk.)
For a big more adventure, Wanaka is home to some of New Zealand's best day hikes including the half day climb up Roy's Peak and walks around the lake.
Don't miss out having a wander through the charming lakeside town too. You will find a tonne of great cafes, restaurants and bars, with some of the best food in New Zealand being found in Wanaka.
Read more about all the things to do in Wanaka here, the best tours in Wanaka here and where to stay in Wanaka here. Or check out my comprehensive Wanaka Itinerary here.
Day 3 – Day trip to Milford Sound
Day 3 will be a big day so make sure you have sorted out some on-the-go breakfast the night before so you are ready to go bright and early.
Milford Sound is a breathtaking natural wonder located on the southwest coast of New Zealand's South Island. Often described as the "eighth wonder of the world," this fiord is known for its majestic peaks, cascading waterfalls, and crystal-clear waters that reflect the surrounding mountain ranges.
Milford Sound offers a variety of outdoor activities, such as kayaking, hiking, and scenic cruises, providing visitors with an unforgettable experience of the untouched natural beauty of New Zealand. The area is also home to a diverse range of flora and fauna, including penguins, dolphins, seals, and a range of bird species.
The 280km drive to Milford Sound is nothing short of amazing, but also a little hairy at times. The weather changes rapidly in this part of the world. It could be warm and sunny when you leave Queenstown, and in Milford Sound it could be snowing with ice all over the road. This is why I recommend you let the experts take you on this amazing journey. Leave the car in Queenstown for the day take a tour instead.
There are three main tour options you can take, I've laid out the benefits and inclusions of each one below.
Option 1: Full Day Bus & Boat Tour – This tour gives you the best of everything. Photo stops at the Eglinton Valley and Mirror Lakes, a two hour cruise on the fiord and a comfy big coach with an expert driver and guide to navigate you safely there and back. This is also the most cost effective option. The downside in my opinion is that it is a large coach with limited flexibility on the stops and route. Check out this tour here.
Option 2: Full Day Small Group Minivan & Boat Tour – This tour includes everything from option one, except you'll be travelling in a 16 seat minivan which can pull over to the side of the road for photo stops at any time. It is more personalised to the group travelling that day while also still including the two hour cruise and wildlife spotting plus get away from the crowds with a wildlife rainforest walk as well. It is only slightly more expensive than option 1 too. Check out this tour here (my top pick for a trip Milford Sound).
Option 3: Five Hour Plane & Boat Tour – If you don't have a full day to explore Milford Sound and you have a bit of extra cash to spend then this is the tour for you. The tour starts with a 40 minute scenic flight from Queenstown to Milford Sound taking in the spectacular views from above of the lakes and mountains below. You'll then enjoy a two hour cruise on the fiord before returning on the same flight back to Queenstown. While this is a pretty special tour, you do miss out on the drive through the rainforest which is an adventure in itself. Check out this tour here.
Whichever option you choose for visiting Milford Sound from Queenstown, it is sure to blow your mind with just how spectacular this corner of the world really is.
Day 4 – Do something adventurous
Queenstown is known as the adventure capital of New Zealand (some even say the world!), so if you are that way inclined (slightly crazy!) then you must have a go at one or more of the adventure activities on offer in and around Queenstown.
There are a tonne of adventure activities in Queenstown to choose from. I've even written a whole post about them, you can check it out here. To help you decide, I have outlined a few of the best and most popular below.
Depending on which activity you choose will depend on if you need to full day to do it or not. Some will only take a few hours so you might even be able to fit in 2 activities in one day!
Jetboating
Climb aboard a purpose built jet boat for a one hour scenic, yet trilling ride on Lake Waikatipu and through the Shotover and Kawarau River gorges at speeds of up to 95 kilometres per hour.
While onboard you will experience 360° spins in narrow canyons while (trying!) to take in the magnificent scenery of the surrounding Remarkables mountains and towering canyons above.
Read more about Jetboating in Queenstown and book this activity here.
Sky Diving
In my opinion, a sky dive in Queenstown is a must because the scenery surrounding is some of the best in the world.
You have a few options for tandem sky diving in Queenstown ranging from a 9,000 to 12,000 feet. Either option you'll be free falling through the sky for up to 25 exhilarating seconds at up to 200 kilometers per hour before gliding your way safely back to land.
During the dive you'll have absolutely spectacular views of the mountains and lakes around Queenstown that very few people will ever get to experience.
Read more about Sky Diving in Queenstown and book at skydive here.
Bungy Jump
There are only a few places in the world that can rival Queenstown for bungy jumping action, with not just one but three bungy experiences to choose from not far from town.
At Kawarau Bridge you will jump from the 43-meter-high suspension bridge and enjoy a thrill like no other, with stunning scenery of the valley around and below. Read more and book here.
The Nevis is the highest of the bungy jumps in New Zealand. It will have you falling 44 stories, with a thrilling 8.5 second free fall, towards the bottom of the gorge. Read more and book here.
And finally at The Ledge you can choose from a Jump Menu if you are feeling a bit more daring. The views from this one look out over Queenstown, 400m below. Read more and book here.
Canyon Swing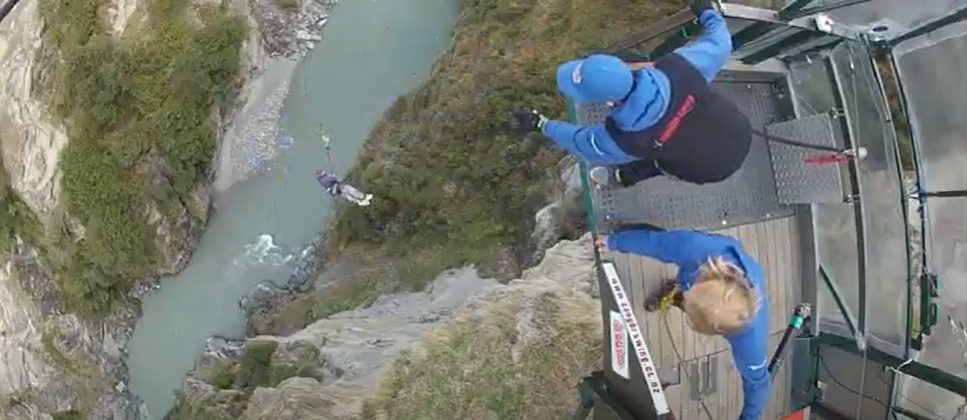 Similar to a bungy jump, the difference with a canyon swing is that instead of just jumping straight down, you'll be launched off the platform and swung over the canyon below. Even more frightening in my mind!
There are three swing opportunities in Queenstown, the first being the Nevis Swing which has a 70 metre drop into a canyon with a 300 metre arc with a platform 160 metres above the ground. Read more and book here.
Like The Ledge Bungy, there is a swing at the same location with the same spectacular views 400 metres above Queenstown. Read more and book here.
And finally, the most popular of all Canyon Swings in Queenstown, the Shotover Canyon. Reach speeds of up to 150km per hour as you jump from the 109 metre platform into the Shotover Canyon. Here you can choose for up to 70 jump styles, so there is something for all the dare devils out there. Read more and book here.
More adventure activities in Queenstown can be found in my full post here.
Day 5 – Check out the Wineries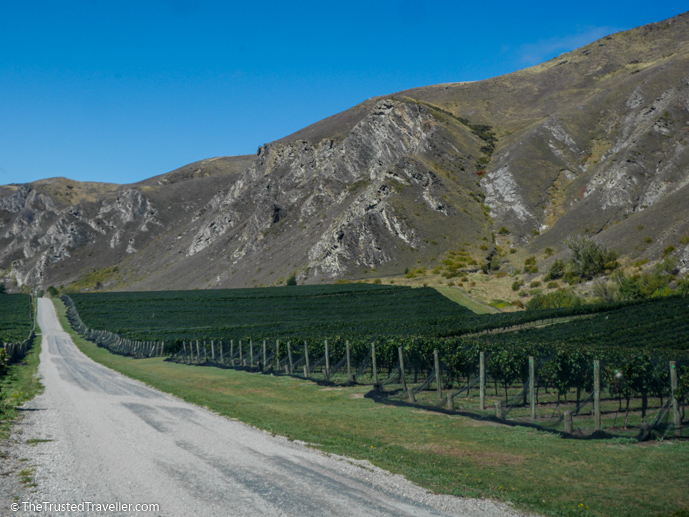 A day of wine tasting is one of my favourite things to do when travelling to a region that has great wine. And Queenstown just so happens to be one of those regions!
In my humble opinion, some of the best wines in the world can be found just outside of Queenstown in the Central Otage Wine Region.
There are more than 80 wineries spread across the region with the specialties being Pinot Noir and crisp cool climate Chardonnay.
Unless you have a sober driver in your group, the best way to visit the best of the best wineries in Central Otago is on an organised tour. Being on a tour means you don't have to sip in moderation and your guide will know the best places to take you based on your personal preferences. Here are a few great options for tours, both half and full day, some including a delicious meal made with local ingredients.
The wineries are fairly spread out so if you decide to go it alone without a tour then I suggest you focus on one area for the day. Choose from the Gibbston Valley, Bannockburn, Cromwell, Alexandra and Clyde areas.
More Than 5 Days in Queenstown?
This is already a pretty packed itinerary with lots of different things to see and do in and around Queenstown. Should you wish to extend your stay in Queenstown or in the South Island of New Zealand for a few more days (or more!), then these posts will help you do just that.
9 Best Day Trips from Queenstown
The Best Queenstown Adventure Activities
The Spectacular Drive from Franz Josef to Queenstown
Christchurch to Queenstown Road Trip Itinerary
Two Week New Zealand South Island Road Trip Itinerary
---
Over to you!
Which part of this Queenstown Itinerary are you most looking forward to doing?
Let me know using the comments section below or join me on social media to start a conversation.
Thanks for reading and I hope you enjoyed this post.
Join my email list and get a FREE copy of my TRAVEL PLANNING TEMPLATE
My Travel Planning Template will make your travel planning simple & stress-free!