Whether you're planning a weekend getaway or a longer stay, choosing where to stay in Queenstown can make all the difference in making your trip a memorable one.
In this post we will explore the various accommodation in Queenstown to help you find the perfect place to stay during your visit.
From luxury hotels to budget friendly hostel, I've got you covered! I'll break this post down by type of accommodation and give you multiple options in each section so you know what is the best Queenstown accommodation for you.
So, let's dive in and discover where to stay in Queenstown.
This post contains affiliate links. Our full disclosure policy is here.
Hostels $ – $$
Hostels are by far my preferred type of accommodation, especially when travelling for longer periods of time.
Hostels can come in many shapes and sizes but generally they are great value for money and give you the chance to meet other like-minded travellers.
Rooms range from multi-bed dorms with shared facilities to twin/double/family rooms with private bathrooms.
Expect a guest kitchen that you can cook meals in, a laundry, a communal area of sorts to hang out with other travellers and helpful staff who know where all the best and cheapest places to eat and drink are.
The biggest misconception with hostels is that they are only for young people and backpackers. But things have change a lot over the last 10 years and hostel are now a haven for cheap, clean and comfortable accommodation for all ages.
Over the years, I've stayed in hostels that are fancier than some hotels. Spacious rooms, comfy bedding and lots of free facilities make them a very attractive offering.
No more should you discount this option as viable just because you don't fit into the hostel stereotype.
Here are three hostels for a cheap stay in Queenstown that are all centrally located making it easy for you to get around on foot.
YHA Queenstown Lakefront
Located right on Lake Wakatipu with stunning views of the lake and mountains on your doorstep, YHA Queenstown Lakefront is a great choice if you want to be slightly outside of town but still be within walking distance.
It is an easy 10 minute walk along the lake into town which would never get boring with the views you'll experience as you meander along.
The hostel features a shared fully equipped kitchen, spacious common areas with stunning lake views, open fireplace, BBQ area for the warmer months and free movies and board games to keep you entertained after a big day out sightseeing. You'll also be able to access the free wi-fi throughout the hostel.
Rooms range from ensuite queen/twin rooms to triple share, or 4, 6 or 8 bed dorms. Some of the rooms even have those stunning lake views I mentioned earlier.
Haka Lodge Queenstown
Prefer to be a bit closer to town? Then the Haka Lodge is a great choice for you. Located in a quiet street on edge of the main shopping part of town, you'll be wandering through the mall in minutes and at the waterfront in under 10 minutes.
Haka Lodge features free wi-fi throughout the property, seating area with TV and DVD player and not one, but two fully equipped kitchens. You'll also be able to book any tours and experiences you might want to do during your stay at reception.
Rooms range from a one bedroom apartment which has its own private kitchen and bathroom, double and twin rooms with share facilities and 4 and 6 bed dorms with the bunks having privacy curtains. All rooms are well heated to keep you warm in the colder months.
Absoloot Hostel Queenstown
Want to be right on the waterfront and in the centre of town? Well I have the perfect hostel option for you!
Absoloot Hostel Queenstown couldn't be more central, located right in the heart of town and just a hop skip and a jump from the lake front. It is easily one of the best cheap places to stay in Queenstown and the best area to stay in Queenstown, it doesn't get much better than that!
The Hostel features free wi-fi throughout the premises, heating and air-conditioning, secure entry, communal kitchen and laundry facilities, games room with satellite TV and storage for bikes and winter sky gear.
There is an abundance of rooms to choose from too. Private ensuite rooms come in double and triple configuration, and the dorms, all with share facilities, range in size from 4 to 6 persons.
Budget Hotels/Motels $ – $$
Budget hotels and motels are quite similar to hostels except you're not likely to interact with other guests and you are unlikely to have shared facilities like a kitchen and communal living space to enjoy.
They might however have shared or private bathrooms and rooms themselves will be basic with a minimum of a single, twin or double bed.
Budget hotels and motels are most likely to be kitted out with a small TV, kettle and mini-fridge. And rooms with bathrooms will have a basin, toilet and shower, sometimes over a bathtub, with generic toiletries.
Here are three affordable accommodation in Queenstown for those wanting to save a bit on accommodation costs for their trip and don't mind a short 15 minute walk into town.
Autoline Queenstown Motel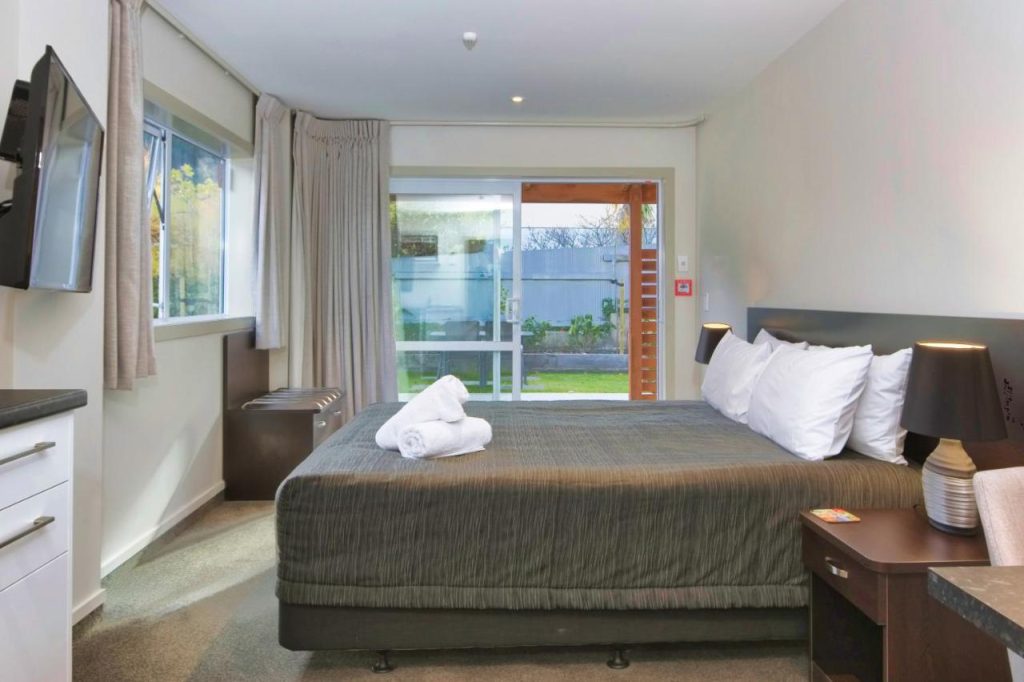 Located a short 5 minute walk to the lake front and 15 minutes walk into the centre of town, Autoline Motel is a simple but comfortable motel and a good choice if you are wanting to save a little on accommodation during your stay.
A combination of apartments and motel rooms are available, all have air-conditioning and heating, TV with satellite channels, tea and coffee making facilities and private bathrooms. Apartments have the addition of a small kitchenette and under-floor heating.
Some rooms have a spa bath and private balcony with mountain views. Wi-fi is also free and available throughout the property.
Hurley's of Queenstown
This motel style apartment complex is an easy 5 minute walk into the centre of town and few extra minutes from the waterfront.
Onsite they offer storage for your adventure activity equipment like bikes, golf clubs and ski gear, as well as having a heated room for ski-drying. There is also a fitness centre and sauna for guests use making this one of the best places to stay in Queenstown at this price point.
The rooms are either studio or 1-2 bedroom apartments, making this a good cheap option if you are travelling with a small group or you are part of a larger family. In the rooms you will find a kitchenette or full kitchen, depending on the apartment you choose.
There is also a great restaurant across the road which has an affiliation with the motel, so you can charge back your dining to your room.
Blue Peaks Lodge
Located just a short 5 minute stroll to both the centre of town and the waterfront, Blue Peaks Lodge is a simple, yet modern motel in a large complex. Is is a great Queenstown city centre accommodation option for the budget conscious.
Rooms are all heated and come with free parking, satellite TV, tea and coffee making facilities and some have a small kitchenette and seating area.
You'll also find a guest laundry onsite which will be handy if you have been on the road for a while.
Self-Catered $$ – $$$$
Expect either apartment style of even houses/villas that have their own private kitchen, separate living area to sleeping area and most of the time a balcony or terrace area.
Self-catered accommodation, while it might be a bit more expensive, can help you save money on eating out which is some cities can be very expensive.
It is also a great option for groups travelling together and families looking for extra space and a more homely experience.
Here are three self-catered apartments in Queenstown for those wanting more space.
Wakatipu View Apartments
An easy 5 minute walk into the centre of town and to the waterfront, Wakatipu View Apartments is a simple, well located option for those wanting a little more space and the opportunity to self-cater.
The property includes free off-street parking and wi-fi throughout the property. You can also book all of your activities at the reception desk.
In the apartments in Queenstown you will find a separate seating area, full kitchenette with microwave, fridge and oven. In the bathroom there is also a washing machine for catching up on laundry during a longer trip around New Zealand.
Turner Heights Townhouses
Located just a few minutes walk into the centre of town, these spacious apartments have lots of great onsite inclusions.
You'll find onsite a spa pool, BBQ area for those warmer months, free onsite covered parking, onsite shared laundry and free wi-fi access throughout the whole property. As far as apartment accommodation in Queenstown goes, this is one of the best.
The townhouse style apartments are well appointed with heating, TV and DVD player, spacious seating area and a fully functional kitchen in case you want to self-cater a few meals to save a bit of money.
Cranbury Court Apartments
If you are planning to ride the Queenstown Gondola during your visit, then you will find these apartments located very nearby, and also only 5 minutes walk into the centre of town.
Cranbury Court Apartments have fantastic alpine views with free wi-fi and parking onsite. Plus you can arrange all of your activities at reception during your stay. This is a great option for Queenstown family accommodation.
The apartments are modern and equipped with everything you could need during your stay. You'll have under-floor heating, TV and DVD player, a fully equipped kitchen with dishwasher and a large cosy living room, some with big picture windows leading out to a balcony with amazing views.
Top Class Hotels $$$ – $$$$
Expect nothing but the best in service and quality at any hotel with a four plus star rating.
Rooms should be spacious and plush with lots of extras like in-room mini-bar, luxury toiletries and a desk or small sitting area.
Staff will go out of their way to help on check-in and out and assist with local activity bookings or any other queries you might have.
Contained in the property for all guests to enjoy might be a pool, gym, cafes/restaurants/bars, conference facilities and many more luxurious facilities.
Here are three options in Queenstown for those wanting the splash out a little more during their stay.
The Spire Hotel
This 5 star hotel in Queenstown is located in the heart of Queenstown, just a stones throw from the lake and town centre, making this one of the best Queenstown central accommodation options.
Onsite at The Spire Hotel you will find free parking, wi-fi, fitness centre, spa and wellness centre and a great restaurant for evening meals.
The rooms are extremely spacious and all come with a gas fireplace, decadent bathroom, with separate bath/shower and a lounge area to relax in after a long day of adventures.
Queenstown Park Boutique Hotel
The Queenstown Park Boutique Hotel offers 5 star accommodation in Queenstown with stunning alpine views and located just a few minutes walk to the town centre and lake front.
Included in your room rate is daily pre-dinner drinks and canapes, parking and wi-fi. The onsite restaurant can also create gourmet picnics for your to take out for the day of exploring.
Rooms are light, airy and stylish with comfortable furnishings and lots of space to relax. You'll have a small kitchenette with tea and coffee making facilities and some rooms offer a balcony with stunning mountain views.
QT Queenstown
Saving the best for last, the QT is one of the best 5 star hotels in Queenstown because is have the most luxurious features and unique touches located in the centre of town. The lake views are spectacular and facilities next level.
Onsite at this quirky luxury hotel is a fantastic restaurant where the chefs cook right in front of you. There is also a separate bar for an evening nightcap and a swimming pool to cool off in the warmer months.
The rooms, some of which have uninterrupted views of the lake, are comfortably furnished with a spacious seating area, as well as tea and coffee making facilities and opulent bathroom.
Read More About Queenstown
Over to You!
Which of these places to stay in Queenstown are you going to pick for your next trip?
Let me know using the comments section below or join me on social media to start a conversation.
Thanks for reading and I hope you enjoyed this post.
Join my email list and get a FREE copy of my TRAVEL PLANNING TEMPLATE
My Travel Planning Template will make your travel planning simple & stress-free!