People come from all around the world to visit Australia with the top three destinations being Sydney, The Great Barrier Reef and Melbourne. And the number one day trip visitors to Melbourne like to do is a Great Ocean Road road trip.
While most people will only visit the Great Ocean Road on a day trip because of time limitations, I can tell you with some experience that it is totally worth the extra time if you can spare it. At a minimum I recommend spending at least two days exploring the Great Ocean Road but the ideal amount of time to fit in all the amazing sights is three days.
This three day Great Ocean Road itinerary takes all the hassle of planning the trip away from you. Below I have outlined everything you should see and do, given you a few options on places to eat and drink and I've got places to stay in two key towns with options for all budgets.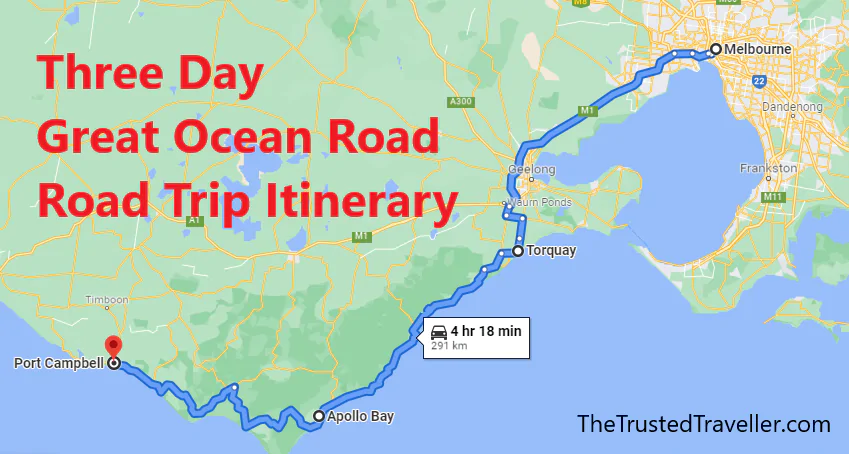 This post contains affiliate links. Our full disclosure policy is here.
Car Hire for the Great Ocean Road
If you are not from Melbourne, or even Australia, then it is highly likely that you will first need to hire a car to get you around on this 3 day itinerary to the Great Ocean Road.
For all my car hire bookings I use and recommend Hertz. I've found they offer the most comparable prices, let you search and compare multiple vehicle types and they have a great customer service team who can help if you come into any unexpected troubles.
Three Day Great Ocean Road Itinerary
Day 1 – Melbourne to Apollo Bay
Drive: 3 hours, about 300km
Set off from Melbourne early (I recommend 8am at the latest) to make the most of the day and avoid too much weekend traffic.
As you leave Melbourne, you'll pass through the towns of Werribee and Geelong before hitting the coast and arriving in the sleepy beach town of Torquay, the first stop on your Great Ocean Road drive.
Must See Stop: Torquay
In Torquay, you can't miss out on seeing Bells Beach, one of the most famous surf beaches in the world. Home to the Rip Curl Pro surfing competition each year, Bells is infamous for its massive waves which you can see from the viewing platforms at either end of the beach.
From Torquay the road heads inland for a short while before joining up with the coast again at Anglesea. From here you'll have the coast on your left until you reach Apollo Bay. Next stop is the official start of the Great Ocean Road route, just a few kilometres outside the town of Aireys Inlet.
Must See Stop: Great Ocean Road Memorial Arch
The Great Ocean Road Memorial Arch was built to honour the 3,000 returned soldiers who worked on the Great Ocean Road during World War I. You can pull over in the carpark just before the arch to grab your photos and celebrate the official start to your Great Ocean Road adventure.
From the arch it is a spectacular winding 12km coastal drive to the lovely little town of Lorne. Take a stroll around the shops and a walk down to the Lorne Swing Bridge that runs over the Erskine River before grabbing some lunch.
Must See Stop: Lorne
Lorne is home to some drool worthy cafes to help you fuel up for the onward drive. The Lorne Larder is said to have the best coffee, while the Swing Bridge Cafe & Boathouse is in a riverside location and has a fresh and delicious menu.
Now that you are fueled up and ready to continue your Great Ocean Road road trip, it is just another 20km or so following the stunning coast until the next stop, Kennett River Koala Walk. Turn off the Great Ocean Road at Kennett River into Grey River Road and you'll see the Koala Walk entrance right there.
Must See Stop: Kennett River Koala Walk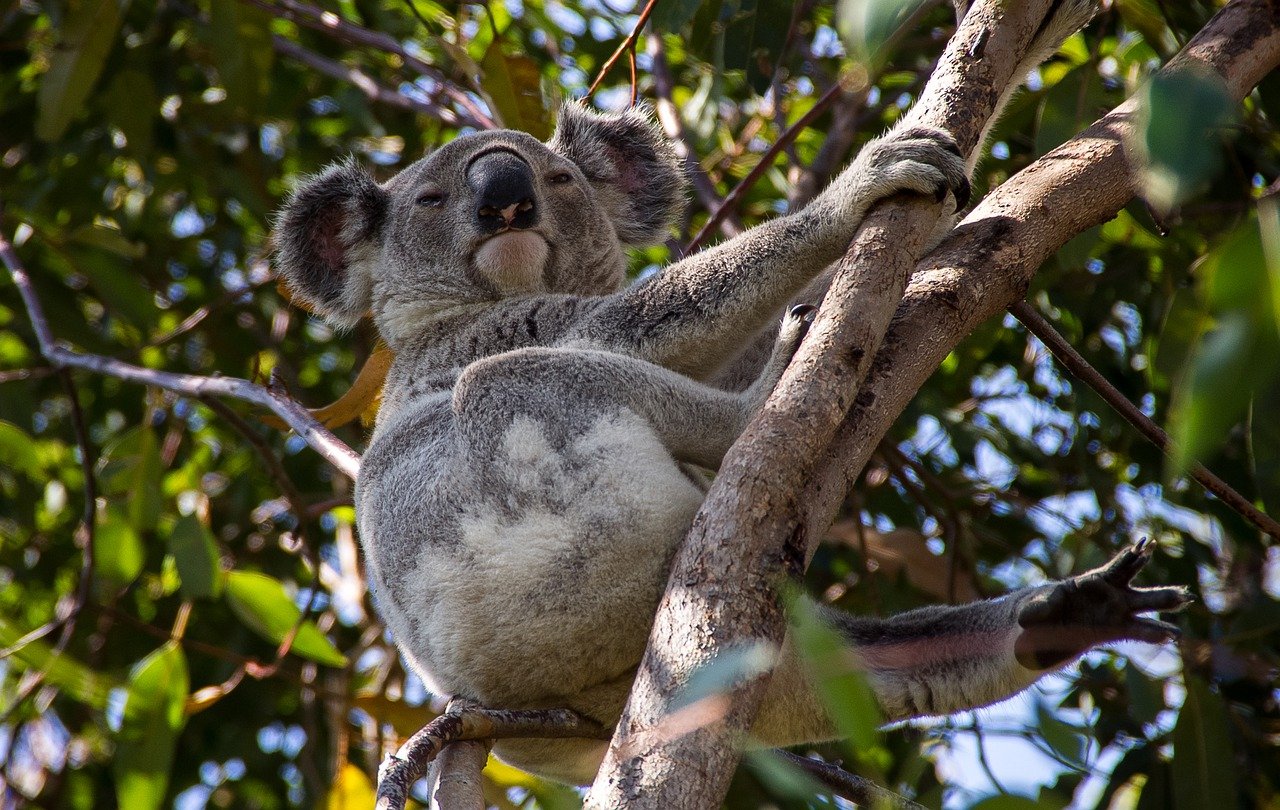 Kennett River Koala Walk is one of the best places in Australia to see Koala's in their natural habitat and the most underrated Great Ocean Road attraction in my opinion. The gum trees in this part of the country are heavily populated with koalas giving you a pretty good chance of spotting one as you wander along the path.
From Kennett River you will jump back on the Great Ocean Road and continue on to Apollo Bay, your stop for the night. But the day isn't over yet, with a few things to see around Apollo Bay.
Must See Stop: Apollo Bay
Arriving in Apollo Bay there are a few places to check out before checking into your accommodation for the night.
Head up to Mariners Lookout for some pretty spectacular views of Apollo Bay and the Great Ocean Road coastline. Then head into town and stretch the legs on a walk along the foreshore at Apollo Bay Beach. You can also take a short drive out to the point past the golf course for some nice views of the ocean.
Where to Stay in Apollo Bay
Here are three great options for places to stay in Apollo Bay at three different price points. All are highly recommended and located close to town.
Budget – Apollo Bay Eco YHA
Mid-Range – Seaview Motel
Luxury – Beacon Point Ocean View Villas.
Where to Eat & Drink in Apollo Bay
Great Ocean Road Brewhouse – Not only do they serve some of the best locally brewed beers on the coast, they also have a killer upmarket pub style menu to keep that hunger at bay.
Apollo Bay Fisherman's Co-op- When by the sea you must eat seafood and there aren't many better places to do that than this place. They close at 7pm nightly so you may need to have an early dinner to eat here.
The Birdhouse – For something a bit more fancy, check out this fine dining restaurant which not only serve delicious food and wine but also serves up lovely views from its big picture windows.
Day 2 – Apollo Bay to Port Campbell
Drive: 1.5 hours, about 100km – allows for LOTS of stops and detours along the way.
Today is a big day so get going from Apollo Bay as early as you can to allow for plenty of detours and stops along the way. I highly recommend having breakfast before leaving Apollo Bay and packing some lunch too as you will be in the wilderness with few food options for the first half of the day.
And speaking of detours, the first one is just 20km down the road.
Must See Stop: Great Otway National Park
The road heads inland and becomes mountainous after leaving Apollo Bay as you head into the Great Otway National Park. Here you will find some great walks and a detour drive I recommend on Lighthouse Road, through the National Park to the Cape Otway Lighthouse.
You can easily spend a few days just in this park, but I have allowed for the morning to take a few short walks and the detour drive mentioned above.
Back on the Great Ocean Road and continuing the journey west, the road continues winding through the mountains before joining up with the coast again at Princetown.
We have now hit that part of the Great Ocean Road where you'll be seeing one impressive landmark after another.
Must See Stop: Gibson Steps
Just a few kilometres up the road from Princetown is these steps that lead you down onto the beach for some pretty impressive views of the limestone cliffs above and your very first glimpse at the 12 Apostles. There is 86 steps in total from the carpark down to the beach, so it is relatively easy for most fitness levels. This is one of the not to be missed Great Ocean Road attractions!
Must See Stop: 12 Apostles
It is just over 1km to drive from the Gibson Steps to the crown jewel of the Great Ocean Road, the 12 Apostles. People come from all over the world to catch a glimpse of these and with this itinerary you will be able to see them in the daylight, at sunset AND at sunrise.
Take the time to explore the visitors centre and learn about these massive limestone stacks, before taking a walk out on the viewing platforms to see the seven (at time of writing) remaining Apostles in all their glory.
Once you've had a look around and got your photos, jump back in the car and head just 4km down the road to our next impressive stop, Loch Ard Gorge.
Must See Stop: Loch Ard Gorge
From the carpark, take a walk down into the gorge to get a close up look at the limestone cliffs where many shipwrecks have occurred over the years. Wander the beach and try to spot the Muttonbirds flocking home to their burrows within the limestone.
If you fancy a little walk at this stage, from the Loch Ard Gorge carpark there are a few you can do.
Muttonbird Island Lookout – 2.4km each way for the best views of Muttonbird Island.
Island Arch Lookout – 900m loop trail to the The Razorback and Island Arch.
Thunder Cave – 1.1km return track to visit the Thunder Cave, if the tide is right.
The day is almost done and at this point you have packed in so many incredible sights along the Great Ocean Road. Check into your accommodation for the night in Port Campbell which is just a few kilometres up the road from Loch Ard Gorge.
If the time of year is right, you can head back to the 12 Apostles to see the spectacular sun setting across the limestone and water, one of my favourite experiences in the region.
Where to Stay in Port Campbell
Here are three great options for places to stay in Apollo Bay at three different price points. All are highly recommended and located close to town.
Budget – NRMA Port Campbell Holiday Park
Mid-Range – Port Campbell Parkview Motel
Luxury – Southern Ocean Villas
Where to Eat & Drink in Port Campbell
Being such a tiny town, food options in Port Campbell are quite limited. Here are a few simple options to try if you don't want to self cater in your accommodation.
Frying Nemo Fish & Chips – Best fish and chips in town! When by the sea ate from the sea. Menu is simple but fresh and delicious.
Port Campbell Hotel – Good pub menu with great local produce specials. This place is where you will find most locals and visitors after a long day sightseeing.
Port Campbell Brewpub – Home to Sow & Piglets Brewery, grab a locally made craft beer and pizza to enjoy in the rustic setting.
Day 3 – Port Campbell to Melbourne
Drive: 2 hours 45 minutes, 230km via the inland route or head straight back along the Great Ocean Road in about 4.5 hours which is about 300km.
If you fancy an extra early start today, you can head the few kilometres back to the 12 Apostles to see the sunrise, this is really not to be missed! And you will have them almost all to yourself with very few people around that early in the morning.
Grab a good breakfast in Port Campbell this morning before quickly heading up to Port Campbell Lookout to catch some views, then its onto the last part of the Great Ocean Road before making your way back to Melbourne.
Everything you are going to see this morning is no more than 10km from Port Campbell, so we are going to pack in a few great stops.
Must See Stop: The Arch
Head first to The Arch, just a few kilometres from Port Campbell. Check out this limestone arch like formation from the various viewing platforms and wonder how long it will be before it finally breaks and crashes into the ocean, just like your next stop already has.
Must See Stop: London Bridge
Back in the car and it is just two minutes drive to the next stop, London Bridge, my personal favourite along the Great Ocean Road. Before it's collapse in 1990, this landmark resembled the bridge of the same name in London, England. I love the lookout here as it has some of the best beach and coastline views in the area.
Must See Stop: The Grotto
Next stop is again not far down the road and will give you a bit more of a chance to stretch your legs.
It is a few hundred metres walk from The Grotto carpark along a boardwalk to reach the cliffs. You can see the cave formation from here or you can go down the stairs to go inside the sinkhole and see the cave and its rock pools up close.
Depending on tides when you arrive will depend on how much of The Grotto you will be able to explore. When the tide comes in, part become inaccessible and dangerous.
Must See Stop: Bay of Martyrs
Second last stop before the end of your Great Ocean Road adventure and it is a quick stop at the Bay of Martyrs lookout for great views of the rugged coastline. In summer the eastern park of the beach here is a great spot for a swim.
Must See Stop: Bay of Islands
And the final stop on this road trip before heading back to Melbourne is a pretty impressive and often missed one. The massive Bay of Islands is littered with limestone stacks, similar to the 12 Apostles. Spend some time on one of the nearby seats to take in the final views of this absolutely incredible coastline.
Ending Your Trip
From here you can head straight back to Melbourne via Colac on the quicker inland route. The drive from Port Campbell is around three hours.
Alternatively you can extend your trip and continue on towards South Australia and Adelaide. You could easily turn this three day trip into 10 days driving onto Adelaide. More to come on that from me soon!
Over to you!
Which of the stops of this three day Great Ocean Road itinerary are you most looking forward to visiting?
Let me know using the comments section below or join me on social media to start a conversation.
Thanks for reading and I hope you enjoyed this post.
Join my email list and get a FREE copy of my TRAVEL PLANNING TEMPLATE
My Travel Planning Template will make your travel planning simple & stress-free!