You have just 10 days to explore Italy and want to make the most of your time. The perfect 10 day Italy itinerary will have you seeing as much as possible but not heading home feeling like you need another holiday to get over the holiday.
This is where touring Italy by train is the perfect choice for you!
If you're from the US, Australia or maybe other parts of the world, you will know that our countries long distance rail systems are not what you would call efficient, time or money saving. Visit Europe or Asia and you will wonder why we just can't seem to get it right because really it seems so simple over there.
Europe is perfect for train travel and Italy is no exception. In my option train travel is the best way to see Italy because services are fast, efficient, reasonably priced and generally run on time.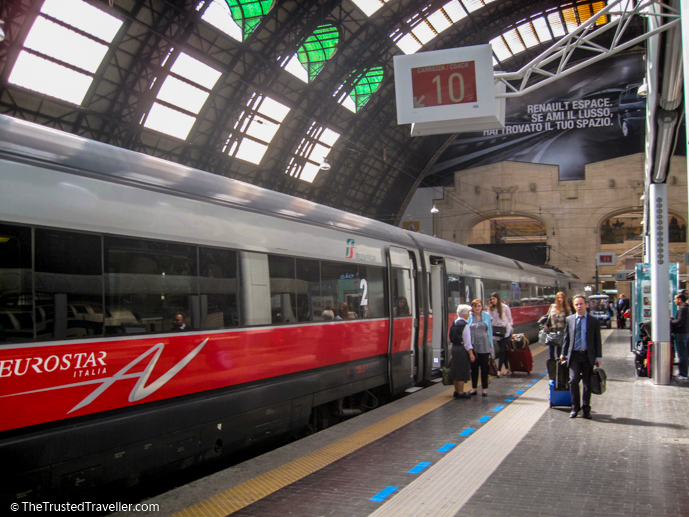 Being able to hop on the train in the centre of one place and arrive in the centre of another in a matter of hours is much more convenient and less stressful that negotiating busy airports. The seats and carriages are clean and comfortable plus you get to spend some time relaxing and gazing out the window watching the stunning scenery pass by.
Italy's train network runs to every major city and most smaller cities and towns making it easy to get from place to place. There is a lot to see, but with only 10 days in Italy you will need to be selective in the places you visit.
So, I've put together what I think is the perfect itinerary for Italy in 10 days by train.
This Italy train itinerary takes in three of the country's major cities, and offers plenty of time for day trips to nearby regions. It gives you just enough time to see the major sights in each place without making you rush around from place to place.
Day 1 to 4 – Rome
Day 1 arrival in Rome. This Italy itinerary assumes that you arrive in the morning (or ideally the evening before) giving you most of a day to start seeing the sights.
Start off your Italy in day 10 days itinerary in Rome, the capital of Italy and once capital of the Roman Empire. This sprawling city is famous for its Roman ruins, incredible architecture, collection of world class artworks and home to the worlds smallest country, Vatican City.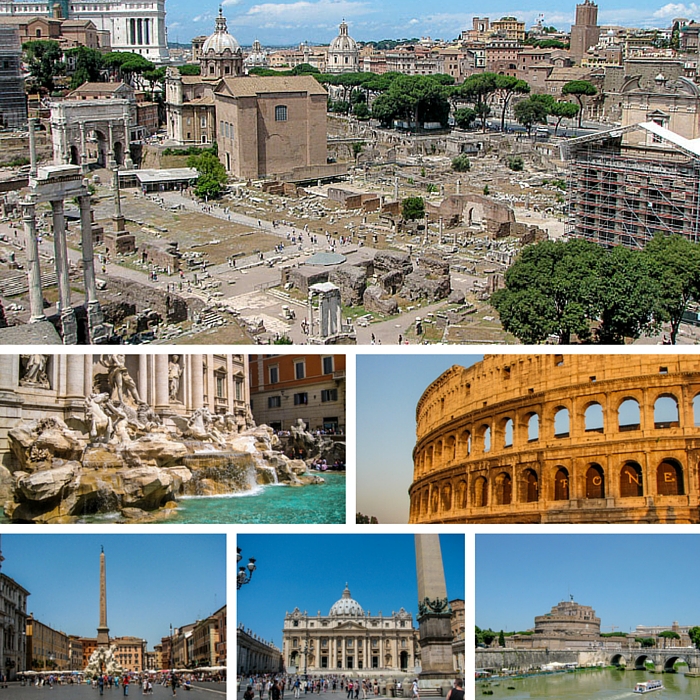 What to See & Do in Rome
Vatican City – The home of the pope and catholic church. Inside you will find incredible architecture and world class art including Michelangelo's famous painted ceiling in the Sistine Chapel. Take a small group guided tour of the Vatican Museums and St Peter's Basilica to save you time queuing for hours. The Vatican is not to be missed on your Italy in 10 days itinerary.
The Colosseum – Not to be missed on your 10 day trip to Italy, the largest amphitheater in the Roman Empire and the world. While not still in tact today, it still gives a fascinating glimpse into its past. Book a guided tour (which includes the Forum below too!) to skip the queues and learn from an expert.
Roman Forum – As the heart of ancient Rome, the Forum was, and still is, one of the most celebrated meeting places in the history of the world. Your ticket to the Colosseum also includes entry to the Forum where you can wander around the ruins and take a walk up Palatine Hill for views over the Forum and the city.
The Pantheon – One of the best preserved Roman buildings remaining in the world. What is most incredible about the Pantheon is that most of its original features remain including the marble floors.
Spanish Steps – The worlds most famous staircase is constantly abuzz with people day and night.
Trevi Fountain – Do as the legend says and throw a coin in the fountain to ensure you one day return to Rome.
Piazza Navona – On this Italy trip itinerary you'll find lots of square to visit, but this one, in my mind, is the best. Rome's most beautiful square, Piazza Navona, features three spectacular fountains and surrounded by some of the city's best baroque architecture.
Rome's Hop-On-Hop-Off bus is one of the best I've taken around the world. The routes cover everything you could possibly want to see in Rome and passes last for 24, 48 or 72 hours giving you the freedom to explore at your own pace. Pre-purchase your tickets here to avoid the queues and save.
Where to Stay in Rome
Here are three accommodation options in Rome to suit all budgets that I recommend you check out. All are centrally located, highly rated and come with excellent facilities.
Budget – Casa Totti
Mid-Range – Al Viminale Hill Inn and Hotel
Luxury – Bio Hotel Raphael Relais and Chateaux
Day 5 to 7 – Florence
Train: Rome to Florence – from 1.5 hours with over 100 direct services per day. Take an early morning departure from Rome to maximise your time in Florence.
Next stop on your 10 day Italy trip is Florence. This Renaissance city in the heart of one of the most beautiful regions in the world, Tuscany. It is home to some of Italy's most incredible churches and some of the worlds most famous works of art.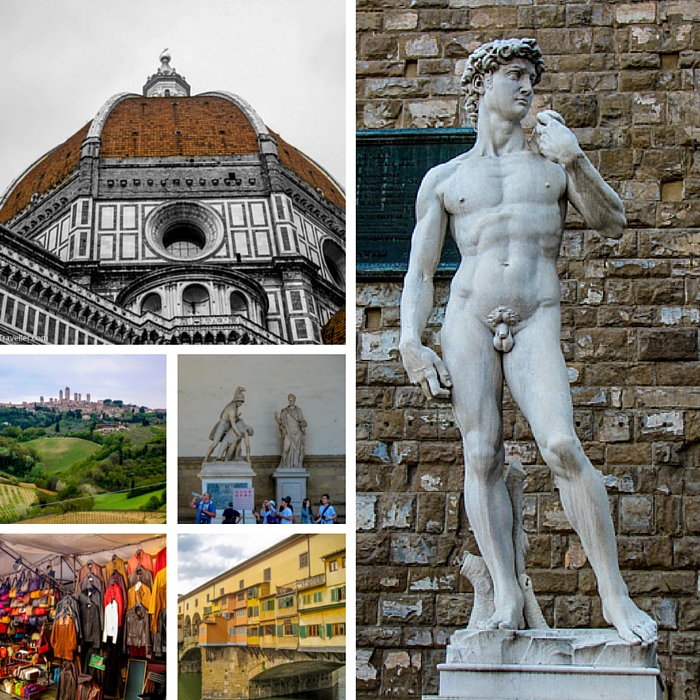 What to See & Do in Florence
Duomo, Cathedral of Santa Maria del Fiore – This massive cathedral in the heart of Florence is a must see for it's pink and green marble exterior, interior that holds 20,000 people and bell tower which you can climb for views over Florence.
Piazza della Signoria – The heart of Florence's old town. Visit to see the free open-air sculpture gallery including a copy of Michelangelo's David and to check out the impressive medieval Palazzo Vecchio.
Pont Vecchio – The best Italy itinerary has to include Florence's first bridge, built over the Arno river in 1345 and the only one that survived WWII bombing of the city. It is lined with shops selling gold and silver jewellery. Make sure you view it from one of the adjacent bridges as well as walk over it.
Galleria delgi Uffizi – As you travel around Italy you'll likely come across lots of incredible and famous works of art, but no where is in Italy can you see so many in one place than you can at Uffizi. Home to the world's most important collection of Renaissance art including painting, sculptures and tapestries from medieval times up to the modern day. (Don't miss out, with a timed entry ticket!)
Galleria dell' Academia – If you want to see the original Michelangelo's David, then this is where you will find it. Along with this famous statue are paintings and sculptures from the 13th to 16th centuries as well as a collection of instruments started by the Medici family. (Pre-book a timed entry ticket to avoid the massive queues!)
Mercato Centrale – If your looking to do a bit of shopping in Italy then this market in Florence is the perfect place to purchase genuine leather goods, souvenirs, antiques and food.
Day Trip to Tuscany – One of the best day trips from Florence is to Tuscany. Enjoy a day outside of the city visiting some of the wineries and hill towns this region is famous for. Check out these tours offered on GetYourGuide. All the best itineraries for Italy will include this spectacular day trip.
Where to Stay in Florence
Here are three accommodation options in Florence to suit all budgets that I recommend you check out. All are centrally located, highly rated and come with excellent facilities.
Budget – Hotel Por Santa Maria
Mid-Range – B&B Cimatori
Luxury – Portrait Firenze
Day 8 to 10 – Venice
Train: Florence to Venice – approx. 2 hours with over 15 direct services at day. Take an early morning train from Florence to optimise your time in Venice.
Next up on your Italy travel itinerary is Italy's sinking city, Venice. Made up of 118 islands connect by bridges and separated by canals, and is literally sinking into the marshy ground it was built on. This northern Italy city is renowned for it's beauty, architecture and artworks and is best experienced without a map, getting lost in the maze of cobblestone streets.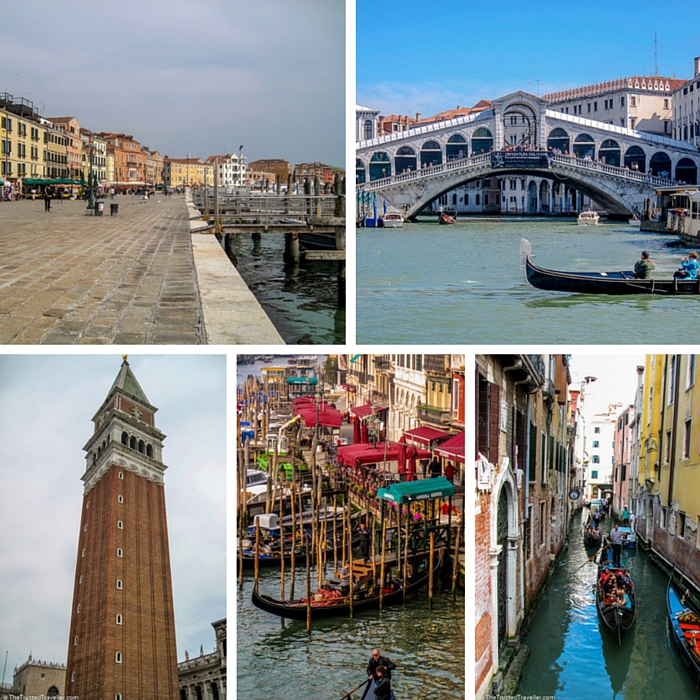 What to See & Do in Venice
Piazza San Marco – The city's largest square and main meeting place. It is surrounded by cafes, shops, museums and some of the city's best architecture. Beware of the very tame pigeons, as you travel around Italy, you'll see them everywhere but more so here.
Basilica San Marco – Located in Piazza San Marco, this basilica is one of the best examples of Byzantine architecture in the city. Inside you will find incredible mosaics and paintings by some of the areas best artists. Avoid the queues and book your timed entry ticket in advance here.
The Grand Canal – This is the main and largest canal that snakes it way through the centre of the main island. It's always busy with boats and barges running up and down carrying goods and people from dock to dock. A great way to do a quick sightseeing tour is by jumping on a vaporetto (Venice's public transport) at one end and hopping off at the other.
Doge's Palace – Once the residence of Venetian leaders, now a museum where you can get a glimpse at some of the rooms used in it's day including stately reception rooms, offices, living quarters, prison cells and torture chambers. (Skip the long queue's, buy a priority entry ticket!)
Rialto Bridge – This ornamental stone bridge spans the Grand Canal and is the most popular of Venice's bridges. It's a very lively spot where you will find shops and markets lining the bridge.
Take a Gondola Ride – While prices for a private gondola ride are close to €100.00 these days, to me, it is still worth the cost for this quintessential Venetian experience. If your lucky to get a chatty gondolier, he will entertain you with stories and maybe even serenade you as you punt along the canals. Most gondola's seat 6-8 people, so sharing with others is a great way to save money (and so is booking in advance!).
Explore the Islands – Just a short boat ride away from the main island of Venice are a number of popular islands you can explore. Murano is know for it glass makers, Burano it's canals lined with coloured houses and lace making and Lido is lined with beaches, restaurants and shopping. You can reach all of these islands from the ferry terminal near Piazza San Marco or you could join this three-hour guided tour to see it all with a local!
Where to Stay in Venice
Here are three accommodation options in Venice to suit all budgets that I recommend you check out. All are centrally located, highly rated and come with excellent facilities.
Budget – Hotel ai do Mori
Mid-Range – Ca'Dei Dogi
Luxury – Hotel Danieli, a Luxury Collection Hotel
Train Tickets
While travelling Italy by train is never going to be as cheap as taking a bus, or in some cases flying with a budget airline, it is going to be more comfortable, scenic and time saving.
There is a lot of debate about whether purchasing a rail pass is the most cost effective option when travelling by train in Europe. Really, it all comes down to the amount of travel days you plan on taking during your trip.
For this exact itinerary above (not including day trips), you will have two travel days, Rome to Florence, Florence to Venice, or three travel days if you choose to return to Rome at the end of the trip to fly out. Here are the average prices based on one adult travelling alone for both point to point tickets and rail pass.
Point to Point
Two Travel Days – Adult point to point tickets including seat reservation fee where applicable – €60.00*.
Three Travel Days – Adult point to point tickets including seat reservation fee where applicable – €110.00*.
Rail Pass
Adult Italy Rail Pass for up to three days of travel in a one month period – €133.00* plus seat reservation fees where applicable.
The cheapest option by far for this Italy in 10 days itinerary is to purchase point to point tickets.
Visit the Rail Europe website in your country using the links below to purchase tickets.
Alternatively, tickets are available at all Trenitalia train stations across Italy on the day or in advance but prices will likely be higher and there may not be availability for specific trains, especially high speed services.
For a comprehensive guide to Europe train travel I recommend The Man in Seat 61. Or for an accurate one stop shop of Europe train timetables check out the German Bahn website.
* Prices correct as at time of publishing.
---
A few things to note:
Flying into one city and out of another will save you time rather than having to double back to your original destination to fly home. The way airlines work in terms of pricing these day you should not be penalised for doing this.
Pack light. A backpack or light weight soft case is a good option as it makes getting on an off trains much easier.
Discounts are available on train tickets when traveling in groups of 2 or more, as a family unit, or for people aged under 26. Prices for point to point tickets above are averaged and may be cheaper or more expensive depending on how far in advance you book and whether there is a sale on at the time.
Got more than 10 days? Check out my two week Italy itinerary by train.
---
Over to you!
What is your favourite part of Italy or where are you most keen to visit?
Let me know using the comments section below or join me on social media to start a conversation.
Thanks for reading and I hope you enjoyed this post.
Join my email list and get a FREE copy of my TRAVEL PLANNING TEMPLATE
My Travel Planning Template will make your travel planning simple & stress-free!