One of the toughest things to do before taking off on a big road trip is trying to fit everything you want into the car. It doesn't matter how big your car is or how long you are travelling for there never seems like there is enough room for everything.
If you are travelling for a longer period of time you could consider getting a pod for the top of the car to store extra stuff, but with that you also need to consider the effect it will have on the cars fuel efficiency. It can significantly impact your cost of fuel by nearly 50% more, and this is a cost you may not be able to afford or justify on top of the travel costs.
The obvious first step is to try and cull a lot more than you originally wanted take. Be totally realistic, I am sure there are many things on your packing list that you don't really need as much as other more essential items.
Another way is to find creative and space saving ways to pack more into the space that you have. And that's what this post is all about, showing you how to pack the car for a road trip without having to cull to many items from your packing list.
My tips and tricks were learnt during the process of packing my car for a long road trip many years ago and can be translated to any size car or any length of trip. Read on to find out how to your car for a road trip.
How to Pack Your Car for a Long Road Trip
Essential Items to Pack for a Road Trip
Aside from the obvious clothes, shoes, toiletries and personal items, there are a few handy and critical things you should have in your car before you embark on any road trip.
Spare Tyre – make sure you check this well before you set off. I it still in good condition? If not, get a new one before you leave.
Tyre Jack – if the unfortunate happens and you get a flat tyre, you should be able to change the tyre on the side of the road, or get a strong passer-by to help at the very least.
First Aid Kit – keep this in the glove box and make sure it contains at least band-aids, simple bandages, antiseptic and safety pins. This could become very valuable if you trip and fall while on the road.
Water – and not just a half litre bottle for drinking on your drive, lots and lots of water. If you break down in the middle of nowhere or get lost, you may be stuck without assistance in the element for hours (or more). Make sure you have at least 2-3 litres extra per adult in the vehicle.
Toilet Roll – I don't know about where you live but just about every picnic spot toilet block along the highways of Australia is void of toilet paper. Keeping one handy in the car will save you from using the local flora.
Umbrella – keep this in close reach. It might be sunny when you take off in the morning and pouring with rain after a few hours driving.
USB Cables – most cars these days have USB ports for charging phones etc. Keep cables for your main devices in the car for quick charging. If you are travelling in remote areas your phone will go in and out of reception regularly and this has an effect on your battery life.
Hand Sanitizer or Wipes – as with the toilet roll, soap is non-existent in most road side toilet blocks. This will keep your hands clean until you can get to some soap.
Reusable Shopping Bag – don't be that person collecting plastic bags around the world and leaving them in hotel bins. Having one (or a few) small folded shopping bags will mean you are doing your bit to save the world.
---
How to Pack Your Car for a Road Trip
Roll Not Fold
The thing you will probably have the most of is clothes, so it is very important to ensure you pack them in the most space saving way possible. Enter the packing cube and the roll not fold method.
I love packing cubes and hope by now you do too. But if you haven't already got yourself some then now is the time. They will keep each different type of clothing separate and make it easier for you to find exactly what you want right in the boot of your car.
Then take it one step further and roll your clothes in tight neat bundle before packing them into the packing cube. Rolling is proven to take up less space than folding and if done right, will leave your clothes with less creases in them.
Space Bags Will Save You So Much Space
If you are travelling with linen, pillows or bulky soft items like big jackets just in case you may need them, then you will need a space saving solution to ensure they don't take up the whole car boot when you pack the car.
The answer is having a few handy space bags, you know the ones you roll to remove the air. These will allow you to halve the amount of space they take up in your car.
On my big trip I used the space bags for sheets, a doona and an extra winter blanket in case the place I was staying had an extra charge for linen or if it got super cold. I also have a pillow with me for a bit of extra comfort and to avoid a stiff neck from poor pillows in cheap accommodation.
Use Every Nook and Cranny
I'm not sure about your car, but most have so many handy little nooks and crannys that are perfect for packing certain items to make them easily accessible or the opposite, tucking things away that won't be used so often.
Think under the drivers and passengers seats, in the pocket on the back of the seats, the glove compartment or smaller compartments in the centre console.
The car I was travelling have a super handy pull out draw with matching open compartment at the back of the boot. In the draw I have picnic items like plates, cups and cutlery for easy access when stopping for lunch and the open compartment had towels and the space bags I mentioned above.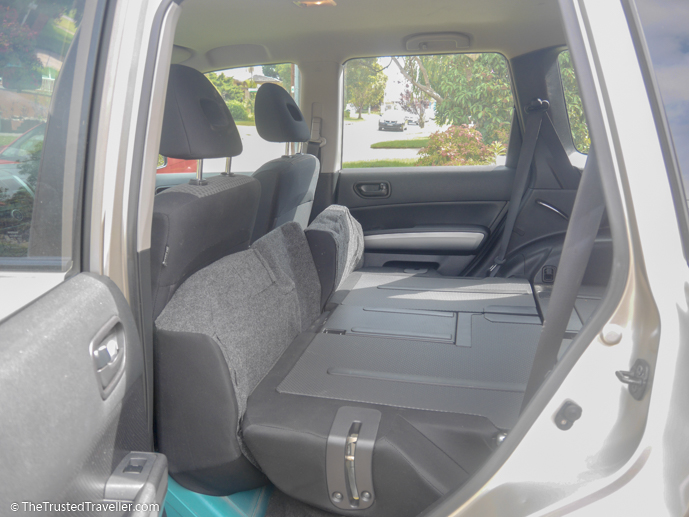 Under the front seats I put a few things that weren't to be used all the time, like walking boots and spare oil and water for the car in case of an emergency.
Take the time to think about what each nook and cranny in your car could be most useful for. I guarantee you it will save you space when you pack your car and make the important things much easier to access.
Large Plastic Tubs Keep You Organised
One of the best investments I made was a good set of plastic storage tubs. For just over $100.00 I got three large, two medium and two small tubs that I used for keeping everything organised.
Each tub had a different purpose and before I bought them I really thought about which size tubs would work best for each item group. Here's a run down on what I had in each tub:
Large No.1 & 2 – Excess clothes/shoes – I've had seven days worth of clothes in a backpack which I would take inside with me and the rest stayed in these tubs. I would swap them out as needed with some clothes only getting used at certain times of the year (i.e. winter coats, nice dresses etc.).
Large No.3 – Bits & Pieces – I used this tub for things that don't fit into any of the other tub categories. Things like reading books, stationary, goggles for swimming, tennis rackets, playing cards and many more other bits and pieces I might have need along the way. This tub always stayed in the car and I just grabbed things out as needed.
Medium No.1 – Cooking Utensils – I noticed on other trips I've taken in the past that some accommodation kitchens don't have everything you need to cook a decent meal. So I packed a few things I deemed as essential to ensure I can cook what I want. I also packed things like cling film, foil, ziplock bags and plastic containers in this box to help with saving leftovers and packed lunches.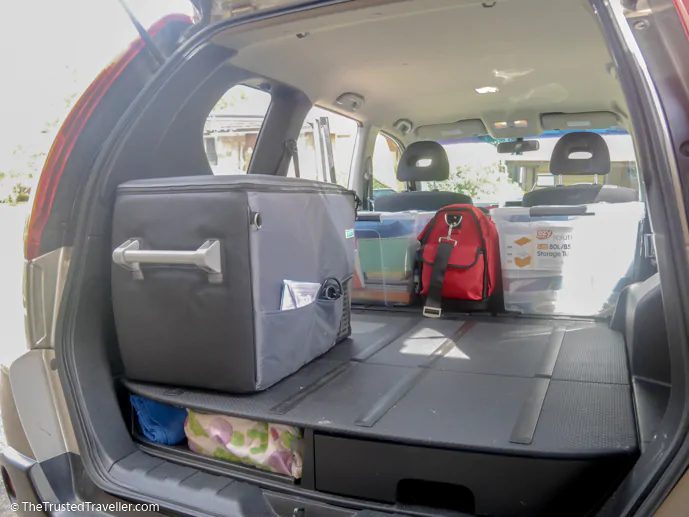 Medium No.2 – Excess Food – I was travelling with two food tubs and this one was for excess items. Things that I won't use on a day to day basis. This tab as well was stored in the car most of the time and I could just grab what I needed when I needed it.
Small No.1 – Everyday Food – This tub had all the everyday food items I needed like tea and coffee, cooking oil, a few sauces, pasta, rice, etc. Everything I put in this tub I knew I would use at least a few times each week, if not everyday. This tub always came inside with me for convenience.
Small No.2 – Excess Medicines/Toiletries – While I had everyday toiletries and medicines with me in me "go bag" (more on that below), I left all the excess or infrequent use items in this tub in the car.
Have a "Go Bag"
This is probably the most important thing to have and will keep you sane for you road trip. What I call a "go bag" is a backpack that is full of seven days worth of clothes, shoes and toiletries only. Having this saves you from having to pack and unpack all the time, something I hate doing.
Once you've used the seven days worth of clothes they get washed and packed back in the car in the excess tubs and a new seven days is packed in the "go bag" ready for use. And the reason I chose to go with seven days is because most of my stays were for a week, meaning that each time I changed locations, I changed to a new set of clothes.
In the backpack I also used a large packing cube to keep everything nice and neat. I only had the shoes that I knew I would wear in those seven days and just enough toiletries to get me through.
Pack Smart
My final tip is really a simple one, pack smart. And what I mean by this is that you should really have a good think and lay everything out before you put it in the car.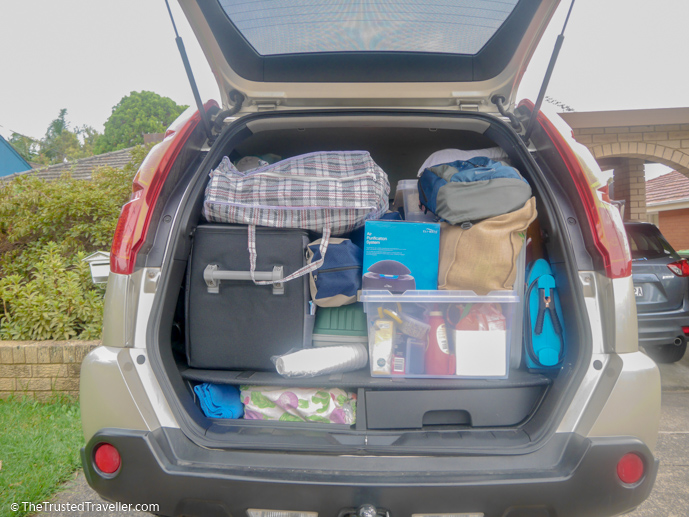 Think about what you'll be using the most and make sure it is easily accessible from either the rear of the car, a side door or simply having it on hand in the front.
The tubs that will be staying in the car most of the time can be hidden in the middle of your packing and the tubs and bags you will use most frequently should be easily accessible for when you arrive at each new destination.
You don;t want to be unpacking the whole car every time you pull up at a picnic area or at a new destination just to find one thing. Pack smart and you'll have one less thing to worry about while exploring this wonderful world we live in.
---
Planning a Road Trip?
Check out some of my most popular road trips from destinations around the world with new road trip itineraries being added all the time.
Europe
Exploring Austria by Car: A 5 Day Itinerary
The Best of France: A Two Week Itinerary
10 Day France Itinerary: See the Best of France
Australia
Two Week NSW South Coast Road Trip Itinerary
One Week Gippsland Victoria Itinerary
Two Week Sydney to Melbourne Road Trip Itinerary (The Coastal Route)
Three Day Great Ocean Road Itinerary
New Zealand
New Zealand's Northland: A Mini Road Trip
Driving from Christchurch to Marlborough: What to See & Do
Driving New Zealand's Wild West Coast: Things to See & Do
The Spectacular Drive from Franz Josef to Queenstown
Two Week New Zealand South Island Road Trip Itinerary
---
Over to you!
Do you have any tips on how to pack your car for a road trip? Have you packed your car for a long road trip before? What did you learn from the experience?
Let me know using the comments section below or join me on social media to start a conversation.
Thanks for reading and I hope you enjoyed this post.
Join my email list and get a FREE copy of my TRAVEL PLANNING TEMPLATE
My Travel Planning Template will make your travel planning simple & stress-free!