Today I am hosting the lovely Ellie from A Beautiful Elsewhere who recently returned from Austria and is sharing with you her itinerary.
Ahhhh, Austria. The land of beautiful music, breathtaking scenery, and jaw-dropping architecture. There is something so enchanting about this country. After just coming home from my second visit, I feel like I need to tell everyone I know that they NEED to make their next vacation to Austria. We traveled by car, not only for convenience and flexibility, but I feel you can get to see more of what this country has to offer than if traveling by train. For this trip, we started off in Vienna!
Exploring Austria by Car: A 5 Day Itinerary
Day 1 & 2 in Vienna
Vienna is such an amazing city and was much bigger than I was expecting. With its elegant gardens and rich history, you will for sure need two days to see everything (or if you have more time you could see Vienna in 3 days). I would suggest breaking the city up in half when planning. We split our exploring days by the northern and southern parts of the city. This makes it more manageable, as it is a very large city.
Where to Stay
We booked our stay just outside of the city center in the neighborhood of Josefstadt. This kept costs down and it was still walking distance to everything we needed. Be sure that you book a hotel with its own parking because city parking can get expensive.
Vienna Day 1
This is the day we chose to explore the southern part of the city.
Things to See & Do
Morning Visit To Schöbrunn Palace: Start the day out with this attraction as it is one of the city's most popular sites and can get overcrowded as the day goes on. You can take the U4 subway line and it will stop right outside the palace. You can purchase your tickets before hand or purchase tickets at the kiosk once you arrive. There are a few different options for tours so choose which one you are most interested in. We took the shorter tour with an audio guide and I thought it was very thorough (We even walked through the room where Mozart gave his first concert). Be sure to explore the grounds of the palace and walk up to the Gloriette to enjoy the view. It is well worth the hike!
Lunch at Nachstmarkt: After visiting the Schönbrunn Palace jump back on the U4 subway line and exit at the "Kettenbruckeng" This will be right in the heart of the famous Nachstmarkt. Here you will find numerous vendors selling fresh produce, meats, cheeses, and bread. If it's a nice day, buy a few things and have a picnic! If the weather isn't working with you that is no problem. There are tons of great restaurants right there as well. Stop and have a bite!
Afternoon of Museums or Shopping: Jump back on the U4 line and head towards the city center for your afternoon activities. This is where you can decide what most interests you. Kevin and I decided to do a bit of shopping. There are a few brands I just adore, and I can't get them as easily at home. I know not everyone likes to shop while traveling, and if that's you, pick a Museum to visit in Vienna's Museum quarter. If you don't make it into a museum, a stroll through the grounds is exquisite as well.
Evening Classical Music Concert: Austria is well known for its classical music. Being that Mozart is from Austria, they pay a big tribute to that by having what seems like an opera house on every corner! The most famous of them being The State Opera House. There are multiple musical events going on everyday so it's easy to get into one and have it be fairly affordable. Go ahead and book a concert. It doesn't even have to be Mozart, there are several contemporary composers that will be playing from time to time as well. We booked our tickets with The Vienna Mozart Symphony at the Golden Hall. It was touristy, which was expected, but it was a reasonable price for two hours of fabulous live classical music. Concerts usually start around 8pm
Vienna Day 2
This is the day to explore the Northern part of the city.
Things to See & Do
Morning Bike Ride: They have made it easy to rent a bike in Vienna. A company called Citybike has bike "stations" placed all over the city and you can rent them just by stepping up to the automated kiosk and entering your information. Note that you can only rent one bike per credit card. The best part is that the first hour is free!! I would recommend biking around the famous "Ring Street" which is the street that circles all the way around the old city center.
Catch A Birds-Eye View of Vienna: At the very northern part of the city is the iconic Reisenrad. This giant ferris wheel has been around for more than 100 years and is an icon of the city. I will admit it was rather touristy, however the view was spectacular and in my opinion it was worth the 9 Euros to ride.
Stop for Cake: Jump back on the U1 Subway back to center of the city. Take a break and recharge with some cake and coffee at the famous Central Café.
Afternoon Visit to St. Stephens Cathedral: This is an absolutely stunning church in the center of Vienna. I would suggest taking a tour of the church. There are private guided tours and also audio guides available. Also, if you are interested, there are tours of the catacombs under the church!
Evening Drinks at Dochboden: This is a lovely rooftop bar located just outside of the center of the city. It is a little hard to find as it is on top of the 25 Hours Hotel, but follow the signs and they will lead you to the elevator that takes you up. The view is spectacular and the drinks are amazing! Stop by and watch the sun go down while sipping a fabulous cocktail. The city is absolutely beautiful at night!
Pack and Rest Up: It's a beautiful city and you may feel like you never want to leave, however in the morning begins the trek to Berchtesgaden.
Extra Tip: Vienna sells a city pass that you can purchase online that gets you unlimited city commuting (bus, tram, subway ext.) it also gets your entrance to many of the attractions in the city. Take a look at everything you want to see, it could save you a few bucks! We all love saving buck.
Day 3 Berchtesgaden Area
Morning Drive from Vienna to Berchtesgaden
Today you will drive from Vienna to the Berchtesgaden area. This drive should take around 3 hours. Yes, I know this is actually in Germany, but it's such a beautiful and important area that it would be a crime to miss it. Since the drive is a bit long and there is much to see I would suggest getting and early start. When arriving to the area there are two major sites that you can choose to explore. Pick the one that interests you.
Things to See & Do
Lake Königsee: If the weather is good, I would suggest you visit the lake. Boats come and go about every 20 minutes and it is pretty inexpensive to ride. There are two different routes that you can take, one is just a bit longer. At either destination you can take a hike and explore the beautiful scenery. Keep in mind that the shortest hike is about a three hour hike roundtrip. If you are not feeling like a long hike there are restaurants to sit and eat while enjoying the Mountainous backdrop. Absolutely beautiful!
The Eagle's Nest: For the history buff, I would spend the day visiting Hitler's Eagles Nest. As it stands today, it acts as a restaurant. However, if you do visit, you should book a tour because there is so much information that you don't get if you just visit on your own. We took a short 30 minute tour that was only $5 and I thought it was a great deal. This tour cannot be booked ahead of time and you just pay when you get to the site. Otherwise, there are several other tours that you can book online ahead of time.
Extra Tip: After your tour, I would strongly recommend going to see the old WW2 bunkers under Hotel zum Turken (wear closed toes shoes as it is cold and VERY wet).
Drive up to Salzburg
After your day in Berchtesgaden make your way to Salzburg. The drive should only be about 30 minutes. Again make sure you book a hotel that has parking because it is quite difficult to find parking and city parking structures can be very expensive. Stay the night in Salzburg and enjoy dinner at one of their many fabulous restaurants.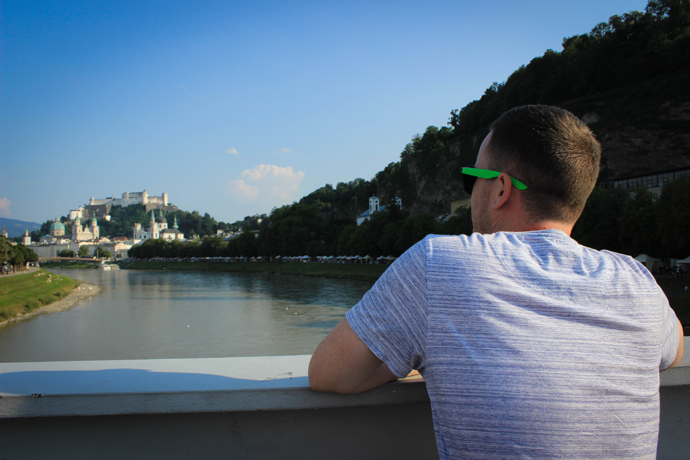 Day 4 Salzburg
Things to See & Do
Visit the Salt Mines: There are several tours that will leave from Salzburg. You can choose to book a tour or you can catch a bus on your own. You will most likely pay a bit extra for the convenience of transportation to and from, however it might be worth it because sometimes parking can be difficult. If you arrive early this won't be as much of an issue. The first tours start at 9am in the summer months.
Explore the city of Salzburg: After returning from the salt mines head to The Salzburg city center. Salzburg is actually much smaller than I expected and can be explored very easily by foot. The downtown area is strictly a pedestrian area so you will either need to park your car at your hotel or along the street. You can purchase street parking vouchers for three hours at a time. Spend the rest of the afternoon strolling around the cobblestone streets of Salzburg. Here are a few attractions that are notable:
The Salzburg Fortress: This is probably the most famous attraction in Salzburg and rightfully so! It is a beautiful white washed building up on a hill looking over the city. You cannot drive up to the fortress and it is a bit of a walk so bring your comfy walking shoes!
Mozart's Birth House: This is another popular attraction in Salzburg. Kevin and I did not actually go in as we felt it was a bit touristy but it was fun to walk up and take a picture in front of the building.
Dinner in Salzburg: This city is buzzing with fabulous restaurants and cafes. Pick one that looks good to you!! Rest up for your travels to Innsbruck.
Extra Tip: for more on Salzburg visit The Trusted Travellers guide to Salzburg.
Day 5 Innsbruck
Drive to Innsbruck
This drive should take you about 2-3 hours. This city is most well-known for skiing and winter attractions. However, there is plenty to do in the city itself if you are visiting in the summer or if you are like me and don't ski! The city is rather small and can be done by foot in a day.
Things to See & Do
Take In The View: One of my favorite sites in this city is the cable car ride up the Nordkette. The ride is a bit expensive, but to me, the views at the top make it well worth it. There is a ski lodge up at the top of the mountain and you can sit and have a beer and a bite while taking in the views.
Saint Jacob Cathedral: This little gem was one of my favorite churches in Austria. I think I loved it most because of its element of surprise. From the outside, it looks rather plain, but step inside and prepare to be blown away! It's a must see!
Stroll around Old Town: Innsbruck has an absolutely charming city center. With its specialty shops and old medieval gothic arches it's guaranteed to impress. As you explore be sure to stop for cake and coffee at Café Krö
This concludes your 5 day tour around Austria! This country remains one of my favorite in Europe. There is so much beauty and charm that every time I come I am even more blown away.
This itinerary obviously does not cover EVERYTHING that there is to see however it is a list of the sites that I feel are the most important and beautiful.
---
About the Author
Ellie is originally from the Southwestern part of the United States. She and her husband Kevin have always loved exploring new places and trying new foods. Over a year ago, the young couple packed up everything and moved to Germany. They have been enjoying life over the big pond ever since. She writes about life in Germany and shares her travel stories on her blog, A Beautiful Elsewhere.
Connect with Ellie on Facebook, Twitter, Instagram and Pinterest.
---
Over to you!
What is your favorite city in Austria? We would love to hear your travel stories!
Let me know using the comments section below or join me on social media to start a conversation.
Thanks for reading and I hope you enjoyed this post.