Picture this…..towering mountains, crystal clear waterways, dense forests and more fresh produce than you can handle. This is Victoria's High Country.
Located in Victoria's North East region, less than a few hours drive from the heart of Melbourne, a holiday in Victoria's High Country will have you exploring all of the above and so much more. It is the perfect well rounded holiday destination for nature loving foodies.
With so much to discover, I have put together a list of the best things to do in Victoria's High Country that you should not miss.
This post contains affiliate links. Our full disclosure policy is here.
Take a Drive Through the Alpine Region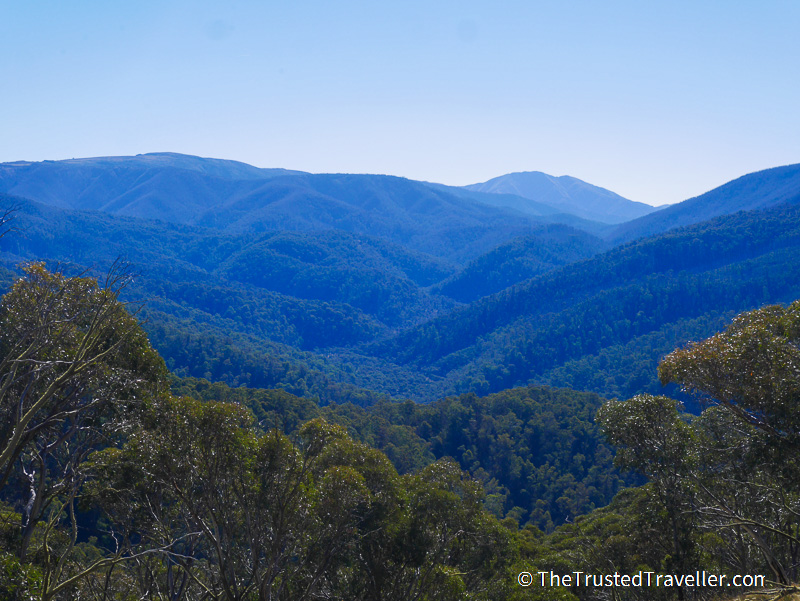 One of the best ways to arrive into Victoria's High Country is via the Alpine Region and the Great Alpine Road. Beginning in Metung in the Gippsland Lakes, this jaw-dropping road runs 339km to Wangaratta and takes you over Mount Hotham and Falls Creek with one stunning alpine view after another.
To drive the whole way without stopping it is about five hours, but you'll want to break your trip up with stops at lookouts, walking trails and quaint alpine towns. The highest year-round accessible road leads through diverse landscapes and around many hairpin turns as you wind down the otherside.
---
Hike in Mt Buffalo National Park
One of the most stunning places in Victori'a High Country is without a doubt the Mt Buffalo National Park. Think sheer cliffs, waterfalls and breathtaking views, this national park is not to be missed. Here are a few things to check out during your visit:
The Gorge – One of the most accessible places to take in the stunning views if from The Gorge. You can basically drive right up to the view! There are a number of viewpoints with stunning Alpine panoramas and plenty of short and longer walks you can take from this spot too.
The Horn – The highest point of the park is The Horn located along un-sealed Mount Buffalo Road. The summit is a 20 minute walk up the side of a hill from the picnic ground and takes you between granite boulders. The reward for your effort is 360 degree views at the top.
Lakeside Walk – Wind you way through the twisted Snow Gum forest on this one hour walk around Lake Catani. This relatively easy walk skirts the dam wall and crossed Eurobin Creek with stunning Alpine views a plenty.
Eurobin and Ladies Bath Falls – Just after entering the park, take a left and head to the carpark to see the best waterfalls in the park. This 1.5km walk takes you first past Ladies Bath Falls where you can take a dip to cool off in the deep blue water. Continue on to Eurobin Falls keeping your eye out for wildlife along the way.
---
Wander the Historic Town of Beechworth
This well preserved historical town was booming back in the 1850's during the Gold Rush. These days it has kept its charm and is a great place to base yourself while visiting the region. But don't just make Beechworth a place to sleep, there is much to see any do around town that you'll want to make the time to explore.
Beechworth Honey – These days you can find Beechworth Honey in just about every supermarket so why would you want to visit their store? Well, while supermarkets stock mostly their stock standard honey, in store you can taste and select from a large range of honey types and other products made with their famous honey.
Beechworth Bakery – Refuel after all your exploring with a trip to this famous bakery. The pie are plentiful and to die for but don't walkout without getting a Beesting. This sweet melt-in-your-mouth bun is stopped with apricot jam and filled with perfectly creamy custard.
Historic Precinct – Wander through the historic buildings in the downtown are of Beechworth. Check out the Burke Museum, Courthouse, Telegraph Station, Powder Magazine and Vault to learn in detail about Ned Kelly, the Gold Rush and other aspects of the towns colourful history.
Gorge Scenic Drive (or walk) – This 7km gorge drive or walk provides great views over Beechworth with a landscape of large granite outcrops and native forest surrounding. You'll wander past waterfalls and wildflowers depending on the season.
Mayday Hills Lunatic Asylum – Decommissioned in 1998 after 128 years in operation, Mayday Hills was once one of the largest psychiatric hospitals in Victoria. These days you can explore the deserted buildings on an evening ghost tour to hear stores of past patients.
---
Stroll Through the Town of Bright
Located at the foothills of the Alpine Region, Bright is one of the prettiest little towns I came across in Victoria, especially in Autumn when the trees turn all shades of red, orange and yellow. Take a wander down the main street for a browse in the quaint shops then head down to the river for a stroll along the Ovens River and Morses Creek before relaxing in the park under incredible foliage.
---
Taste Local Produce in Milawa
The Milawa Gourmet Region is home to some of Victoria's best wineries, farms, restaurants and local produce. Don't miss the Milawa Cheese Company, Milawa Mustards, the Olive Shop and a great selection of cafes and bakeries in the small township. Its the perfect place to start the day before heading off the to the King Valley for wine tasting (see below).
---
Wine Tasting Through the King Valley
The King Valley is one of my favourite wine regions of Australia. Why? Well there are a few reasons. First, it exactly replicates the climate and conditions of Italy for wine making, so think Proseco, Pinot Grigio and Sangiovese varietals. It is also a lot quieter than most wine regions, so you will likely arrive at a cellar door and have it all to yourself. And finally the region is just simply stunning!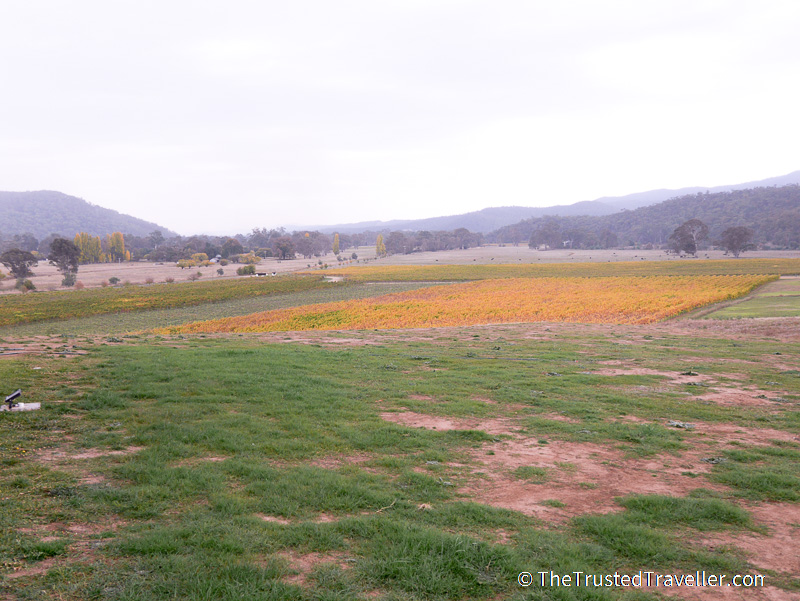 With just 12 cellar doors in the region, here are my favourites:
Chrismont – This elegant cellar door and restaurant boasts lovely views from its elevated position. While I haven't eaten in the restaurant (but here it is incredible) I have tastedand regularly drink their wine, especially the Pinot Grigio which is among my favourite wines produced in Australia.
Dal Zotto Wines – Looking for crisp bubble Proseco, then you have to stop at Dal Zotto. Enjoy a pizza or homemade pasta in the attached Trattoria while enjoying a glass (or two) of their bubbly goodness.
Pizzini Wines – Also home to an Italian cooking school, Pizzini was a highlight for me on my visit to the King Valley, especially the Pinot Grigio which I enjoy regularly at home. For red drinkers, their Sangiovese is among the best in the region.
Check out Wines of the King Valley for more info on the wineries in the region.
---
More Wine Tasting in Rutherglen
If you haven't had enough wine in the King Valley then head a little further north east to enjoy the wines of the Rutherglen. The area has for a long time now been home to many family operated wineries with wines that have earthy characteristics and cellar doors more on the unique side.
Short amount of time in Rutherglen? Check out these two wineries:
Valhalla Wines – This was my favourite during my visit. For the red lovers, check out the Duriff which is peppery yet silky smooth. And for the white drinkers, you can't go past their Reserve Chardonnay, oaky and buttery goodness.
All Saints Estate – Located in a 1864 heritage-listed castle and surrounded by stunning gardens, this cellar door is more than just a winery, it is more of a destination. yes you can taste all of the lovely All Saints wines, but you can also browse the Indigo Food Co for local produce or dine in the 'one-hat' Terrace Restaurant.
---
Visit a Brewery
There are many top quality craft breweries in Victoria's High Country. You could almost make a trip of just visiting breweries as you drive through High Country. Here are my favourites:
Blizzard Brewing Company – Boasting the purest water available from high altitude snow melt aquifers, Blizzard is located in Dinner Plain high up in the Alpine region. My favourite beer of theirs is the Brandy Creek Kolsch which you can include in a tasting paddle or grab a growler to go.
Bright Brewery – Located in the town of Bright, this place is not only fantastic for beer but also food and atmosphere. Grab a tasting paddle, order a feed and enjoy them in the outside beer garden looking out on the stunning Bright foliage.
Bridge Road Brewers – The guys at this cosy brewery in the historic town of Beechworth love to experiment and always have some interesting beers to taste as well as the usual favourites. If you like something really hoppy, check out the Bling IPA.
---
Learn About the History of The Kelly Gang in Glenrowan
The township of Glenrowan was the site of the final siege and capture of the notorious Ned Kelly and his gang in 1880. Arrive at the tourist information office in town and pick up a copy of the Glenrowan Heritage Siege Precinct Walking map to take yourself on tour of the famous sites from the siege. Don't forget to grab a cheeky selfie with the giant Ned Kelly statue as you explore.
Over to you!
Which of these things to do in Victoria's High Country is top of your list?
Let me know using the comments section below or join me on social media to start a conversation.
Thanks for reading and I hope you enjoyed this post.