The Gippsland Region of Victoria stretches all the way from just east of Melbourne to the New South Wales border and is split into four sections, East, West, South and Central Gippsland.
Because of its size, it is a very diverse region, with landscapes ranging from rugged mountains to rolling plains, rainforests to deserted beaches and alpine regions to ancient forests.
No matter what type of holiday you are looking to have, whether it be a peaceful retreat in the mountains, adventures on land and water or relaxing in the sunshine by the beach, the Gippsland region of Victoria has something for everyone.
My list of things to do in Gippsland Victoria will hopefully leave you dreaming of a holiday in one of Australia's most precious hidden gems. The list runs in order from west to east (Melbourne to NSW border).
This post contains affiliate links. Our full disclosure policy is here.
Things to Do in Gippsland Victoria
Wilsons Promontory
Wilsons Promontory National Park is on a peninsula southeast of Melbourne. It is known for its rugged granite mountains, abundant wildlife and excellent hiking trails. Trails from the town of Tidal River lead to Squeaky Beach, with its white quartz sand. Nearby, Mount Oberon offers views of Bass Strait and offshore islands. While you are there, also check out the lightstation, built in 1859 and The Big Drift, a series of giant sand dunes you can hike over.
Address: Meeniyan-Promontory Road, Wilsons Promontory
Cost: Free for entry to the park. Camping fees apply.
Hours: Generally 7.00am to 6.00pm with last entry 4.00pm
More Information: https://www.parks.vic.gov.au/places-to-see/parks/wilsons-promontory-national-park
---
Walhalla
This reconstructed gold mining town was once one of the richest towns in Victoria. Today it is known for its Gold Fields Railway and the Long Mine Tour and is a great place for a picnic or a BBQ day trip. While you are there, make sure you check out the town with its olden days style shops and the cemetery where the families of the gold miners are all buried.
More Information: http://www.visitwalhalla.com/
---
Corrigans Suspension Bridge
This suspension bridge is located in Tarra Bulga National Park and offers amazing views of the valley below. The walk from the Visitors Centre is about 1.25 km to the bridge which you can then walk over the bridge that floats through the rainforest canopy. The area around also has BBQ facilities so its a great place to spend a day.
Address: Fern Gully Track, Balook
Cost: Free
Hours: Daylight hours
More Information: https://www.parks.vic.gov.au/places-to-see/parks/tarra-bulga-national-park
---
Ride the Gippsland Plains Rail Trail
The Gippsland Plains Rail Trail is a 63 km recreational trail following the former historic Gippsland Plains railway line route between Traralgon and Stratford in Central Gippsland. The smooth gravel and well maintained trail offers panoramic views of the Great Dividing Range. It is easy to either complete the whole trail or just sections as the trail runs through a number of towns.
More Information: https://www.gippslandplainsrailtrail.com.au/
---
90 Mile Beach
The fourth longest beach in the world, 90 Mile Beach runs from Port Albert in South Gippsland to Lakes Entrance in East Gippsland. While the Lakes Entrance end is busier, you'll find other parts of the beach to be virtually people free. The beach is popular with free camping, fishing and camel rides.
Address: Runs from Port Albert to Lakes Entrance
---
Silt Jetties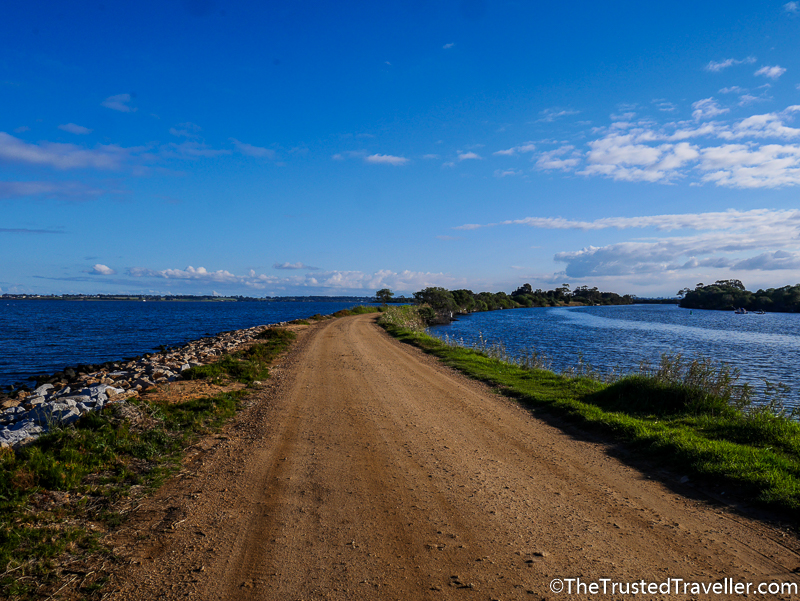 These naturally forming narrow banks of silt stretch for 8kms into the Gippsland Lakes and are located near Eagle Point where they form the mouth of the Mitchel River. The formation happens over millions of years as the water slows when it enters a lake. You can drive out onto the silt jetties on an unsealed road where you will find lots of people fishing. They are the second longest silt jetties in the world and the longest in the southern hemisphere.
Address: Access via Paynesville Road and Point Dawson Road from Eagle Point to the southern silt jetty.
Cost: Free
Hours: Best seen during the day
---
Paynesville and Raymond Island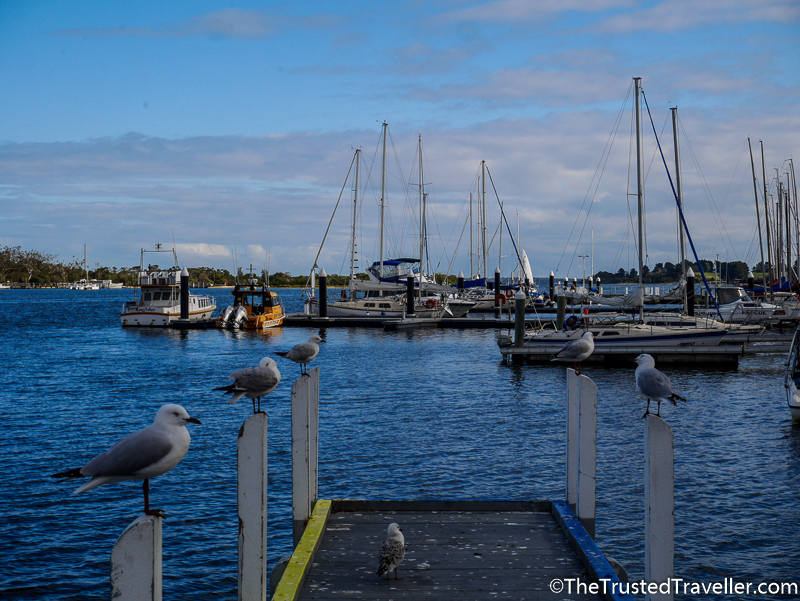 Known as the boating capital of Victoria, Paynesville is a great place to get out on the water or enjoy activities around the foreshore. Explore the lakes and canals on foot or cruise or take the Raymond Island Ferry across to the home of a large koala population on Raymond Island. Once on Raymond Island, you can walk or cycle the island's Koala Trail and spot the resident koala's which are usually seen sleeping high up in a gum tree.
Address: The Paynesville terminal is located on The Esplanade near Victoria Street.
Cost: Pedestrian or bike: Free | Vehicle: from $13.00
Hours: Ferries run roughly once an hour on the hour from 7.00am to 11.00pm daily
More Information: https://www.eastgippsland.vic.gov.au/Services/Raymond_Island_Ferry/Ferry_timetable_and_fares
---
The Gippsland Lakes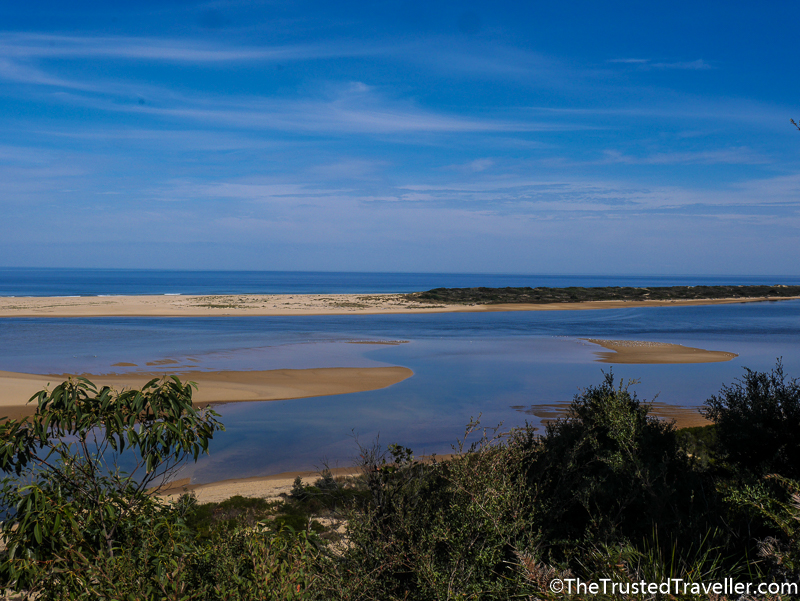 The Gippsland Lakes cover an area of 345 square kms joining the rivers Avon, Thomson, Latrobe, Mitchell, Nicholson and Tambo that fill the lakes, marshes, and lagoons. The lakes are popular for boating, fishing, and camping, with the most popular way to see them as a first time visitor being on a cruise. Cruises leave from the towns of Paynesville, Metung, Loch Sport and Lakes Entrance making them very accessible to all visitors.
Address: Peels Cruises – Post Office Jetty, The Esplanade, Lakes Entrance
Cost: Peels Cruises – email [email protected] for the latest prices and cruises on offer
Hours: Peels Cruises – various departures throughout the day
More Information: Peels Cruises https://www.lakesentrance.com/cruises/charter-cruise/item/peels-cruises/
---
Metung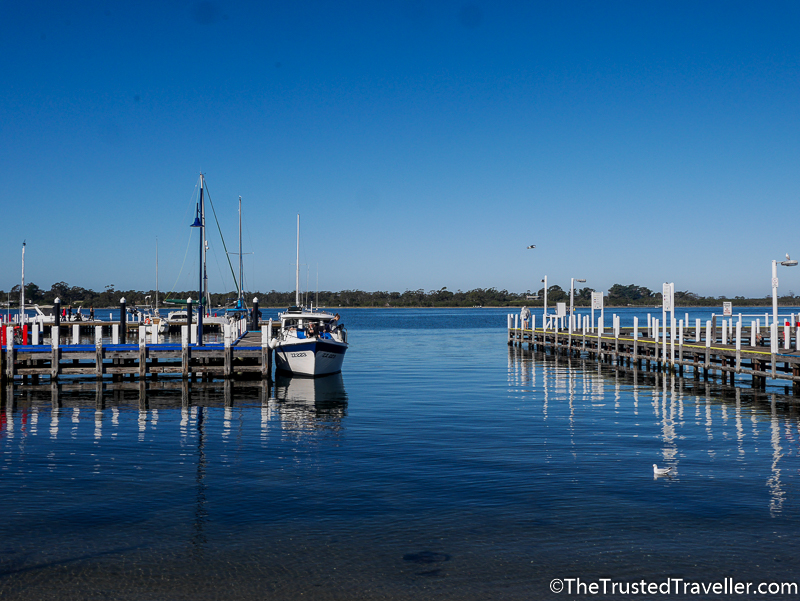 The charming village of Metung probably one of my favourite parts of the Gippsland region. It is great for scenic walks along the lake, fantastic local food including a great monthly farmers market and unique coastal themed galleries. As with the most of the region, it is also a popular spot for fishing with the lakes side and wharfs usually lined with people casting out a line.
---
Buchan Caves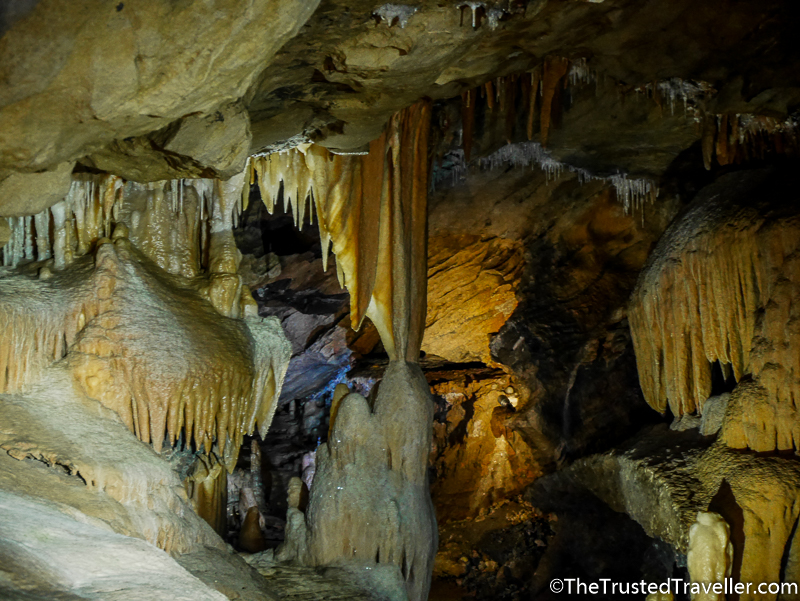 Some of the best publicly accessible caves in Victoria can be found at Buchan. At the Buchan Caves you will find two limestone caves that are accessible to the public through a guided tour, the Fairy Cave and the Royal Cave. Both are about 3 and 4 kms and one in particular can get a bit claustrophobic with some tights spots to squeeze through. The reserve around the cave is absolutely stunning, especially in Autumn. Have a picnic or hike one of the trails that lead off from the picnic grounds, just make sure you keep an eye out for wildlife, there is an abundance in the area. You can read more about my day at Buchan Caves here.
Address: 98 Caves Rd, Buchan
Cost: Single Cave Tour – Adult $23.40 | Child $13.80 | Senior $19.50 | Double Cave Tour – Adult $35.10 | Child $20.30| Senior $28.70
Hours: Tours run 2-3 times per cave per day, check the website for exact times.
More Information: https://www.parkstay.vic.gov.au/buchan-caves-cave-tours
---
Croajingolong National Park
A UNESCO world biosphere reserve, the Croajingolong National Park features 100km of rugged and unspoilt coastline and covers 87,500 hectares. Within the park is a thousand year old pristine eucalypt forest and rainforest that combine to give you a very unique glimpse of wilderness. The park is home to more than 300 different types of birds and over 1000 native plant species which you can see on nature hikes, beach walks or while camping.
Address: West Wingan Rd, Wingan River
Cost: Free
More Information: https://www.parks.vic.gov.au/places-to-see/parks/croajingolong-national-park
---
Mallacoota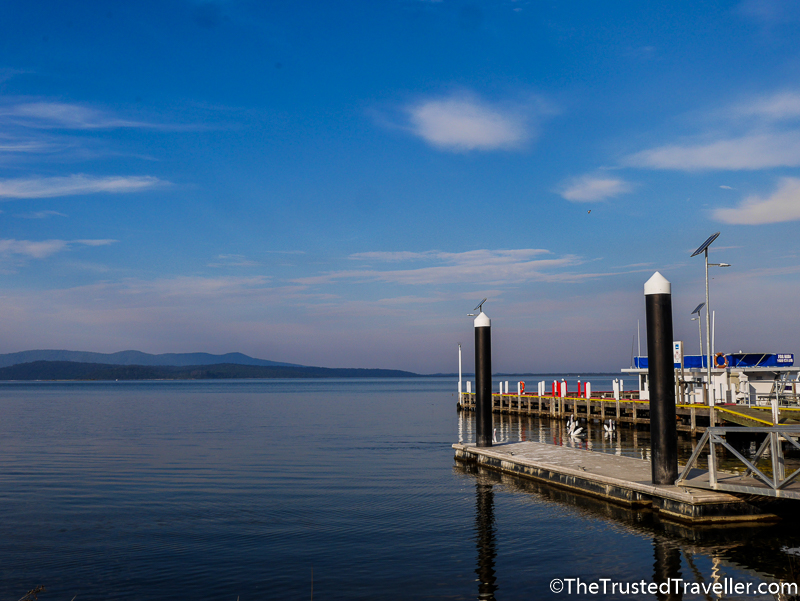 This sleepy little East Gippsland town in the far east of the state is what I believe to be one of Australia's best kept secrets. It is a peaceful haven located quite literally in the middle of nowhere which is why it has stayed virtually untouched. If you love fishing, swimming, walking, wildlife and generally being in the great outdoors, then Mallacoota is a place you will want to check out when exploring Australia.
---
Where to Stay in Gippsland
The Gippsland region is quite spread out and you could quite easily spend a week or more exploring the area. Below are links to some collections of accommodation in all price ranges for some of the central locations around the region.
---
Over to you!
Which of the things to do in Gippsland Victoria are you most looking forward to seeing and doing?
Let me know using the comments section below or join me on social media to start a conversation.
Thanks for reading and I hope you enjoyed this post.