For those travelling on a budget it can be quite a turn off finding out how expensive Melbourne really can be. Entrance fees to attractions can add up quickly, especially once you add on the cost of accommodation and food.
However, with the right mix of paid and free (or really cheap) activities, you'll be able to visit Melbourne without busting the budget.
My list of best free things to do in Melbourne will help you plan the perfect budget trip with Australia's cultural capital. I've also included some budget saving tips specific to Melbourne and some great options on cheap, but friendly places to stay.
This post contains affiliate links. Our full disclosure policy is here.
Free Things to Do in Melbourne
1 – View the permanent collection of works at the National Gallery of Victoria (NGV) and don't forget to take in the spectacular building it is housed in while you are there.
2 – Check out the collection of over two million books at the State Library of Victoria. Find a natural light filled corner of this amazing domed building to read your favourite book.
3 – Take a wander through the Royal Botanic Gardens for a bit of peace just a stones throw from the hustle and bustle of the city.
4 – Visit the Australian Centre for the Moving Image to explore the interactive exhibits that tell the ever-evolving story of the moving image in Australia.
5 – Learn about Indigenous culture at the Koorie Heritage Trust located right in the heart of the city at Federation Square.
6 – Meander through the historic Queen Victoria Market to discover fresh produce, souvenir, bric-a-brac and homewares. Make sure you get a hot jam donut!
7 – Stroll along Melbourne's Southbank from the Princes Bridge to the Melbourne Exhibition Centre to see the liveliest part of the Yarra River.
8 – People watch in Federation Square, the centre of Melbourne. There is often free pop-up events held in the square entertaining tourists and locals alike.
9 – Take a stroll along the waterfront at St Kilda. Keep your eye's open for penguins when out on the pier, take a swim in Port Phillip Bay or just relax on the promenade and watch the world go by.
10 – Pop into a bar or pub to enjoy Melbourne's excellent free live music scene. Check out Cherry Bar in ACDC Lane for a bit of rock 'n' roll or The Esplanade in St Kilda for emerging rock acts.
11 – Enjoy the views from some of the best rooftop bars in Melbourne. For views over St Patrick's Cathedral, check out Siglo or the popular Madame Brussels and Naked in the Sky. The view is free but you might have to buy a drink to enjoy it!
12 – Wander the laneways for world-class street art. Popular spots include Hosier Lane as well as the nearby Union and ACDC Lanes. You can easily spend a whole day wandering the CBD discovering the beauty of the laneways.
13 – Join one of the twice daily (10am and 2pm) free walking tours from Federation Square. Local guides take groups on a walk around the city visiting some of the nearby attractions and filling your brain up with lots of Melbourne facts. Tips to your guide at the end of the tour are optional.
14 – Take that perfect iconic picture of the brightly painted bathing boxes on Brighton Beach. Have a swim on a warm day or just enjoy the seaside air on a walk along the beach.
15 – Pay your respects to those fallen and served in wars gone by at the Shrine of Remembrance. Explore the rooms and exhibition spaces at your own pace, viewing over 800 objects, photos and uniforms from 1850 to the present day.
16 – Some of Melbourne's best comedians try out their new shows at free comedy nights in bars around town. Check out Spleen Bar on a Monday night or Lido Cinema's on a Tuesday night for best free comedy going around.
17 – Stretch your legs on the 1000 step Kokoda Memorial Trail under the giant trees in the Dandenong Ranges. Simply take a local train to Upper Fern Tree Gully and begin the spectacular climb.
18 – Find some peace in one of the many architecturally impressive churches around Melbourne like St Paul's, St Michael's and The Scots Churches.
19 – Pack a picnic and head to Fitzroy Gardens. All year round there is something to see in these gardens, from spectacular flower displays to ancient trees.
20 – Want to learn more about how the Australian parliamentary system works? Then you can take a free tour of Parliament House which is the home of the Victoria State Government.
21 – Snap a selfie at Luna Park. While it doesn't cost a cent to wander around this amusement park, there are fees for enjoying the rides. Still worth the trip to St Kilda to take in the fun atmosphere.
22 – Literature buffs will love a visit to the Wheeler Centre. Here you will find lots of free events from experts speakers, authors, publishers and artists.
23 – Enjoy a stroll around Albert Park Lake and the Grand Prix track. The area offers great city skyline views. I guarantee any motor sports fan will nerd out a bit walking around here.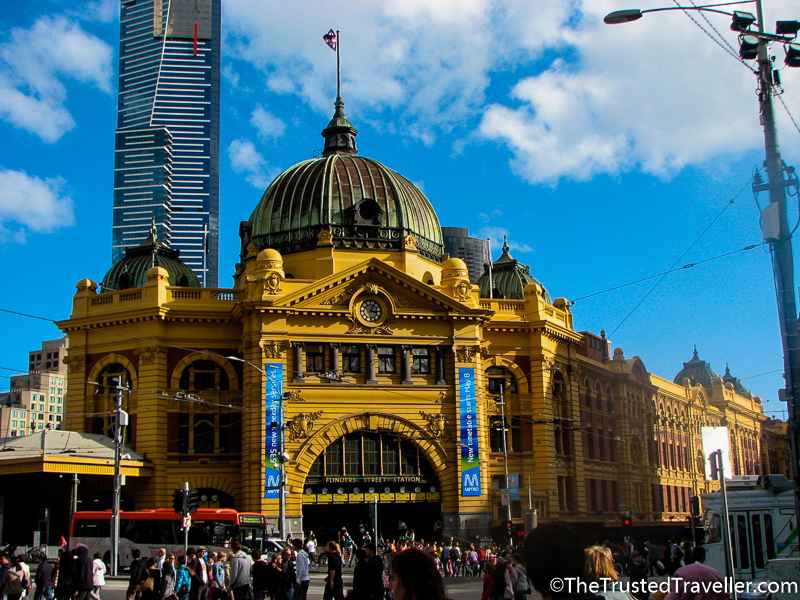 24 – Check out the word famous Flinders Street Station. The best place to the perfect pic of this domed entrance is on the diagonal at the corner of Flinders and Swanston Streets.
25 – Check out the world's largest nightly fireball show along the banks of the Yarra River outside the Crown Casino. They have a nightly fire show free for everyone walking by at the right time (depends on time of year).
Extra Money Saving Tips for Melbourne
The free City Circle Tram covers the central business district and easily connects you to most of the attractions I've mentioned above. No ticket required! It runs around the outside of Melbourne's CBD grid covering La Trobe, Flinders, Spring, Nicholson and Victoria Street.
Combine the free transport with as much walking as you can possibly handle. Most of the above list is within walking distance around the CBD. With a little planning, you can organise each day of your visit so that you are only visiting one corner of the CBD at a time, minimising the need to take transport.
Buy groceries at the supermarket to make your own lunch. And if you have cooking facilities in your accommodation, stock up on basics to cook an easy dinner too.
Eat out in pubs and RSL clubs. Meals are cheaper and portions are generous, often big enough to share.
Check if an attraction you want to visit has a free or reduced rate day or evening.
Save by buying tickets to multiple attractions at once with attraction passes.
You'll find free wi-fi in select cafes, McDonald's and public libraries. Don't pay the extortionate prices at your hotel.
Where to Stay in Melbourne for Cheap
Hotel prices in Melbourne can be pricey. If you don't want to stay way out of town, schlepping in on public transport each day, then you do have a few options to help you save some money.
Hostels are not just for backpackers and young people. They also have private rooms, some with private facilities and are much cheaper than hotels. Here are three that I recommend:
Hostel Flinders Backpackers – Located right in the heart of the city, Flinders Backpackers has quality shared accommodation with a bar, lounge, free WiFi. and communal shared kitchen. It also offers free daily continental breakfast.
Space Hotel – Features a rooftop terrace, fully equipped fitness center, a bar with a happy hour and a private cinema for movie nights. Some rooms have a private bathroom and flat-screen TV. Free WiFi is available in the lobby.
Selina Central Melbourne – Located in Melbourne CBD, directly opposite Flinders Street Station. Guests enjoy free WiFi in public areas. There is a communal TV lounge, a shared kitchen and an onsite bar.
Also check out my article Where to Stay in Melbourne for more options.
Over to you!
What have I missed? Add your suggestions for free things to do in Melbourne to the comments. Or tell me what you'd most like to see and do in Melbourne?
Let me know using the comments section below or join me on social media to start a conversation.
Thanks for reading and I hope you enjoyed this post.