The culture capital of Australia, Melbourne is a popular destination for visitors to Australia as well as fellow Aussie's wanting to get a slice of that culture.
With a very European feel, spend your days exploring museums and galleries, shopping in laneways, attending world calss events and sipping some of the best coffee in the world. In the evening its all about rooftop bars, river front restaurants and live music.
No matter what you enjoy doing on holiday, there are so many things to do in Melbourne to suit all tastes and short or long trips. Here are some of my favourite things to do, split up into sections; Main Attractions, History, Arts and Culture, Outdoors and Shopping Food.
This post contains affiliate links. Our full disclosure policy is here.
Main Attractions
Federation Square
People watch in Federation Square, the centre of Melbourne. The unique architectual design makes this city square unlike any other in the world. Be sure to check out if there is any free pop-up events held in the square entertaining tourists and locals alike while you are there.
Address: Cnr Swanston St and Flinders St
Cost: Free
Hours: Great to visit day and night
More Information: https://fedsquare.com/
---
Flinders Street Station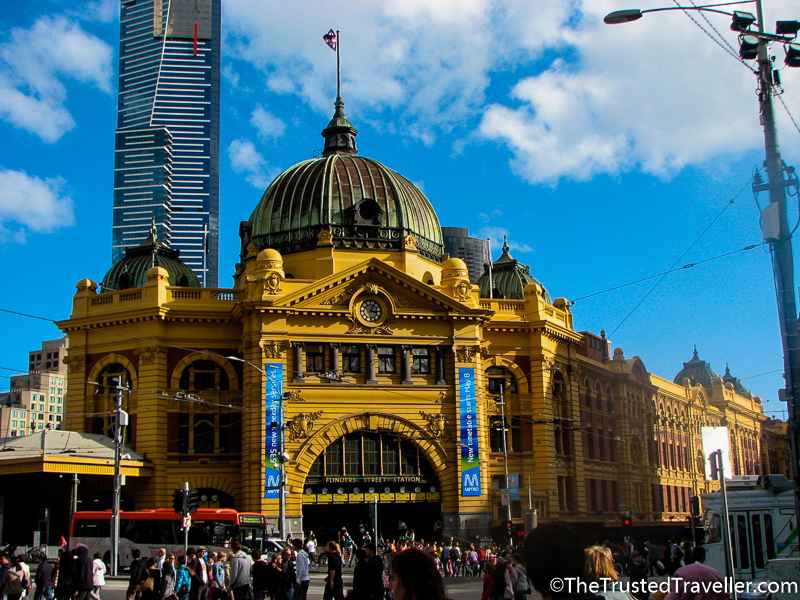 Check out the word famous Flinders Street Station. This iconic Melbourn building opened in 1910 and is heritage listed. The best place to get the perfect pic of this domed entrance is on the diagonal at the corner of Flinders and Swanston Streets.
Address: Cnr Swanston St and Flinders St
Cost: Free
Hours: Great to visit day and night
---
Ride on the City Circle Tram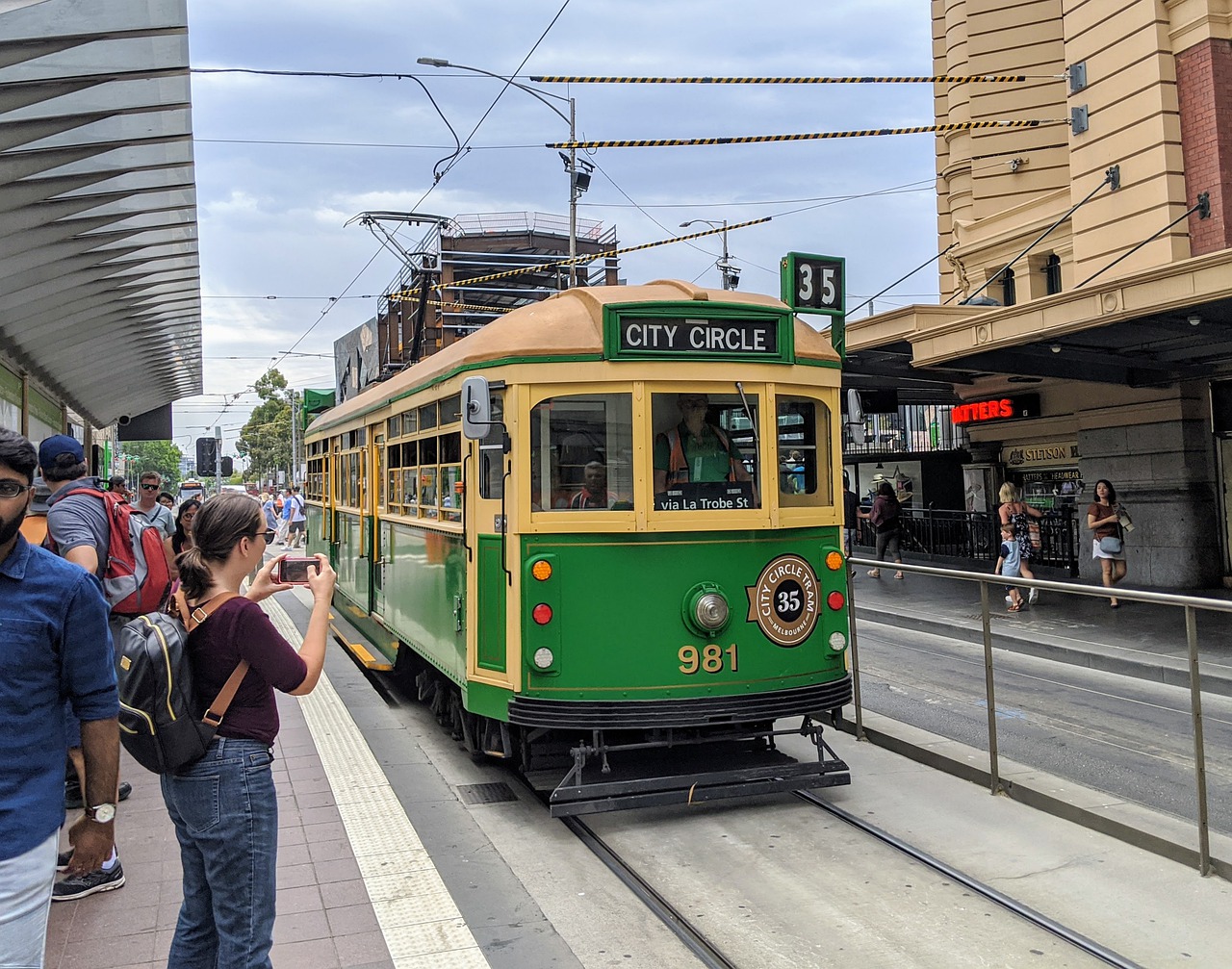 Trams are an important part of the public transport system in Melboune, but there is one tram you can't miss. This historic tram runs around the outskirts of the city centre with onboard commentary revealing details of each stop and interesting facts about Melbourne along the way. You can hop on and off as much as you like and it is completely FREE!
Cost: Free
Hours: The free tram runs from around 9.30am until 7.00pm daily.
More Information: https://www.ptv.vic.gov.au/route/1112/35/
---
History
Shrine of Remembrance
Pay your respects to those fallen and served in wars gone by at the Shrine of Remembrance. Explore the rooms and exhibition spaces at your own pace or join a guided tour, viewing over 800 objects, photos and uniforms from 1850 to the present day.
Address: Kings Domain, Birdwood Avenue
Cost: Free to explore on your own or for a 45 minute guided tour: Adults, $20AUD, Concessions $15AUD and Children $10AUD
Hours: 10am – 5pm daily
More Information: https://www.shrine.org.au/
---
Parliament House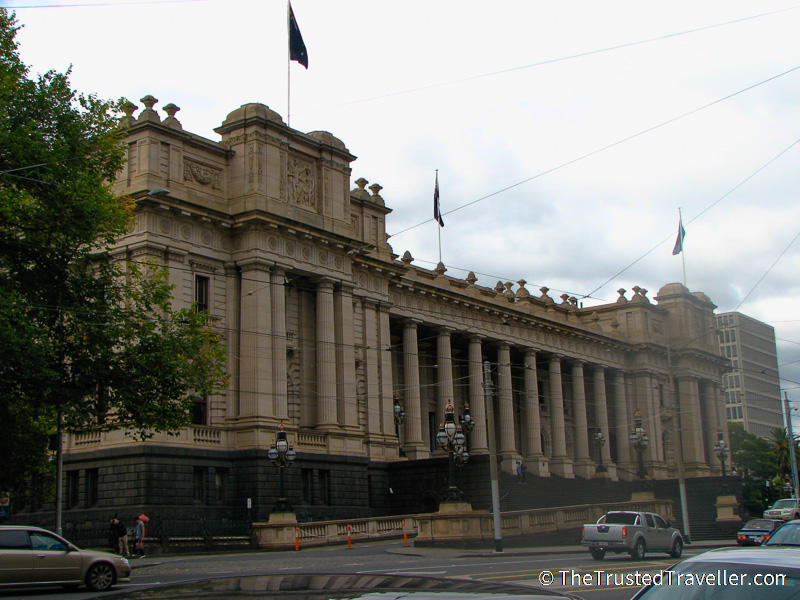 Want to learn more about how the Australian parliamentary system works? Then you can take a free tour of Parliament House which is the home of the Victoria State Government. The Parliament is open on both sitting and non-sitting days, however guided tours only occur when parliament is not sitting.
Address: Spring Street, East Melbourne
Cost: Free
Hours: 8.30am – 5.30pm
More Information: https://www.parliament.vic.gov.au/visit
---
Arts and Culture
Street Art
Wander the laneways for world-class street art, some of the best in the world. Popular spots include Hosier Lane as well as the nearby Union and ACDC Lanes. You can easily spend a whole day wandering the CBD discovering the beauty of the laneways. Or why not join a street art tour!
Address: Various locations around Melbourne
Cost: Free, unless you join a tour, see above.
Hours: Best viewed during daylight
---
National Gallery of Victoria
View collection of works at the National Gallery of Victoria (NGV) and don't forget to take in the spectacular building it is housed in while you are there. There are more than 73,000 works of art housed in the NGV with special exhibitions held annually. Check out the Great Hall to see the world's largest stained glass ceiling which as the light changes throughout the day, casts a kaleidoscope of colours throughout the hall.
Address: 180 St Kilda Road, Melbourne
Cost: Free, fees my be charged for special exhibitions.
Hours: 10am – 5pm daily
More Information: https://www.ngv.vic.gov.au/
---
Australian Centre for the Moving Image
Visit the Australian Centre for the Moving Image to explore the interactive exhibits that tell the ever-evolving story of the moving image in Australia. Housed in Federation Square, the exhibits include pros and memorabilia used on screen for some of the biggest films and TV shows filmed in Australia.
Address: Federation Square, Flinders Street
Cost: Free, fees my be charged for special exhibitions.
Hours: 10am – 5pm daily
More Information: https://www.acmi.net.au/
---
Catch a Festival
Just about every week of the year in Melbourne is covered by some festival or another. (So much so I wrote a whole post about this!) Whether you're into the arts, music, food, drink, culture or just want to find something new to enjoy, I guarantee you will find something going on during your visit.
---
Outdoors
Royal Botanic Gardens
Take a wander through the Royal Botanic Gardens for a bit of peace just a stones throw from the hustle and bustle of the city. The gardens are an oasis of calm where you will see locals walking, joggers on their daily run and lots of hidden places to just relax and enjoy the peace in among the more than 8,500 plan species.
Address: Birdwood Ave, South Yarra
Cost: Free
Hours: October to March 7.30am to 7.30pm | April to September 7.30am to 5.30pm
More Information: https://www.rbg.vic.gov.au/
---
Southbank
Stroll along Melbourne's Southbank from the Princes Bridge to the Melbourne Exhibition Centre to see the liveliest part of the Yarra River. Some the city's top restaurants can be found here along the river as well as great views of the Melbourne skyline. Also check out the world's largest nightly fireball show outside the Crown Casino. They have a nightly fire show free for everyone walking by at the right time (depends on time of year).
---
St Kilda
Take a stroll along the waterfront at St Kilda. Keep your eye's open for penguins when out on the pier, take a swim in Port Phillip Bay, relax on the promenade and watch the world go by or discover delicious delicacies on Acland Street. For the young or young at heart, snap a selfie at Luna Park. While it doesn't cost a cent to wander around this amusement park, there are fees for enjoying the rides. Still worth the trip to St Kilda to take in the fun atmosphere.
---
Brighton Beach
Take that perfect iconic picture of the brightly painted bathing boxes on Brighton Beach. Have a swim on a warm day or just enjoy the seaside air on a walk along the beach.
Address: The Esplanade, Brighton
---
Shopping and Food
Queen Victoria Market
Meander through the historic Queen Victoria Market to discover fresh produce, souvenirs, bric-a-brac and homewares. Opened in 1878, these markets are popular with both visitors and locals, with varios special events throughout the year. After you've checked out the delicatessens, make sure you get a hot jam donut from the truck outside, they will change your life!
Address: Queen Street, Melbourne
Cost: Free
Hours: Tuesday, Thursday, Friday and Saturday 6am to 3pm | Sunday 9am to 3pm
More Information: https://qvm.com.au/
---
The Laneways
Melbourne is renowned for its work class shopping and is the fashion capital of the country. While there are your usual big shopping malls with all the chain stores you can imagine, I recommend getting a bit more off the beaten path and checking out the laneways. Here you will find unique boutique stores selling all the latest fashion and a lot of fab vintage stuff too. To find some of the most hidden laneways, why not join a laneways tour!
---
Rooftop Bars
Enjoy the views from some of the best rooftop bars in Melbourne. For views over St Patrick's Cathedral, check out Siglo or the popular Madame Brussels and Naked in the Sky. Treat yourself to a well earned cocktail while taking in some of the best views in the city.
Where to Stay in Melbourne
While you are busy enjoy the many fantastic things to do in Melbourne, you will of course need a comfortable place to stay. Below are three options suitable for all tastes and budgets that will assist you with planning your perfect Melbourne getaway.
Budget – Space Hotel
Mid-Range – Travelodge Hotel Melbourne Docklands
Luxury – Sheraton Melbourne Hotel
Also check out my article Where to Stay in Melbourne for more options.
---
Over to you!
Which of these things to do in Melbourne is top of your list?
Let me know using the comments section below or join me on social media to start a conversation.
Thanks for reading and I hope you enjoyed this post.