The sleepy town of Kiama is the perfect place to spend a long weekend or or a night or two on a longer road trip down the NSW South Coast.
This lively town is full of restaurants, cafes and boutique shopping as well as some must see attractions and picture perfect beaches. Spend your days relaxing on the beach, taking long walks on the sand and through the surrounding rainforests and browsing the local artisan stores. In the evening there are lots of places to enjoy good local food and entertainment.
While a lot of people travelling south from Sydney stop into Kiama to visit the famous blowhole, this article will show you that there is more to the region, with an abundance of things to do in Kiama and the surrounding area. Spend a few nights here and you will be charmed for life and wanting to come back time and time again to soak up the laid back lifestyle.
Things to Do in Kiama and Surrounds
The Blowhole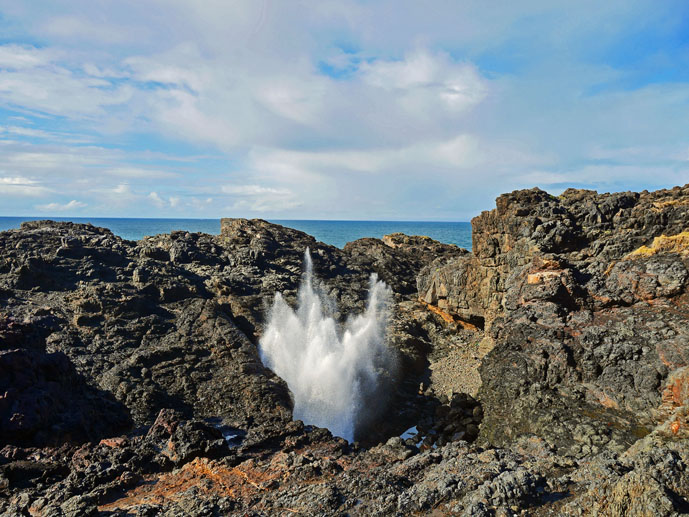 This natural phenomena is basically a hole in the volcanic rock that shoots water metres into the air when the sea rushes underneath. It is said to be at its best when the seas run from the south east, but having been there dozens of times myself, I haven't left disappointed regardless of the sea direction.
Address: Blowhole Point Rd
Cost: Free
Hours: Best seen in daylight hours
---
The Little Blowhole
While the big attraction in Kiama is its big brother, the Little Blowhole is worth a look also and doesn't draw the crowds like the its big brother. Located in a quiet residential street away from town, the Little Blowhole again shoots water up through a hole in the volcanic rock as the sea rushes underneath. The views from this point looking back north up the coast are also worth the visit.
Address: Tingira Crescent
Cost: Free
Hours: Best seen during daylight hours
---
Kiama Seaside Markets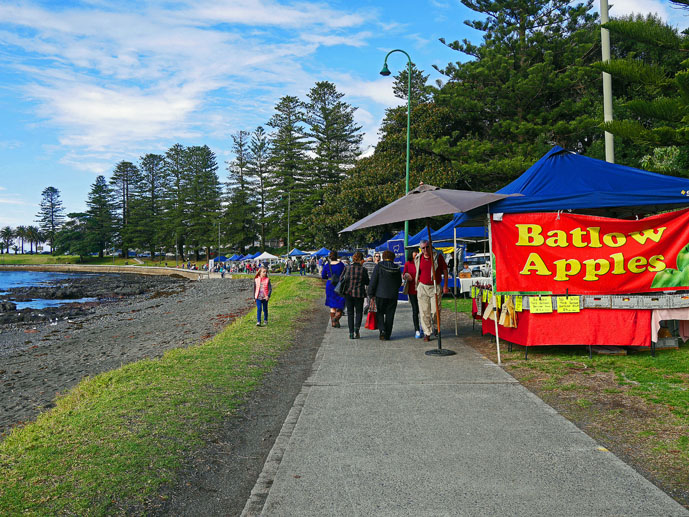 Kiama hosts two monthly markets, on the third Sunday of the month for handmade goods and the other on the fourth Saturday of the month selling local produce. There is usually 30 plus stalls along the lovely waterfront with most of them coming from sellers in the local area. Grab a coffee and a pastry from one of the vendors and stroll through tasting, browsing and buying whats on offer.
Address: Kiama Waterfront
Cost: Free
Hours: 3rd Sunday and 4th Saturday of each month
More Information: https://kiamaseasidemarkets.com.au/
---
Terrace and Sandstone Walk Shops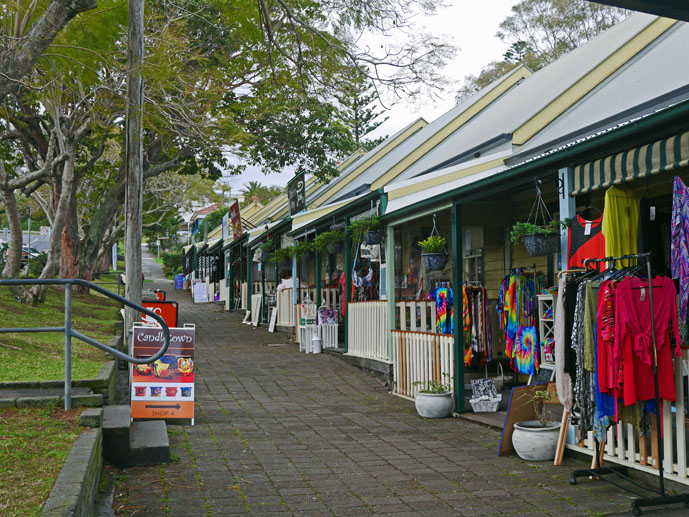 This small collection of shops are housed in restored timber houses circa 1886 which are the last of their kind in the area. They were originally built by the local miners and today house boutique shops, restaurants and cafes.
Address: Collins Street
Cost: Free
Hours: Hours vary depending on the day of the week and type of store.
---
Kiama Coast Walk
This 20 km walk along a sign posted coastal track takes you from Minnamurra Village through Kiama and finishes at Seven Mile Beach in Gerroa, south of Kiama. You can do the walk in sections and pick the parts that suit your fitness level or for those after a bit more of a challenge you can complete the walk in a whole day.
Address: The walk begins from the Minnamurra River at the village and ends at Seven Mile Beach in Gerroa
Cost: Free
---
The Beaches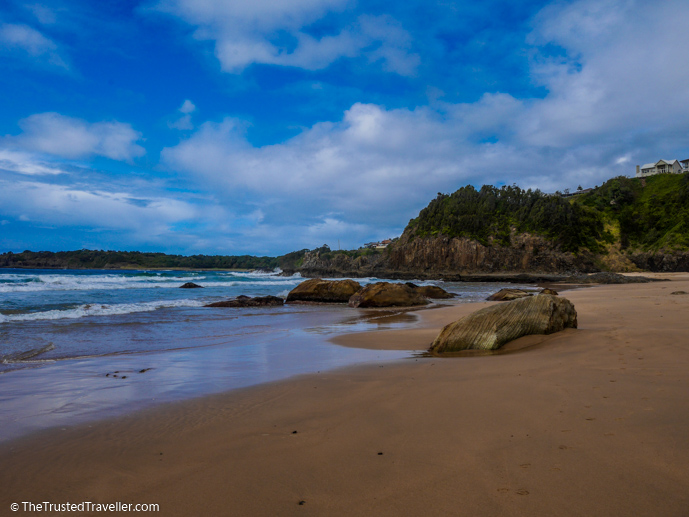 Kiama has some fantastic beaches for all occasions. Looking to spend the day relaxing and swimming, head to Surf Beach which is patrolled; wanting to escape and have a beach all to yourself, check out Jones Beach which is also a great spot to see the Cathedral Rocks; endless stretches of sand can be found at Seven Mile Beach just south of Kiama in Gerroa; or my personal favourite Werri Beach where you can enjoy all of the above plus watch the locals surfers in action.
Address: Various
Cost: Free
Hours: During summer, some beaches are patrolled during daylight hours
---
Jamberoo
Famous for the water park of the same name, there is more to Jamberoo than waterslides. A nice short countryside drive inland from Kiama, Jamberoo has weekend markets, quaint stores and a small array of excellent cafes, a great place to grab locally made scones with jam and cream. If you have the kids in toe then you won't want to miss Jamberoo Action Park. Here you will find nearly 20 different water based rides to keep the kids (big and little) entertained for hours.
Address: Jamberoo Action Park – 1215 Jamberoo Rd, Jamberoo
Cost: Entry to Jamberoo Action Park is from $50pp for a day pass
Hours: Jamberoo Action Park is open 10am-5pm during school holidays and Friday to Sunday on summer weekends.
More Information: https://www.jamberoo.net/
---
Berry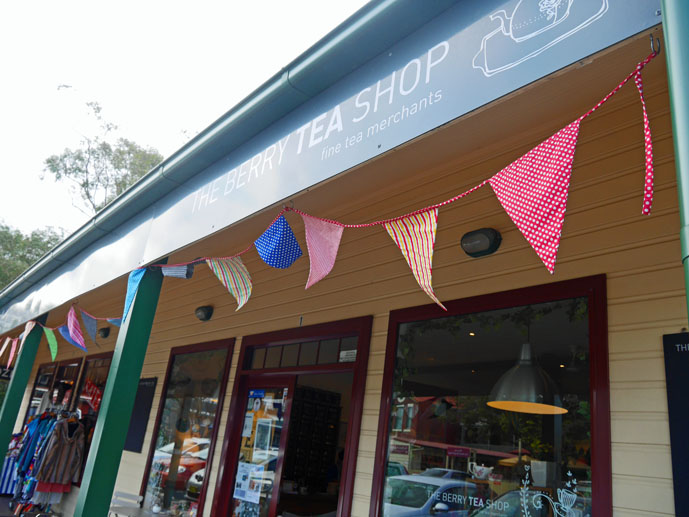 One of the top quaint towns in NSW, in Berry you will find plenty of great places to eat, lovely little local shops selling locally made items and some top pubs. If you are there for breakfast or morning tea, check out the Milkwood Bakery or for lunch the meals at the Great Southern Hotel are always great. Just a few minutes drive from the main street is the Berry Treat Factory, a great place to stock up on treats.
Address: Queen St, Berry
Cost: Free
Hours: Shops are open roughly 9am to 5pm daily
---
Carrington Falls
A little further west from Kiama on Tourist Drive 9 through Jamberoo is Carrington Falls in the Budderoo National Park. Falling 50 metres into the gorge below, you can take an easy 25 minute loop walk to see the falls from all angles.
Address: Jamberoo Mountain Rd, take the Cloonty Rd turn off to Carrington Falls
Cost: National Park entry fee is $12 per vehicle per day
Hours: 9am to 5pm daily, closed in poor weather conditions
More Information: https://www.nationalparks.nsw.gov.au/things-to-do/picnic-areas/
---
Saddleback Mountain Lookout
Just a short drive from Kiama is where you will get one of the best views of Kiama, the coast and the surrounding countryside. Park the car right up near the Saddleback Mountain lookout platform and wander out for some pretty spectacular views on a clear day.
Address: Saddleback Mountain Rd, Kiama
Cost: Free
Hours: Daylight hours
---
Minnamurra Rainforest
Located west of Kiama you will find the Minnamurra Rainforest which will transport you a world away from the coastal region. From the Visitors Centre, take the easy one hour long loop walk which takes you over suspension bridges and up to viewing platforms to view the rainforest canopy.
Address: 345 Minnamurra Falls Rd, Jamberoo
Cost: National Park entry fee is $12 per vehicle per day
Hours: 9am to 5pm, last access 3pm
More Information: https://www.nationalparks.nsw.gov.au/things-to-do/visitor-centres/minnamurra-rainforest-centre
---
Illawarra Fly Treetop Walk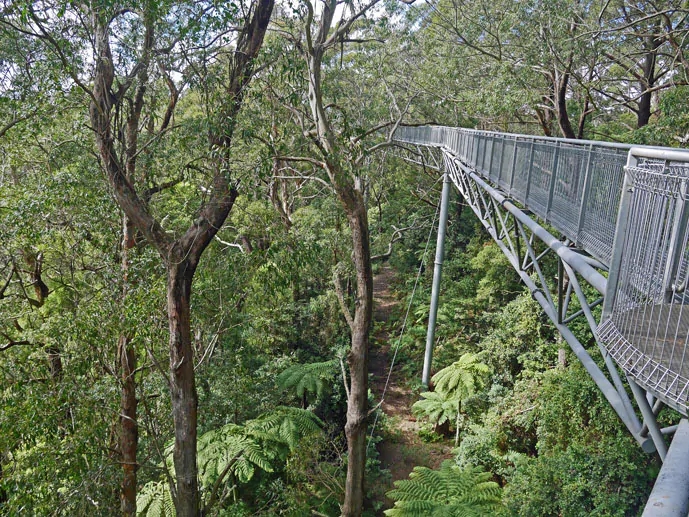 This elevate steel walkway through the highest point in the rainforest canopy is worth the extra effort it takes to get there from Kiama. You can read more about my experience visiting this spectacular attraction here.
Address: 182 Knights Hill Rd, Knights Hill
Cost: $22.50 when purchased online, otherwise $25.00
Hours: 9am to 5pm, last admission 4pm
More Information: https://www.illawarrafly.com/
---
Where to Stay in Kiama
Here are three accommodation options in Kiama to suit all budgets that I recommend you check out. All are centrally located, highly rated and come with excellent facilities.
Budget – Kiama Motel 617
Mid-Range – Big4 Easts Beach Holiday Park
Luxury – Terralong Terrace Apartments
---
Over to you!
Which of the things to do in Kiama and surrounds are you most looking forward to seeing and doing?
Let me know using the comments section below or join me on social media to start a conversation.
Thanks for reading and I hope you enjoyed this post.
Join my email list and get a FREE copy of my TRAVEL PLANNING TEMPLATE
My Travel Planning Template will make your travel planning simple & stress-free!