Most people have heard of Disney World and know that it's home is in Orlando, Florida. But what a lot of people don't know is that there is over 15 theme parks in the Lake Buena Vista area, south west of the Orlando city centre.
Over 50 million people each year flock to this part of the world to be thrilled and entertained by the rides, shows and attractions these theme parks are famous for. It makes Orlando one of the best East Coast vacation spots in the USA, with something at each of the theme parks for people of all ages.
Where it All Began
In 1965 Walt Disney announced plans to build Walt Disney World in Orlando, favouring it over Miami and Tampa because the area is less effected by hurricanes. The completion of the resort came in 1971 and Orlando's population and economic standing exploded. As a result, tourism in the area boomed and new theme parks began opening in the years that followed.
The Theme Park Capital of the World
Orlando now has more theme parks and entertainment attractions than any other place in the world. And it isn't just for kids. A lot of the rides are actually more suited for the "big kids", adult thrill seekers in search of adrenalin pumping roller coasters. These theme parks really offer something for everyone no matter how old or young you are.
So let me guide you on a journey through the wonderful world of fun and entertainment with my guide to the Orlando Theme Parks.
This post contains affiliate links. Our full disclosure policy is here.
My Top 6 Parks
Magic Kingdom
When most people picture Disney World, it is the Magic Kingdom with Cinderella's castle as the centrepiece that they are picturing.
The park has a very simple to navigate layout. When you walk through the entrance gate you first walk down Main Street USA lined with shops selling every Disney product you can think of plus a few places to buy food. Arriving at the end of this street you will find yourself standing in front of Cinderella's Castle.
Right in front of the castle is a big roundabout and shooting off the roundabout are all of the lands that make up the Kingdom. Each land is incredibly well themed right down to the detail, including the food served, the landscape and of course the rides and shows.
Here is a bit of detail about each land and what you will find starting with the first land on your left.
Adventureland – This land is of course all about adventure. Explore the Swiss Family Treehouse, take a magic carpet ride with Aladdin, journey on the Jungle Cruise or embark on a voyage with Pirates of the Caribbean.
Frontierland – Relive the American Old West in this land complete with cowboys and Native Americans. Show your bravery on Tom Sawyer Island, splash down on Splash Mountain and ride through a gold mine on Big Thunder Mountain.
Liberty Square – Themed on an American Revolutionary colonial town. Enjoy a cruise on the Liberty Belle Riverboat, let out a few shrill screams in the Haunted House or take in the Hall of Presidents Show.
Fantasyland – Dedicated to the young (and young at heart), Fantasyland is a medieval/carnival themed land with over a dozen attractions including the annoyingly catchy It's a Small World, Mad Tea Party, Dumbo the Flying Elephant and take a journey with the Little Mermaid.
Tomorrowland – Set in an intergalactic city complete with robots, rockets and UFO's. In Tomorrowland you can ride the epic Space Mountain, have a laugh with Monsters Inc. or take a spin with Buzz Lightyear.
Magic Kingdom isn't just all about rides. One of the most popular reasons for people, especially the young ones, to visit this park is getting to me their favourite Disney characters. There are opportunities all over the park for you to see these characters come to life in the daily parades, shows and of course meet and greet sessions that are held at scheduled times throughout the day.
My Verdict
As much as I loved and wanted to visit this park I felt a little old and out of place visiting the Magic Kingdom without kids. Most of the rides are suited to the young ones, which I personally think is the way it should stay. Its a place for the magical dreams of children to come alive.
---
Read More: Best Shoes for Disney World on Yorkshire Wonders
---
Disney's Animal Kingdom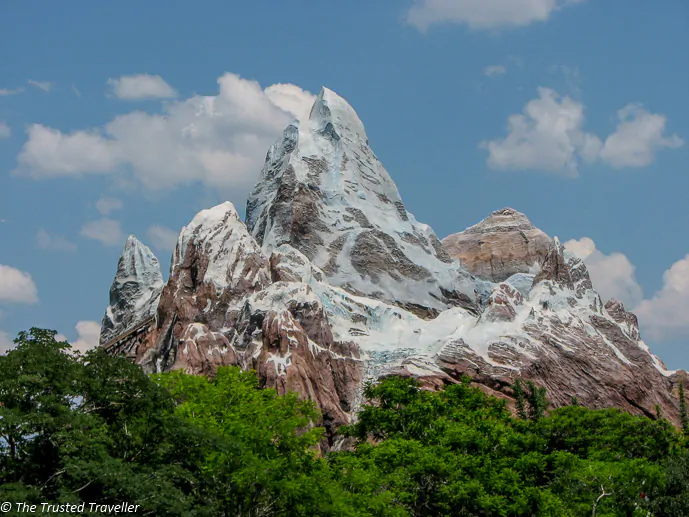 One of the largest animal themed parks in the world, Disney's Animal Kingdom is home to more than 1,700 animals and reflects Walt Disney's dedication to conservation and animal care. When you think theme parks you think rides, but this park is more about the animals with a few fun rides thrown in the mix.
Like the Magic Kingdom, Animal Kingdom is set up in an easy to navigate layout with six themed lands for you to explore.
Oasis – Step into this tropical rainforest area and wander through the exhibits of wildlife such as birds, lizards and other tropical dwelling creatures.
Discovery Island – This is actually a real island in the middle of the Discovery River and is located right in the middle of the park with connections to all of the other lands. Take a stroll through the many animal exhibits including monkey's, lemur and otters or catch the 3D show based on A Bugs Life, for some creepy crawly moments in the dark.
Africa – Probably the main attraction of the park. In Africa you get to join a real safari. Board the safari vehicles and take off into the savannah in search of lions, giraffe, elephants and many more animals. You get so close to them that you can almost reach out and touch them. If you haven't visited Africa before this land will probably impress you like it did me.
Rafiki's Planet Watch – This area is full of animals to see and you can take an educational train from here through the African village. Also stop by the Conservation Station to learn about the animal habitats from around the globe and discover the expert care the park animals receive.
Asia – This is where you will find most of the rides in the park, as well as the tigers and heaps of other Asian animals. The Kali River Rapids is one of the funnest and wettest rides I've been on. Look out for the wet seat!
DinoLand USA – Inspired by a general curiosity to dinosaurs, this land explores the concept of these ancient creatures. Animals to see include the American Crocodiles or take a ride on the DINOSAUR to save a dinosaur from extinction.
My Verdict
I really enjoyed visiting Animal Kingdom. This park offers something for everyone no matter how young or old you are. It gives visitors a unique opportunity not just to get up close to the animals but also to learn a bit more about them and how we can help protect them, all while having a bit of fun. My only complaint is the lack of shade from the hot Florida summer sun. We were utterly exhausted not long after lunch time.
Book a Disney Vacation package NOW!
---
Epcot
Spread over 300 acres, Epcot is dedicated to the celebration of human achievement, namely technological innovation and international culture.
It has a bit of a retro feel about which I have heard others describe as outdated and boring. However, I was intrigued by this place and ended up being pleasantly surprised after my visit.
The park is split into two distinctly different worlds.
Future World – The majority of the rides can be found in Future World including the awesome Mission Space which puts you in a space simulator (I found this utterly frightening and amazing all at the same time.) and Spaceship Earth which is a 15 minutes dark ride through the inside of the giant iconic "golf ball" that demonstrates how advancements in human communication have helped to create the future one step at a time (The view when you get to the top, looking down into the giant ball is pretty cool.).
World Showcase – This world is what I, and most visitors to the park love the most about Epcot. World Showcase is split into 11 smaller areas located around a big lake, each dedicated to a different country; Mexico, Norway, China, Germany, Italy, USA, Japan, Morocco, France, United Kingdom and Canada. Each countries area contains themed architecture, landscapes, streetscapes, attractions, shops, and restaurants representing the respective country's culture and cuisine. And for an extra level of authenticity, each countries area is primarily staffed by citizens of the respective countries. Why not eat your way around the world!
My Verdict
As I said earlier, I was pleasantly surprised by Epcot. Despite it being a little outdated in terms of themes and technology, it has a very unique charm which sets it apart from the other parks in the area. On our visit we set a mission to buy one plate or item of food from each country to share among our little group in the hope we would make it to each of the 11 countries. In reality we only made it through six countries before we were so full we couldn't possible eat another bite.
---
Read More: 20 Fun Day Trips from Orlando, Florida on As We Saw It
---
Disney's Hollywood Studios
Disney's Hollywood Studios showcases the glitz and glamour of Hollywood's Golden Age. Offering a glimpse into the behind the scenes cinema magic of Hollywood movies, TV shows and entertainment.
The park is split up into seven areas which blend together like an enormous movie set, full of neon, chrome, art deco, and modern architecture. It's like walking around a real movie set.
Hollywood Studios features tons of live shows, high speed rides, and backstage tours. Some of the highlights include:
Taking a journey through Hollywood's most famous movies on The Great Movie Ride.
Catching the Indiana Jones Stunt Spectacular show.
Riding the 3D motion simulated Star Wars ride.
Feeling small in the Honey I Shrunk the Kids movie set
Join the Studio Backlot tour.
Immersing yourself in adventure with The Legend of Captain Jack Sparrow.
Screaming you lungs out on the Aerosmith Rock 'n' Roller Coaster.
Terrifying yourself on the Tower of Terror.
Seeing your favourite Disney characters on the Live Stage show.
My Verdict
Hollywood Studios is the small of the six parks I am focusing on in this post and it was probably my least favourite. However it was still a lot of fun with heaps of attractions that suit all ages. If you are fascinated by the movies and love watching live shows then this is the park for you.
---
Universal Studios
A visit to Universal Studios will have you going behind the screen and getting right in on the action of some of your favourite movies and TV shows. Its a real working film and TV production facility that gives you the chance to see sets, and put yourself in the picture.
On top of this there are rides and shows galore with something to keep every age group entertained.
For those who like watching the shows you've got plenty to choose from. Start with the funny Shrek 4D; then head over to Twister, Ride it Out experience where you are put in a simulated twister scenario; next check out the musical shows of the Blues Brothers and Beetlejuice; watch the Terminator 2 3D show; and finally head over to Fear Factor live where you can watch, or even if you dare, participate in gravity defying stunts.
And don't forget the rides, especially if you like the big ones as the park has one of the biggest. The Rip Ride Rockit! will have you flying while you choose the tune for your experience; travel deep underground on the Harry Potter and the Escape from the Gringotts ride; or plunge into darkness with Revenge of the Mummy; take a trip through a live disaster scene on Disaster A Major Motion Picture; zap aliens on the interactive Men In Black: Alien Attack; take a hilarious ride with the Simpsons; and help E.T. make it home.
My Verdict
If you love watching shows and interactive rides then this is the park you want to visit. We found it to be quite similar to Disney's Hollywood Studios but better because there was much more to see, do and interact with.
---
Universals Islands of Adventure
Saving the best for last! Islands of Adventure was by far, the best theme park I have EVER visited and it is consistently rated one of the top parks in Orlando. Where the other Universal park was all about the shows, Islands of Adventure is about the cutting edge, interactive rides that will have you wanting to go on them over and over again.
Islands of Adventure is split into different themed lands which are easy to navigate as they are set in one ring around the central lake. I'll take you through each land and what you can see and do there starting with the first on the left once you walk through the Port of Entry.
Marvel Super Hero Island – Good vs Evil is the theme with all your favourite hero and villain characters roaming this area entertaining the crowds. Some of the parks best rides are here too with the epic Incredible Hulk Coaster, Doctor Doom's Fearfall and my favourite The Amazing Adventures of Spiderman which is a ride and 3D show all in one.
Toon Lagoon – This colourful area is where you will find characters like Popeye and Betty Boop. The big ride attraction here is the Dudley-Do-Right Rickshaw Falls where its certain you'll get wet.
Jurassic Park – This well themed area is where you will find the Jurrasic Park River Adventure Ride where, again, I guarantee you'll get wet. Also check out the Discovery Centre which is full of interactive displays and exhibits outlining how the dinosaurs lived.
The Wizarding World of Harry Potter – By far the parks most popular land. If your familiar with the books and movies you will notice the replica Hogwarts and various other buildings throughout this world. The Wizarding World of Harry Potter is full of fun Harry Potter themed rides plus lots of shops and photo opportunities if you can manage to get to them through the crowds.
The Lost Continent – Split into two smaller areas, the first is an ancient Arabian marketplace called Sinbad's Bazzaar, while the second is a mythological Grecian-Atlantis-style Lost City. Check out the Sinbad Stunt Show or encounter the special effects of Poseidon's Fury.
Seuss Landing – This very colourful land is full of rides and entertainment that will keep the little ones happy for hours. They can ride the One Fish, Two Fish, Red Fish, Blue Fish or the Car-Seuss-el just to name a few.
My Verdict
Myself and all those travelling with me agreed that we could have spent days at this park going on the rides again and again. We were very lucky that it was a quietish day and we got to enjoy some of the best rides like the Hulk and Spiderman three or four times. If you only have time for one Universal park and you love rides then this is the one for you.
---
The Others
Disney's Blizzard Beach – A water park themed on a winter wonderland. Home to one of the world's tallest and fastest free-falling water slides plus lots of other water based attractions for the whole family.
Disney's Typhoon Lagoon – Another water park but this time in a lush tropical setting. You will find epic water slides, a lazy river, wave pool with 6-foot wavers, children's play area and the opportunity to snorkel with real sharks.
Wet n Wild Orlando – Yet another water park although this one specialises in multi-person rides like the four person tube ride with a 53-foot vertical drop into a dark funnel. You will also find the usual wave pool, slides and plenty to keep the kids happy.
SeaWorld Orlando – The most well known sea life park in the world. Attractions include various animal shows including the Shamu the killer whale show, animal enclosures with sea creatures from all over the world and they have recently introduced a few thrill rides to keep the adrenaline junkies happy.
Aquatica SeaWorld – Water park with a difference. Ride the slides, rides and rapids which are complimented by some real life sea creatures. The most popular attraction is the Dolphin Plunge which lets you race side-by-side in tube through an underwater world that is home to a pod of real dolphins.
Discovery Cove – Quieter and more slow paced than the other water and sea life based parks. Attractions here include swimming with dolphins, snorkeling the Great Reef and floating along Wind-away River.
Gatorland – A wildlife haven that showcases Florida's natural landscape and of course its alligators. Its more than just gators, with opportunities to get up-close and personal with snakes, birds and lots of other animals from around the world.
---
Outside of Orlando
These parks are all a little further away from Orlando but still worth a look if you have the time and your own transport.
Busch Gardens – In this African themed park you can discover nearly 3,000 animals, live shows, cultural based rides and attractions plus go on an African Safari.
LEGOLAND – Fun for kids aged 2-12, this ridiculously well themed park will impress any LEGO fan with the displays, rides and attractions on offer. They even have their own waterpark!
Adventure Island – This water park is the sister park of Busch Gardens and is located across the road. Enjoy lots of action-packed slides, a wave pool, cabanas to relax in, volleyball courts and play areas for the kids.
---
Nighttime Attractions
There are two notable areas to spend your evenings after a day of adrenaline pumping rides and entertainment packs shows.
Universal CityWalk
You will walk through here on your way into the Universal parks in the morning so you'll get a good idea of the amount of restaurants, bars and entertainment areas there are to keep you busy night after night.
All of the restaurants have a theme and are very touristy but you are in a tourist mecca so you can't expect much more than this. We ate and drank at both NASCAR Sports Grill and The Bubba Gump Shrimp Company. The food was good and the drinks were large and the bill was cheaper than we expected.
For some after dinner entertainment check out the Blue Man Group, watch a movie at the Cineplex or catch a live show.
Downtown Disney
Set on the waters edge, Downtown Disney is place to come at night after a day of theme park hopping. The area is full of restaurants, shops and nightlife and you will surely find something to entertain all ages.
Think bowling alleys, game arcades, theaters, shows and street performers. My favourite was the Lego Shop and it's impressive lego displays.
There are over a dozen places to eat with every budget catered for from food trucks to waterfront seafood restaurants. We ate at Crossroads @ House of Blues which has delicious southern food like a ridiculously large plate of fried chicken.
---
---
Over to you!
Have you visited any of the Orlando Theme Parks? What did you love most about it? Or maybe you haven't visited yet but it's on your bucket list? What about other theme parks around the world. What has been your favourite?
Let me know using the comments section below or join me on social media to start a conversation.
Thanks for reading and I hope you enjoyed this post.