I'm always looking for a different way to explore a new destination. I've pounded pavement in my trusty walking shoes in cities around the world, seen some of those cities from the top of a bus, journeyed through mountains on scenic trains, been whizzed around in a rickshaw and taken river and ocean cruises taking in the views from the water. So on my visit to the Marlborough Region of New Zealand's South Island I just had to take the opportunity to see the spectacular Marlborough Sounds on a Mail Boat.
A Bit About the Sounds
The area collectively referred to as Marlborough Sounds comprises three main Sounds; Queen Charlotte, Kenepuru and Pelorous Sounds. These Sounds are basically valleys filled with water from the Pacific Ocean that were created by a combination of land subsidence and rising sea levels.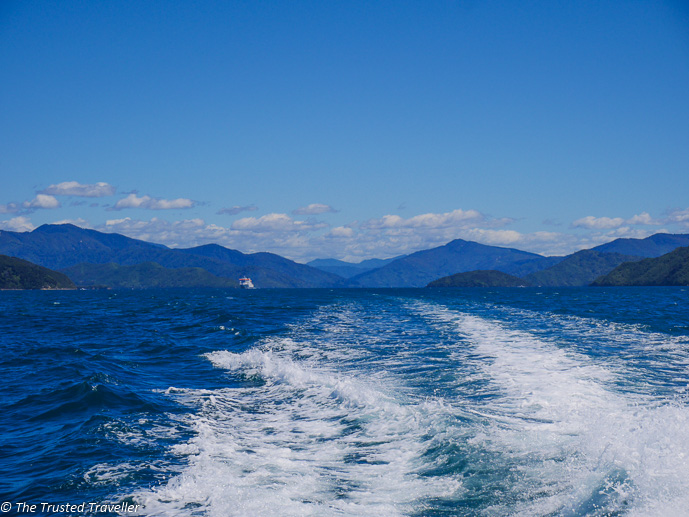 The Sounds take up a massive 4,000 km² with the area sparsely populated due to the rugged landscape and limited access by road. The few people who do live in the isolated Sounds rely heavily on boats to transport themselves, receive everyday supplies like groceries and of course incoming and outgoing mail.
Researching My Cruise
There are a number of ways (which I'll touch on in a later post) that you can explore the Marlborough Sounds but for me it just had to be from the water. Spending a few hours cruising rivers, lakes and oceans on my travels is one of my favourite things to do. Especially when the weather is as good as it was in Marlborough on the day of our cruise.
When I started doing my research on the best way to see the Sounds it kept popping up that you could join a mail boat on its daily delivery route to some of the areas remote properties. I'd heard of this concept before on travel shows featuring places in Scandinavia but never Marlborough.
I found through my research that there are a few companies who offer mail delivery to the remote properties of the Sounds allowing visitors to the area the chance to tag along. With each company offering much the same thing I decided to book through my favourite tour and experience website, Viator.
A few minutes after making our booking we received an email confirmation telling us we were booked in with Beachcomber Fun Cruises, one of the companies I had seen in my earlier research.
---
Read More: Two Week New Zealand South Island Road Trip Itinerary
Be Inspired: 43 Photos to Convince You to Visit New Zealand's South Island
---
Cruising Marlborough Sounds on a Mail Boat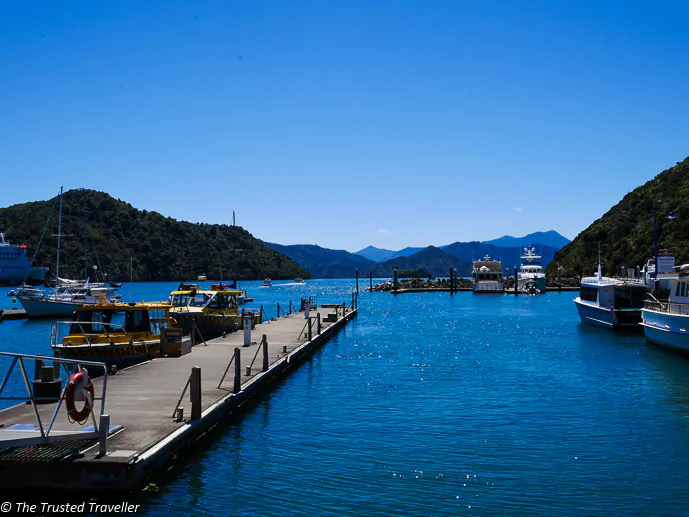 We meet our boat and Captain at the dock for the four hour cruise around the Queen Charlotte Sound. It's a small catamaran with an open top deck which we decide is the perfect place to start our cruise off in the sunshine.
However as we leave the small Picton harbour and pick up speed we quickly realise that despite that beautiful sunshine, the breeze is just a little too brisk on the top deck. While most people stay up top we move down to the comfy padded seats outside at the back of the boat looking back as you leave civilisation and head into the remote Sound.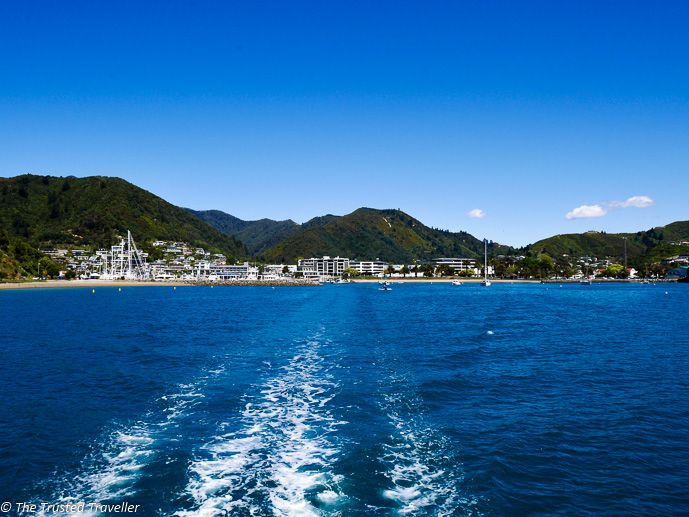 For the next few hours we listen to informative commentary from our Captain about the Sound, how it was formed and the islands, bays and inlets that we pass along the way. The scenery is pretty spectacular with deep dark water below turning to crystal clear near the shores. The mountains lining the Sound are mostly steep wooded hills with the striking contrast of massive clearings where nothing grows.
We make a stop about every 15 minutes pulling up to a lone wooden dock, greeted by a property owner receiving their goods. At a lot of the drop offs we are also greeted by friendly dogs who seem to know the routine pretty well and love getting a treat from our Captain.
A Stop at Ship Cove
Half way through the cruise we make a scheduled stop at the secluded Ship Cove. The cove was named by Captain James Cook in January of 1770 when his ship, the Endeavour, stopped there to replenishing supplies such as food, water and wood.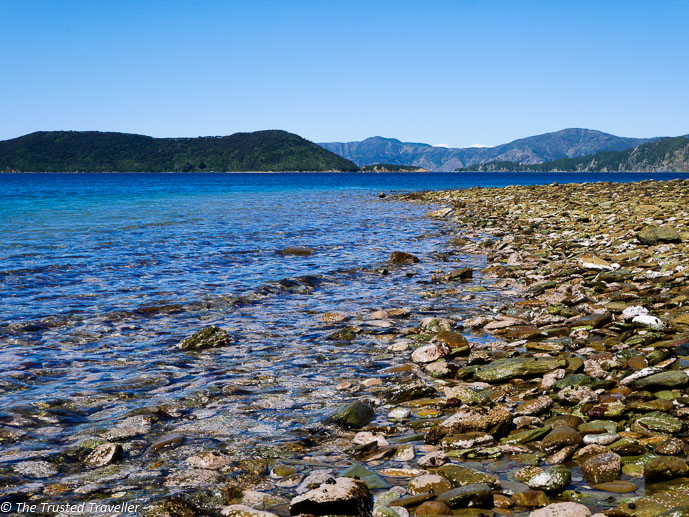 The cove also has significance to the local Maori's as a place to find shelter from the nearby open ocean. It was here that they formed a transitional village which they used during the summer months to gather, food, water and other supplies they'd need to keep them going through the cold winters.
The cove today commemorates both Captain Cook's visits and the Maori connection with a memorial to Cook and traditional Maori carvings. You can read all about both on the information boards nearby.
Returning to Picton
Re-boarding the mail boat it was time to slowly make our way back to Picton with a few more mail and supply drop offs along the way.
As we are slowly rounding one of the last sights, a large Salmon farm on the middle of one of the inlets, someone spots a seal playing in the water right near the Salmon enclosures. Everyone, including me, rushes to see our first and only wildlife glimpse of the day.
All in all it was a very relaxing and scenic day. We barely had to move from our seats at the back of the boat, enjoying the fresh sea air, sunshine and spectacular scenery. We could have stayed there forever……..
---
The Details
Marlborough Sounds are located in the north of New Zealand's South Island. By car its a four hour drive from Christchurch to Picton. There are also trains and buses that can get you there from Christchurch and the Interislander Ferry from the North Island city of Wellington which docks in Picton.
We choose to stay in the sleepy town of Picton as it allowed us to explore both the wine region and the Marlborough Sounds with ease. Check out my Where to Stay page for my recommendation.
We booked our tour through Viator and enjoyed our day with Beachcomber Fun Cruises. They offer a wide range of cruises including scenic sightseeing cruises, lunch cruises and of course the cruise we were booked for, mail delivery cruises. Mail runs happen Monday to Saturday and run on three different routes depending on the day of the week and who has mail or supplies to be delivered or picked up. Departures are at 1.30pm from the wharf at Picton.
---
Disclaimer: This page contains affiliate links. If you found this article helpful, please consider using them to book your trip. It costs you no extra and helps to keep The Trusted Traveller running.
---
Over to You!
What are some of the most creative or unusual ways you've explored a city or region?
Let us know using the comments section below or join us on social media to start a conversation.
Thanks for reading and we hope you enjoyed this post.