When I begun planning my Western Canada holiday, I made a list of the things I most wanted to see and do. Of course visiting The Rockies, Vancouver Island and Vancouver were all on that list, but the thing I wanted to do most was cruise the Inside Passage.
I did my research and found that the cruises were expensive. Just seven days cruising return to Vancouver up the Inside Passage to Alaska was going to cost me at least a few thousand dollars. This made me worry that I wouldn't be able to see this place that I've been dreaming of visiting for so long. At least not on this trip anyway.
So I dug a little deeper because I thought to myself, there really had to be a cheaper way to cruise the Inside Passage. Backpackers and budget travellers wouldn't be parting with thousands of dollars just for a short cruise like that, so I knew there had to be a way.
Finally after hours and hours of research I found it! I found a way to cruise the Inside Passage for cheap and without having to spend days on a cruise. And I want to share this experience with you, so you too can save thousands of dollars but still have the cruise of a lifetime through some of the most scenic waters in the world.
BC Ferries Inside Passage Day Cruise
BC Ferries is the biggest ferry company in the Western Canada state of British Columbia. They run passenger and vehicle ferries between the mainland (Vancouver area) to Vancouver Island and around parts of the main island and out to some of the smaller islands too. Most people who have visited or researched this part of Canada would have heard of these ferries.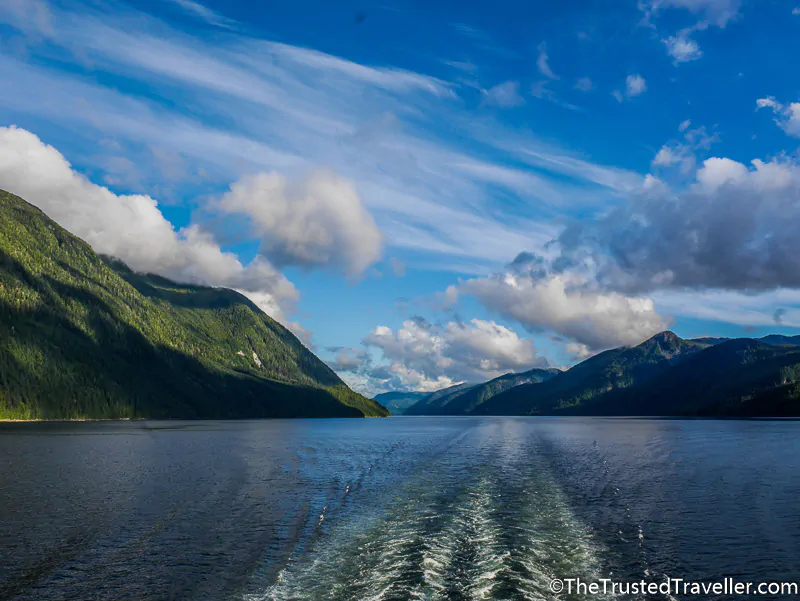 But the one ferry that you might not know about is the Inside Passage Day Cruise. Running from mid June to mid September each year, this 16 hour cruise travels between Port Hardy, at the northern tip of Vancouver Island, to Prince Rupert, in the northern reaches of the Canadian coast just 50 km (as the crow flies) south of the Alaskan border.
The Inside Passage Day Cruise not only accommodates foot passengers, but like most other BC Ferries, you can take your vehicle on-board as well. This means cars, motorbikes and motorhomes. They even accommodate commercial vehicles!
Cruises leave at 7:30am and arrive into port at 11.30pm. During the height of the summer months, most of the cruising time is in daylight, allowing you to see as much of the Inside Passage as possible. Sailings earlier and later in the season will travel a short time in the dark, but this allows for some pretty spectacular sunset and sunrise viewing from on-board the cruise.
While all of this is excellent, what you really want to know is the price! Now remember that the seven days cruises I talked about earlier cost at least a few thousand dollars.
As a foot passenger on a BC Ferries Inside Passage Day Cruise, you'll be paying just $195.00CAD per person. If you have a car, you'll pay just $640.00CAD for one vehicle with one passenger (less for motorbikes). This is a saving of thousands of dollars and because it is a one day sail, you'll be saving yourself time to see more of this beautiful country.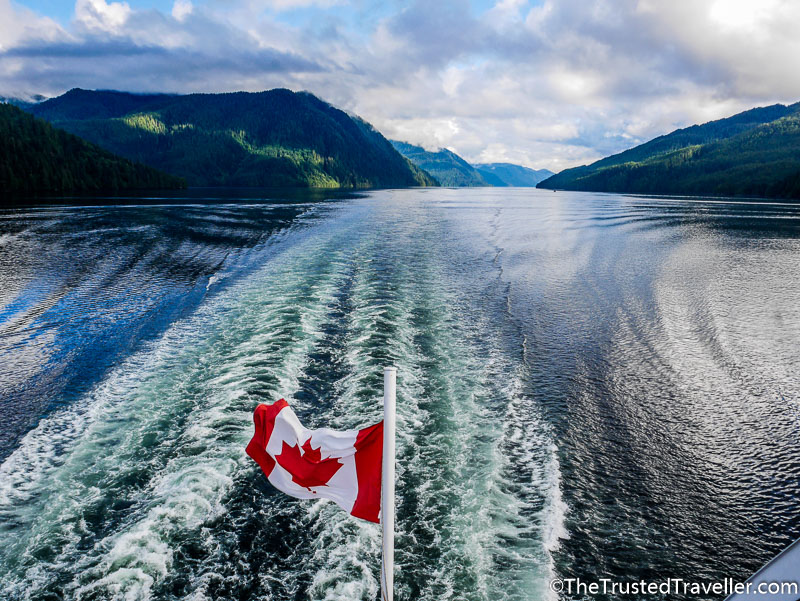 For my cruise, I sailed from Port Hardy north to Price Rupert on the last sailing of the season in September. Here is a little about what you can expect on-board the cruise and the scenery you'll see along the way.
On-board the Vessel
The Northern Expedition is one of the biggest vessels in the BC Ferries fleet. It is over 150 metres long, holds 638 passengers and crew, can have up to 115 vehicles on-board and travels at a maximum speed of 20.5 knots.
Just like any large ferry or cruise, there are plenty of amenities on-board to keep you comfortable for the entire journey.
Seating
A standard foot passenger ticket gets you access to everything on the cruise except for the Aurora Lounge and the Staterooms, where extra fees apply. I opted for the standard ticket as I figured I'd be spending most of my time out on the deck enjoying the view (and I was right!).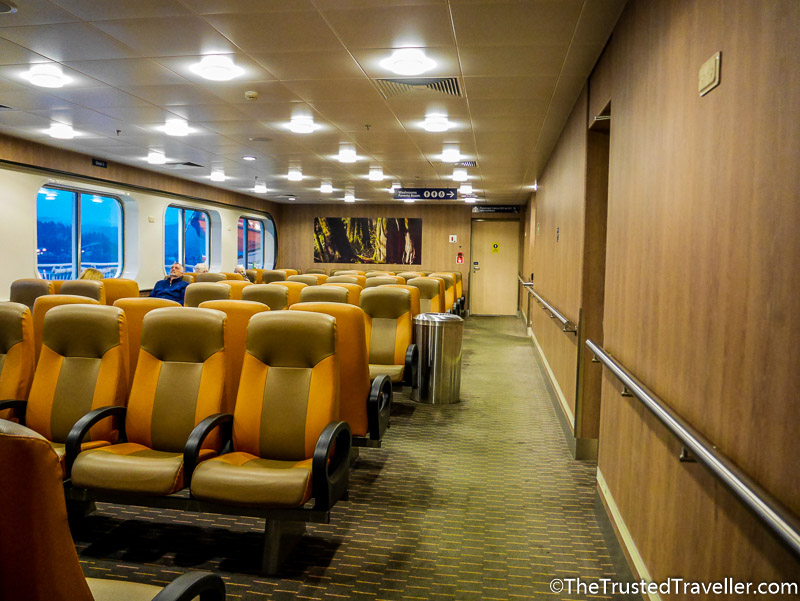 Inside there are lots of comfortable seats that either face directly out the windows or angled towards the windows to take in the view. The seats also recline a bit too, making it super comfy for relaxing and taking a little nap from time to time.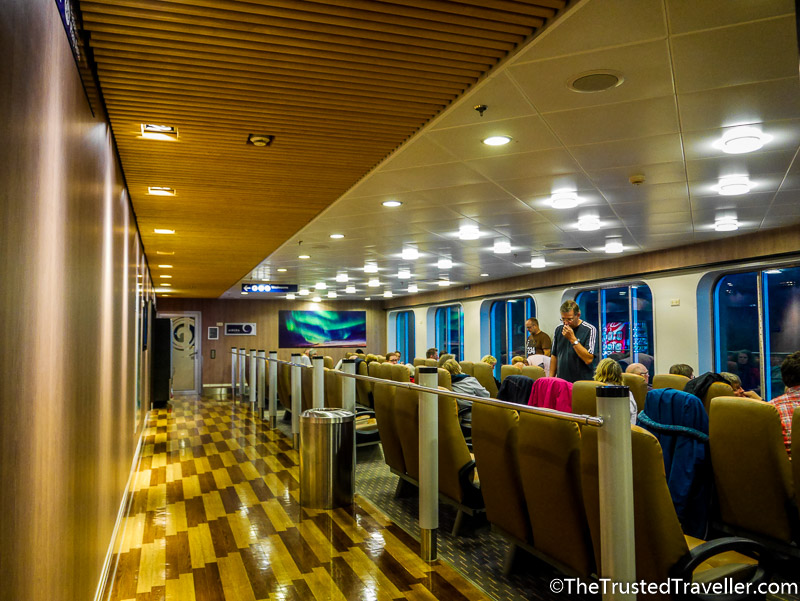 On Deck
Where you will spend most of your time (regardless of the weather in my case) is out on the deck. Yes it was raining and cold for a lot of my journey but with incredible views I just chose to rug up in my waterproof gear and make the most of it.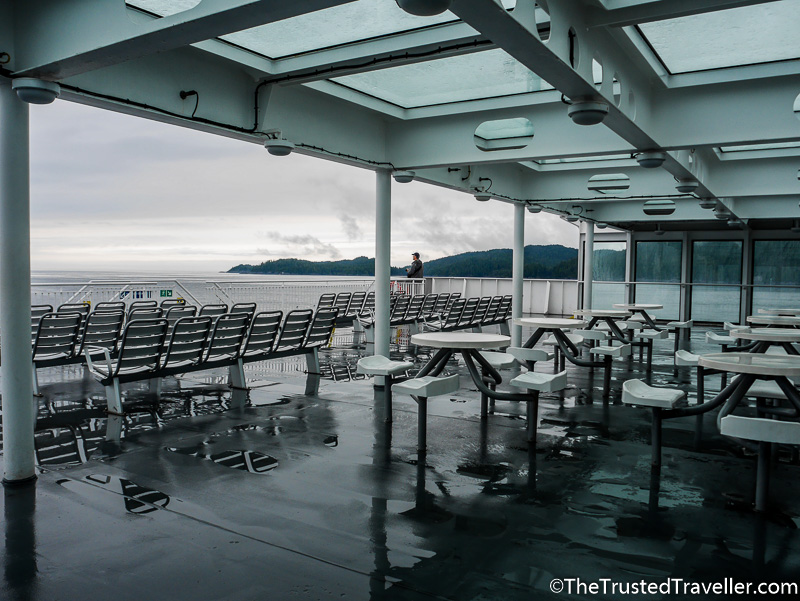 There is ample covered and un-covered seating on deck with the best views to be had from the back of the boat. I also found it to be more protected from the wind at the back.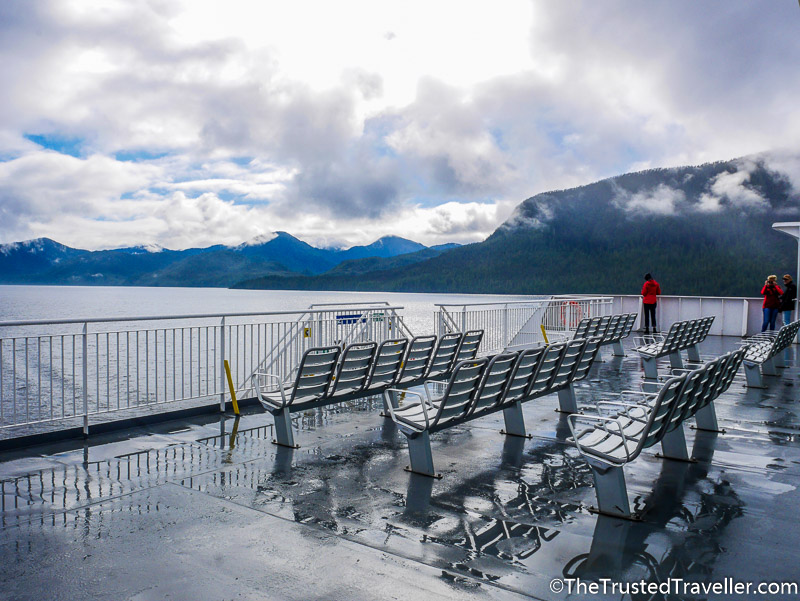 Food
On-board there are two food choices.
The Canoe Cafe
This casual dining area is similar to a cafeteria where you serve yourself and it is open for the entire duration of the cruise. There are lots of comfortable seats, some by the window, and tables with wooden edges on them for when it gets a little rocky.
At the Canoe Cafe you'll find self-serve hot and cold drinks, sandwiches, salads, cakes and other snack foods. There is also a hot food bar where you can get things like eggs and bacon for breakfast and burgers, fish and chips and soup from midday into the evening.
I enjoyed a cream cheese bagel for breakfast, a beef burger for lunch and a chicken stir fry for dinner. All were nice and exactly what you would expect from cafeteria dining as well as being reasonably priced.
I really enjoyed the big range of herbal teas they had available too. After spending time on deck in the cold taking in the view, a hot tea was exactly what I needed to warm up!
Vista Restaurant
The second dining option is the Vista Restaurant. This is a buffet restaurant open for lunch and dinner hours.
I unfortunately didn't get the opportunity to eat at Vista because by the time I arrived at the dining room for dinner, it was booked out for the rest of serving time. I highly recommend you reserve a table when you board to avoid missing out.
Entertainment
If sitting back and enjoying the spectacular scenery isn't enough for you then there are other things you can enjoy on the cruise as well.
Head to the Raven Lounge to enjoy a movie. There were two movie's played on my sailing and they show movies that will entertain people of all ages.
If you are travelling with kids, then they will definitely want to check out the Kids Zone. There you will find nautical themed play equipment and wall murals to keep the kids entertained. Plus comfy seats so mum and dad can sit back and enjoy the view while keeping an eye on the little ones.
What You Will See on the Inside Passage
While the cruise ship itself is great, what you really need to know about is what you'll see on this 16 hour journey. To sum it up, the journey is nothing short of spectacular!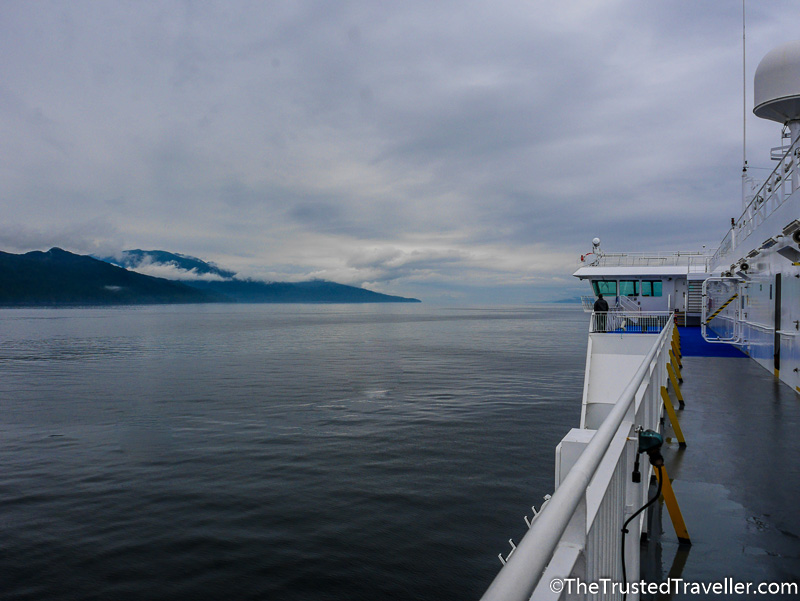 The landscape starts out pretty flat but as the boat maneuvers itself through the passage ways of islands on the left and mainland and islands on the right, the landscape changes. By the halfway point of the cruise there are towering mountains surrounding the passageways with spectacular cascading waterfalls and thick green rainforest clinging to the sides.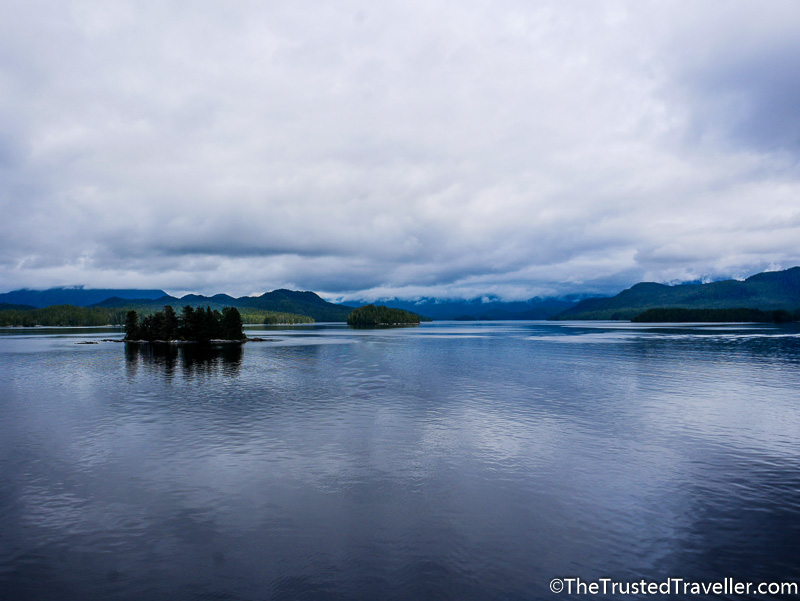 There are many points of interest throughout the cruise and the Captain makes a point of announcing each one as you go by. Make sure you pick up the Points of Interest brochure from the Pursers office when you board. It tells you more about the things the Captain announces along the journey.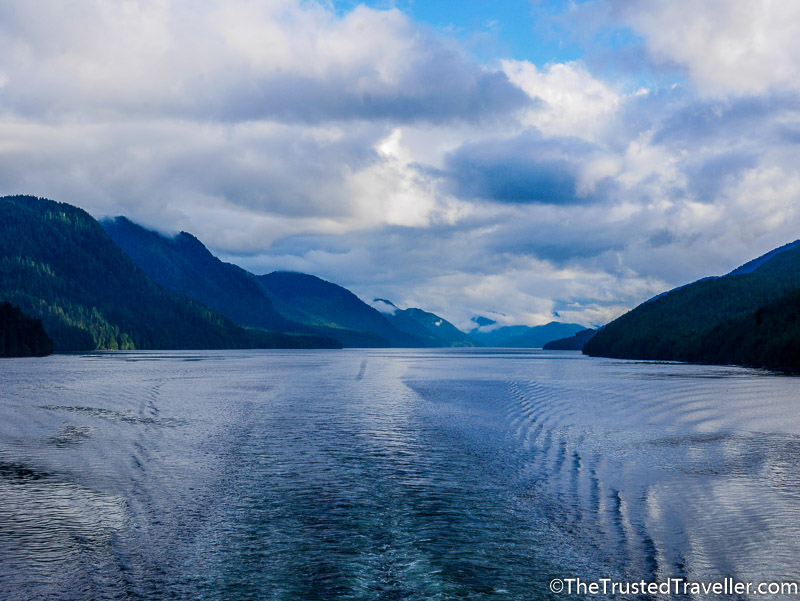 I had two favourite spots along the cruise. The first was the one and only stop at Bella Bella. This remote fishing and logging community is home to the largest First Nations community on the west coast of Canada. I was fascinated by the massive ferry maneuvering its way into place at the tiny dock and then watching the passengers and commercial vehicles disembark.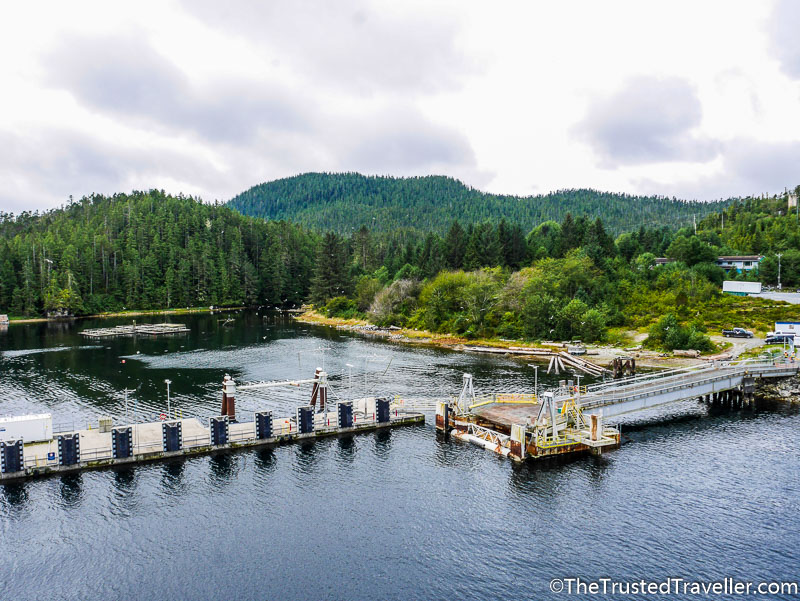 Off to the left of the dock, you can straight away see why it is a popular fishing spot. While on deck I saw what must have been hundreds of fish jumping out of the water.
My other favourite spot was the half way point of the cruise, Boat Bluff. This tiny lighthouse is visible for 32 km and is located on the southern end of Sarah Island, marking the entry of the Tolmie Channel.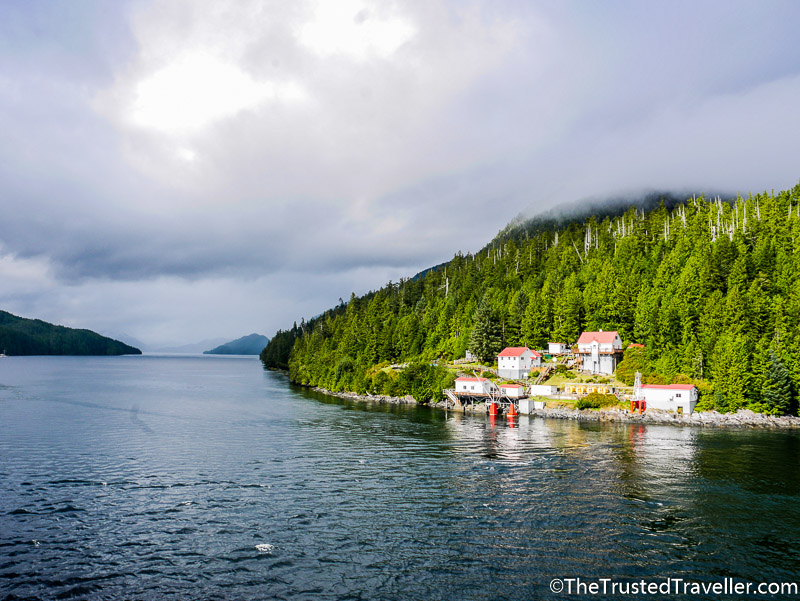 As we cruised past this spot, the sun made a rare appearance and shone down on the lighthouse. At the same time a pod of porpoise rode a small wave right in front. It was a pretty special moment of the cruise.
The biggest highlight however, was the opportunity to see so many whales. When I say so many, I'd say it was in the dozens for my cruise.
The Captain did his best to announce when there was a whale spotting, but when the boat is travelling at 20 knots in one direction and the whales are swimming in the other direction they disappear pretty quickly. If you want to see whales, the biggest tip I can give you, is to spend as much time out on deck as you can handle.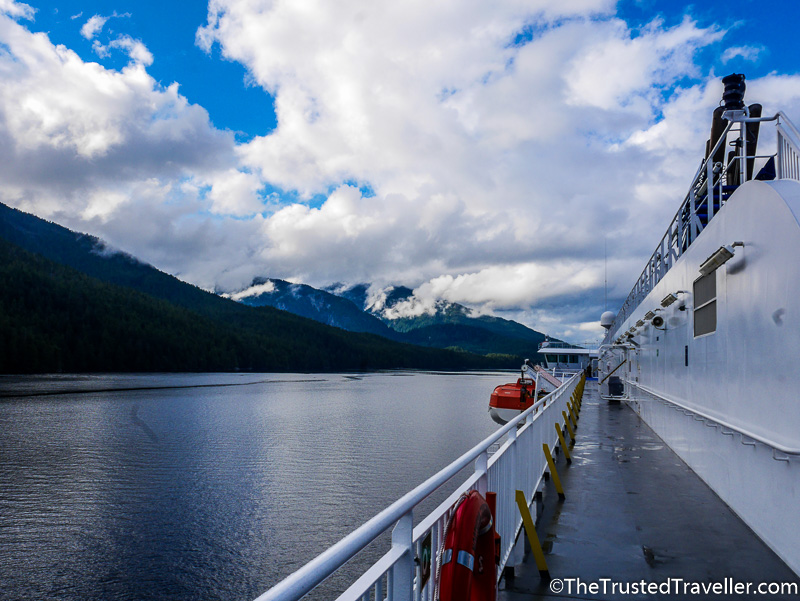 I saw humpback whales fully breaching out of the water, diving in and out, looking like they were having a blast. It was really something special and a highlight, not just of my Inside Passage Cruise, but of my whole month in Western Canada.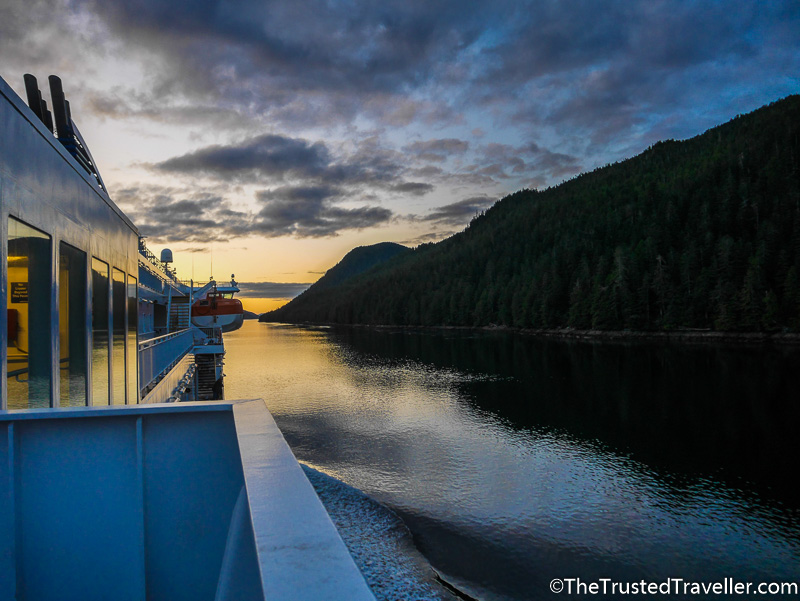 Book Your Own Inside Passage Cruise
If an Inside Passage cruise has been something you've always wanted to do but just haven't been able to justify the cost, then I urge you to check out the BC Ferries Inside Passage Day Cruise. This link will tell you everything you need to know about dates, times, prices and added extras.
Here are a few things I think you should know about:
If you are travelling as a foot passenger, your luggage is checked just like on a plane. Make sure you pack a day bag with everything you will need for the 16 hour journey as you won't have access to your bags again until the ferry docks.
Access to your vehicle is restricted to certain times during the cruise. Ensure you have everything you need packed into a day bag and bring it with you when you leave you vehicle after boarding.
While the majority of the cruise is through calm passageways, there are a few parts of the cruise where it can get a little rocky. If you have experienced sea sickness in the past, I would recommend bringing along something to combat this.
There are lots of spectacular scenery during the cruise and some entertainment to keep you occupied, however, if you are the type to get bored easily, I would recommend bringing some reading material or something else to keep yourself busy. 16 hours (plus pre-boarding time) is a long time to be confined to a ferry.
Bring layers of warm clothing. Even in the height of summer, the weather along the Inside Passage can be unpredictable and change multiple times during your cruise. A weather proof jacket at a minimum is recommended.
---
Disclaimer: Thank you to BC Ferries for hosting me. As always, all opinions expressed in this post are my own.
---
Over to you!
Where in the world have you been on a cruise?
Let me know using the comments section below or join me on social media to start a conversation.
Thanks for reading and I hope you enjoyed this post.
Join my email list and get a FREE copy of my TRAVEL PLANNING TEMPLATE
My Travel Planning Template will make your travel planning simple & stress-free!