This is a guest post by Monique from My Perfect Itinerary travel blog.
Las Vegas is known for its epic party scene, never-closing atmosphere and extreme heat!
Being born and raised in Sin City, I formed a detailed guide to give you a well-rounded experience. This will include insider tips, best tourist attractions (that are more than just a pretty picture), and off-the-beaten path finds.
Whether it's your first time to Las Vegas or 100th time, this Las Vegas 4 day itinerary is for you!
Psssst.. Want my guide on 40 FREE things to do in Las Vegas? Check it out here!
Best Time to Visit Las Vegas
The best months to come to Las Vegas (weather wise) are early March or early October. The temperatures range are in the mid 70's (Fahrenheit), and the crowds are minimal.
However, if you plan to attend some of the popular day clubs, these do not open up until mid-late March.
If you plan to spend a lot of time at the pool or Lake Mead, I would go in the middle of summer when the heat is the strongest. However, if you are planning to hit up some nearby national parks, then you might want to visit in the shoulder seasons.
This post contains affiliate links. Our full disclosure policy is here.
Where to Stay in Las Vegas
Las Vegas has a wide range of accommodation and some of the most unique places to stay in the world, think themed hotels where no expense is spared.
In terms of location you'll want to base yourself on 'The Strip'. This is the main street where all the action is.
The accommodation map below will allow you to search for options that best suit your needs in the Las Vegas Strip area.
4 Day Las Vegas Itinerary
Day 1: Spa Day
What better way to get rid of jet lag than starting your 4 day trip to Las Vegas at one of the many 5 star day spas!
If you have been to a hotel spa in other cities, you will be overwhelmed with the amenities Las Vegas spas offer. Some examples include access to their fitness center, hotel pool, spa pool, hot tub, sauna, steam room, snow room (yes, you heard that right), or salt cave.
If going in a snow room intrigued you (you're lying if it didn't), head over to Caesar's Palace for a spa day at their world-renowned, greek themed spa.
If you want to really splurge (hey, money doesn't count on vacation… or was that calories? Let's just go with both), head to Golden Nugget to get a 24k Gold Facial. Talk about luxury!
After your recharging massage/facial, head back to your room to get ready for your first night in Las Vegas!
Start your trip off with a bang and head to one of the several night clubs. You have the option to purchase a table ($$$$) or go in on guest list.
TIP: Girls will get in free at most night clubs, assuming it is not a holiday weekend and it is not a guest DJ. There will be club hosts walking around on the strip trying to get you on their table all throughout the day. They have to hit a minimum every night and are more than willing to offer you a free entry to the club!
Some of the best nightclubs in Las Vegas include:
Hakkasan
Omnia
XS Las Vegas
Intrigue
And many more!
TIP: Drinks inside the club are a minimum of $25 per drink. I recommend going to a nearby liquor store and pick up a bottle before the club to have a drink or two in your room. This will save you tons of money and is what everyone does! I have NEVER ONCE, in my entire life been to the club without having a few drinks first.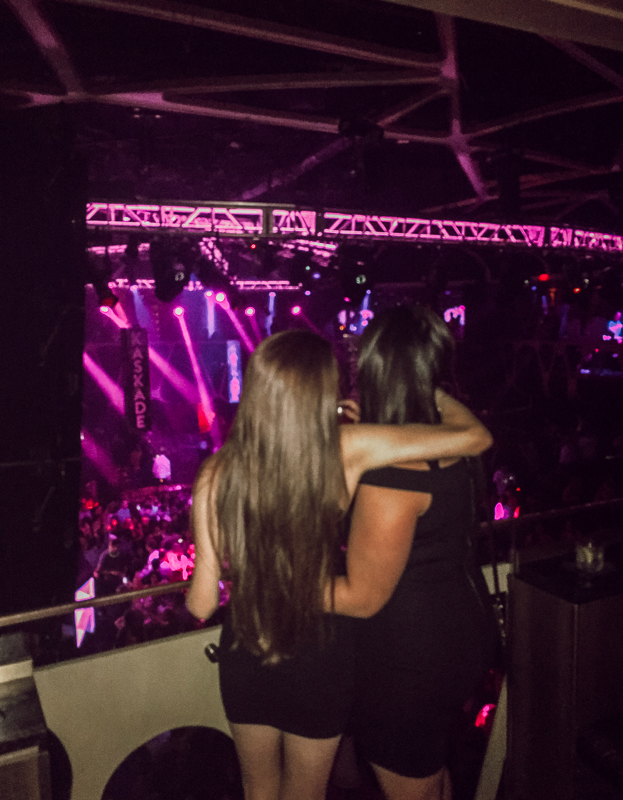 Day 2: Food, Shows and Entertainment
Head over to get your hangover breakfast (a Las Vegas itinerary would not be complete without a hangover!) and "hair of the dog" at Border Grill at Mandalay Bay Hotel. This famous brunch is open Saturday and Sundays and for only $55.00, you get bottomless food and mimosas.
After you have rightfully, over-stuffed yourself with food… head over to your hotel pool to enjoy your food coma by bathing in the sun with a frozen cocktail.
For dinner, I have a few options for you:
Do you like sushi? Las Vegas is known for having endless options for all you can eat sushi! For only $25-$30, you can get bottomless sushi at almost every local sushi restaurant. Some of my favorite options include:
Jianga
Sushi Mon
Sushi Factory
Daisho
Kaizen
Blue Fin
Yama
Sakana
Sushi Kaya
If you are not a big raw fish fan, head over to a charming French Restaurant that sits right on the Bellagio Fountains. Receive a 5 star dinner and a show at Mon Ami Gabi. This fine dining restaurant is located in the Paris hotel and will most likely need a reservation.
Top Tip – If you go to Mon Ami Gabi, head over to Hydeat the Bellagio for a pre-dinner drink. They have tables that line up right to the glass where you can see the beautiful Bellagio fountain show. This show goes off every 30 minutes before 8pm and every 15 minutes after 8pm. This fountain show never gets old, even after seeing it hundreds of times.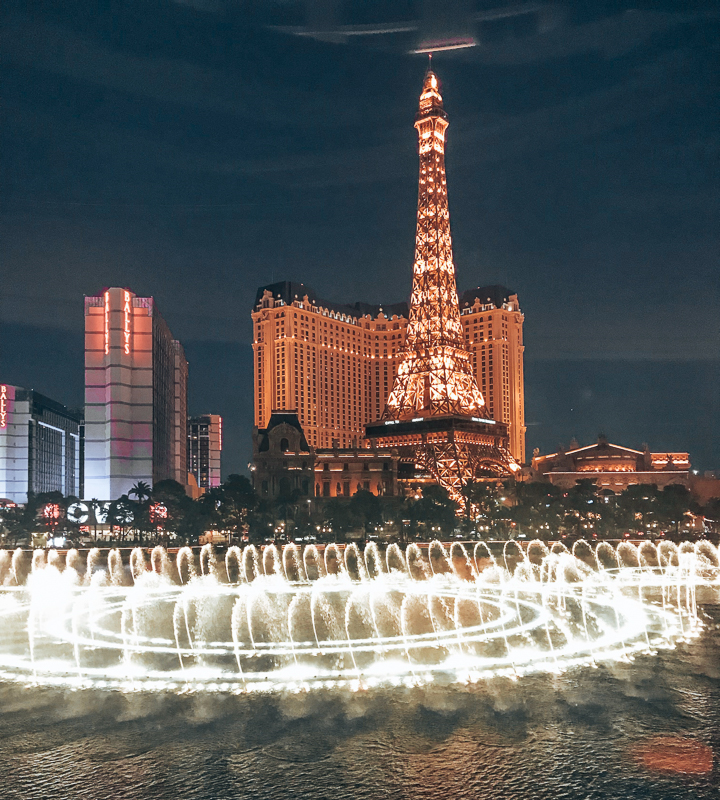 After your dinner, head back to your hotel to get ready for your night out in Downtown Las Vegas.
Downtown is what most people picture when they have seen movies and TV shows. It is traditional, trendy, and "old" Las Vegas. You will find a lot of tourists here, but also a lot of locals. If I ever go out for a girls night, it is 99% of the time to Downtown.
The main street, Fremont, is a crowded area with no cars that is covered by a lit up dome and is a great place to find free things to do in Las Vegas. Along this street you will find endless bars, free concerts, street performers, or if you look up at the dome… you will see the world's largest video screen playing you a free lightshow! Pick up a fat Tuesday (a frozen cocktail in a yard glass) and spend some time people watching.
People watching is extremely entertaining in every city, but Las Vegas takes the cake. Watching drunk girls, balancing in their heels after a long night of drinking is a free show!
If you want to take a short break from drinking, you can see Fremont Street from above by ziplining under the dome. Tickets range from $20-$50, depending on the height and time you choose to go.
Next, head over to the container park to stroll through the art galleries, shops, and live music. This entire area is made out of recycled shipping containers and is so unique to Las Vegas. Definitely worth checking out, especially since you are right there, it's FREE, and would only take less than 30 minutes to walk around!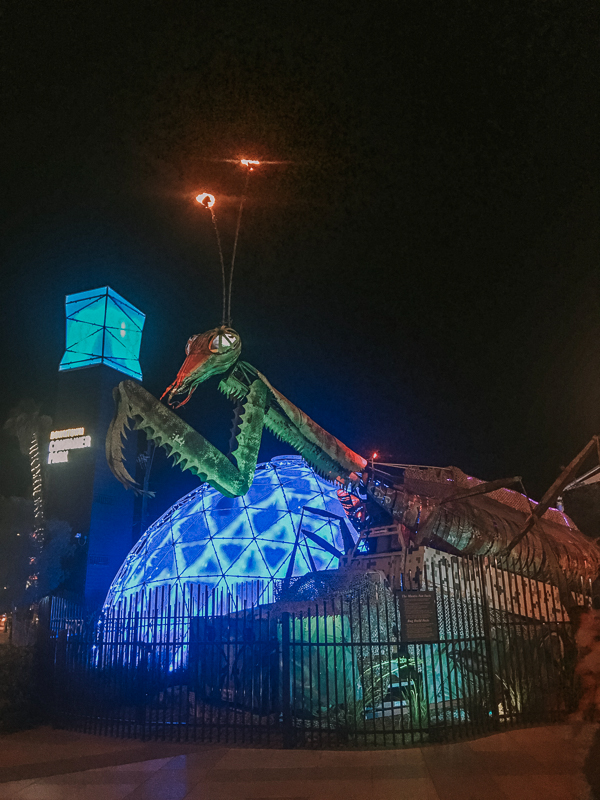 Lastly, spend the night bar hopping along Fremont. This is the best place to go bar hopping in Las Vegas because all of the bars are so close together and are free for girls to get in. Some of my favorite downtown bars are:
Commonwealth
Odd Fellows
Corduroy
Gold Spike
Day 3: Day Club
You know what's better than a Las Vegas nightclub? A Las Vegas Day Club!
Las Vegas's epic party scene keeps going at all hours of the day. Most day clubs open at 11am and run all the way until 7pm. Some of the best day clubs are:
Encore Beach Club
Wet Republic
Drai's Beach Club
Daylight Beach Club
Marquee Day Club
Before your much-needed nap, head over to In-N-Out for a burger and fries. A trip to the west coast is not complete without a trip to In N Out burger! You can choose from one of their many locations all over the Las Vegas valley.
Top Tip – Get the "off-the-menu" animal style fries! It has their secret sauce, grilled onions and cheese melted on top. My mouth is watering just thinking about it!
Day 4: Explore the outskirts of Las Vegas
as Vegas has so many great hiking trails just 30-45 minutes outside of the city. If the weather permits, you can head over to Red Rock Canyon for beautiful rock formations and endless hiking trails.
If you are craving some greenery, drive out to Mt. Charleston for their Mary Jane Falls hike. This is an moderate hike that will give you a beautiful lookout over the forest.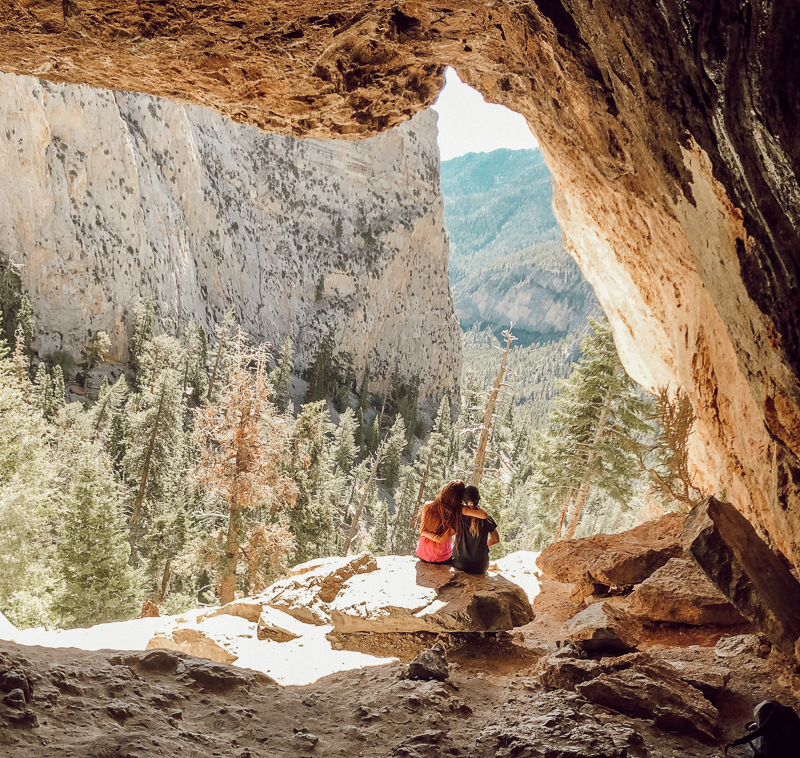 If you have a rental car, you can do a day trip to The Grand Canyon, Bryce Canyon and Antelope Canyon.
Pssst… Want more Day Trip Ideas from Las Vegas? You can look at my 15 favorite day trips from Las Vegas here!
After the sun has set, it's time to see Las Vegas from above! There are so many great options for Helicopter Tours that fly you over the Las Vegas Strip. Flights start at $100 per person and increase depending on length, time and date.
For dinner, head over to Las Vegas's new Catch restaurant and club. They are known for their instagram-worthy ambience, craft cocktails, and "hit me" dessert. Whether you are celebrating something special or not, the dessert is to die for!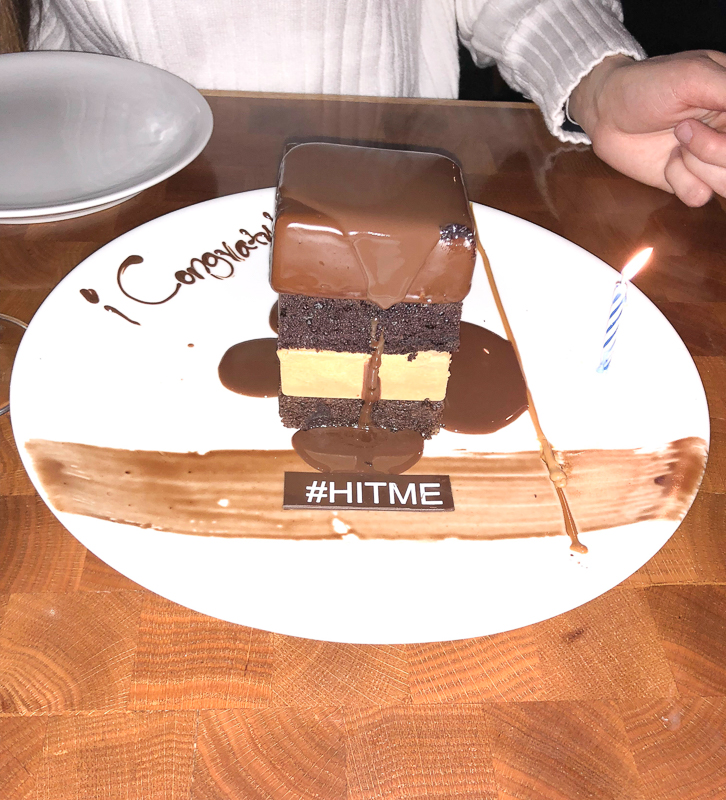 To finish your 4 days in Las Vegas trip with a BANG, book tickets for one of the many Cirque Du Soleil shows. I have seen so many of these, and they get more impressive everytime. These shows typically last 2 hours and boy, do they pack stuff in there! These performers will make your jaw drop on numerous occasions and leave you wanting to see another one of their 19 shows.
That's a wrap! There so much to see in Las Vegas it's hard to narrow it down to a long weekend. I feel this itinerary will give you a well-rounded experience of Las Vegas, showing you the touristy sites, luxury experiences, outdoor activities, and local spots. My wish to you is that you love your trip enough to come back a second time!
Want more on Las Vegas travel? Head over to My Perfect Itinerary for more!
About the Author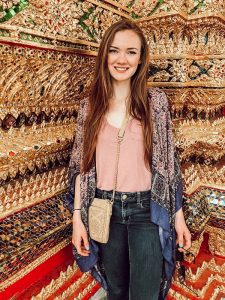 Monique is a Las Vegas native who doubles as a HR Manager & travel junkie (contradicting, I know). Her love for travel has taken her all over the world at only 22 & she strives to share her travel knowledge to inspire YOU to see this beautiful world we live in! When she is not traveling, she is watching Gilmore Girls for the 13th time, making itineraries she has no immediate plan to use, and drinking wine while writing for her travel blog, My Perfect Itinerary. You can follow along on her journey on Instagram & Pinterest!
Over to you!
What are you most looking forward to doing on this Las Vegas itinerary?
Let me know using the comments section below or join me on social media to start a conversation.
Thanks for reading and I hope you enjoyed this post.
Join my email list and get a FREE copy of my TRAVEL PLANNING TEMPLATE
My Travel Planning Template will make your travel planning simple & stress-free!