The capital of Germany, Berlin is a sprawling city in the north-east of the country, that, with its turbulent history, is well-known by most people around the world.
The city today is a fascinating mix of its turbulent past and it's cool and hip present. You can walk down the street and pass bullet holed walls on one side of the road and on the other side, modern, rejuvenated buildings turned into hip bars or modern art spaces.
Berlin really came to the world's attention back in 1933 when Hitler and his Nazi Party came to power. This started a series of major world events in history that shocked, disgusted and saddened people from all corners of the world.
From the people sent to death camps; to the air raids and bombings that not only destroyed precious architecture but killed over 100,000 of the city's residents; to the city being divided into East and West Berlin; the city has respectfully pushed past these unimaginable events and come roaring with a vengeance out the other side.
Berlin has a sense of excitement about it as you explore its distinctly diverse districts of Schoneberg, Friedrichshain, Mitte and Kreuzberg. Whether you want to discover its past, present or future, there is no doubt that you will find lots things to do in Berlin no matter what your interests are.
---
Brandenburg Gate
This sandstone gate is the only remaining city gate in Berlin and represents the separation of what was East and West Berlin. It played a starring role with the fall of the Berlin Wall in 1989 and has since become the symbol of German unity.
Constructed from 1788-1791 it was modelled on the Propylaea, the gateway to the Acropolis in Athens. The six Doric columns support the 11 metre beam running along the top which divides the gate into five passageways. On top of the gate is a chariot drawn by four horses driven by Victoria, the Roman goddess of victory.
The area around the gate is closed to traffic making it the perfect place to spend a while people watch and taking some perfect shots of this enormous gate.
Address: Pariser Platz, Berlin
Cost: Free
Hours: Visit day and again at night to see it lit up.
---
Memorial to the Murdered Jews of Europe
This striking memorial pays tribute to the Jewish people who died under Hitler's extermination plan. Over 205,000 square feet in size, the memorial consists of 2,711 slabs of stone in different heights ranging from ankle high to over six feet tall. The wave-like pattern effect is to symbolise disorientation and instability.
Walking peacefully and respectfully through the slabs pulls on your heart and really makes you wonder how such horrible things can happen.
Next to the memorial is an underground information centre showing personal stories of the people affected by the actions of Hitler and his Nazi Party.
Address: Cora-Berliner-Strasse 1. Berlin
Cost: Memorial and Museum free
Hours: Museum – Tuesday to Sunday, April to September 10:00-20:00, October to March 10:00-19:00
More Information: http://www.holocaust-mahnmal.de/
---
East Side Gallery
The longest remaining stretch of the Berlin Wall has been taken over by the East Side Gallery. Showcasing 101 paintings from artists all over the world, it's described as a memorial to freedom. The paintings started to appear in 1990, not long after the fall of the Wall. They depict the changing time, express hope for the future and speaks volumes on a triumphant time in history.
Address: Muhlenstrasse, Berlin
Cost: Free
Hours: 24/7
More Information: http://www.eastsidegallery-berlin.de/
---
Read More: What to Do in Berlin in 3 Days on Veronika's Adventure
---
Museum Island
Located between the Spree River and Kupfergraben, Museum Island is made up of five world-class museums. If you love museums then it's a great spot to base yourself for a day or two to really be able to explore them all. Each one has its specialty and contain famous pieces from the worlds past and present.
The Altes Museum displays ancient Greek and Roman artefacts.
The Alte National Gallery houses the largest collection of 19th century paintings and sculptures in Germany.
The Nues Museum houses prehistoric pieces and Egyptian art.
The Pergamon Museum contains another display of Greek and Babylonian antiquities. Also you can see The Ishtar Gate and Pergamon Altar here.
The Bode Museum displays a large collection of sculptures, coin collections and a number of paintings.
Cost: Prices vary depending on which museum. A three-day Berlin Museum pass can be purchased for €24.00.
Hours: These vary depending on museum. Check the website below for details.
More Information: http://www.smb.museum/en/home.html
---
Walking Tour
A great way to introduce yourself to Berlin is with a walking tour. Sandemans New Europe offer tours with knowledgeable and entertaining guides that work only for tips, so basically this is a free tour.
If you take the tour and enjoy it, you can give the guide a tip and if the tour wasn't great you can just walk away at the end with no one chasing you down for payment.
Running for about three hours you'll be taken to a lot of the main sights in Berlin including the Memorial to the Murdered Jews of Europe, the Site of Hitler's Former Bunker, Luftwaffe HQ, parts of the Berlin Wall, The Former SS headquarters, Checkpoint Charlie and many more.
The guides know their stuff and will entertain and educate you with interesting and sometimes funny stories about the history and sights of Berlin.
Address: Starting point is at Brandenburg Gate, Pariser Platz, Berlin
Cost: Free
Hours: 9:00, 11:00 14:00 & 16:00 daily. Arrive at least 15 minutes prior to the start of each tour to guarantee your place.
More Information: http://www.newberlintours.com/
---
Alexanderplatz & the Berliner Fernsehturm
Alexanderplatz is largest square in Berlin and is home to the biggest shopping area in the city. Along with the shopping, the square attracts most of its visitors because of the 368 metre Berliner Fernsehturm (Berlin TV Tower). You can ride the lift to the panorama floor at 203 metres for the best 360º views from above Berlin has to offer. There is also a revolving restaurant in the tower where you can enjoy a meal while the floor rotates doing one full revolution in 30 minutes.
Address: Panoramastrasse 1A, Berlin
Cost: Adults €13.00, Child under 16 €8.50, under 4 free
Hours: March to October 9:00-Midnight | November to February 10:00-Midnight
More Information: http://www.tv-turm.de/en/
---
Gendarmenmarkt
Berliners believe the Gendarmenmarkt is the most beautiful square in all of Germany and although I haven't seen all parts of Germany, based on the architecture surrounding the square, it would be hard to beat. In the middle of the square is a statue of Friedrich Schiller, Germany's most famous poet. The most important buildings around the square include:
Konzerthaus – Built based on the ruins of the National Theatre which was destroyed by fire in 1817. Today it is the home of Berlin's symphony orchestra.
Franzosischer Dom (French Cathedral) – The older of the two cathedrals in the square, it was built in 1701. Inside you will find a viewing platform, museum and restaurant.
Deutscher Dom (German Cathedral) – This pentagonal church was built in 1708 but was destroyed by fire during World War II and has since been rebuilt.
Address: Gendarmenmarkt, Berlin
Cost: Free
---
Reichstag
Home of the German Parliament, the modern glass domed Reichstag building is one of the symbols of Berlin and one of the city's most impressive pieces of modern architecture. From the top of the dome you get amazing 360º views of Berlin and equally impressive views down inside the spiral of the dome. The dome is open to visitors by prior arrangement.
Address: Platz der Republik 1, Berlin
Cost: Free access to the dome only with prior arrangement through the website below.
Hours: Entrance available hourly on the hour until 23:00
More Information: http://www.bundestag.de/
---
Unter den Linden
Where Gendarmenmarkt is the most beautiful square in the city, Unter den Linden is the most beautiful boulevard. Lined with Linden trees, it is a striking view and pleasant walk that leads through the heart of Berlin from the Brandenburg Gate to Schlossbrücke Bridge past some of the city's most prominent buildings.
Address: Runs from Brandenburg Gate to Schlossbrucke Bridge
Cost: Free
---
Checkpoint Charlie
Yes it's as touristy as you can get, but Checkpoint Charlie is worth a quick look even if you're not interested in having your photo taken with the actors pretending to be guards. As the most well-known Berlin Wall crossing between West and East Berlin, the name Checkpoint Charlie came from the Western Allies during the Cold War. Today the tower is gone and there is just a small booth in the middle of the road.
Address: Friedrichstrasse 43-45, Berling
Cost: Free
---
Tiergarten
Berlins sprawling Tiergarten, in the heart of the city, is the largest green space in the city and is home to a bunch of attractions and lots of green space where you can walk, relax or picnic under trees or by the lakes. Inside the park you will find The Berlin Zoo and Schloss Bellevue, the home of the German President.
Address: Mitte, Berlin
Cost: The park is free but the attractions within the park each have their own entry fee.
---
Berliner Dom
Berlin's main cathedral is the striking Berliner Dom. Located on Museum Island, adjacent a large green square with fountain, the current Cathedral was built in 1904 on the site where many city Cathedrals have stood before. It's had a major renovation of the roof after it was destroyed by Allied bombing during World War II.
Address: Museum Island, Berlin
Cost: Adults €7.00, Child €4.00 | Audio Guide €3.00 extra
Hours: Monday to Saturday 9:00-20:00 | Sundays Noon-20:00
More Information: http://www.berlinerdom.de/
---
Where to Stay in Berlin
Here are three accommodation options to suit all budgets that we recommend you check out. All are centrally located, highly rated and come with excellent facilities.
Budget
Ibis Budget Berlin Kurfürstendamm
Located just off Berlin's most popular shopping area, this hotel offers stylish, air conditioned rooms as well as a trendy lounge and free WiFi. The bright, light-flooded rooms feature modern décor, and come with satellite TV and a desk. They include a shower and a separate toilet. Book Now
Mid Range
B! Apartments
These modern apartments are situated in Berlin's trendy Mitte district. All of the bright apartments feature a spacious living/sleeping area, a flat-screen TV and free Wi-Fi. They have well-equipped kitchens, as well as modern and spacious bathrooms with hairdryers. Book Now
Luxury
Regent Berlin
Ideally located on Berlin's Gendarmenmarkt Square, this classical-style, 5-star hotel offers Michelin-star cuisine, exclusive spa facilities, and free Wi-Fi. Regent Berlin provides luxurious, soundproofed rooms and suites with an antique desk, a DVD player, and a marble bathroom. Book Now
---
Disclaimer: This page contains affiliate links. If you found this article helpful, please consider using them to book your trip. It costs you no extra and helps to keep The Trusted Traveller running.
---
PIN THIS FOR LATER!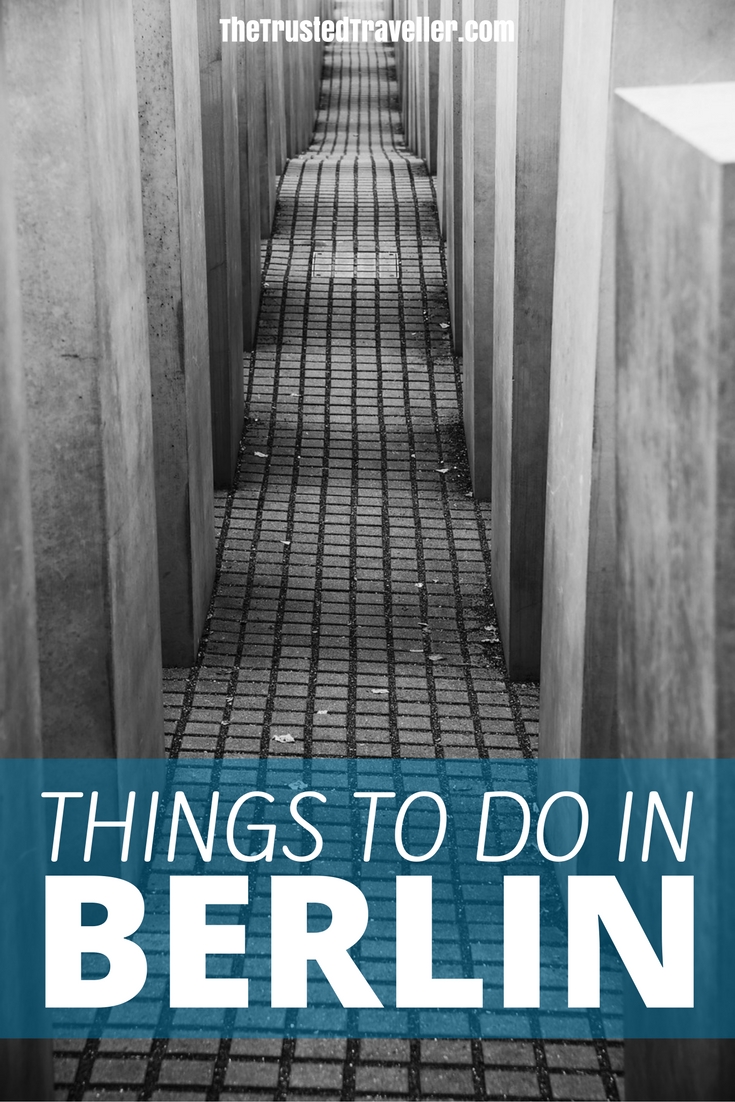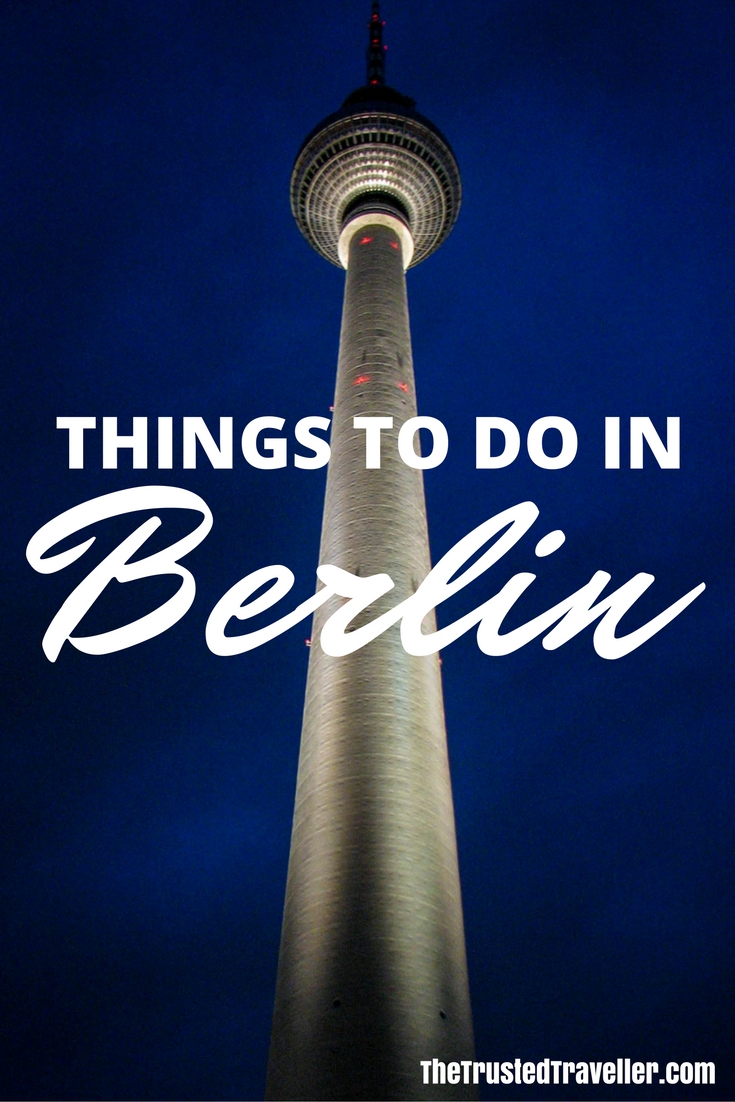 ---
Over to you!
Which of these things to do in Berlin are you most interested in doing?
Let me know using the comments section below or join me on social media to start a conversation.
Thanks for reading and I hope you enjoyed this post.