When most people think hostels they think of dorm rooms crammed with snoring, smelly and noisy backpackers, basic and unclean facilities and locations that are in the somewhat seedier parts of town. While this is true in some cases, you'll find that these days hostels are a friendly, clean and in this case, well located budget option for travellers all over the world.
I recently had a staycation (vacation in your home town) in Sydney as I have been wanting to check out Sydney Harbour YHA and find out why it has been repetitively voted as one of the best hostels in Sydney and in the world over the last few years.
About Sydney Harbour YHA
The hostel first opened in late 2009 on a very historic plot of land. During the building works and excavation, remnants of some of Sydney's oldest colonial houses were uncovered. This caused the plans for the original hostel to change dramatically from what was just going to be a standard hostel building to what it is today, a purpose built structure that wraps and is built around the ruins that are now known as The Big Dig.
Visiting this hostel is more than just a place to rest your head, it also takes you on a journey through the ruins back to the late 1800s where a few hundred early settlers first lived.
Location
Sydney Harbour YHA's biggest selling point is its location and the fact that it is the only hostel in this part of the city. Situated in the historic Rocks area of the city and just a few minutes' walk down the steps to Sydney Harbour. It's well connected for public transport to other parts of the city and its prime location also offers some of the best of Sydney's restaurants, bars and pubs right on the doorstep.
Rooms
There are 106 rooms within the hostel with a bunch of different configurations to suit just about everyone. From six and four bed mixed, male and female dorms to family rooms catering for up for five people to double and twin private rooms, with each room, including the dorms, having access to its own private bathroom. Some of the rooms have the option of a view of Sydney Harbour and few offer a small balcony.
We opted to stay in a double private room with no view. I've stayed in a lot of hostel over the years and know what to expect, small compact rooms with limited facilities. So I was shocked and pleasantly surprised when I walked into the room.
On first sight the room looked clean, modern and spacious. Heading in the short hallway once you're in the door the modern bathroom is on the left. Decorated in beige tiles on the floor and walls, the bathroom is equipped with a large glass corner shower with a powerful shower head and a simple vanity with sink and enough space for a small toiletry bag.
Stepping into the main part of the room now and the first thing you notice is the large window that opens out onto a view over the rooftops of the Rocks and a small glimpse of the edge of the Opera House which was a nice surprise as we hadn't booked a room with a view.
The room is square with enough space to walk around the queen sized bed which we found surprisingly comfortable to sleep in and enjoyed having two pillows each, a rare treat in a hostel. There is a small table and chair on one side of the bed with tea and coffee making facilities which is a nice touch and another rarity in a hostel. On the other side of the bed in an open wardrobe with a few hangers and enough space for a small suitcase or backpack.
Out of the over 50 hostels I have stayed in to date it would have to be one of the most spacious and comfortable yet. It was a real treat having air conditioning in the room and a comfortable bed with two pillows. You can tell as soon as you walk into the room that it is only a few years old and I really hope that over the years YHA try to keep it in just as good nick.
---
Read More: 14 Coolest Hostel's for Backpackers to Stay in Australia on Traveling Lifestyle
---
Facilities
There is everything you could possibly want or need in the way of facilities in the hostel with the best being its rooftop terrace with barbeque and some of the best views of Sydney Harbour including the Opera House and Harbour Bridge.
Facilities within to hostel include:
24 hour reception and no lock out meaning you can come and go as you please at any time.
Cafe where you can grab a coffee, tea, breakfast or a snack from 7:00-21:00 each day.
A lift which is handy for getting your bags up to your room.
Lockers with padlocks in the dorm rooms.
Wi-Fi throughout the hostel for a small fee.
Large guest kitchen with all the cooking facilities, pots, pans and crockery you could need plus a dining area off the kitchen to eat and socialise with fellow travellers.
Lounge area with massive TV where you can watch movies, sports or TV shows 24/7.
Guest laundry.
Linen is provided in all rooms with towels in the private rooms and available to hire for the dorms.
Tourist information and onward booking service at reception.
The best part about the facilities offered within the hostel is that there are lots of communal areas where you have the chance to meet and chat with other likeminded travellers from around the world. It is definitely one of the more social hostels I have stayed in to date.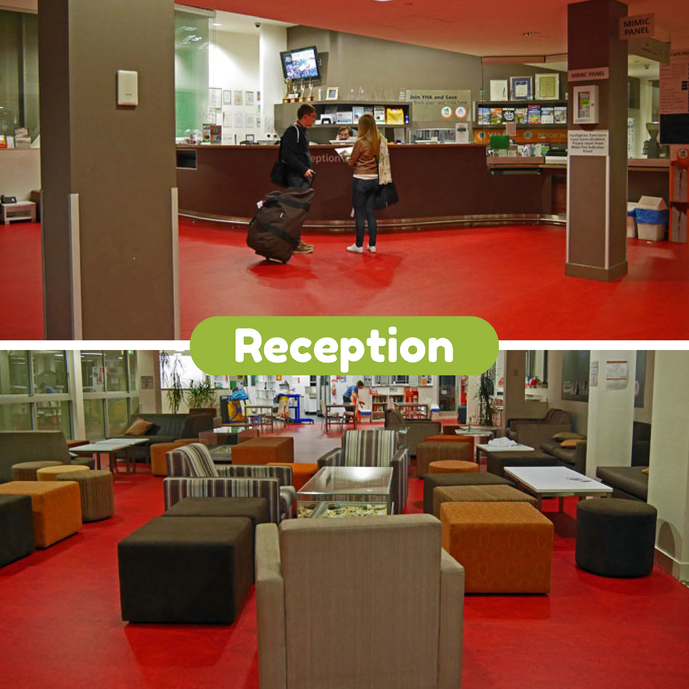 As for facilities nearby, there is a small grocer next door where you can buy basic food items and fresh produce and there is an abundance of pubs within minutes' walk of the hostel which all serve reasonably priced meals and drinks throughout the day and night.
Should You Stay
Absolutely yes! I don't think I have come across a hostel that is better set up and more comfortable than Sydney Harbour YHA. It ticks all the boxes you want ticked when looking for a place to stay and outdoes itself by offering even more.
Even if you usually shy away from staying in hostels because you think it's more for the young backpacker crowd, I urge you to give this one a go. I'm almost certain you'll be wanting to try out a few more hostels around the world after trying this one. And if you're a hostel regular, you will be pleasantly surprised and feel spoilt.
If You Do Stay
Location: 110 Cumberland Street, The Rocks, Sydney
Getting There: If you're arriving at Sydney Airport you can take the Airport line train direct to Circular Quay Station in just over 20 minutes. And if you're arriving by coach or train at Central Station, you can take a train around the city circle to Circular Quay. From Circular Quay it's just a short five minute walk to the hostel.
Getting Around: With Circular Quay Station and Ferry Terminal just minutes' walk away and ample buses departing nearby, getting around Sydney is very easy when staying at Sydney Harbour YHA. It is simple to get to just about everywhere in Sydney from Circular Quay including Bondi and Manly Beaches. The CitySightseeing Hop on Hop off bus also departs from Circular Quay which is a convenient sightseeing option when you have limited time.
Rates: Our stay in a double room with private bathroom and no view on a Friday night cost $AUS150.00 for two people. This includes the discount available to YHA Members. For a weeknight stay a bed in a six bed dorm starts at $AUS45.00 and for a family rooms for up-to to five people prices start at $AUS190.00. While this might sound expensive, compared with other rates for hotels and apartments in the city centre, it is a great deal.
Book the Sydney Harbour YHA now for your next trip to Sydney or staycation break.
Over to you!
What type of accommodation do you prefer to stay in when you travel? Have you stayed in a hostel before?
Let me know using the comments section below or join me on social media to start a conversation.
Thanks for reading and I hope you enjoyed this post.
Join my email list and get a FREE copy of my TRAVEL PLANNING TEMPLATE
My Travel Planning Template will make your travel planning simple & stress-free!