Taking a PS Murray Princess cruise could be the perfect next break for you. But before you go ahead and book it, you'll want to know what to expect from someone in the know.
Knowing what to expect when booking a holiday can sometimes be tricky. A holiday is an investment in your happiness that costs you your hard-earned money. So you want to make sure, like you would with any other investment in life, that you are making the right choice for you.
We've written a review of our experience on the PS Murray Princess cruise which you can read to learn more about it. But we want to lay out in a bit more detail exactly what you can expect so you know whether this experience is for you.
Exceptional Service
The first thing you should know is that you will be well looked after. The experienced crew go above and beyond to make sure that each guest on the cruise has an enjoyable time.
Just about every member of the guest facing crew will know each guests name after the first few days which really adds a personal touch. You can tell that they all love their jobs and are real people persons.
Everything from simply their impeccable manners and friendly, fun disposition to how well they do their jobs didn't go unnoticed by us and our fellow passengers.
The crew member you will have the most interaction with is your Cruise Director. He or she will address the guests a few times each day, letting you know whats going on where and when and answering any questions or concerns you have throughout the cruise. Their number one priority is to make sure guests on-board have the most relaxing and enjoyable cruise.
An Abundance of Delicious Food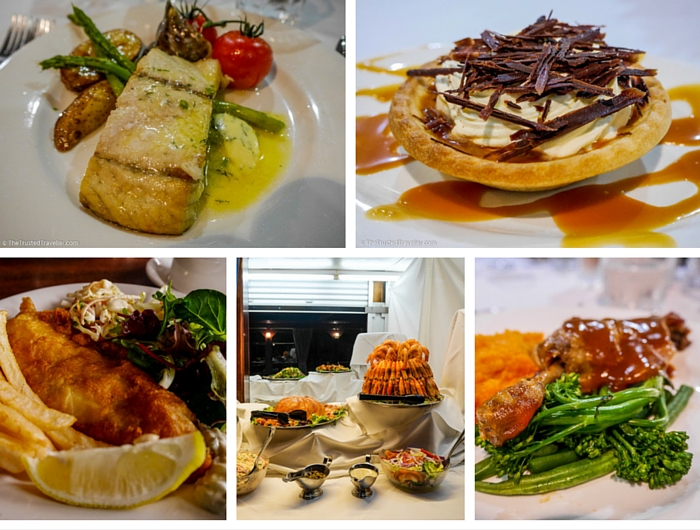 I hope you love to eat, because on the PS Murray Princess they love to feed you! And not just average food either. Everything we ate was simply delicious.
Expect a buffet breakfast each morning with hot and cold options and a special dish of the day, like porridge or fresh-baked muffins.
At lunch time the menu style changes each day. One day it could be a delicious two course affair including dessert, the next a buffet that includes a signature dish with meats, salad and soup or it might even be a simple take-out style meal like fish or chicken and chips done well.
Like lunch, the style of the evening meals change each day too. You'll get everything from a delicious fine dining three course meal to a relaxed BBQ around the campfire and a fresh seafood buffet with the Captain present.
And if you happen to find yourself hungry between meals or feel like a midnight snack, there is always a basket of fresh fruit available in the dining room or tea, coffee and biscuits in the lounge.
Meet Lots of Interesting People
If you prefer to stick to yourself on holidays, then this may not be the right trip for you. However, if you love meeting new people with tons of interesting stories to tell, then you'll be right at home on a PS Murray Princess cruise.
The first group of people you'll meet are those assigned to the same dinner table as you. Assigned seating is only for dinner meals so don't worry, you'll have the chance to get to know other people too. On our table we had a diverse group of people who we got to know pretty well after the four days. They each had an interesting and unique story to tell about their lives and we loved getting to know them. And some of them we will even stay in touch with and visit when we are nearby where they live.
Being a small cruise with a maximum of 120 guests, there's no reason you wouldn't get the chance to meet nearly everyone. We enjoyed happy hour in the bar each evening because it gave us the chance to mingle with other guests and share stories about our lives.
And participating in the on-shore activities also gives you an excellent chance to meet your fellow passengers too. Telling tales around the campfire on BBQ night was one of our highlights. It's an informal setting which helps people to relax more and usually leads to them being more social.
Bags Full of Fun
Luxury doesn't need to be all formal and stuffy. You can still have a luxury experience that is comfortable while also having loads of fun.
On the PS Murray Princess they schedule in fun activities for the guests everyday. This not only keep everyone entertained but it's also a great way to help people relax, enjoy their holiday and get to know their fellow passengers better.
During our four days on-board we enjoyed lots of fun activities like playing bingo and trivia, participating in a sheep auction and race, betting on the Murray Cup horse race and playing Finska and dancing around the campfire.
But know too that there is no pressure from anyone on-board to take part. If something isn't your cup-of-tea you don't have to do it. Simple as that!
A Balance of Free Time and Activities
The slow pace of travel on the cruise like this really helps you to relax. But if there was constantly something to be doing, it could hinder your chances of relaxing. That's why on the PS Murray Princess there is the perfect balance between included activities and free-time.
A day on the cruise usually goes something like this: Wake up and enjoy breakfast. You'll then have free time for a few hours during which there might be the option to listen to a talk, take part in an on-board activity or just simply relax, read a book or chat with your fellow guests. Before or after lunch will be a shore excursion to maybe a winery or sheep station followed by an hour or so to freshen up before happy hour and dinner. There's always music in the evening if you feel like a dance and on some nights, there might be some fun after dinner entertainment to enjoy.
There are plenty of areas to relax on-board too. You might like to read or play cards in the lounge, enjoy a drink in the bar, soak up the views on the sun deck or sit in silence at the front of the vessel watching the sights of the Murray River peacefully slip by.
Simply Stunning Scenery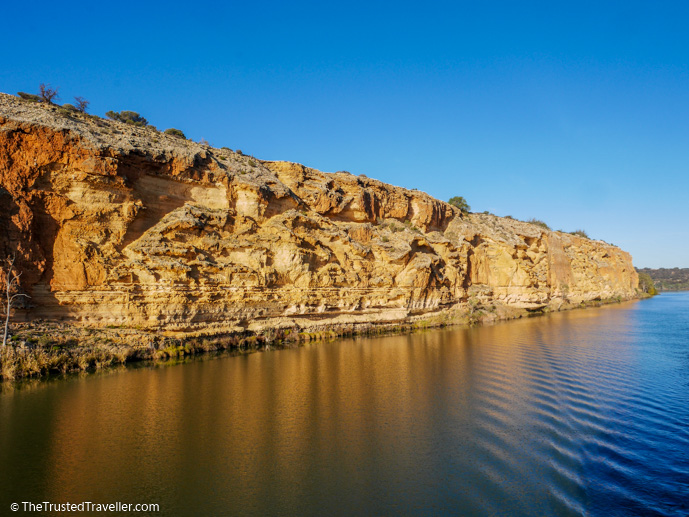 One of the most appealing differences between river and ocean cruises for us is that on a river cruise the shore is just metres away. This provides you with a constantly changing view.
And on the Murray River that view is simply stunning!
Sit near a window or on the sun deck during the day to watch the landscape slip by. The view changes from grey and green bush to cliffs that tower high above the vessel to good old Aussie farmland lined with trees that look like they could slip away into the river at any moment.
At night the floodlights from the boat light up the cliffs and river ahead. It's the most peaceful and mysterious time on the river so make sure you find the time to enjoy a few moments outside after dark.
Keep your eye out, day and night, for lots of bird life too. Cockatoos can be seen (and heard) nesting in the cracks of the cliffs, while you'll see pelicans gracefully floating downstream just about everywhere you look.
And don't miss at least one sunrise and sunset while on-board. In all our travels we haven't been more enchanted by a sunrise or sunset than we have on the Murray River. The colours are just breathtaking.
Memories to Make You Want to Do it All Again
Most of all, taking a PS Murray Princess cruise is an excellent way to make memories that will last you a lifetime. Memories of spectacular sunrises and sunsets, good food and great company, fun times and new insights.
These memories will make you want to go back and do it all again and we can't wait for our next cruise!
---
More PS Murray Princess Cruise Details
Captain Cook Cruises offer cruises on the Murray River aboard the PS Murray Princess all year round. Standard cruises range from three to seven days with longer special event cruises available at certain times of the year. Packages that include other South Australia highlights can be arranged as well.
Cruise prices start from $787.00 AUD per person and include all meals, on-board entertainment and most shore excursions.
Cruises depart from Mannum which is about one and a quarter hours drive east of Adelaide. There is parking available in Mannum or Captain Cook Cruises can arrange for coach transfers from/to Adelaide, both are free of charge.
If you'd like to enjoy a Murray River Cruise on the PS Murray Princess just like we did, then check out the Captain Cook Cruises website for full details and to book.
---
We would like to thank Captain Cook Cruises for hosting us on-board the PS Murray Princess. As always, all opinions expressed in this post are our own and were not influenced in any way by receiving a complimentary cruise.
---
Over to you!
Would you like to go on a PS Murray Princess cruise? What entices you the most about this way of travel?
Let me know using the comments section below or join me on social media to start a conversation.
Thanks for reading and I hope you enjoyed this post.
Join my email list and get a FREE copy of my TRAVEL PLANNING TEMPLATE
My Travel Planning Template will make your travel planning simple & stress-free!