This is a guest post by Stephanie from the travel blog, Big World Small Pockets.
Australia's fabulous Atherton Tablelands lie in the beautiful rolling hills behind Cairns, the main city in tropical north Queensland. Full of stunning waterfalls, rainforest drives, bespoke food producers, country markets and fascinating heritage, there's a whole heap of stuff to enjoy in the Tablelands no matter what your idea of fun.
Making an ideal side trip from Cairns, Port Douglas or the Daintree, or the perfect stopover if you're heading west along the Savannah Way, you'll need at least a few of days to explore this wonderful area.
So here, to get your travel planning off to a great start, is my ideal self-drive itinerary for 3 days in the beautiful Atherton Tablelands.
Day 1 Morning
Most people approach the Tablelands from Cairns, as it's the nearest city around and right on the main coastal highway, making it a convenient point of access.
From Cairns, follow the Captain Cook Highway, turning onto the Kennedy Highway which will take you up towards Kuranda.
This incredibly twisty-turny road, quickly climbs the hills in this area, leading to breathtaking views and an instant change of climate. Suddenly you feel like you are in the thick of the rainforest, with lush green foliage on a giant scale all around you!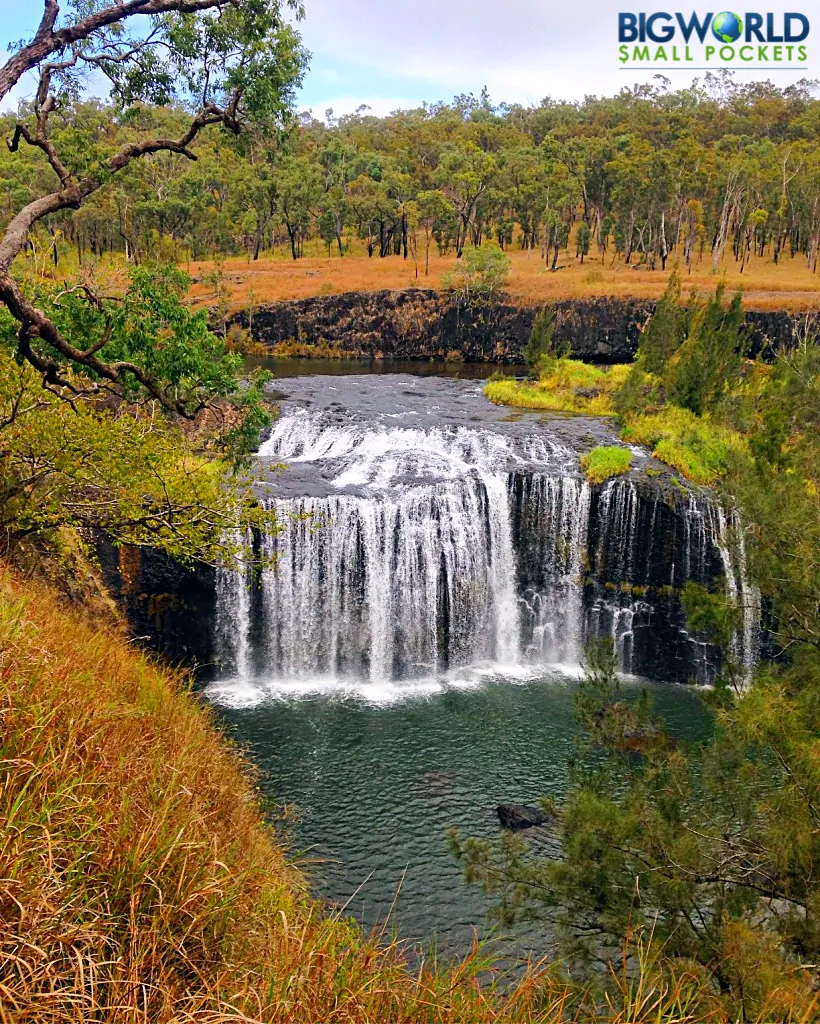 Stop at some of the lookouts on-route to snap the landscape, before continuing to the delightful village of Kuranda.
This small, alternative community is famous for its bustling markets, so definitely make a stop to see all the fantastic local arts and crafts on offer. It's easy to spend way too long here – believe me!
After that be sure to head to Barron Gorge National Park, where Barron Falls – a 260m granite-faced waterfall – is one of the most spectacular in the whole area. Enjoy the falls from the boardwalk or take a ride on the Skyrail Rainforest Cableway, to experience the sensation of gliding just metres above the rainforest canopy!
Day 1 Afternoon
After a delicious lunch in one of Kuranda's cafes, hop back in your vehicle and continue onto the town of Mareeba.
The largest town in the Tablelands, Mareeba has an awesome Heritage Museum, which is free to enter and certainly worth checking out to learn more about the area's fascinating aboriginal and colonial history.
If you are keen to check out some more natural attractions in this area, then the wonderful Granite Gorge is the perfect place for a refreshing dip. You can also check out some amazing native animal species here, including some friendly rock wallabies.
Otherwise, why not head to Mareeba Wetlands? A protected area of natural beauty home to many bird species, you'll easily spot one or two from the lovely boardwalk.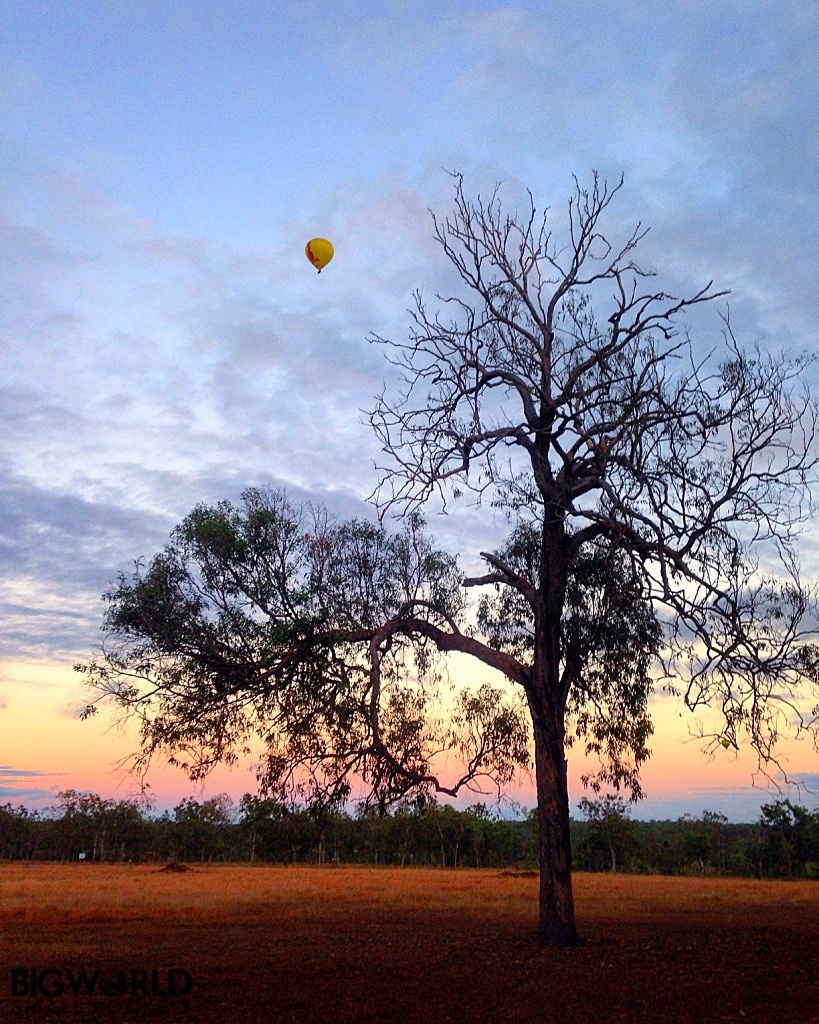 Next book your hot air ballooning tour before finding some accommodation for the night. From locally-owned BnB's, to caravan parks and camp grounds, there's a wealth to choose from in Mareeba.
Day 2 Morning
What better way to start your day than by gliding over the Atherton Tablelands in a hot air balloon? This is definitely one of the top ways to see this amazingly diverse area and despite the early 5am start required, don't miss out!
After all that early adventure, you're likely to need a caffeine hit to settle you into the rest of the day and Coffee Works provides the perfect opportunity – trust me! Mareeba's very own bespoke coffee roastery is the ideal place to sample some of the Tableland's homegrown beans and they can even serve you up a delicious breakfast too.
If that's not enough caffeine, then experiencing a journey through Coffee World may also be for you! With unlimited tastings and the largest collection of coffee and tea treasures in the world, you're sure to get a good buzz out of your time there!
After all that, my suggestion is to head to Atherton, the second largest town in the Tablelands, where a visit to the quirky Crystal Caves is a sight that has to be seen to be believed.
Day 2 Afternoon
The Atherton Tablelands are fast becoming known as one of the adventure capitals of Queensland and the town of Atherton is a good place to get a taste of this.
Hiring a bike is easy to do here and with plenty of trails to enjoy it's just a case of choosing which one. Highly recommended are The Rail Trails, which provide 6km of track between Atherton and Tolga, or the Atherton Forest Mountain Bike Park, which has steep tracks that will take you through forests and mountains if you're up for a challenge.
If bike riding isn't your thing, then there's also horse riding opportunities or plenty of walking trails too. A stroll up to take in the view from Halloran's Hill is a good one to attempt. Sadly it was raining when we got up here, but if you manage to visit on a clear day, the views across the rolling hills should be breathtaking.
After all that activity, it's probably time for a beer and some food. So enjoy the evening in Atherton and relax!
Day 3 Morning
Make it an early start and head south from Atherton along the Kennedy Highway to reach Ravenshoe – Queensland highest town.
Swing by the epic Dinner Falls and Hypipamee Crater on way there and look out for the Cassowaries! We saw a young one just scratching about in the dirt below the boardwalk here and watched it for ages!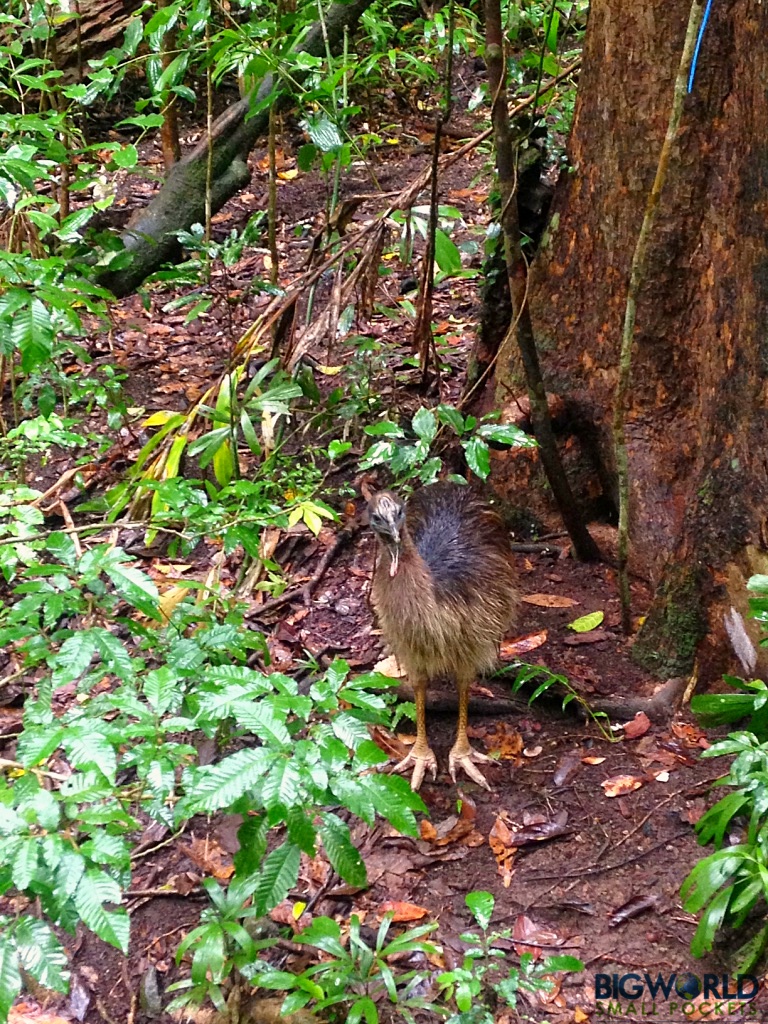 Stop in Ravenshoe for breakfast and to peruse the local art gallery. Oh and definitely make the detour out to Millstream Falls too – it is Queensland's widest waterfall.
Next, enjoy the wonderful scenic drive along the ridge as you make your way back to Millaa Millaa. This town lies at the heart of the Atherton Tablelands Waterfall Circuit and is the perfect place to tick more of the fabulous falls here off your list. My favourites include the Zilliie Falls, Papina Falls and the Millaa Millaa Falls themselves.
After all that, enjoy a homemade lunch at Mungalli Creek Dairy – a biodynamic dairy farm just outside of Millaa Millaa that is a leading force in the conscious food market. A place to refuel and relax, their cafe also boasts stunning views of Queensland's highest mountain, Mt Bartle Frere.
Day 3 Afternoon
Refreshed and revived, hop back in the car and take the scenic drive from Millaa Millaa via Tarzali to Malanda. Stop for a dip at the Malanda Falls if you need to cool down.
Then make your way up to the town of Yungaburra to enjoy the last part of your time in Atherton Tablelands.
Highlights in this town include the Avenue of Honour, which is a fitting veteran memorial dedicated to those Australians that have lost their lives in the Afghanistan conflict.
There's also the Curtain Fig Tree to stop and have a look at. This huge natural spectacle really was quite impressive and we loved the platypus viewing area on Gillies Highway too.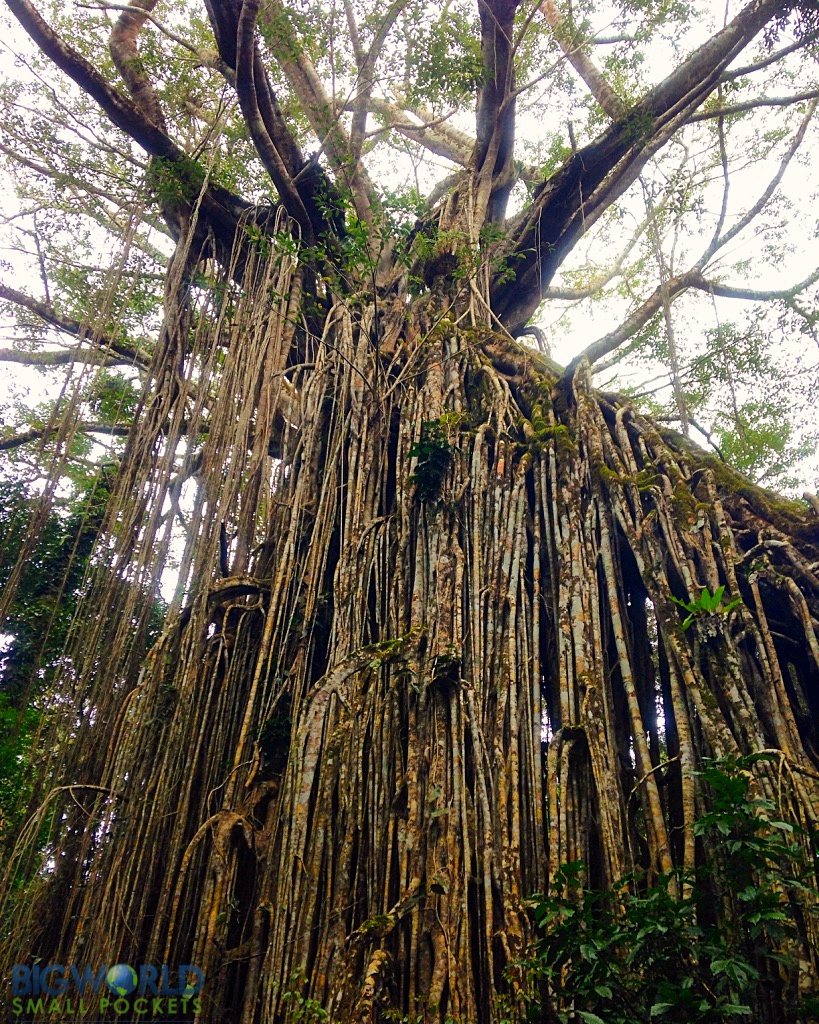 Finally, be sure to allow yourself enough time to check out Lake Eacham. This gorgeous crater lake is set in some beautiful tropical rainforest and is the perfect spot for a picnic or a BBQ.
You can also walk the 3 km track around the lake and enjoy spotting some of the 180 resident bird species. A definite highlight of our time in the Atherton Tablelands, finishing off with a snorkel in the clear blue waters of Lake Eacham was pure delight.
Why not savour the moment and stay at the lake for the night too? There's a couple of accommodation options here, which boast plenty of peace and quiet as you relax in nature.
So there you have it, my ideal self-drive itinerary for 3 days in the beautiful Atherton Tablelands. Hopefully it will have you visiting this incredible part of Queensland, Australia soon.
---
About the Author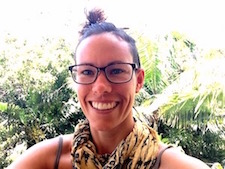 Stephanie Parker is a travel addict and creator of the budget travel blog Big World Small Pockets. Never one for staying at home and working for too long, she's always had to make sure she can travel cheap to fund her nomadic lifestyle. Originally from the UK, Stephanie likes nothing more than backpacking the world on a shoestring collecting tips, advice and stories to share with a smile. Currently in the middle of a 12 month adventure around Australia in an old Landrover, Stephanie can mostly be found living out of her rooftop tent whilst exploring remote national parks and crocodile-filled swamps!
Follow Stephanie's travel adventures on Facebook, Twitter, Instagram and Pinterest.
---
Over to you!
What most interests you about visiting the Atherton Tablelands? Or have you been, what did you love about it?
Let me know using the comments section below or join me on social media to start a conversation.
Thanks for reading and I hope you enjoyed this post.
Join my email list and get a FREE copy of my TRAVEL PLANNING TEMPLATE
My Travel Planning Template will make your travel planning simple & stress-free!