Packing is a hot topic in the travel world. Travellers the world over love sharing their packing tips and tricks, creating lists and trying to find the best ways to travel lighter and smarter.
Last week in our giveaway post where we talked about our must-have packing accessory, we asked you to share your top packing tips with us and boy were we overwhelmed with so many awesome tips and tricks. We received over 50 comments from you guys which really made us chuffed!
And speaking of the giveaway we need to announce who the lucky winner of the Zoomlite packing cube set is.
Congratulations to Diane Henn from the USA. You should have a email already in your inbox which tells you how you can claim your prize.
Thanks to everyone who entered, we wish we could have given you all a prize for all those wonderful tips you gave.
So today I'm going to be sharing them all with you along with a few extra packing tips and tricks of our own to help you travel lighter and smarter.
Your Packing Tips: Travel Lighter and Smarter
How Much Should you Pack?
Of course this is going to depend entirely on how long you are travelling for and why you are travelling. A seven day resort vacation will require a lot less clothes than a one month multi-city trip.
However, the general consensus on how much you should pack was to PACK LIGHT.
We've always been of the opinion that just because the airline allows you to take 20kg of luggage doesn't mean that you have to take 20kg. The less you carry, the easier it will be to get around and the more weight and space you will have to bring home things you find along the way.
Alouise from Take Me to the World says "You don't really need more than a week's worth of clothes, and if you're gone for longer than a week you can always do laundry on the road (something I actually like to do)". And Charles from McCool Travel finds it liberating to "stay at Airbnb and other vacation rental properties in order to do laundry every 3-5 days. That way I can travel long term with a small bag."
While Chuck has a simple way of looking at packing "you don't need that". A way of thinking we all wish we could adopt!
So what are a few of your strategies for packing less?
Heather the Kiwi Travel Writer suggests that you "Lay out your gear … then remove all that's been added for "just in case"". Both Ashleigh from Paws and a Passport and reader Kerry have a similar strategy.
Latanya said "Wear what you know you'll wear!!! If you second guess, leave it." This is the exact strategy we've been using for a few years now.
Mum of four, Rebel says you should "Pack everything you THINK you will need. Take away half. Take away half again. Remove three more items … and you will still probably have too much! Packing conservatively never broke anyone's back at the luggage carousel." Very true and wise!
And finally Alyssa suggests that you "Pack a few less items than you think you'll need and then buy things along the way – especially at markets. Then when you return home and wear the items you bought during your travels, it reminds you of all the wonderful places you've been!"
What's the Best Packing Method?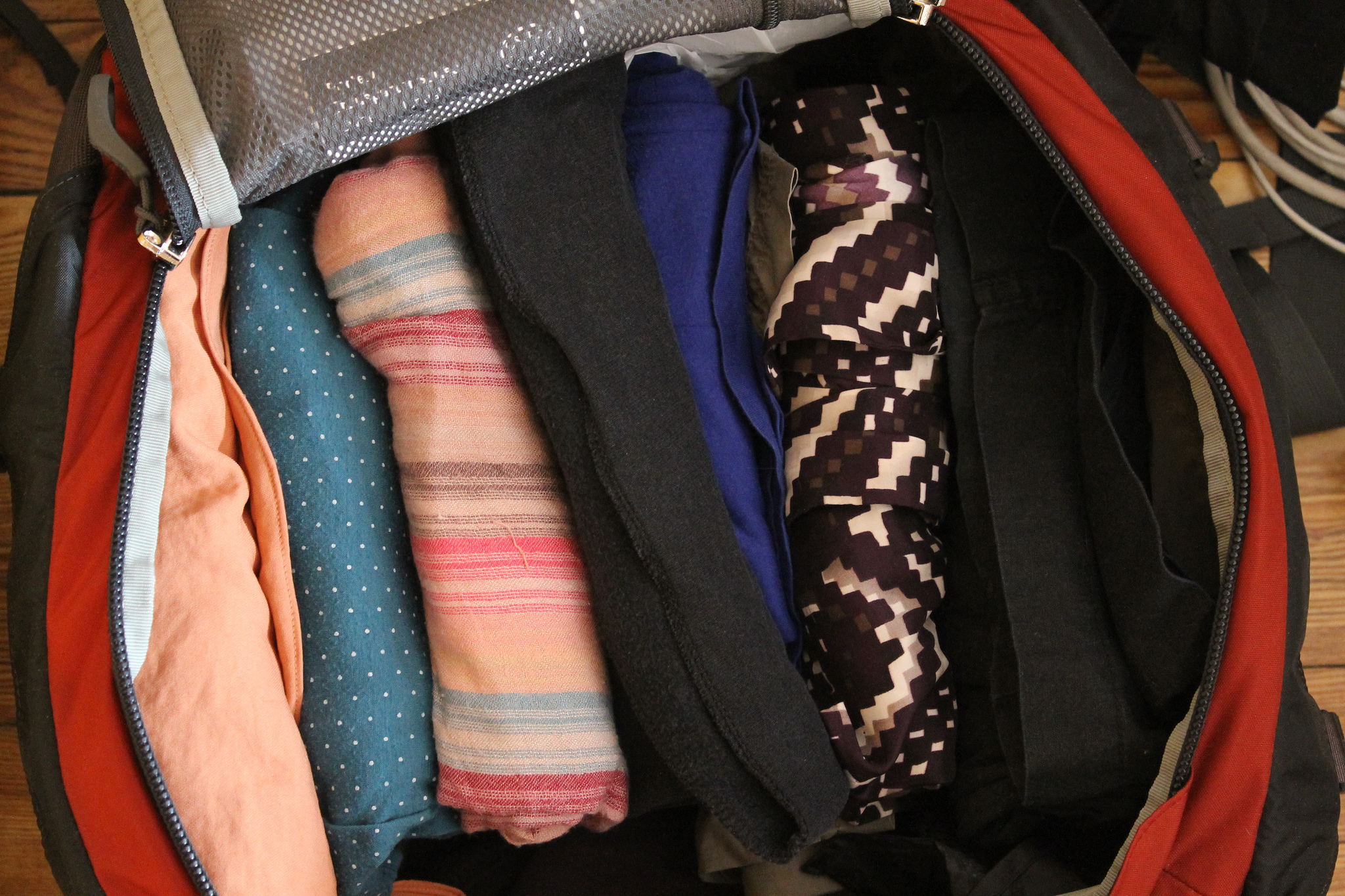 The hands down winner for the best packing method was without a doubt rolling your clothes. And we 100% agree. This is an especially good strategy if you are using packing cubes (like the Zoomlite ones that we love).
Brian from Adventures of Brian, and readers Anna and Teresa all said that rolling was the only way to go to help you save space.
Be Prepared
We got lots of great packing tips that will help you be prepared. Susanna says you should "Check the weather at your destination and pack accordingly!" No need to pack that over-sized coat just in case if the weather is consistently warm and sunny.
And a few of you like to start packing early. Matt says that packing early "gives you time to figure out your layers and outfit combinations." While Debbie from World Adventurists believes if you pack early it's "less likely you'll end up forgetting something."
A few people suggested you have a packing list which we totally agree with. Diane, our giveaway winner, said she makes "a list and practices packing to be sure it will all fit."
Isuann from Schnitzel und Schnaps has a "master packing template for long and short trips and customise accordingly, so that no matter how last-minute your packing is, you wouldn't be in much trouble."
---
Read More: Female Travel Packing List on Two Scots Abroad
---
Erin from Traveling Thru History likes to "do laundry 3 days before any trips and then pack as I'm putting clothes away. After I've thrown in all the clothes I think I need, I take it all out and put it in outfit piles and see what I can mix'n'match and reduce." This is something we do too.
Our favourite being prepared packing tip came from Vicki from Voyager Vicki. She said "I leave my bags constantly packed with travel-sized toiletries, cords/battery chargers/other tech stuff, laundry bag, etc. so I just need to pack clothes and accessories for each trip." We think this is a great idea for frequent travellers because it saves so much time and eliminates to chance for you to forget something.
Save Space
Apart from rolling your clothes, one of the biggest space saving and weight saving tips we use on every trip is to use little bottles for liquid toiletries.
Sharon from Leaning Into Life agrees, "For toiletries, look for bottles smaller than the 3-ounce airline-approved size. I really don't need 3 ounces of shampoo / lotion / makeup for a 2-week trip. And contact lens cases work well for holding moisturizer or vaseline to rub on sore feet. Every little bit of space saving helps!" Would couldn't agree more Sharon.
Also Rebecca had an excellent space saving idea to "use your packed shoes to store your charger cords in then they wont get lost!!"
Pack Smart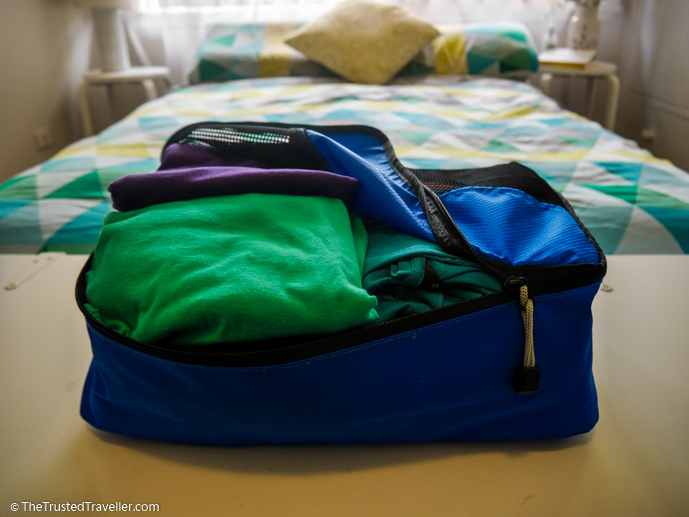 Packing multi-functional pieces was mentioned time and time again.
Sally from Passports and Plates suggests you pack "stuff that doesn't need ironing, matches with other things, can be dressed up and down, etc."
While Toni from 2 Aussie Travellers take it a step further "I try to keep clothing simple and co-ordinated so I can mix it up and heavy bulky items like shoes and jackets go with everything."
KC has a slightly different take, "Coordinate your outfits so you can Bring Less Shoes. They take up a lot of space and tend to be heavy."
And we love Chris's suggestion of taking things that have multiple uses. "My favorite is a sarong. It's a blanket on the plane, it's a rug to sit on in Central Park New York, it's a beach towel on Copocabana Beach in Rio, it's a shawl to cover your shoulders in the temples of Thailand. It will protect you from the sun, wind and rain and when you run out of clothes you can wear it!"
The topic of carry-on luggage came up a fair bit too. A few of you said that you like to pack an extra outfit in your carry-on in case your bag doesn't arrive with you. Thanks Molly, Angel and Diane for this important suggestion.
On a similar topic of airlines loosing bags, Heather said "I travel with my husband..we don't have his and hers suitcases but mix our clothes through both..then if one suitcase gets lost or delayed both of us still have something to wear."
Paula from Sydney Expert does the same thing but adds "As a woman with above average size chest, I am very careful when packing for Asia as some items of clothing can be hard to get in my size. I tend to pack things like swimmers and bras in my carry on so if my bags are lost I can get by with men's clothing and my essentials." This is something I must remember to do myself on our next overseas flight!
Keep Your Things Separated
We've always packed a few spare plastic bags for dirty clothes and shoes. This way you can keep your clean clothes smelling clean and free from dirt and dust. And a lot of you agreed.
Maureen has a genius idea to "cover shoes with disposable (freebies from hotels) shower caps." LOVE THIS!
Lisa suggests you keep "separate the clean clothes from the dirty ones as you wear them. It means you can keep track and plan your outfits when you travel!"
Terri and Alice both use zip-lock bags to separate liquid items. "Let's just say I had experience with the contents of a can of mousse that got over everything", said Alice.
And we love this tip from Bryce who likes to "pack an empty, cheap, crummy gym bag. After I work out, and rinse/let my clothes dry, I don't want them intermingling with my clean clothes on the way home!"
Thanks again to everyone who contributed these excellent packing tips. We love getting your input into things and can't wait until the next time!
PIN THIS FOR LATER!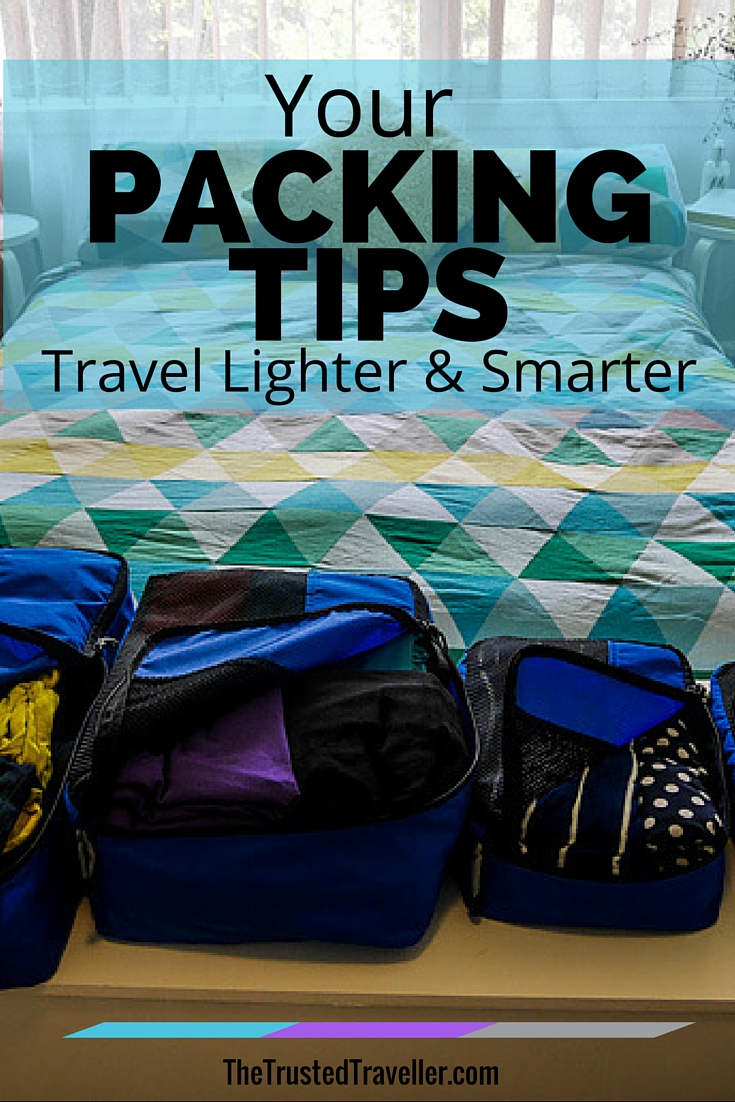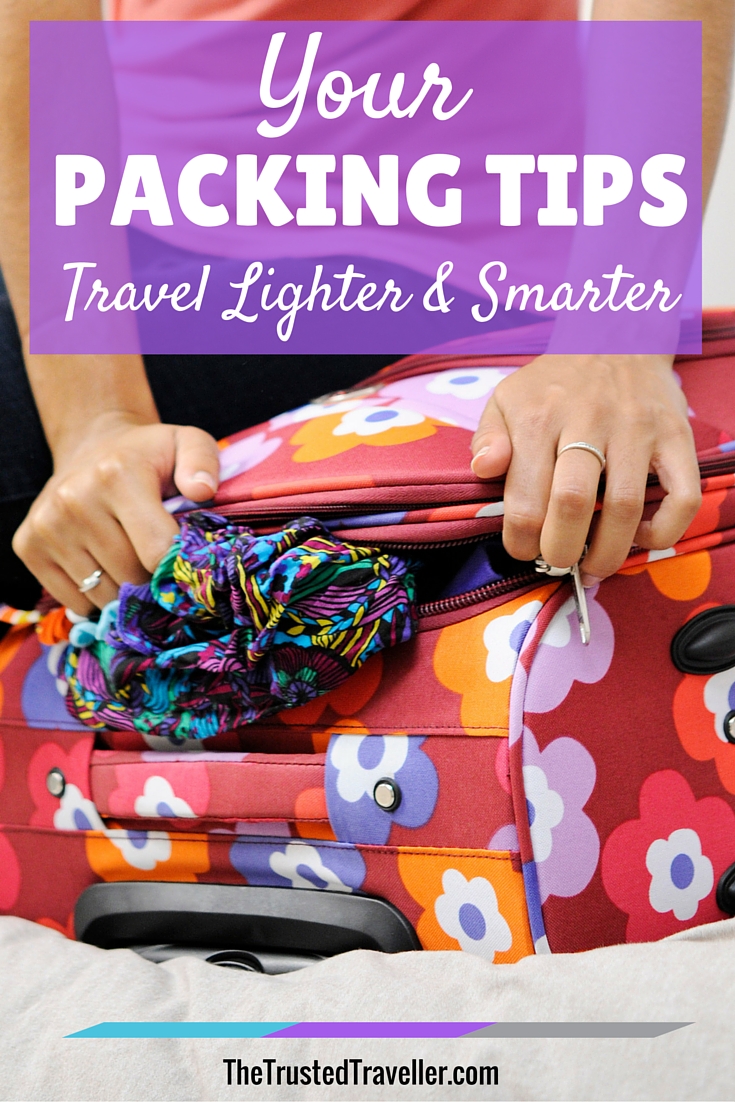 ---
Over to you!
Do you have any packing tips that have been missed in this post?
Let me know using the comments section below or join me on social media to start a conversation.
Thanks for reading and I hope you enjoyed this post.