When I mentioned I was choosing to visit Singapore to a few people, they questioned why I wanted to visit what they believed to be a dull city that lacks any real culture and grit. While this may have been true 10 plus years ago, the Singapore I encountered on my two visits is a vibrant city with a mesh of cultures from nearby lands and afar which all combine to give visitors to Singapore a very unique experience in Asia.
There are no traffic jams, pollution, poverty or chaos, everything is clean and things run as they should. It's nothing like what I have experienced in other parts of Asia!
Singapore is a fast moving city that is changing and growing everyday and is one of the world's major commercial hubs. It is in the top five biggest financial centres as well as top five busiest ports in the world, with its economy relying heavily on trade. It also ranks as one of the best countries in terms of education, healthcare, government transparency and economic competitiveness and its residents are among the happiest in the world.
While, as a whole, it isn't cheap like other parts of Asia are famous for, it doesn't have to break your bank with plenty of free or cheap things to see and do, places to stay and areas to find decent cheap meals.
In contrast, if your travelling and looking for that little bit of luxury after a trip full of backpacker hostels and street food then you will find exactly what your looking for in world class hotels and restaurants that will probably break your bank but are worth every cent.
There is so much to see and do, from incredible feats of architecture to some of the worlds top shopping experiences to getting up close with wildlife. No matter what your interested in, you will find plenty of things to do in Singapore.
This is a big list and it can be overwhelming at first but remember, not all of these are essential. If your only in the city for a short time, pick a few you really like the sound of and do them right. You can always come back right!
---
Marina Bay Sands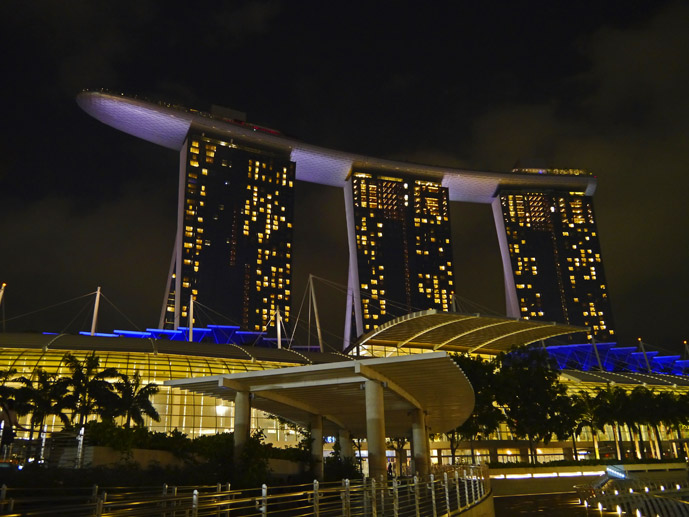 Nothing is more iconic in Singapore these days than the Marina Bay Sands building. If your not familiar with it, its that giant building that looks like a surf board being held up by three  massive glass pylons. Inside it is mostly a very expensive hotel along with shops and a casino. It's up the top on the 'surf board' that you want to be. The Sands SkyPark offers some pretty spectacular views looking out over the city and its here that you can get a sneak peek at the world's highest rooftop pool which is accessible to guest of the hotel only.
Address: Entry to the Sands SkyPark is via 10 Bayfront Ave.
Cost: Entry to the Sands SkyPark – Adults S$23.00, Concession S$20.00, Child S$17.00
Hours: Open 09:30 til late evening every day
More Information: http://www.marinabaysands.com/
---
Singapore Flyer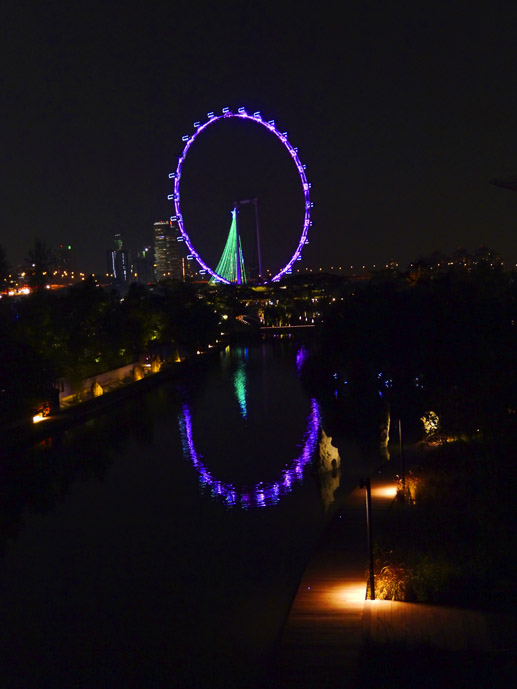 Another way to get a birds eye view of the city which this time includes a view of the Marina Bay Sands is to ride the Singapore Flyer. This giant wheel, similar to the one in London and other cities around the world, is the biggest of its kind at 165 metres from the ground right up to the top. Climb into an almost entirely glass cabin for a slow ride that you almost don't feel at all.
Address: 30 Raffles Ave
Cost: A standard flight costs Adults S$33.00, Concession S$24.00, Child S$217.00 | Other attractions and packages available at higher prices.
Hours: 08:30 – 22:30 daily
More Information: http://www.singaporeflyer.com/
---
Gardens by the Bay
Gardens by the Bay is one of the most remarkable sights in Singapore in my opinion. It isn't your average garden attraction either with over 100 hectares of things to see and do. Hard to miss is the incredible Supertress which are a group of 25-50m vertical gardens in the shape of trees that come alive with lights and music at night and provide shade during the day. Explore the Cloud Forest, a temperate zone full of humidity loving plant life. Or step into the Flower Dome to see some spectacular flower displays with species from all over the world.
Address: 18 Marina Gardens
Cost: Outdoor Gardens Free | Conservatories prices range from S$8.00 to S$28.00
Hours: Outdoor Gardens 05:00-02:00 | Conservatories 09:00-21:00
More Information: http://www.gardensbythebay.com.sg/
---
Read More: Choose from these luxurious Airbnb Singapore properties for you next visit.
---
Merlion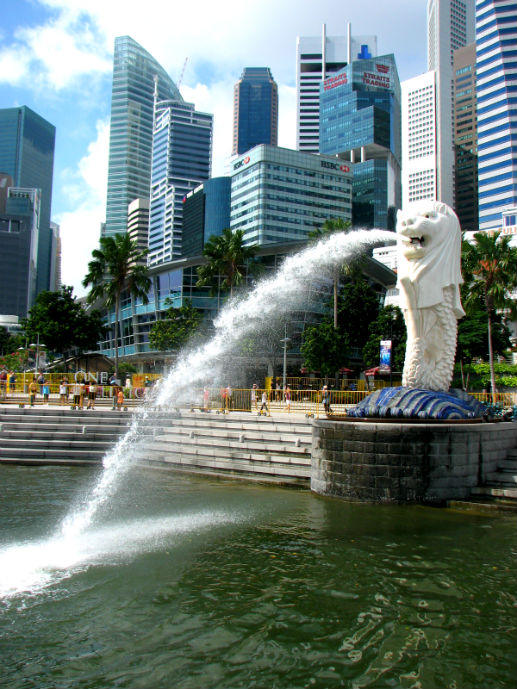 Once you've taken in the newer wow sights around the Marina, make sure you take a stroll around the promenade that lines the bay to see the traditional, long time symbol of Singapore, the Merlion statue. Spouting water out into the bay, the 8.6 metre tall statue is a lion head attached to a fish body and has been used as the symbol of Singapore since 1972.
Address: One Fullerton
Cost: Free
Hours: Visit during the day or at night to see it lit up.
---
Helix Bridge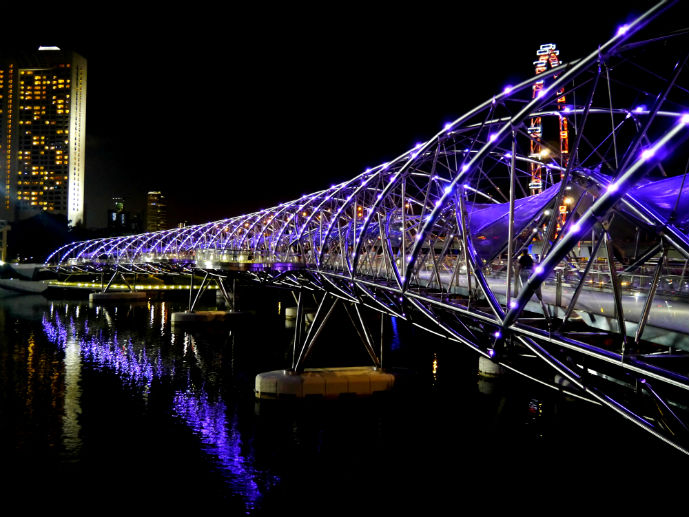 On your walk around the promenade at Marina Bay it is a must that you take a stroll over the world's first curved double helix bridge. Opened in 2010, this pedestrian bridge, while impressive during the day, is best views at night when it is all lit up.
Address: Connect Marina Centre with Marina South near the Marina Bay Sands.
Cost: Free
Hours: Visit during the day or at night to see it lit up.
---
Read More: The Ultimate Guide to 4 Days of Fun in Singapore on Phenomenal Globe
---
Wonder Full Light and Water Spectacular
This award winning light, music, colour and water show comprises 13 minutes of visual effects, lasers, LED lights, water screens and video projections all in time with classical music out over Marina Bay. Its the perfect way to end a day sightseeing around the Marina area.
Address: Best viewed from the Event Plaza, Waterfront Promenade at Marina Bay Sands.
Cost: Free
Hours: Sunday to Thursday 20:00 & 21:30 | Friday & Saturday 20:00, 21:30 & 23:00
---
ArtScience Museum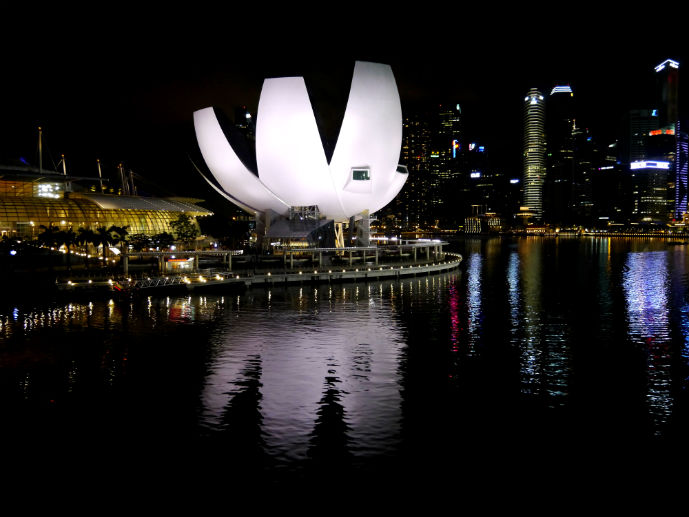 The ArtScience Museum is one of the newest art and exhibition spaces in the city. It hosts both permanent and visiting exhibitions on things like photography, world class artists, architecture and design and the worlds latest technology. Even if your not keen on going inside the lotus shaped building is worth a look itself.
Address: Part of the Marina Bay Sand complex.
Cost: Access to all exhibits – Adult S$25.00, Concession S$23.00, Child S$16.00 | Tickets also available for individual exhibits.
Hours: 10:00-19:00 Daily
More Information: http://www.marinabaysands.com/museum/
---
Read More: Sleeping at Changi Airport on Tools of Travel
---
Chinatown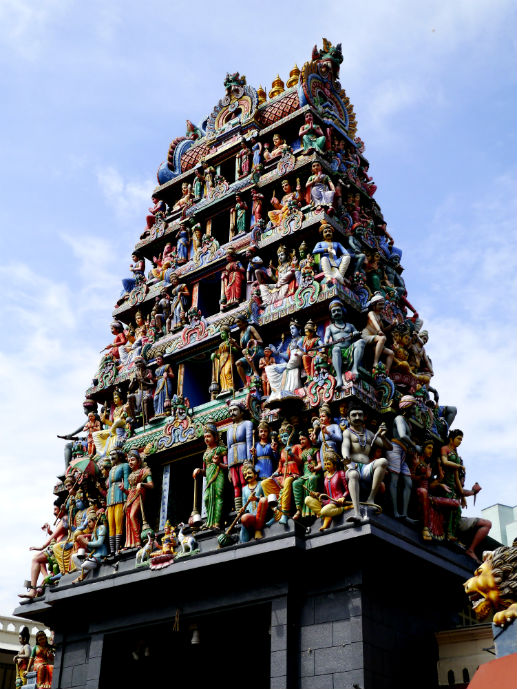 Chinatown in Singapore has been home to the city's Chinese community since 1822 and is one of the nicest Chinatown's I have visited so far around the world. The area is home so some of the city's oldest architecture in the form of religious buildings which are of great importance to not just the Chinese community. Check out Tian Hock Keng and Sri Marianmman Temples, wander past the traditional shop houses that are tucked neatly below the skyscrapers of the surrounding area, visit the Chinatown Heritage Centre to get an insight into the history behind this area, try some of the local food with a special focus on seafood and watch the locals going about their day and playing chess.
Cost: The area is free to explore. Some attractions will require a small entry fee.
Hours: Explore during the day to see the temples, do some shopping and visit the Heritage Centre. Come back at night for eating and to see the area lit up.
More Information: http://www.chinatown.sg/
---
Little India
Visiting Little India provides visitors with an intoxicating experience for all of your senses. From the fragrant streets lined with curry restaurants and spice stores to the music blaring from the windows and chatter of locals to the colourful sari shops, traditional Indian trade stores, mulit-coloured buildings and cultural attractions. Once you've filled your senses and your belly check out the Sri Veeramakaliamman Temple which is one of the most important temples in Singapore. If your after a bargain then make sure you check out the Mustafa Centre, a 24 hour shopping mecca. It is one of the city's biggest department stores and sells just about everything you can image and more in every price range.
Cost: The area is free to explore. Some attractions will require a small entry fee.
Hours: Little India is alive 24/7 so no time of day is a bad time to visit.
More Information: http://www.littleindia.com.sg/
---
Read More: Check out these Singapore Travel Tips on Adventure In You
---
Kampong Glam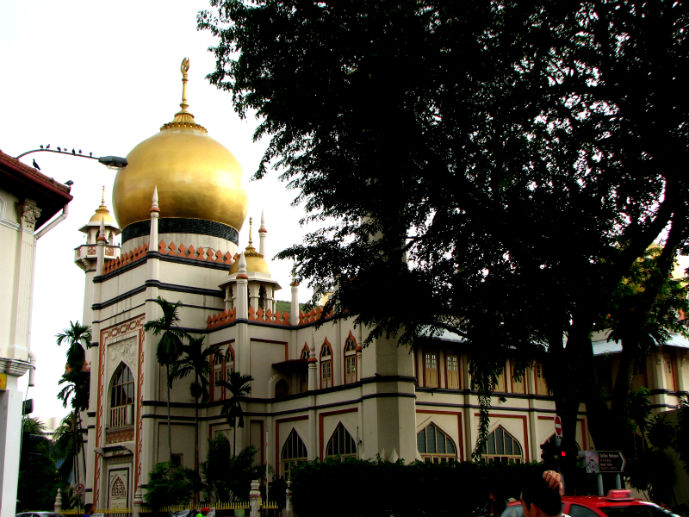 This was the area that was home to the old Malay royalty in Singapore and has been a Malay-Muslim cultural area ever since. The area is a really nice mix of old and new and you can find out more about its history at the Malay Heritage Centre housed in the former home of Malay rulers. Also be sure to check out the gold domed Sultan Mosque which is one of the oldest and most important mosque in Singapore. Finally, Kampong Glam is the perfect place to pick up unique souvenirs, textiles, Persian carpets and handicrafts. Take a walk down Bussorah Mall, Arab Street and Haji Lane which is covered in cool street art.
Cost: The area is free to explore. Some attractions will require a small entry fee.
Hours: You'll get the most out of visiting this area during the day.
More Information: http://www.kampongglam.org.sg/
---
Sentosa Island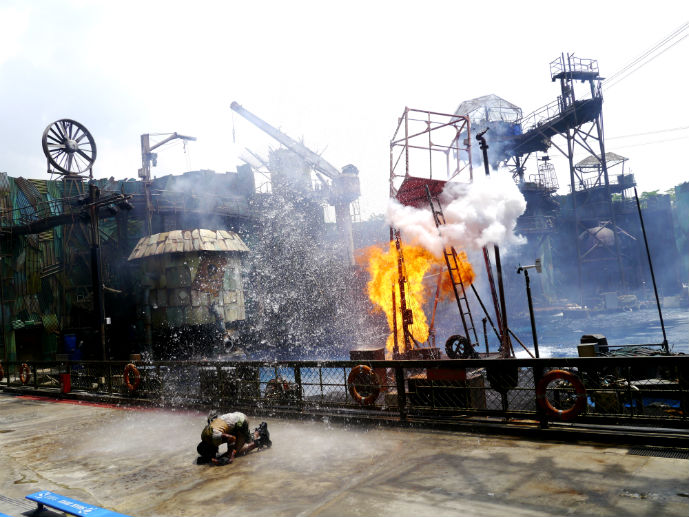 The most accessible island from the main island of Singapore is Sentosa Island, home to a ton of entertainment based attractions that are fun for people of all ages. While Sentosa Island is a lot of fun, it is incredibly expensive as each attraction requires its own entrance fee. I suggest just choosing one or two activities to make your visit more cost effective. The below list is just a taste of the most popular attractions. Keep an eye out in the coming weeks for more comprehensive guide to the attractions at Sentosa Island.
Universal Studios Singapore – The Singapore branch of this popular theme park. Packed full of extreme rides, entertaining shows and well themed landscape.
Adventure Cove Water Park – Water fun at its best. Ride the slides, float around the man made river or take a dip in the wave pool.
S.E.A. Aquarium – Get a closer look at underwater life with over 800 species of marine life.
MegaZip Adventure Park – Whizz over the jungle canopy on one of Asia's most extreme ziplining courses.
Tiger Sky Tower – For views of Sentosa Island and other surrounding islands take a gentle ride up the 131 metre Tiger Sky Tower.
Butterfly & Insect Kingdom – Get up close to some of the worlds most beautiful butterflies, creepiest crawlies and unusual insects at this attractions surrounded by lush rainforest.
Songs of the Sea – Light, fireworks and laser show put on every night to a musical sound track.
Cost: Entry fees for the above attractions start at S$15.00. Check out the below website for more details for each attraction.
Hours: Hours vary between the attractions. Check out the below website for more details for each attraction.
More Information: http://www.sentosa.com.sg/
---
Raffles Hotel
The most famous hotel in Singapore is undoubtedly the Raffles. Home to the Singapore Sling, a world famous cocktail, you can have a drink in the Long Bar with its classic cane furniture, nibble on some peanuts and throw your shells on the ground. Not what you expected for a five star establishment!
Address: 1 Beach Road
Cost: Raffles and the Long Bar are free to enter. A Singapore Sling cocktail cost S$28.00
Hours: Long Bar open 11:00-00:30 daily
More Information: http://www.raffles.com/singapore/
---
 Singapore Zoo & Night Safari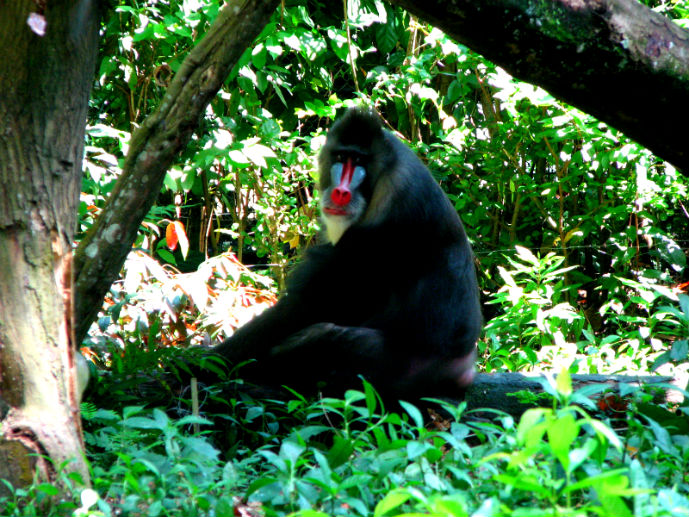 Singapore Zoo and its Night Safari are two of the best zoological attractions in the world. Unlike most other zoos, Singapore Zoo is designed with open enclosures which makes the animals appear almost within reach. It's a beautiful place to spend a day wandering around and there are lots of shows and opportunities to get up close to the animals, like having breakfast with the friendly resident orangutans. Then, come back at night time to experience the Night Safari. Climb aboard the guided tram ride that takes your through seven geographical zones of the world while your guide shares bits of information on the animals and their habitat, take a walk on one of the many night trails or experience one of the nightly cultural performances.
Address: 80 Mandai Lake Rd
Cost: Zoo Adult S$28.00, Concession S$12.00, Child S$18.00 | Night Safari Adult S$39.00, Concession S$16.00, Child S$25.00 | Combine tickets available at discounted prices.
Hours: Zoo 08:30-18:00 | Night Safari 19:30-00.00
More Information: http://www.zoo.com.sg/ & http://www.nightsafari.com.sg/
---
 Over to you!
What's top of your list of things to do in Singapore? Or have you been already, what did you love about it?
Let me know using the comments section below or join me on social media to start a conversation.
Thanks for reading and I hope you enjoyed this post.