The Best Of series highlights the best of a destination or travel related product.
One of the quickest ways to get to know a new city, town or culture is to head to a local market. Markets offer a a unique glimpse into the lives of the locals through the products they sell and the food they serve.
Visiting a market when you arrive in a new place is definitely something we love and recommend to others. And for visitors to our home city of Sydney, there are some really great markets that offer something for everyone.
Sydney is big on markets and I'd say around 50% of its suburbs has a market that is run at least once a month if not more. But not all markets are created equal with some better than others.
Visitors might find it hard narrowing down which market they should visit so we've created this list of Sydney's best markets to help you out.
Sydney's Best Markets
The Finders Keepers
When: Held twice a year | Next market: Friday, December 11th 2015, 6pm – 10pm | Saturday, December 12th 2015, 10am – 6pm | Sunday, December 13th 2015, 10am – 4pm | 2016 dates yet to be announced.
Where: Australian Technology Park Exhibition Hall, Locomotive Workshop, Eveleigh
For the past eight years, The Finders Keepers has proven it is the front runner when it comes to design markets in Sydney (and Australian for that matter). These bi-annual markets feature over 200 independent art and design stalls which are carefully selected to create not just a market but something more similar to a festival. A visit is a day out that includes live music and tons of great food and drink stalls to help keep your stamina up for all that shopping.
More Information: http://www.thefinderskeepers.com/sydney-markets/
The Rocks Markets
When: General Market: Every Saturday & Sunday, 10am – 5pm | Foodie Market: Every Friday 9am – 3pm
Where: General Market: Playfair Street, George Street & Jack Mundey Place, The Rocks | Foodie Market: Jack Mundey Place, The Rocks
The Rocks Markets are one of Sydney's most popular markets for a few reasons. Firstly, they are in a fantastic location in the historic Rocks district of the city just a stone's throw from the harbour. And secondly, they offer a great range of quality stalls selling everything from clothing and accessories; art and design pieces; collectibles and souvenirs; plus lots of great food options too. These markets have always been a favourite of mine because of the relaxed atmosphere.
More Information: http://www.therocks.com/things-to-do/the-rocks-markets/
EQ Village Markets
When: Every Wednesday & Saturday from 9am – 2pm
Where: The Showring at The Entertainment Quarter, Moore Park
This produce market features over 60 stalls showcasing some of Sydney's yummiest food. Meet the growers and makers as you buy ingredients or ready-made meals that cover a broad range of cuisines from around the world. The EQ Village Markets are a great day out for families, couples or groups with plenty of open space adjacent to the market for a picnic. And it's all undercover!
More Information: http://www.eqmoorepark.com.au/eq-village-markets/
Carriageworks Farmers Market
When: Every Saturday from 8am – 1pm
Where: 243 Wilson St, Adjacent to Carriageworks, Darlington
This market has quickly become one of Sydney's favourite foodie markets. Created with a simple purpose, to connect the farm, garden and kitchen where the products are produced with the chefs and home cooks. Their core values are pretty impressive and reason enough to entice you to check it out. But it's the absolute treat your senses get on a wander through the 70 plus Carriageworks Farmers Market stalls that will have you wanting to return week after week.
More Information: http://carriageworks.com.au/events/carriageworks-farmers-market/
Sydney Fish Market
When: Everyday (except Christmas Day) 7am – 4pm & until 5pm Friday to Sunday. Restaurants and behind the scenes tours operate different hours.
Where: Cnr Bank Street & Pyrmont Bridge Road, Pyrmont
Most harbour cities around the world have a fish market where the majority of the city's seafood trading is done, and Sydney is no exception. Onsite are six major seafood retailers who display and sell a multitude of the freshest seafood you'll find in Sydney. There are also a bunch of seafood restaurants and cafes, a gourmet deli, bakery, green grocer and bottleshop making this a one stop destination for buy the ingredients for the perfect seafood meal.
More Information: http://www.sydneyfishmarket.com.au/
Paddington Markets
When: Every Saturday 10am – 4pm
Where: Oxford Street, Paddington
Paddington's weekly market consists of over 150 stalls and they encourage local artisans to take up a stall to showcase their goods. You'll find everything from clothing, jewellery and accessories, art pieces, soaps and candles, international food outlets and flowers just to name a few. They also have live music every week which adds to the lively atmosphere this market is famous for.
More Information: http://www.paddingtonmarkets.com.au/
---
Read More: 48 Hours in Sydney: The Perfect Weekend Getaway | 35 Free Things to Do in Sydney | Getting Around Sydney | Best Things to See Around Sydney Harbour
Be Inspired: Sydney Best Beaches: The Ultimate List
---
Bondi Beach Community Market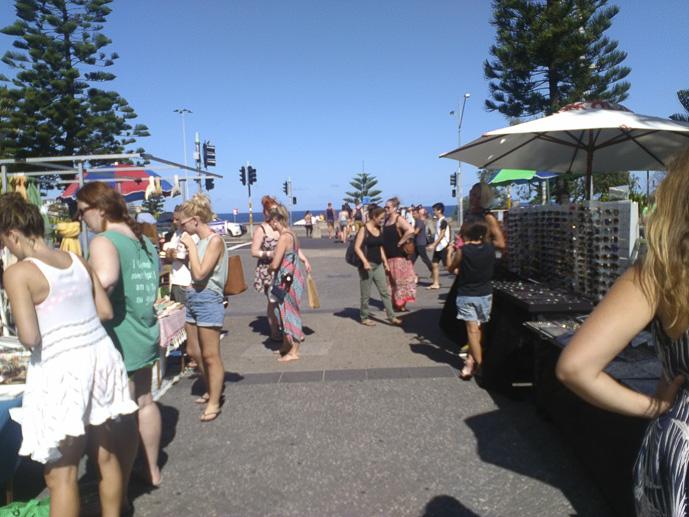 When: September to November & March to April 12.20pm – 9pm Saturday, Sunday's and Public Holidays | December to February 12.20pm – 9pm Friday to Tuesday and Public Holidays | 7 days a week over the Christmas/New Year fortnight.
Where: Roscoe Street Mall opposite Bondi Beach
Bondi Beach Community Market is one of the longest running community markets in Sydney and for good reason. Not only is it situated just seconds walk from one of the world's most famous beaches, it's also right in the heart of Bondi Beaches restaurants and cafes. Make a day of it when you visit by spending some time on the beach, browsing the market and eating at one of the great local eateries.
More Information: http://www.bondibeachmarket.com/
Kirribilli Markets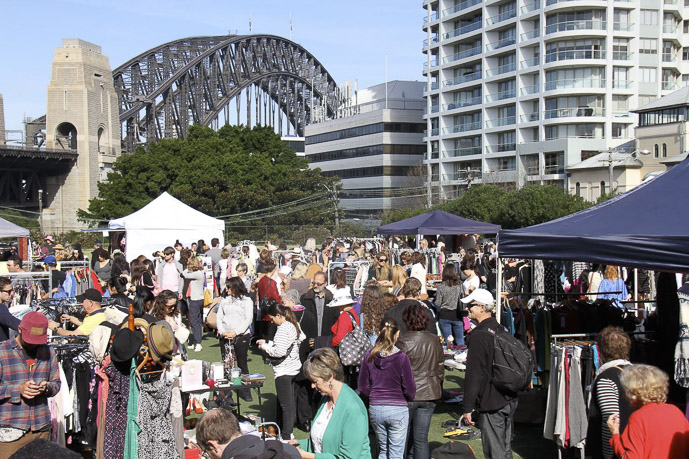 When: 2nd and 4th Sunday's of each month 8.30am – 3pm
Where: Alfred Street South, Milson's Point
Kirribilli markets are actually made up of two markets, the Art, Design & Fashion Market on the 2nd Sunday of the month and the General Market on the 4th Sunday. At the Art, Design and Fashion Market you'll find boutique style artisan goods including fashion items and food. The General Market also has artisan goods but you'll find them mixed in with stalls selling good quality second hand items too. Both markets have live entertainment and a great view of the Sydney Harbour Bridge!
More Information: http://www.thekirribillicentre.org/kirribilli-markets/
Glebe Markets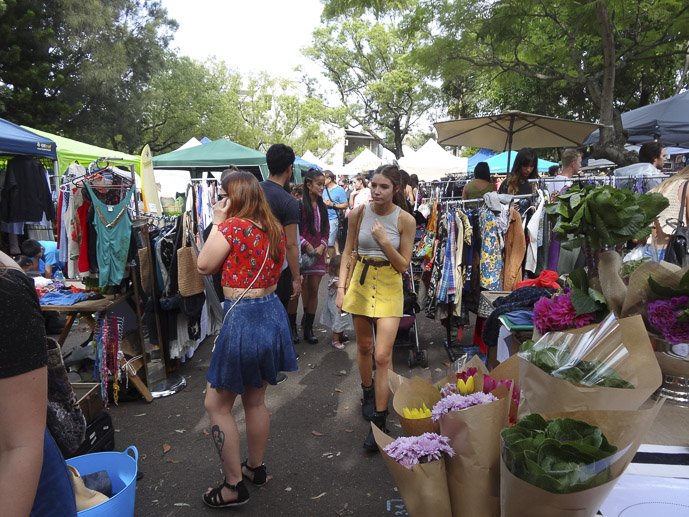 When: Every Saturday 10am – 4pm
Where: Glebe Public School, Cnr Derby Place & Glebe Point Road, Glebe
Glebe Markets are all about atmosphere. Visitors come from all over Sydney to enjoy the unique vibe that Glebe Markets have created. Browse through one of the many stalls selling new and vintage fashion and design items, meet the makers, chill out on the grass in the sun listening to live music and have a bite to eat from one of the great food vendors. Glebe isn't just a market, it's a great day out.
More Information: http://www.glebemarkets.com.au/
---
PIN IT FOR LATER!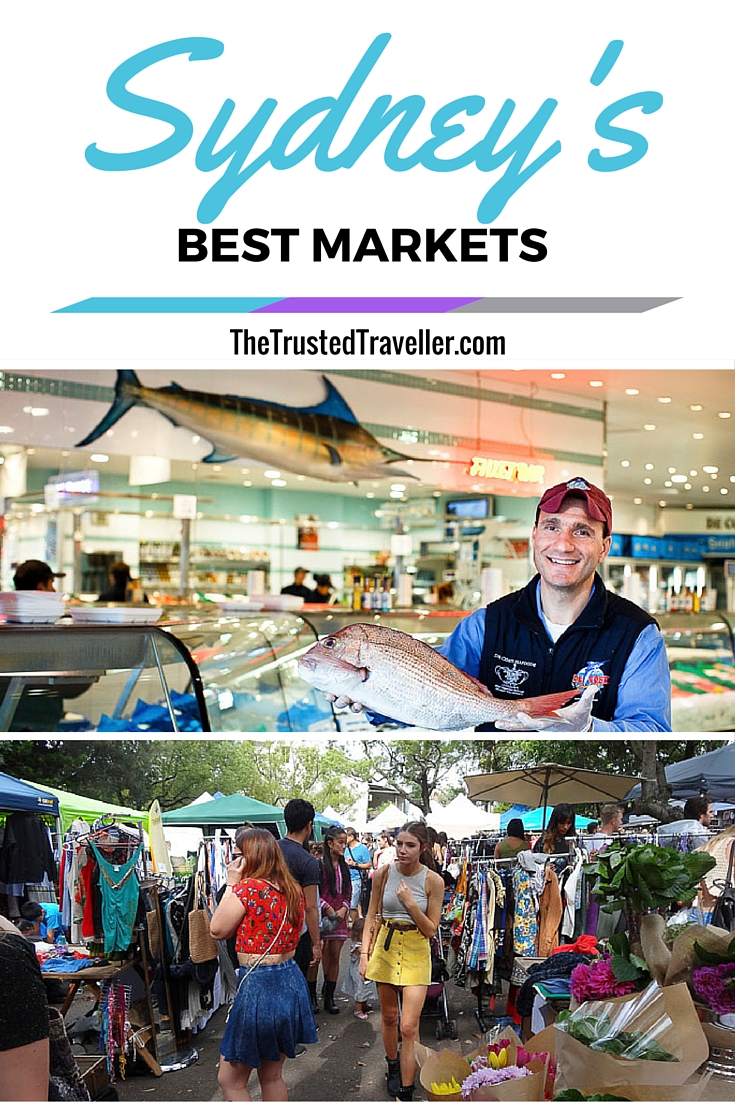 ---
Over to you!
Have you been to any of Sydney's best markets? Which is your favourite? If you haven't been yet which one would you like to visit the most?
Let me know using the comments section below or join me on social media to start a conversation.
Thanks for reading and I hope you enjoyed this post.