A few days before your trip you begin packing. You start by making piles of neatly folded t-shirts, shorts, undergarments etc. then begin adding them to your suitcase or backpack. You add accessories, toiletries and a few other bits and pieces.
Everything looks perfect, well organsied and you promise yourself it will stay that way throughout your entire trip.
You always start with good intentions.
A few days later you've been in your hotel for 2 nights and already your bag looks like a laundry hamper on washing day. Those neat little piles disappeared shortly after you arrived and the last thing you want to do during your precious holiday time is fold clothes and re-organise things. You think to yourself that their has to be an easier way to pack neatly!
The Packing Cube: Our Must-Have Packing Accessory
It's our must-have packing accessory and since discovering them two year ago we honestly couldn't travel without them again.
While there are hundreds of packing cube brands on the market, not all are made equal. Personally we've tried a few and have had varying levels of success with most of them not surviving a whole trip with seams tearing and zippers breaking.
So what should you look for in a packing cube?
First of all you want them to be lightweight. It's no good having heavy fabric cubes that just add unnecessary extra weight to your bag, especially if you travel with carry-on luggage only.
Secondly they should be made of durable fabric that is tear resistant and have a sturdy zip that can with-stand lots of opening and closing. You want the cubes to last you a lot longer than just one trip.
Thirdly you want part of the fabric to be mesh so it is breathable. If you plan to wear some of your garments more than once you don't want them stinking up other things they are packed with. This is also great for visibility, allowing you to see what's in each cube quickly.
And finally you want there to be a good range of sizes available so you can have a cube that is well suited to each type of item you're trying to pack. Small cubes are great for socks and underwear, medium for t-shirts and the larger cubes for bulky items like trousers and jumpers. And while you're looking at sizes make sure they are reasonably high. We've found some cubes in the past that are pancake thin and fit next to nothing. You want at least 8cm to make it work.
There has only been one brand that has met all of the above criteria for us and it's the brand we want you to know about (and win).
Zoomlite Smart Packing Cubes
These guys have really hit the nail on the head with their packing cubes. I admit we were skeptical at first when buying them because so many other brands had made similar promises about durability and had not even come close to living up to these promises.
But we can tell you for certain that after using the Zoomlite Smart Packing Cubes to live out of over the last two months, they 100% meet all the criteria I mentioned above.
✔ Lightweight – The large cube weighs just over 100g so having a few in your suitcase or backpack will barely even make a dent in your airline weight limit.
✔ Durable – They are made of a lightweight tear-resistant ripstop nylon and the double zip is not only sturdy, but also helps with compressing the items in the cube.
✔ Breathable – There's a two-third mesh panel on the front flap of each cube allowing the contents to breath and letting you quickly see what's inside.
✔ Range of Sizes – They come in four sizes; XS – 8 x 22 x 15 cms, S – 8 x 27 x 19 cms, M – 12 x 36 x 25 cms, L – 12 x 43 x 33 cms; and there available in either a pack of four or individually. This allows you to mix and match to suit your needs.
Plus there are extra features that make these so much better than their competitors.
We love the range of colours with five currently (I hear there are more colours coming soon) available to choose from; black, blue, lime, red and rust. We've found in the past that other brands tend to have just one or two colours available.
The other great thing we love about the Zoomlite cubes is that each one has a handle. This makes it easy to take the cubes in and out of your bag and move them around the room if need be.
And most importantly they are competitively priced. Full price the set of four cubes is $AU76.80 and individually they start from $AU14.95 for the XS cube. The fact that they do what they say by helping you pack smart and pack more makes them worth every cent. And from our experience using them, we know they are going to last us a lot longer than just one trip.
How We Use the Cubes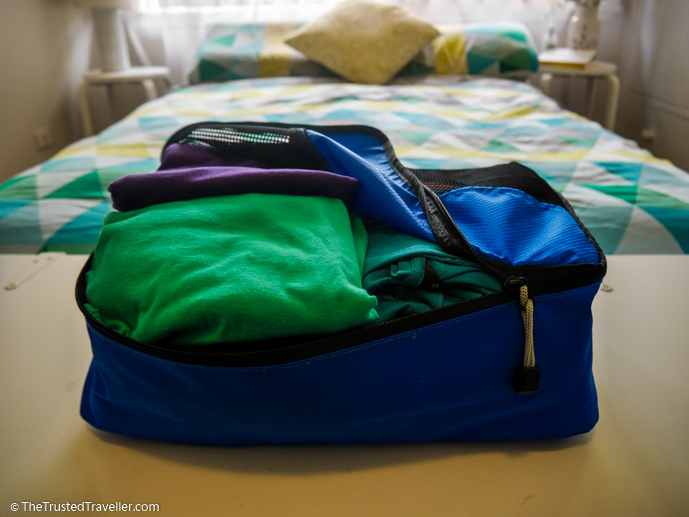 Packing cubes have many uses, there not just for clothes. You can use them for basically anything that will fit like electronics, shoes, toiletries or just bits and pieces.
Saying that, we are currently just using them for clothes but when we set out on the road in a few weeks we'll be using them for other things too.
In the XS cube we've packed our socks and underwear because they are small and can be rolled tightly together. The S cube we are using for things like singlets, pajamas and leggings. In the M cube we've got dresses, tops and t-shirts. And that leaves trousers and jackets in the L cube.
So we can fit in as much as possible we've neatly rolled each item as rolling helps to maximise space.
Win a Zoomlite Smart Packing Cube 4 Piece Set
We love these packing cubes so much and we want you to love them too!
To celebrate and say thank you for two successful years of The Trusted Traveller, we are giving you the chance to win a 4 piece set of Zoomlite Smart Packing Cubes valued at $AU76.80. All you have to do is subscribe to our newsletter and leave a comment below answering the following question:
What's your number one packing tip?
It's that simple! And if you're an existing newsletter subscriber you can still enter by just answering the question in the comments below and you'll be in the draw too.
The competition will be open for one week only and the lucky winner will be announced on 18th February 2016 in a blog post all about our top packing tips. We'll also be featuring you and some of your most creative packing tips from the answers you give below in this post.
If you don't happen to be the lucky winner and want to purchase yourself some of these smart packing cubes, you can view the full range of Zoomlite products, not just packing cubes but other lightweight travel items too, on their website. And they ship worldwide too!
Disclaimer: We purchased these Zoomlite Packing Cubes with our own money and have not been compensated by Zoomlite for promoting their product other than them providing this packing cube set for giveaway purposes.
Terms & Conditions
Competition opens 12:00am Australian ESDT Monday 8th February 2016 and closes 12:00am Australian ESDT Monday 15th February 2016.
Each person who signs up to our newsletter and comments below answering the nominated question will receive one entry into the draw only. Multiple entries are not possible.
Entry is free and open to all residents of the world. Family members of The Trusted Traveller will not be eligible for entry.
The winner will be drawn after 12:00am Australian ESDT Monday 15th February 2016 at random using Rafflecopter and announced in a packing tips blog post on Thursday 18th February 2016. An email will also be sent to the winner with details on how to claim their prize.
Any questions relating to this give-away can be directed to thetrustedtraveller@gmail.com.
---
PIN THIS FOR LATER!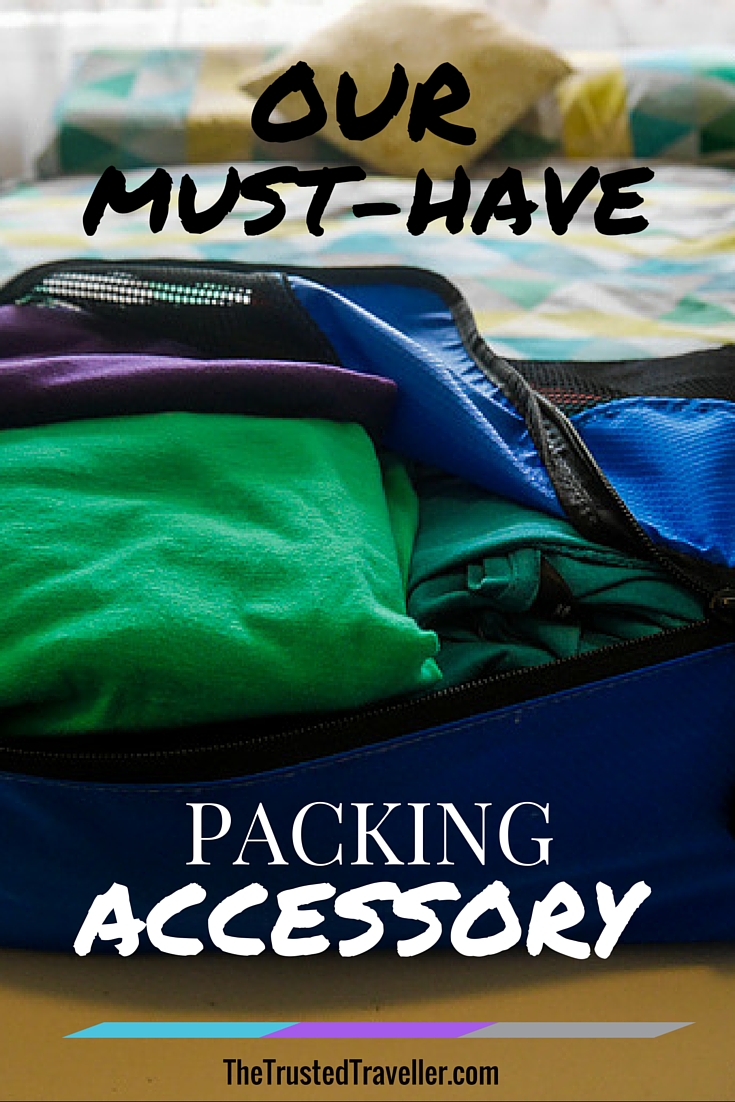 ---
Over to you!
What's your number one packing tip?
Let me know using the comments section below or join me on social media to start a conversation.
Thanks for reading and I hope you enjoyed this post.